Best wireless speakers 2023: music and radio via Wi-Fi
Streaming speakers for all budgets - our guide to the best wireless speakers you can find anywhere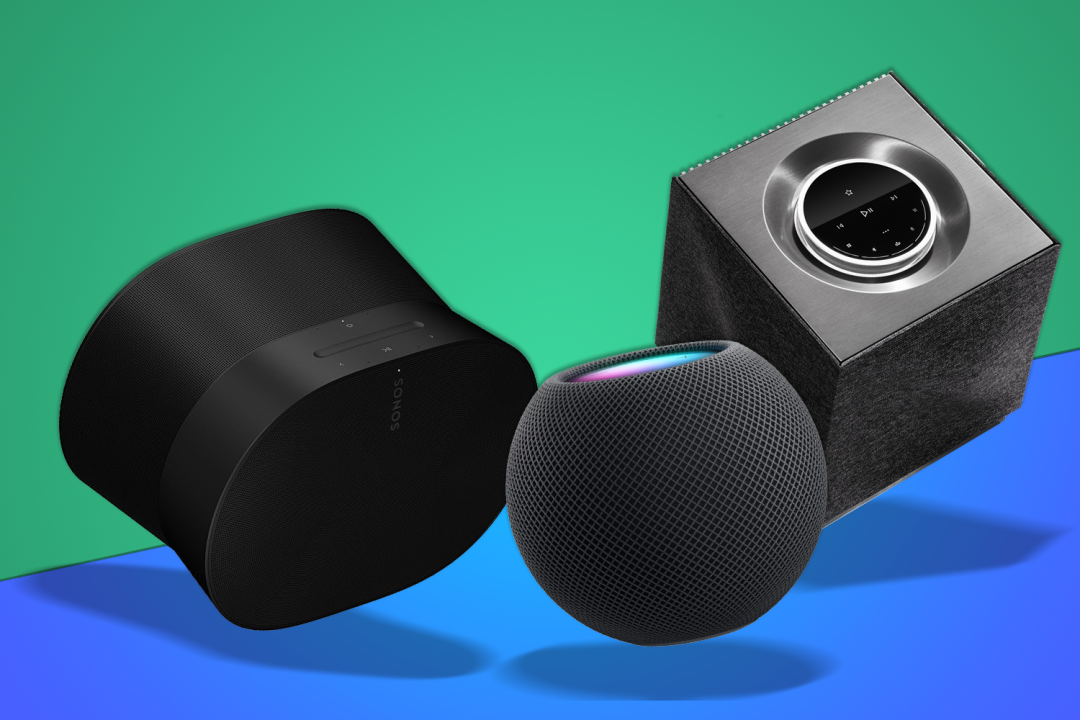 Before we dive into our hand-picked list of the best wireless speakers to buy (which is, presumably, why you're on this page), it's worth quickly defining what we mean by a wireless speaker. In this feature, we're specifically focusing on speakers that are capable of easily letting you listen to the most popular streaming services, like Spotify, Apple Music, Amazon Music, Tidal, Deezer, and more.
Some of them might have built-in Bluetooth for direct music streaming. Others will have extras like smart assistants, Chromecast, Apple AirPlay 2, and even DAB radio. But the core streaming service element remains standard across all of our picks.
There are countless options out there, of course, but we feel that our choices below cover a range of different budgets, features, and styles, that should appeal to most people's needs. There are a fair few to get through, so scroll down, and see what catches your eye.
By the way, this buying guide doesn't include any Bluetooth speakers that you can take down to the beach, camping, or wherever else speaker manufacturers assume we have time to go to – check out our separate guide to the best Bluetooth speakers (NB Some of the below wireless speakers also have Bluetooth).
What is the best wireless speaker?
We think the Sonos Era 100 (check price) is the best wireless speaker you can buy. Improved in every way, the Era 100 matches its key rivals for sound – if you've got an existing Sonos system, it's the obvious choice. It brings the reliable speaker bang up to date, with even more punch and even more flexibility with Bluetooth.
---
Other wireless speaker recommendations
Best cheap wireless speaker: Apple HomePod Mini (check price)
It's practically a no-brainer for any Apple fan with an Apple Music subscription, thanks to the fact that it's got built-in Siri smarts.
Best spacial audio wireless speaker: Sonos Era 300 (check price)
Sonos' new Era 300 offers incredible, immersive, room-filling sound, thanks to its ability to play nice with spatial audio in the form of Dolby Atmos Music. The clarity is exceptional, with rich sound, a wide soundstage, and punchy bass.
Best premium wireless speaker: Naim Mu-so Qb 2 (check price)
Capable of delightful room-filling sound, the Qb2 can handle anything you care to throw at it with ease, with a fun motion-sensitive control dial, slick app, and AirPlay/Google Cast support thrown in for good measure.
---
The best wireless speakers you can buy today:
---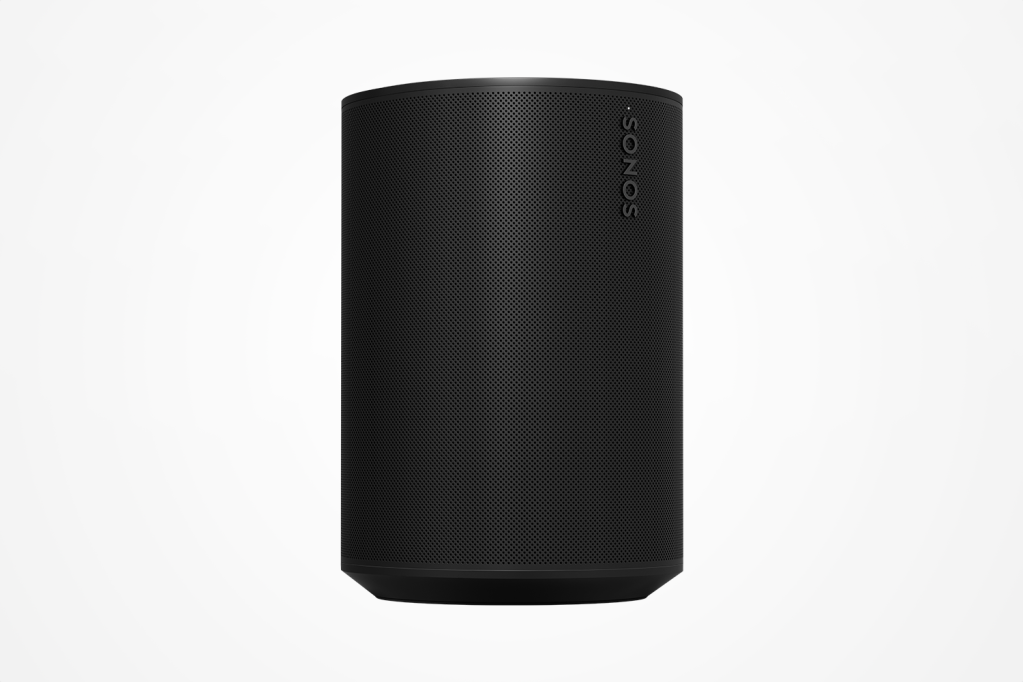 1. Sonos Era 100
Cheaper than its pricier Era 300 sibling, the new Sonos Era 100 replaces the now-discontinued Sonos One. New to its repertoire is Bluetooth support, meaning you're no longer restricted to Wi-Fi streaming services like Spotify. Apple AirPlay 2 is, of course, still present and accounted for.
The Era 100 packs a punch, thanks to a 25% larger mid-woofer, two angled tweeters for stereo performance, and three class-D amps.
You also get Amazon Alexa taking care of all of your smart assistant needs. It's one of the most affordable routes into Sonos' world, and at this price, you might be tempted to pick up a pair to enjoy a true stereo listening experience. Unlike the more expensive Sonos Era 300 further down our list, however, the Era 100 lacks spatial audio.
---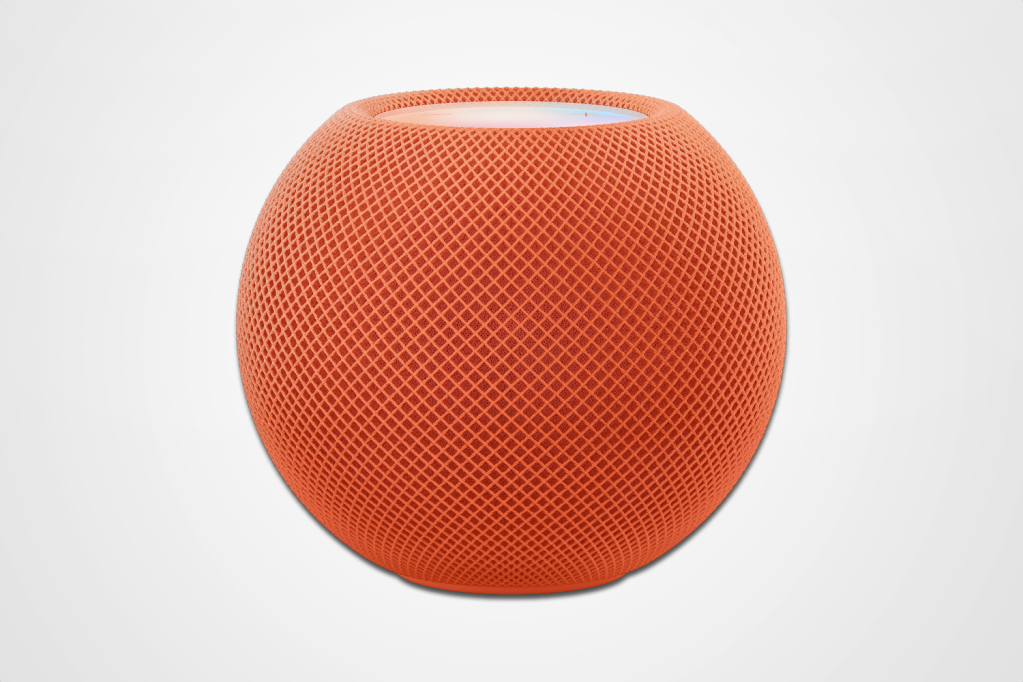 2. Apple HomePod Mini
While the original HomePod has been discontinued, the Mini variant is still going strong. It's practically a no-brainer for any Apple fan with an Apple Music subscription, thanks to the fact that it's got built-in Siri smarts. In fact, it's the only smart speaker with Siri, period, so if that's your preferred digital butler of choice, then it practically deserves a spot on your shelf.
Assistant aside, it sounds far better than its relatively affordable price tag would suggest, making it a perfectly formidable speaker in its own right. Be warned though — if you don't have an Apple Music subscription, you can only control other music streaming services like Spotify via AirPlay on your phone, which rather limits its convenient operation.
---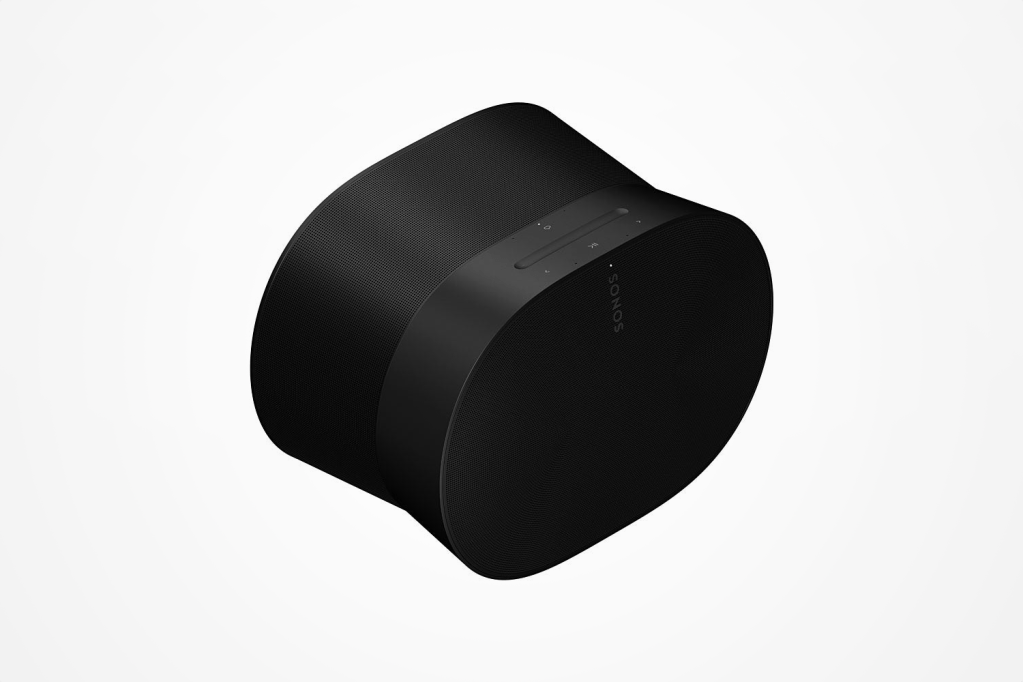 3. Sonos Era 300
Sonos' new Era 300 offers incredible, immersive, room-filling sound, thanks to its ability to play nice with spatial audio in the form of Dolby Atmos Music. The clarity is exceptional, with rich sound, a wide soundstage, and punchy bass all present and accounted for — even for non-Dolby Atmos Music content.
Android fans can also finally get in on the Sonos room-tuning action with the accompanying app too, and built-in Alexa smarts are also present and accounted for. If you can afford a couple of them, you can use them as supplemental rear speakers for compatible Sonos soundbars like the Sonos Arc or Beam Gen 2 as well.
With plenty of power, Sonos build quality, and an unusual pinched, oval design, the Era 300 has plenty going for it, and is an ideal choice for those looking to enter or expand the Sonos ecosystem.
---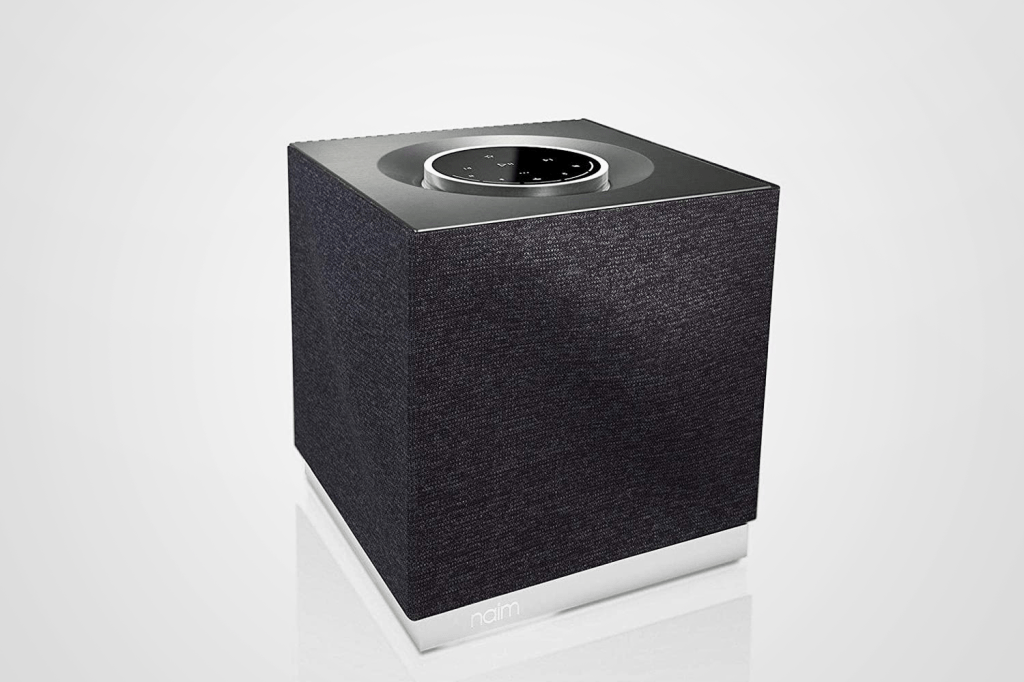 4. Naim Mu-so Qb 2nd Generation
With a whopping 300 watts of power artfully hidden away beneath its deceptively compact cubic body, the second version of Naim's critically acclaimed Mu-so Qb sounds far more incredible than its diminutive stature suggests.
Capable of delightful room-filling sound, it'll handle anything you care to throw at it with ease, with a fun motion-sensitive control dial, slick app, and AirPlay/Google Cast support thrown in for good measure. It's one of the more expensive options on our list, but given the delightful design, small footprint, and superb sound, it definitely won't disappoint.
---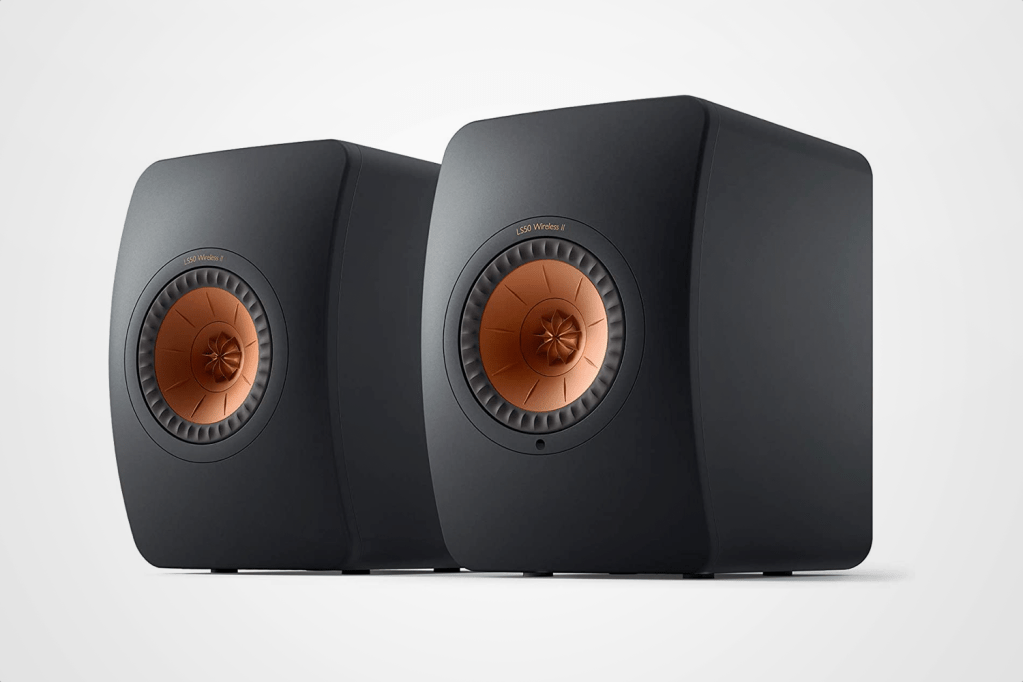 5. KEF LS50 Wireless 2
KEF's gorgeous pair of active speakers will hit your bank account harder than any other option on this list, but your ears and eyes will be rewarded in equal measure.
Retaining KEF's iconic design DNA, they'll comfortably take pride of place in any home setup, demanding attention with their smooth curves, polished finish, and coloured tweeter. Available in a striking range of colours, they're sure to impress without even being turned on. Once you do fire them up though, you'll be treated to thumping bass, precise sound, and stereo clarity that a single-source speaker simply can't match. With Wi-Fi, AirPlay 2, Google Cast, Bluetooth and more available, they'll serve you well for years to come.
---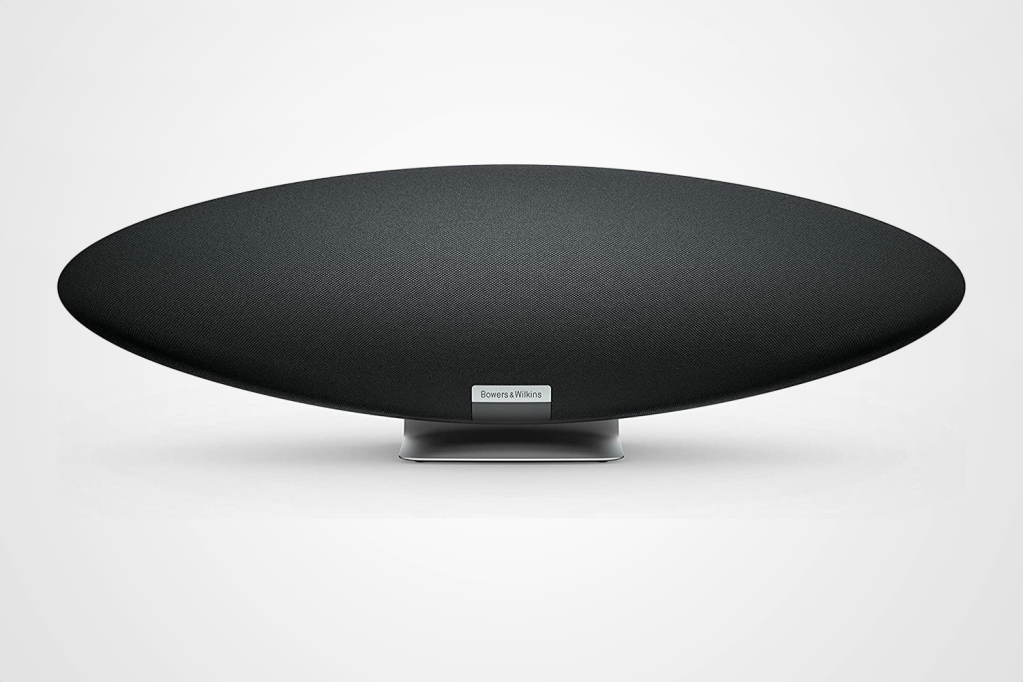 6. Bowers & Wilkins Zeppelin
The latest version of the legendary Zeppelin is the most tech-packed variant yet, landing with AirPlay 2, Bluetooth 5.0, and support for streaming services like Spotify and Tidal. There's even support for Amazon's Alexa smart assistant, for those moments when you're too lazy to reach for your phone.
Sound is, as expected, very impressive, with a wide soundscape doing a decent job of filling a room with clear, precise renditions. It can't truly replicate the feeling of a proper stereo setup, mind, but no single-source speaker can. With dashing looks and a premium build, it's ready to take centre stage on whichever table or shelf is lucky enough to house it.
---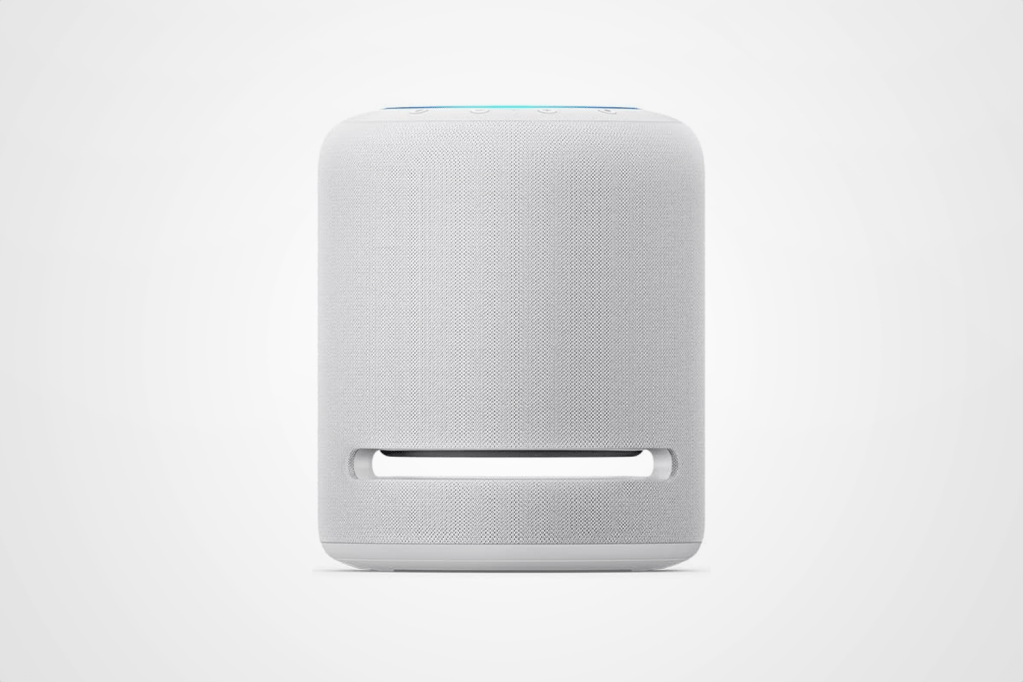 7. Amazon Echo Studio
If you're already familiar with Amazon's Alexa ecosystem, it makes sense to stick to familiar territory. Enter the Echo Studio — Amazon's best-sounding Alexa-powered speaker to date.
Despite its relatively small footprint (at least, compared to most of the other speakers on our list), it manages to sound surprisingly full-bodied. A recent update also means that its virtual Dolby Atmos immersive sound experience is now even better, endowing content with a more spacious 3D effect. It won't replace a dedicated surround setup of course, but considering the price and simple operation, the Echo Studio deserves plenty of praise.
---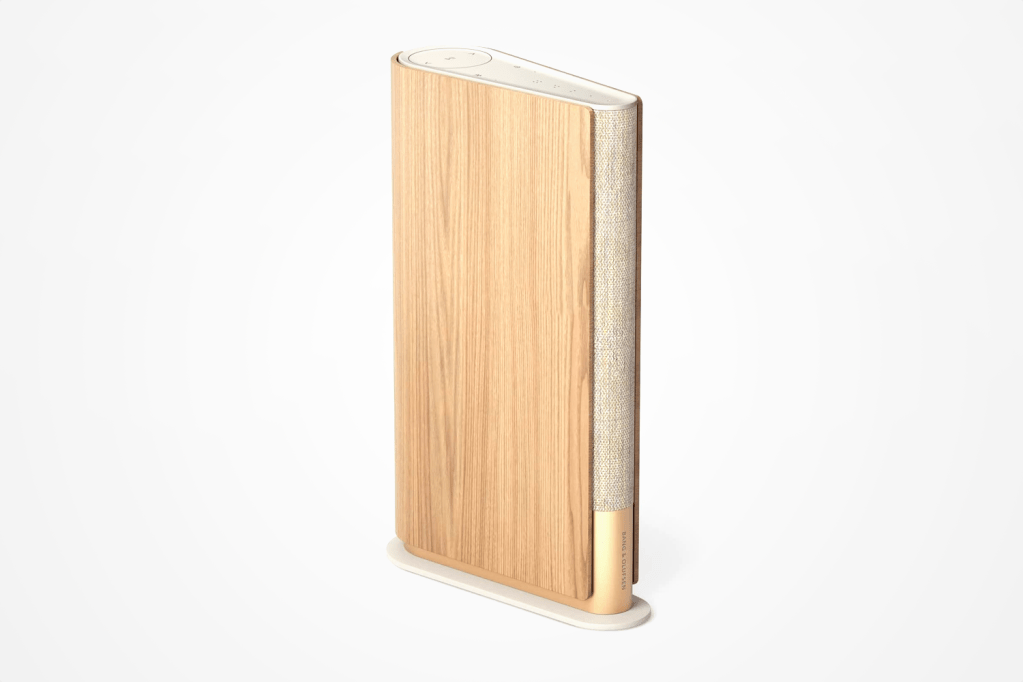 8. Bang & Olufsen Beosound Emerge
Slathered in Scandi-chic with impeccable sound and craftsmanship, the Beosound Emerge is a unique offering that laughs in the face of bland design. Its slim, compact form is ideal for slotting into a bookshelf, blending into a room without drawing too much attention. And despite its delicate appearance, it remains dust and splash resistant, letting you pop it on a kitchen counter without fretting.
Specially tuned to provide 180-degree sound, it's far punchier and wider than its slim profile could ever suggest, thanks to ingeniously placed components which include a 4in woofer, 1.45in mid-range driver, and 0.6in tweeter. The end result? A high-end listening experience that packs in all the refined auditory goodness you'd expect from Bang & Olufsen.
If you can stretch your budget for two, then you'll unlock studio-quality stereo sound for an even richer experience. All in all, it's a perfect choice for those looking for quality sound, in an elegant form factor that gracefully elevates its surroundings.
---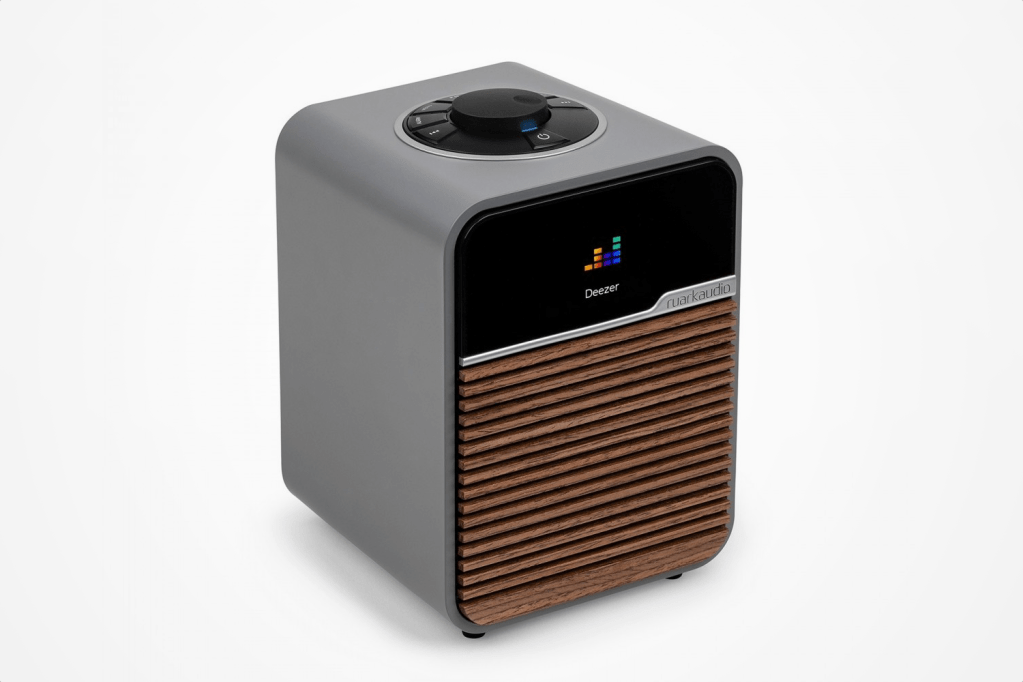 9. Ruark R1S
Fans of Ruark's critically-acclaimed R1 radio should be very tempted by the newer R1S. Featuring the same delightfully compact, minimalistic style as its sibling, the R1S is essentially an internet-connected version, complete with Wi-Fi streaming for services like Spotify and Amazon Music.
Naturally, it also features internet radio, in addition to DAB and FM tuners, with a specific section dedicated to podcasts. If you want to get a little more hands-on, there's also Bluetooth 5.0 for direct device streaming, along with a USB-C port for keeping your phone/tablet topped up. And if you really want to keep it down while you're chopping veg, there's even a headphone port for solo listening.
With a Class A-B amplifier and a bespoke NS+ full-range driver, it promises to deliver class-leading, natural sound, at all volume levels too. Thanks to its delightful front-mounted wooden grille, it looks as good as it sounds as well.
10. Audio Pro C5 MkII
Credit to Audio Pro's designers — it's no easy task starting with a box and making it sing, so to speak, but they've somehow managed to make one that's a visual delight. From its sharp angles and gloriously tactile leather handle, the C5 MkII retains all the visual fidelity of its iconic predecessor, with plenty of new tricks to boot.
For starters, it now serves up three ways to stream music to different rooms, thanks to AirPlay 2, Google Chromecast, and Audio Pro's own streaming solution. Wireless services like Spotify Connect are also supported, as is regular Bluetooth streaming. Under the hood, you'll find two 0.75in textile dome tweeters, along with a 4in woofer — all of which arepowered by one 25W and two 8W digital Class D amplifiers.
Available in a choice of finishes (including black, grey, and white), it promises to grace your ears with powerful sound, while confidently owning any space it sits in in the process.
---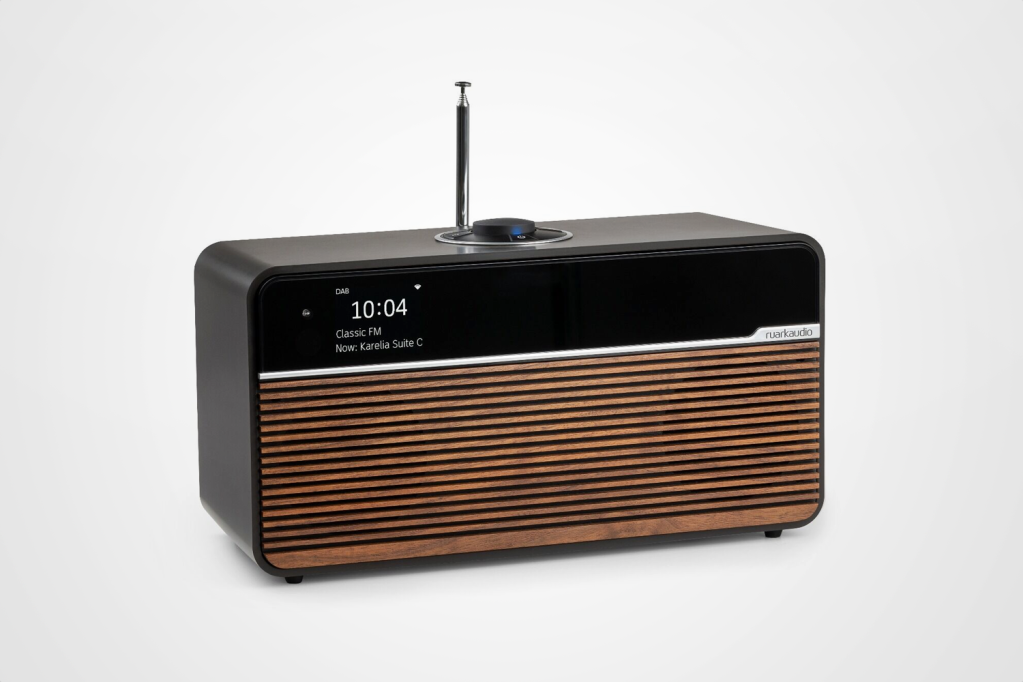 11. Ruark R2 MK4
The fourth generation of Ruark's handsome R2 is sleeker and sexier than ever, with a slimmer profile making for a speaker that'll sit on shelves and window sills without a fuss.
Retaining the original's wonderfully modern-yet-retro design, we're particularly taken with Ruark's iconic circular control dial and real-wood slats. While it offers support for most major streaming services like Spotify and Tidal, it stands out from most of its rivals thanks to the inclusion of a built-in DAB+, FM, and internet radio. There's also an aux-in and USB-C port for direct playback, along with Bluetooth 5.0 for direct streaming. There's no smart assistant support, mind, so you'll have to use your phone to control streaming playback.
---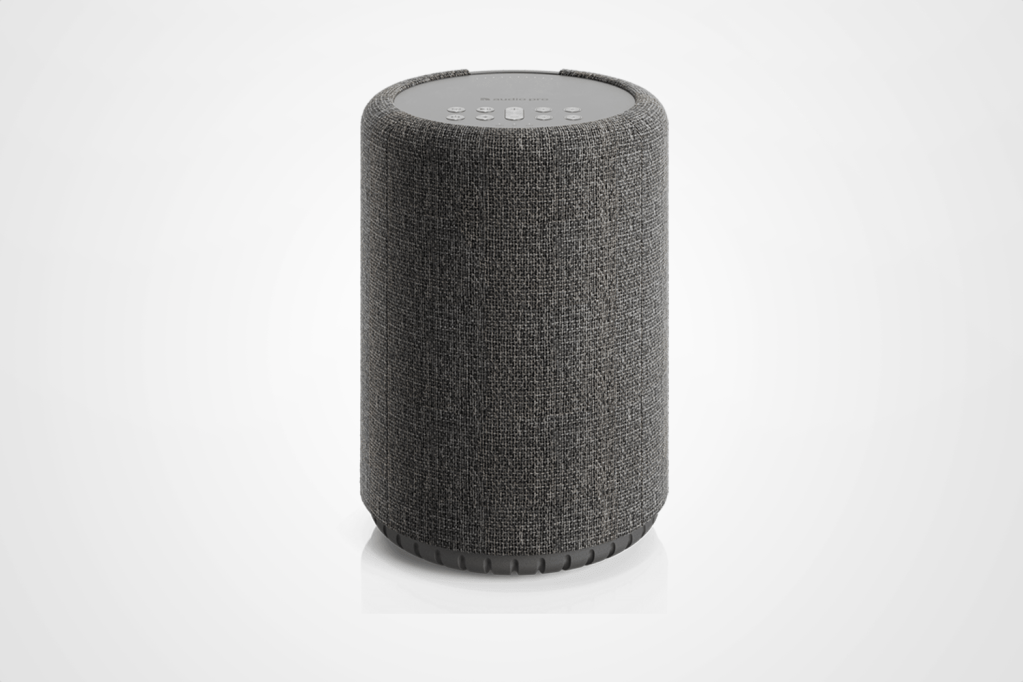 12. Audio Pro A10 MKII
The second iteration of Audio Pro's excellent A10 MKII retains its predecessor's handsome cylindrical design (complete with soft fabric cover), and bolsters it with newer tech in the form of AirPlay 2 and Google Cast connectivity.
These features join the company's own dedicated multiroom streaming option, and we're fans of the prominent physical buttons that let you control music playback and switch inputs, along with the handy set of four pre-set function keys for easy access to your favourite stations, playlists, and more. The latter makes it an ideal choice for those of us still looking for a little more physicality in our lives, and that's all without mentioning the impressive sound quality which manages to remain crisp and balanced.
---
13. Triangle AIO 3
We're rather smitten with the Triangle AIO 3's retro-tastic, minimal design. A speaker you'd be proud to have out on full display, it's available in a variety of striking colours if you want to make a statement, though you can pare things back with more muted colours if you'd prefer to have it blend in with its surroundings.
It might lack a little on the bass front for true low-end lovers, but details and soundscape are precise and wide, and all the major streaming services that most people use are supported. If you're sold on the looks and want multiple units, it's multi-room compatible too. It's a shame the remote isn't as handsome as the speaker itself, but if you've fallen for the main body's looks, then there's nothing stopping you from pulling the trigger.
---
How to buy the best wireless speaker
The first and most important thing you'll want to consider when buying a wireless speaker is sound quality. All of the speakers on this list have the audio tick of approval from us, but if you want to get really nerdy about it, you'll want to delve into details such as frequency response, drivers, and wattage to determine which speaker sounds the best.
Of course, for wireless speakers, connectivity is another critical aspect. While most wireless speakers rely on Wi-Fi, it's worthwhile to explore whether the speaker supports additional wireless options like Bluetooth, FM Radio or NFC.
If moving around and being portable is important, say you just one one speaker to move around different rooms, you'll want to look for a battery-powered model (or a Bluetooth speaker).
You'll want to ensure that the speaker integrates seamlessly with your devices, whether they are smartphones, tablets, or streaming services. If you have an Android phone and YouTube Music, don't buy an Apple HomePod, for example.
Additional features can greatly enhance the speaker overall experience. Voice assistant integration (such as Siri, Amazon Alexa or Google Assistant), multi-room audio support, customizable EQ settings, and the ability to pair multiple speakers for stereo sound or party mode are among the features worth exploring.
How were review the best wireless speakers
We've tested almost every wireless speaker model on this list in a range of real-world situations, so you can trust us when it comes to recommending the best wireless speaker to buy.
We usually spend a week or longer reviewing wireless speakers, listening to a range of different music genres to evaluate the sound performance. We don't use fancy 'listening rooms' as that's not how people actually use speakers in the real world, we test them in living rooms, bedrooms, kitchens, and backyards/gardens (if they're portable).
Of course, away from sound performance, we'll also test the build quality, usability and any additional features a speaker might have, such as a voice assistant.
For more information on Stuff's rating and review process, read our page on how we test products.