Sonos Era 300 review: a thrilling new dawn for the spatial age
The next generation of premium Sonos speaker is here and intros spatial audio/Dolby Atmos Music support, too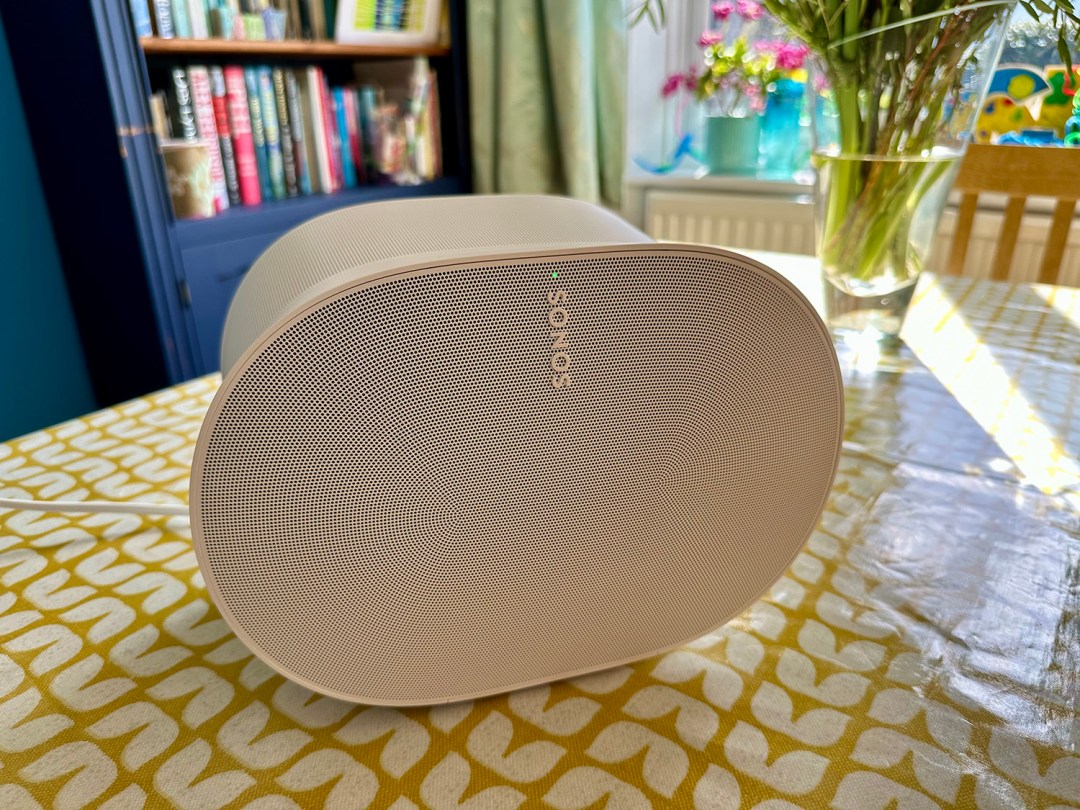 The Sonos Era 300 represents exactly what the name suggests – a new Era for Sonos. While the Era 100 is a direct replacement for the tremendous Sonos One, the Era 300 drops into a new zone.
Sonos claims it doesn't replace the Sonos Five, but it does mean you'd be crackers to buy one of those given what this can do for a chunk of cash less (sorry for the spoiler). It does pave the way for an even more capable Era 500 to replace the Sonos Five at some point though. Coincidentally, you are able to use Era 300s as rear speakers in a more comprehensive Dolby Atmos-capable Sonos setup (up to a 7.1.4 system when used alongside the Sonos Arc or Beam Gen 2 soundbars and Sonos Sub).
Back to this Era and top of the list this time around is support for what some people call spatial audio and some other people call Dolby Atmos Music. Essentially, this enables more immersive mixes of tunes to be created using Dolby tech. This format is definitely here to stay because there are lots of new tracks being created in the format, while masses of old albums are also being reimagined for it.
In terms of spatial audio support, the Era 300 has a couple of key rivals, albeit ones at a lower price point – the Apple HomePod (2nd gen) and Amazon Echo Studio. Certainly, the latter speaker is a much more natural competitor for the Era 100.
Design and controls
Available in standard Sonos black and white, the Era 300 is an interesting-looking thing. It features Sonos' latest design language as you'd expect but it looks pinched in the middle. This is probably due to the arrangement internally – there are two woofers angled left and right as well as four tweeters – two to the side, one to the front and one upward firing to provide that all-important Dolby Atmos-ness and reflect sound off the ceiling. Each of the woofers and tweeters has its own Class D amplifier – there's a lot of power in this package and as a result the unit weighs over 4.5kg. That suggests that it's bulky but it's not.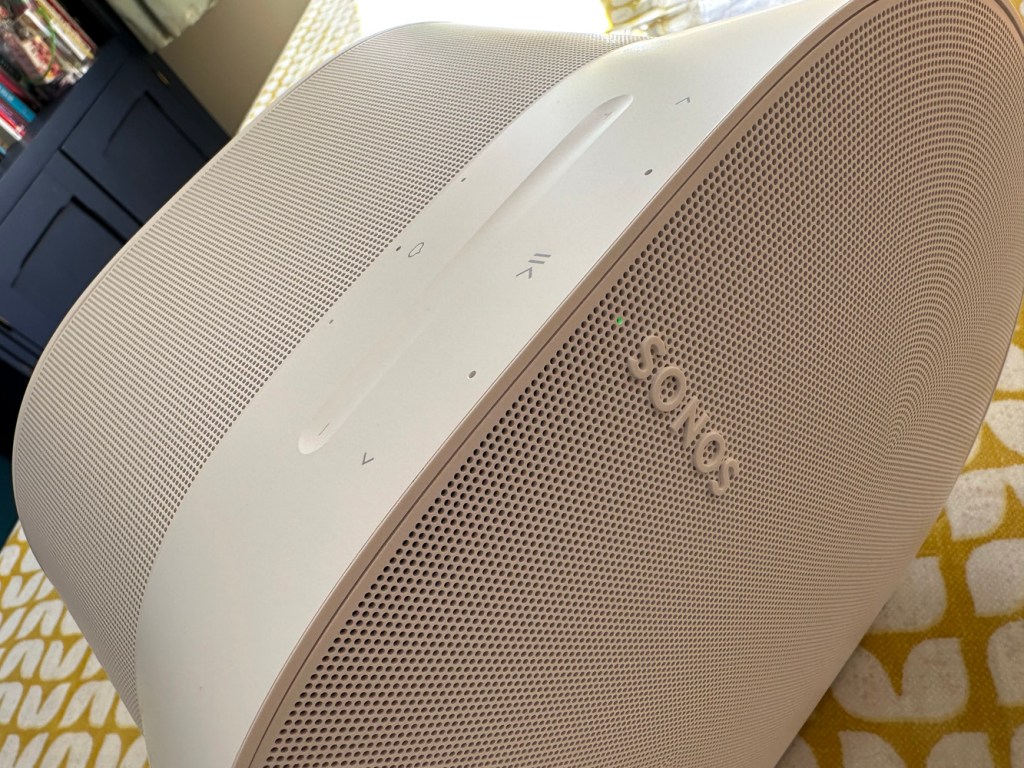 As with the Era 100, the front is grille-only aside from the Sonos logo. The buttons are on the top as with previous Sonos devices, but the key control – volume – has been redesigned and is now an indentation. You can slide your finger along it to go from low to high or vice versa, or just single tap on the + and – at each end for a small adjustment. It works very well indeed and passed the kid test at our house.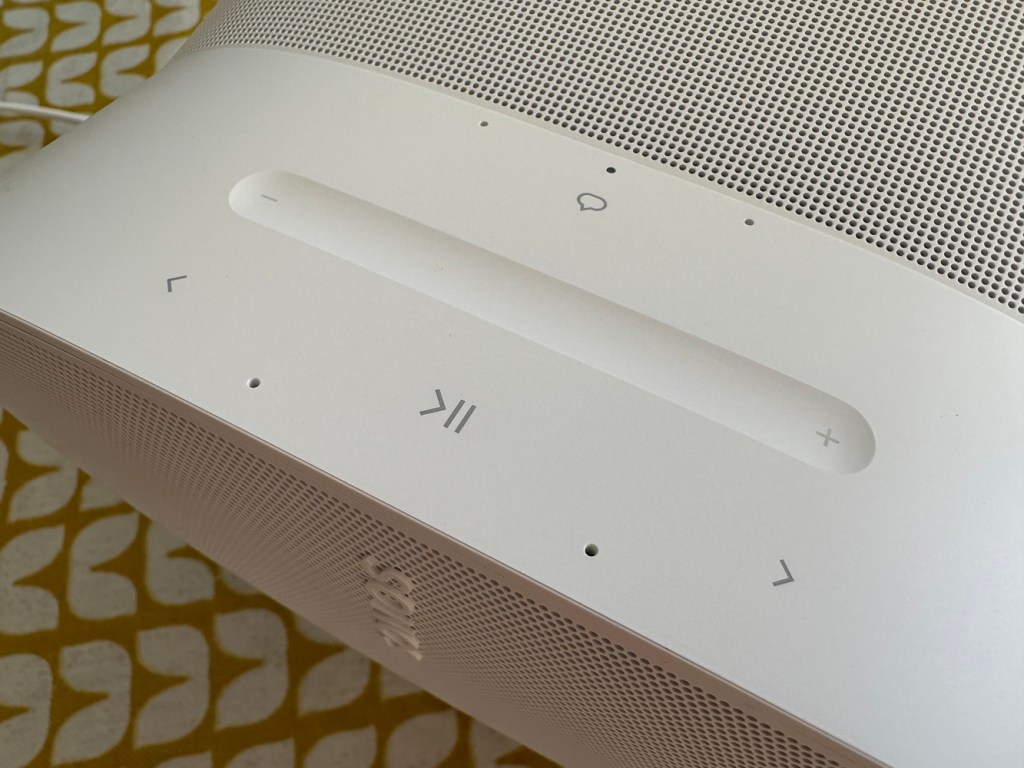 The control panel on top of the speaker is at the front – You get play/pause and forward/back buttons, while there's a status LED above the logo that you can toggle on and off in the app. There's also an LED for when a voice assistant is activated. There's a mic mute toggle on the rear (a prerequisite for Amazon Alexa support) in addition to a USB-C port (more on that shortly) and power. Plus there's a Bluetooth pairing button on the rear, too – yes, both new Sonos speakers also support Bluetooth like the Roam and Move (here it's Bluetooth 5.0). It's a sure (and somewhat belated) sign that Sonos has realised it has been excluding a large section of users who just want to connect devices to speakers directly.
If you use Wi-Fi to connect to your speaker instead, the Sonos app is one way of getting audio to your devices, but far more preferable is Spotify Connect if you use that platform or AirPlay 2 if you use Apple gear. And, much as Apple's HomePod (2nd gen) is great with AirPlay, Sonos' speakers are better. They connect every single time you AirPlay to them. They're extremely reliable. And even though Spotify Connect is our preference – it's much quicker to react than AirPlay – the latter technology is implemented brilliantly here. And of course, the Sonos speakers support multiroom rather well.
The Era 300 features Sonos' Trueplay tech as you'd expect which will fine-tune the audio to fit your room and measures how sound bounces off objects and surfaces. This is now available on Android having been Apple-only. However, it has got a little more complicated – the Apple/iOS version (now curiously known as Advanced Tuning) uses your Apple device's mic – this is basically how Trueplay has worked traditionally – whereas Quick Tuning uses your Era 300's built-in mics only. And that's what you'd use with Android.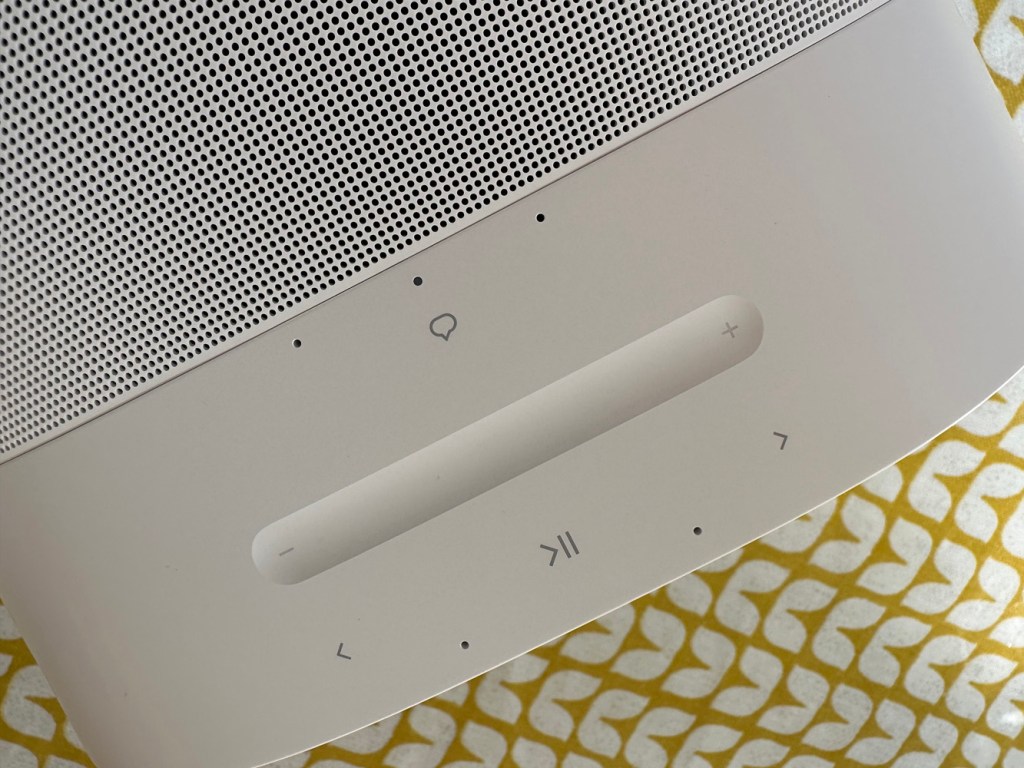 Our only criticism of these controls is that play/pause can be a little slow to react when streaming. That's not a new problem or something unique to Sonos, but it seems a little imprecise.
You can cable up the Era 300 should you really want to, but you'll need an extra-cost adapter to connect into the USB-C port on the back. There's a Line-In Adapter for a device like a turntable, while a Sonos Combo Adapter enables you to connect via Ethernet or a 3.5mm audio source.
Sound quality and spatial audio
In terms of sound quality, it's so impressive – even with non-spatial tracks. The clarity is exceptional and as with all the best speakers, the rich sound immediately brings a smile to your face. The power is immediately evident with bass-heavy tunes while classical music is so clean and absolutely soars. The soundstage is admirably wide for the form factor.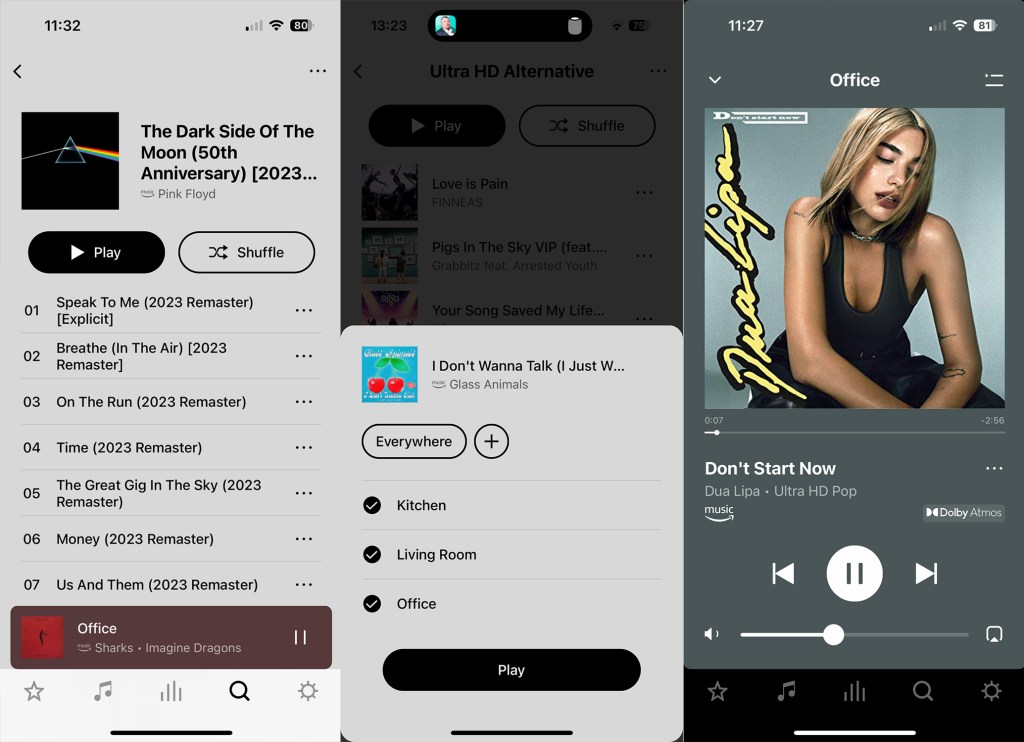 Swich over to spatial audio versions of tracks and the difference is immediately obvious with a speaker of this quality – for example we tried the new 50th anniversary Dolby Atmos version of Dark Side of the Moon – a classic example of where spatial audio is bringing new tricks to very old dogs. Compared to the 2011 remaster, the difference is quite remarkable through the Era 300. But Sonos isn't alone here – the mix also sounds impressive through Apple Music on the HomePod 2.
But it's with newer songs where spatial audio is changing how music is made. We've heard Dua Lipa's Don't Start Now hundreds of times. But listening on the Era 300 brings new details to the fore.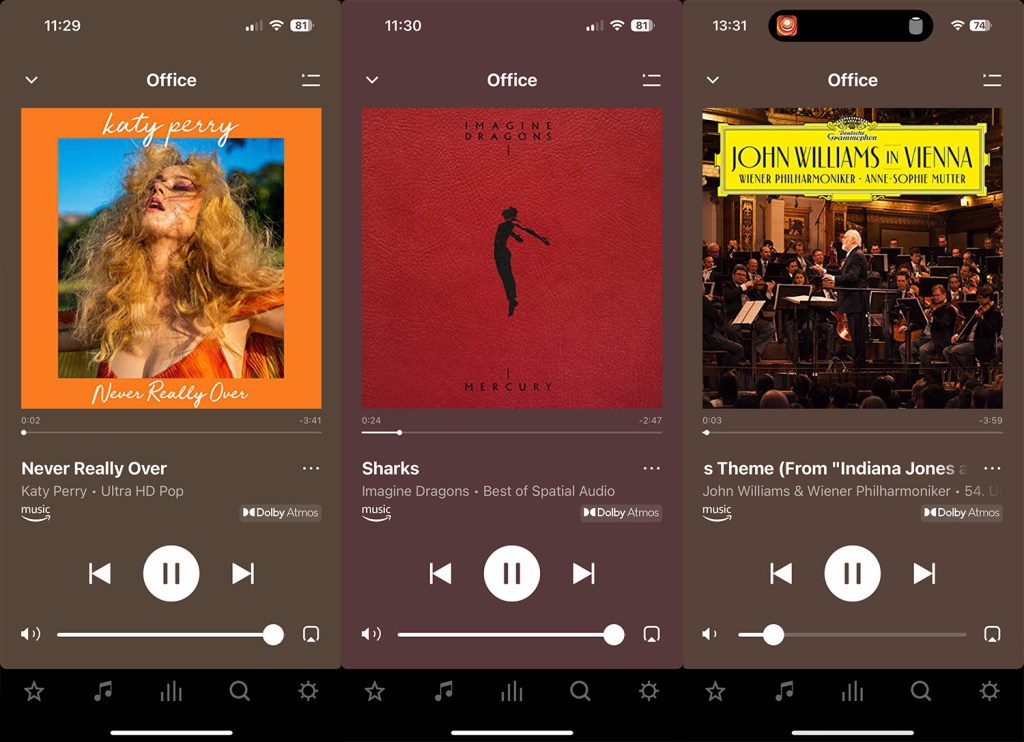 At the time of review, only Dolby Atmos Music through Amazon Music Unlimited (which Amazon calls 'Ultra HD') was working. Sonos belatedly announced that support for Apple Music Spatial Audio is coming. It should be available by the time you read this, but it wasn't working for our tests. There's no word on Tidal Dolby Atmos support while, of course, the elephant in the room is that Spotify is yet to launch its HiFi tier, something we've been waiting two years for. 24-bit/48kHz Hi-Res tunes are supported where available.
One thing you'll notice is that it's still quite difficult to mandate the speaker to play the spatial audio track as opposed to another version and support can still be very patchy. Even with Amazon, we found that playing through the Amazon Music app and casting to the Era 300 would play the standard version of the track. We had to use the Sonos app to get spatial audio to work. And you need to work hard to hunt down those Ultra HD playlists…
Apple Music should be a little easier when that's launched because it should play the highest quality version as you AirPlay it – but that will also depend on you having chosen the right version of the album to play in the first place.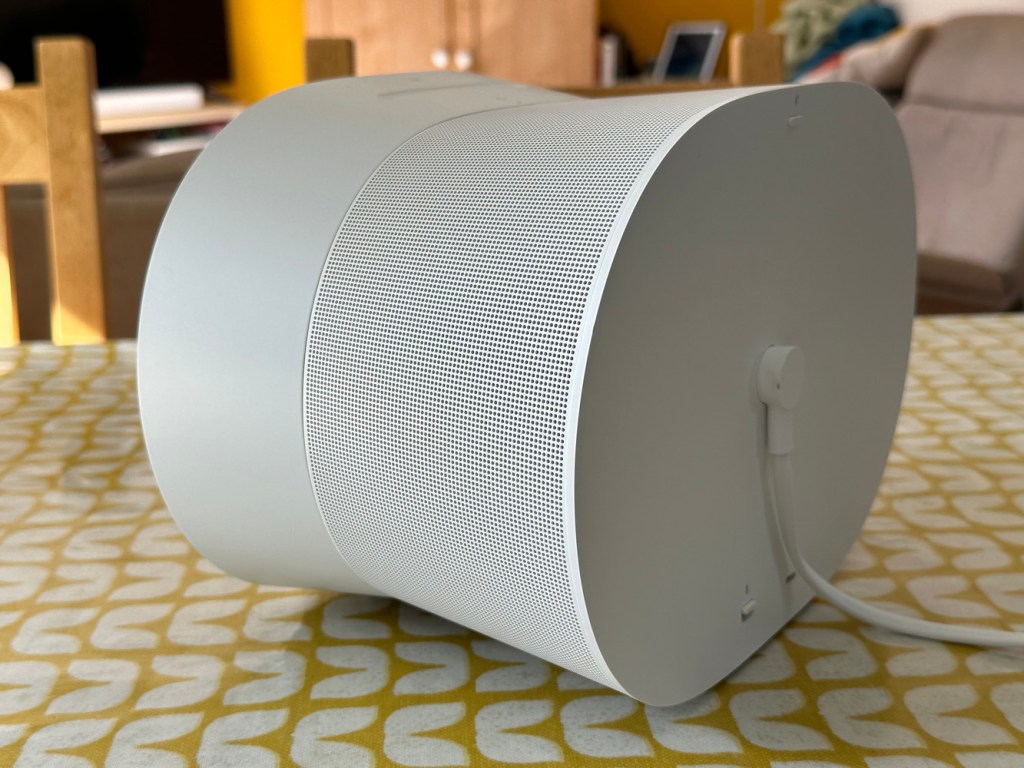 Other smarts
Smart speaker support is great – you can choose Sonos' own voice assistant if you just want to do the basics or go for full Amazon Alexa if that floats your boat instead. The Alexa integration is streets ahead of where it was when Sonos first introduced it and it works very well indeed, bringing you pretty much the same experience that you'd get on an Echo device. Google Assistant is no longer supported on these new Sonos speakers – support is still available on older models.
Sonos has claimed that its due to changes Google has introduced around third-party support for Assistant. But it's also well-known that there is an ongoing legal battle between Sonos and Google (Google claims that Sonos has infringed its patents). Whether this is a big issue depends on which smart assistant you tend to use at home.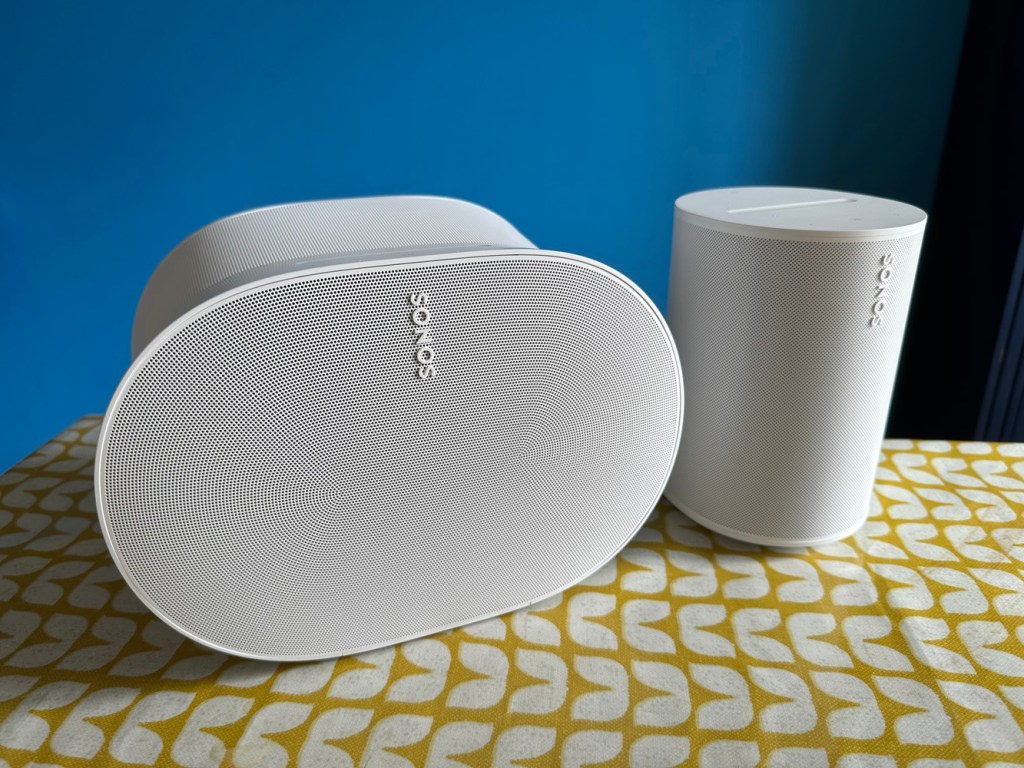 Sonos Era 300 verdict
So is the Era 300 worth it? Absolutely. It's expensive for sure but it punches high and hard. It excels at spatial audio, takes standard stereo recordings up a notch and is a super smart speaker if you add Amazon Alexa. It's a clear and obvious upgrade on the Era 100.
You do need to be sure you'll get value from such a premium choice though – if your room size is small then you may be better off considering a lower-priced option. After all, cheaper doesn't necessarily mean missing out on spatial audio – both Apple's HomePod 2 and Amazon's Echo Studio are in our good books and are more than capable of multiroom action.
But if you do decide to go for the Era 300 you won't be disappointed. Indeed, you'll most likely be thrilled.
Stuff Says…
Unashamedly premium and unashamedly brilliant, this latest Sonos will bring a big smile to your face.
Good Stuff
Wide, clean and powerful sound
Flexible playback including Bluetooth
Usual multiroom brilliance
Bad Stuff
Difficult to ensure spatial versions of tracks are being played
No Google Assistant
Hard to deny it's costly
Sonos Era 300 tech specs
| | |
| --- | --- |
| Audio | 6x class D amplifiers, 4x tweeters (including 1x upward for Dolby Atmos), 2x woofers |
| Connectivity | Wi-Fi 6 (2.4/5GHz), Bluetooth 5.0, Apple AirPlay 2, Spotify Connect, USB-C for line-in |
| Other | Far-field mic array, Amazon Alexa support, Trueplay, adjustable EQ |
| Dimensions | 160 x 260 x 185 mm |
| Weight | 4.47kg |