Nothing Phone 2 vs Google Pixel 7: which is best?
Nothing's second smartphone effort might be Google's strongest competition yet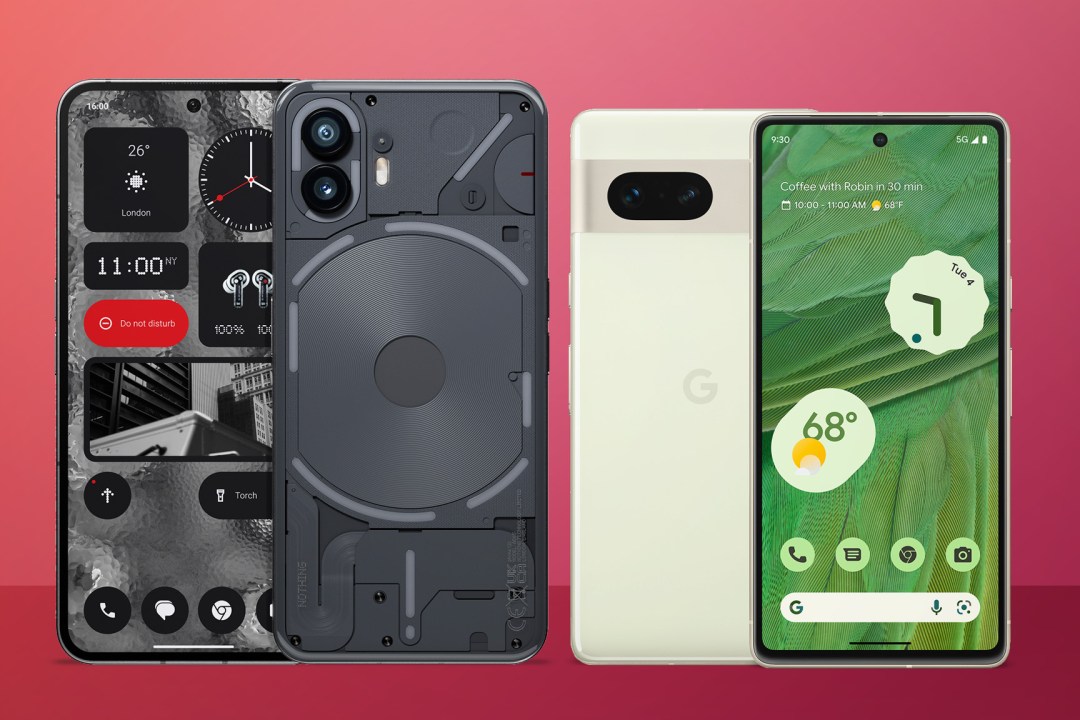 Google has long been the go-to choice for anyone searching for the best mid-range phone – but that could be set to change now that Nothing's second effort handset has arrived. Both are phenomenal value, offering hardware and a software experience that can put some top-tier models to shame – but which is best?
The Nothing Phone 2 goes big on style, with the firm's Glyph lighting and transparent rear panel guaranteed to turn heads. It doesn't skimp on power, battery capacity or camera hardware, and has a sizeable screen to boot. The Google Pixel 7, on the other hand, gets a bespoke Tensor processor, a stripped-back version of Android 13, and some of the best image processing algorithms you'll find on any phone camera right now. Both cost around $600/£600. Here's which we think is more deserving of your money.
Design & software: two kinds of stylish
Phone 2 continues Nothing's love affair with transparent tech, streamlining the unique design and glyph lighting first seen on Phone 1. There are more LEDs this time around, and the rear glass has is slightly curved at the edges so the phone sits more comfortably in your hand. You can still clearly see the underlying wireless charging coil, whether you go for the new dark grey colour option or the more familiar white.
Up front there's a flat OLED display with symmetrical bezels, an under-display fingerprint sensor and a punch-hole selfie cam. At 6.7in it's considerably bigger than the Pixel 7's 6.3in panel. Everything is set into an aluminium frame that feels suitably high-end.
The Pixel 7 evolves the 'shelf' design first seen on the last-gen Pixel 6 series, merging its metal frame into a camera bump that spans the entire width of the phone. The rear glass has a glossy finish, which is something of a fingerprint magnet if you pick one up in Obsidian Black colours; Lemongrass and Snow fare a little better. The glass itself is more dramatically rounded than Phone 2, which some will find even easier to grip.
There's a punch-hole selfie cam in the top-centre of the display, which also uses flat glass, and an under-display fingerprint sensor for security. The smaller screen makes it a lot more palm- and pocket-friendly than Nothing's phone – but there's no denying it's beaten on sheer pocket presence.
Both phones run Android 13, but while Google has stuck with Android's now familiar Material design language, Nothing has overhauled its phone with NothingOS 2.0. This heavy reskin adds bespoke icons, fonts and widgets, including an (optional) black and white colour scheme for every app installed – not just the handful that support Material You theming. It allows for a much more customisable home screen, and can even add widgets to the lockscreen if you like.
Screen & sound: bigger means better?
Nothing Phone 2's 6.7in display has a 2412×1080 resolution, which means a density of 394 pixels per inch (PPI). The Pixel 7 has a near-identical 2400×1080 resolution, but because it's a fair bit smaller at 6.3in, pixel density is a slightly higher 416PPI. Both look suitably sharp at arm's length, though.
Both use OLED panels, which means vibrant and dynamic colours, deep and inky shadow detail, and exceptional contrast. It's Phone 2 that wins out on display brightness though, hitting a peak 1600 nits – the Pixel 7 tops out at a slightly dimmer 1400 nits. That said, both are bright enough to see clearly outdoors under strong sunshine.
The Pixel 7 has a 90Hz refresh rate, which is an improvement over the 60Hz screens you used to find at this price – but now feels a little behind the times. Phone 2 has a 120Hz screen with LTPO adaptive refresh tech, meaning it can quickly change based on what's happening onscreen, in order to save battery life. Unless you're desperate to stick with as small a screen as possible (an increasingly tough task in the Android world), we'd say the Nothing Phone 2 takes the win here.
Both phones have perfectly listenable stereo speakers, even if they don't deliver much in the way of bass. Neither has a 3.5mm headphone port.
Cameras: pixel count isn't everything
Nothing has only made a few hardware changes to Phone 2's rear camera setup compared to Phone 1 – a handset that cost roughly half the price. You get a 50MP main snapper with f/1.9 aperture, phase-detect autofocus and optical image stabilisation, paired with a 50MP ultrawide. It has an f/2.2 aperture lens and autofocus, which lets it double as a macro camera. That's the same pixel count as before, but the lead sensor has been swapped out for a more capable unit. Up front there's a 32MP, f/2.5 selfie cam.
The Pixel 7 also leads with a 50MP sensor, which has an f/1.9 aperture, laser autofocus and OIS, but its ultrawide secondary makes do with a 12MP sensor. There's a 10.8 MP, f/2.2 selfie cam on the front.
The Nothing phone is able to take consistently great photos during the day, and also does a consistently good job at night – but ultimately Google's excellent algorithmic image processing gives the Pixel 7 an edge in almost all conditions. Real Tone skin mapping also helps deliver more accurate skin tones, and Super Res digital zoom lets you get closer to the action with fewer digital artefacts than Phone 2 can achieve with Nothing's picture processing.
Phone 2 is comfortably up there amongst mid-range phone cameras – it's just Google is even higher up the chain.
Performance & battery: custom vs conformist
Only smartphone superpowers like Google are able to get away with bespoke silicon, which is why the Pixel 7 packs a Tensor G2 processor instead of something off-the-shelf. Produced by Samsung to Google's specs, this chip is optimised for the sort of machine learning jobs that makes Google Assistant so effective – but it can still put in a decent showing in apps and games. Paired with 8GB of RAM, it happily runs Android 13 smoothly, manages multitasking well, and can play games at consistent frame rates. It's a hot-running chip, though, and isn't especially power efficient. It's also beaten on raw power by flagship CPUs like Qualcomm's Snapdragon 8 Gen 2.
Nothing has gone for previous-gen Snapdragon 8+ Gen 1 silicon, which is almost as powerful as this year's model for desktop duties, and only a little behind when it comes to games. That makes it a seriously strong performer, delivering a near flawless Android performance and being better at delivering high frame rates than the Pixel 7. 12GB of RAM really helps here. It's our pick for those wanting the best performance for their cash.
We think Nothing comes out on top in terms of battery life, too. Phone 2's 4700mAh cell is bigger than the Pixel 7's 4355mAh unit, and the more efficient CPU helps it regularly last into a second day before it needs topping up. Google's phone is usually good for all-day use, but wants recharging before bedtime unless you've been particularly frugal with using it.
Neither phone includes a power brick in the box, but Nothing can handle 45W top-ups if you provide the right adaptor. The Pixel can only manage 20W, so takes about twice as long to refuel. It does have slightly faster 20W wireless charging, but while Phone 2 stops at 15W, it can also provide 5W reverse charging of your other tech.
Nothing Phone 2 vs Pixel 7 verdict: which should you choose?
On the hardware side, it's hard to argue with the Nothing Phone 2. It has a larger, brighter screen with a faster refresh rate, performance and battery life are both ahead of Google's offering, and those Glyph lights are both fun and functional. The firm has customised Android to great effect, and the price is incredibly tempting.
That said, the Google Pixel 7 does take superior snaps with its cameras. Some might also appreciate the subtle looks and more stripped-back software. And let's not forget, as the older device, there are many deals to be had if you shop around. Those on a budget might not mind the performance gap.
If it was us breaking out the credit card, though? Nothing gets our vote.