Samsung Galaxy Z Fold 5 vs Google Pixel Fold: which is best?
Fifth-gen foldable meets debut effort. Which comes out on top?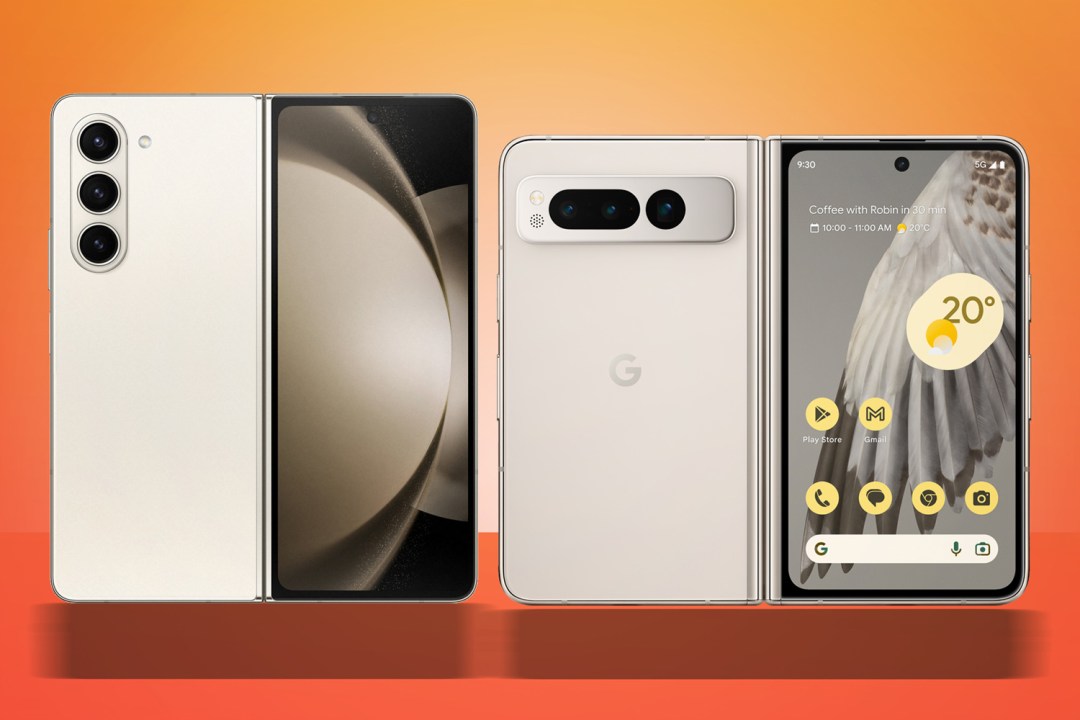 Now that the Samsung Galaxy Z Fold 5 is official, all attention has turned to whether it's the foldable smartphone of choice or not.
There honestly aren't many rivals to choose from if you're in Europe or the US, with China having more choice, but there's one obvious contender: the Google Pixel Fold.
Google's debut foldable had a month's head-start, and does things a little differently to Samsung's now tried-and-tested formula. But the Galaxy Z Fold 5 has had four generations of hardware to learn from, and goes a little harder on the software front too. We've only spent a short time with the Z Fold 5 so aren't ready to call a decisive winner just yet, but have gone over the differences and similarities below. Here's how we think they stack up – and what could elevate one over the other.
Design & build: slimmer of the year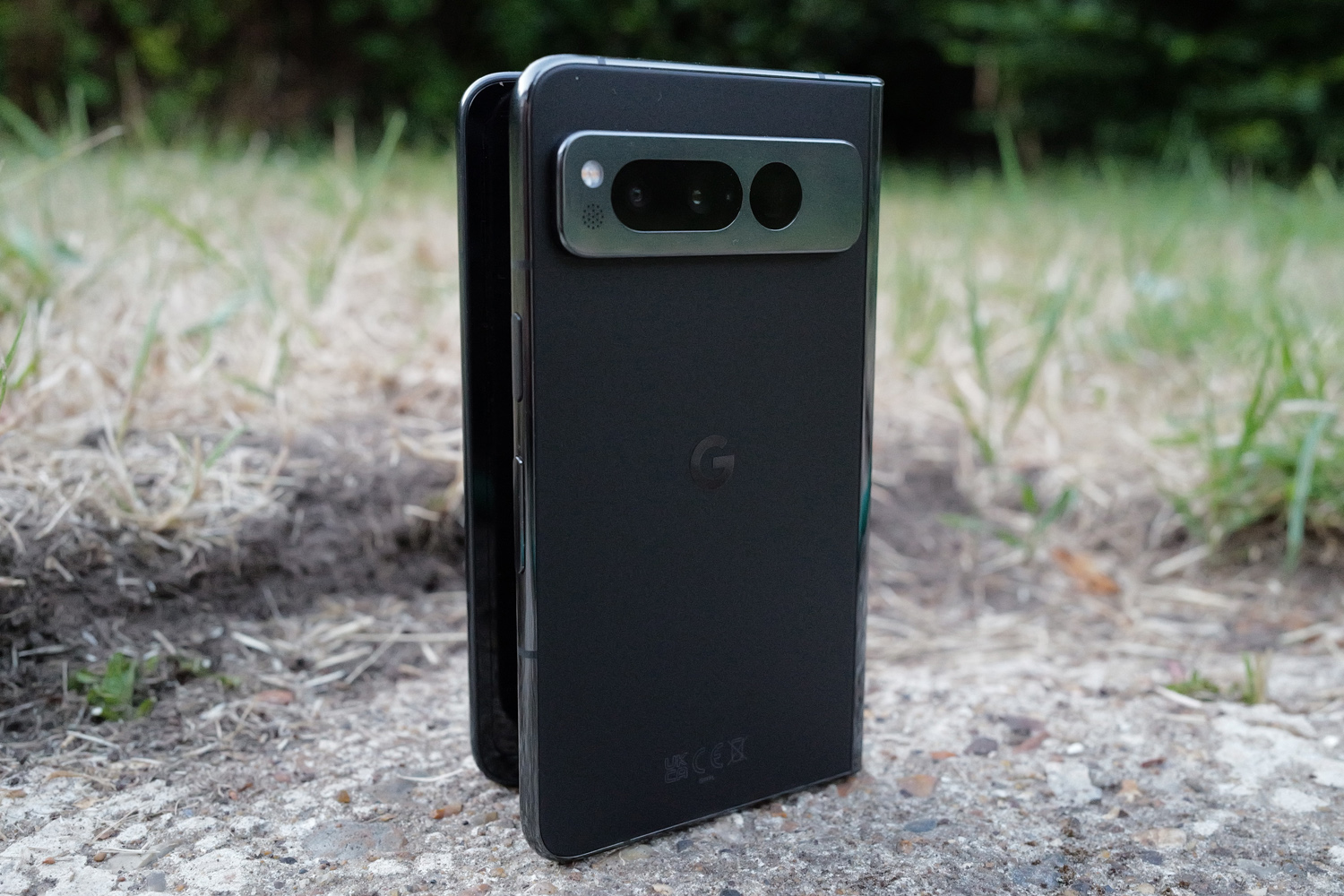 Samsung has finally banished the gap this year, so the Galaxy Z Fold 5 is undoubtedly the firm's slickest-looking foldable to date. The frame is still made from aluminium, the outer screen still a slender 6.2in and the rear made from fingerprint-resistant matte glass, but now it folds shut completely. It drops 10g compared to the outgoing model, so now tips the scales at 253g, and is about 2mm thinner when folded so sits more comfortably in a pocket. You can grab one in Graphite, Cream and Icy Blue colours.
Google has gone for a slightly different form factor, with a shorter, wider 5.8in outer display. It looks the part from the outside, with a polished aluminium frame and a matte glass rear in either Obsidian or Porcelain colours, and is slightly skinnier, both when open and folded. At 283g it's considerably weightier than the Z Fold 5. Open it up and there's no escaping the chunky bezels around the inner screen, or the rather visible crease – Samsung has the edge here, even if we prefer the size of the Fold's outer screen more.
Both phones have side-mounted fingerprint sensors which double as power buttons. Neither has a 3.5mm headphone port, as is now the standard across the phone world.
Screen & sound: bigger, not better?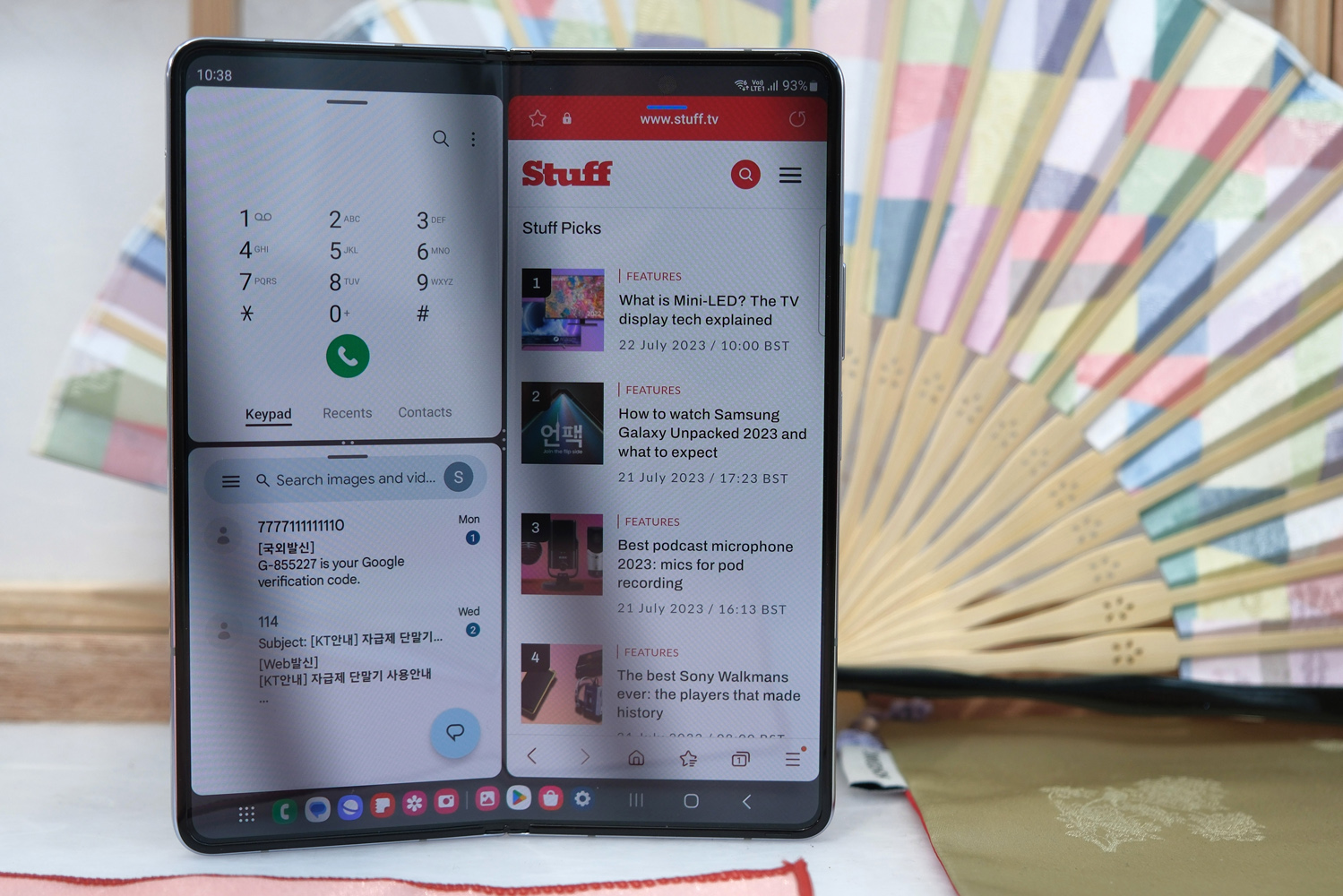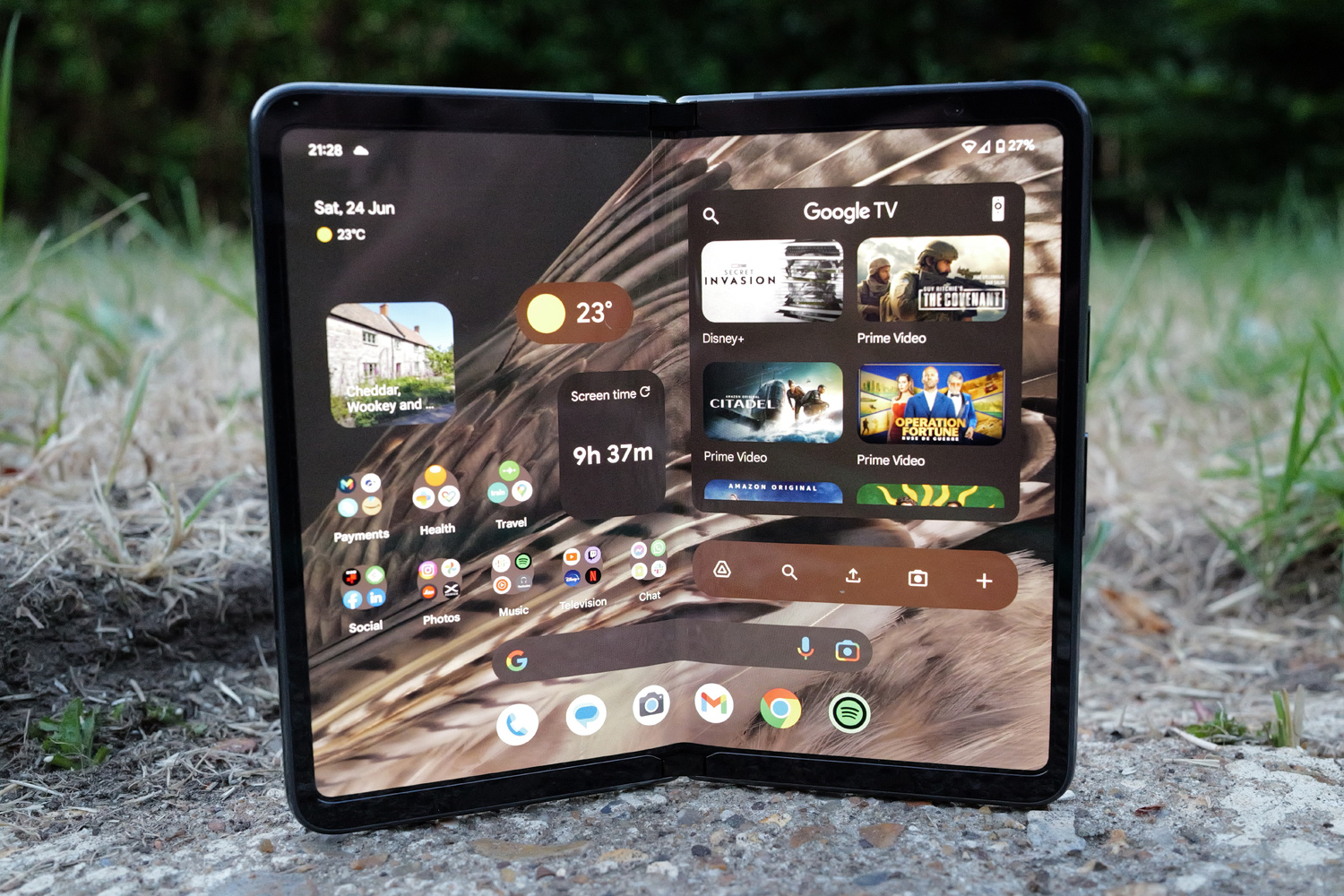 The Z Fold 5's outer screen is 6.2in, with a skinny 23.1:9 aspect ratio. Resolution tops out at 2316×904, and the dynamic refresh rate can hit 120Hz. It's an AMOLED, so has the vibrant colours and epic contrast we expect of the tech, and should be comfortably bright enough for outdoor use, although we've yet to test that theory. Gorilla Glass Victus 2 ought to keep it safe from scrapes and scratches.
Google went for a shorter, wider 5.8in outer screen with an unusual 17.4:9 aspect ratio. The OLED panel has a higher 2092×1080 resolution, matching 120Hz dynamic refresh rate and 1550 nits peak brightness. It'll play HDR content, and is protected by Corning's Gorilla Glass Victus. It should feel less cramped in use than the Z Fold 5.
Both phones have 7.6in flexible OLED inner displays. The Google phone squeezes in a few more pixels than the Samsung, with a 2208×1840 resolution to the Z Fold 5's 2176×1812, but there's very little in it. Both have 120Hz refresh rates, but the Pixel can only hit a peak 1450 nits brightness; the Galaxy can hit 1750 nits. The skinnier screen bezels and slightly less noticeable crease give it the edge, which is worth remembering if you plan on using the larger internal screen more than the smaller external one.
Cameras: tempting trios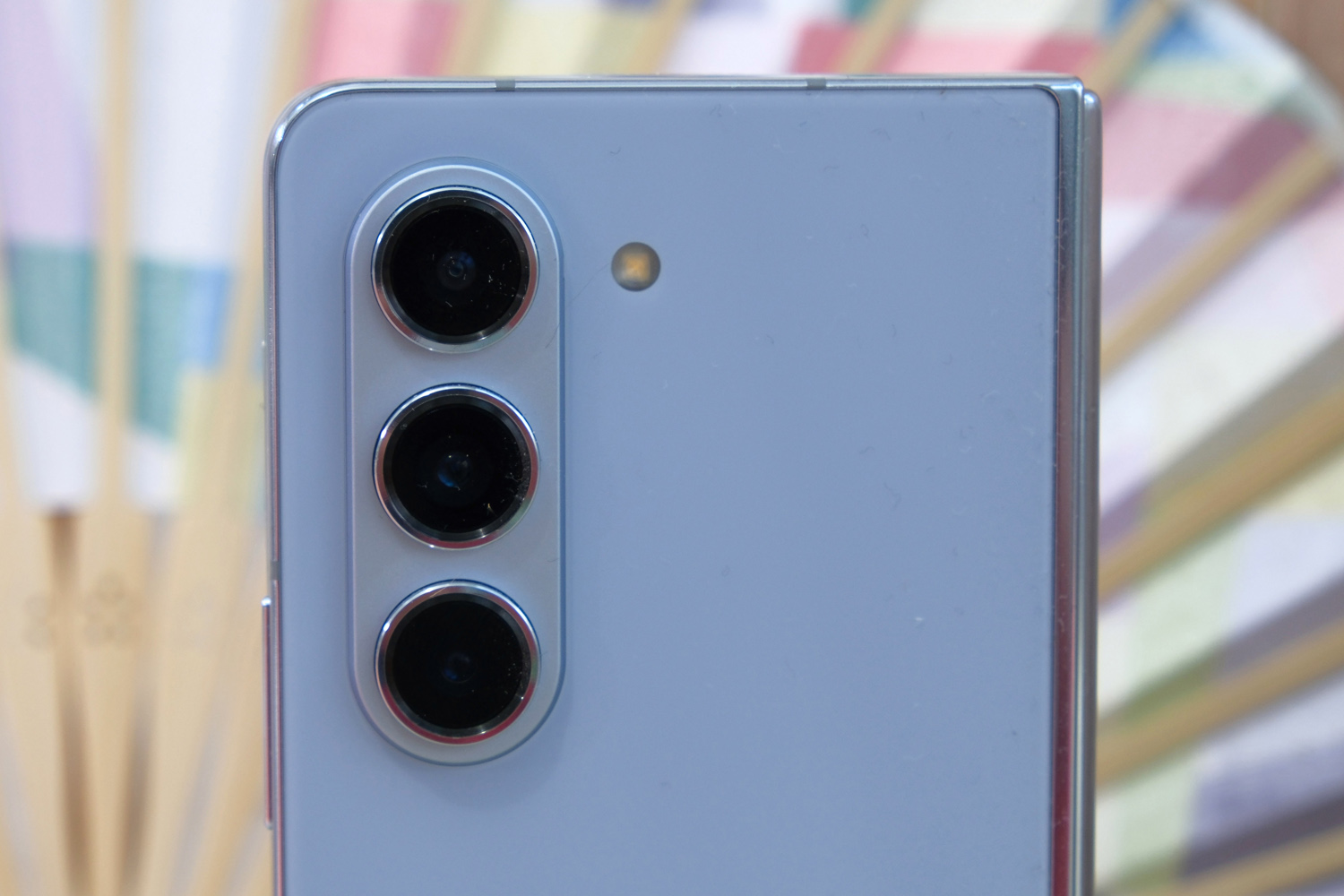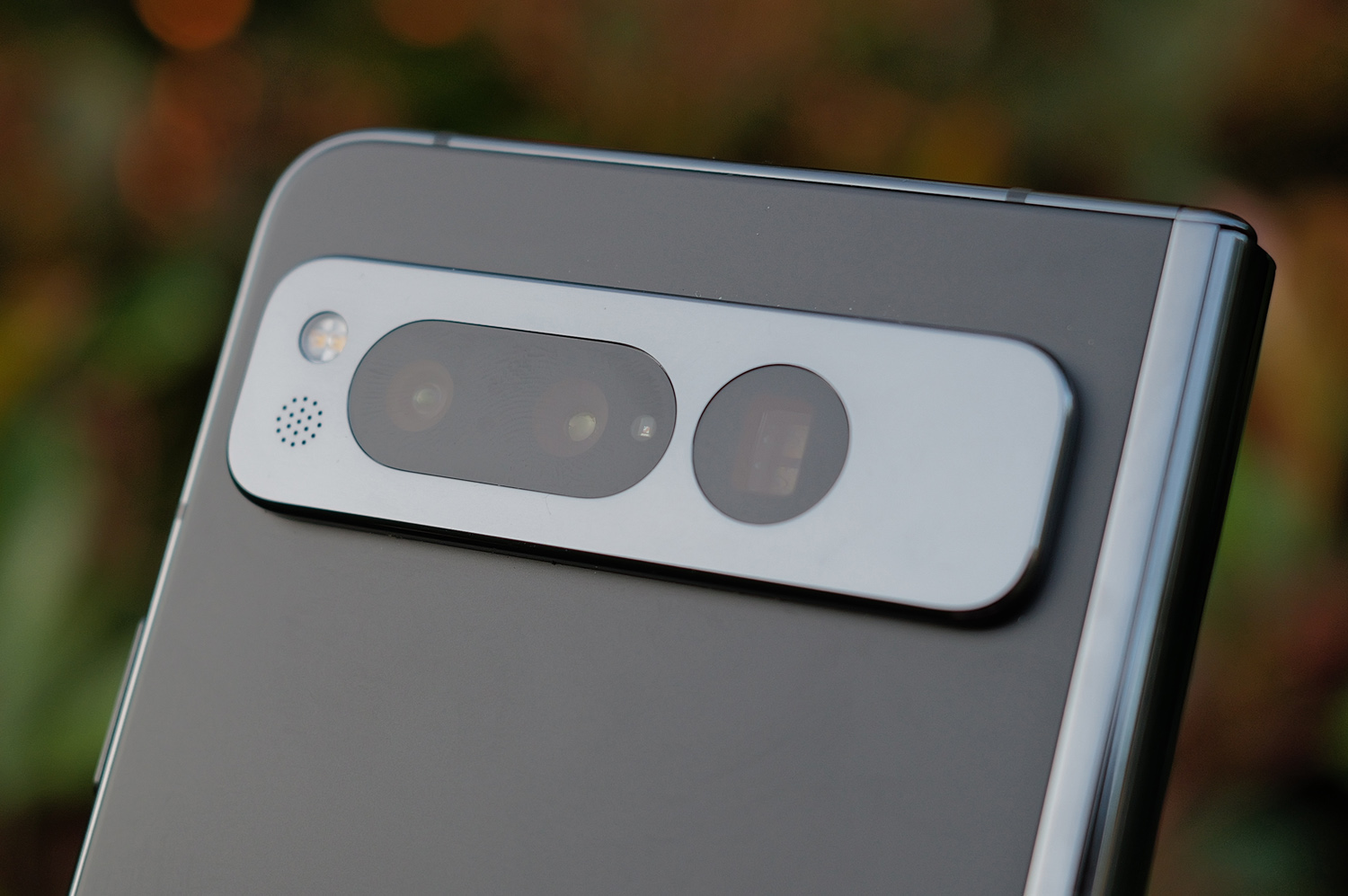 Samsung hasn't really mixed things up for 2023, sticking with the same set of five cameras as the previous-gen Galaxy Fold. That means a rear trio comprised of 50MP main snapper, 10MP telephoto and 12MP ultrawide; a 10MP punch-hole selfie cam on the outer display; and a 4MP webcam stealthed underneath the inner screen. Some image processing improvements promise better low-light photos and videos, though.
The Pixel Fold doesn't copy its camera hardware across wholesale from the non-folding Pixel 7 Pro. It gets a 48MP main snapper, 10.8MP telephoto good for 5x optical zoom, and a 10.8MP ultrawide, supported by an 8MP selfie cam built into the inner screen's bezel, and a 9.5MP punch-hole camera in the centre of the outer screen. Google's image processing does a fantastic job with the hardware, matching the Pixel 7 Pro in most lighting conditions and a long way into the Super Res zoom range.
Until we get the Z Fold 5 in for review it's impossible to say which will take the superior shots, but both phones are closely matched on paper. There's very little in it in terms of pixel count, and while each manufacturer takes a different approach to colour, exposure and contrast, they're among the best in the biz for eye-pleasing imagery. The Pixel's 5x optical zoom does promise to get you closer to the action than the Z Fold 5's 3x telephoto, though.
Performance & battery: feeling Tensor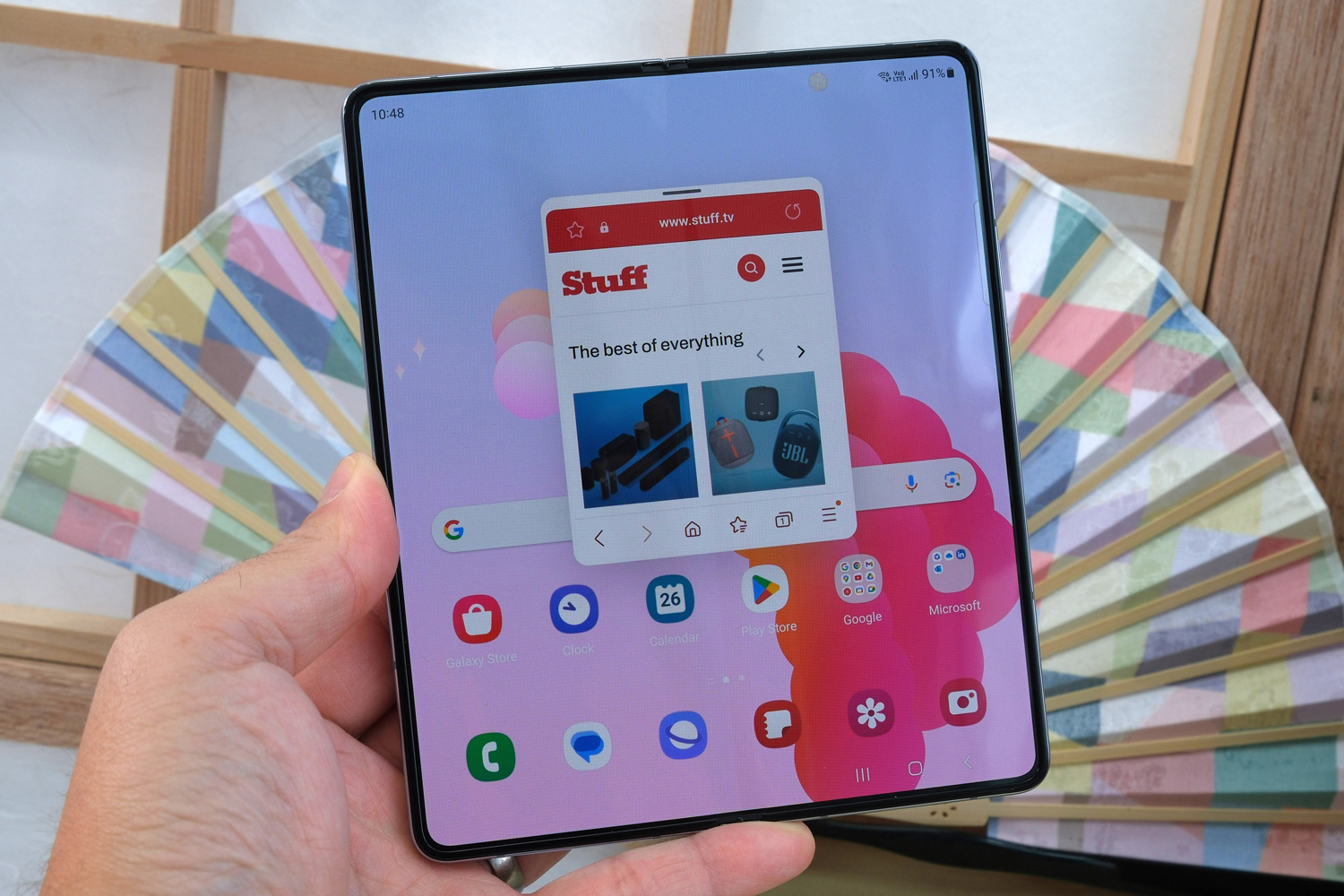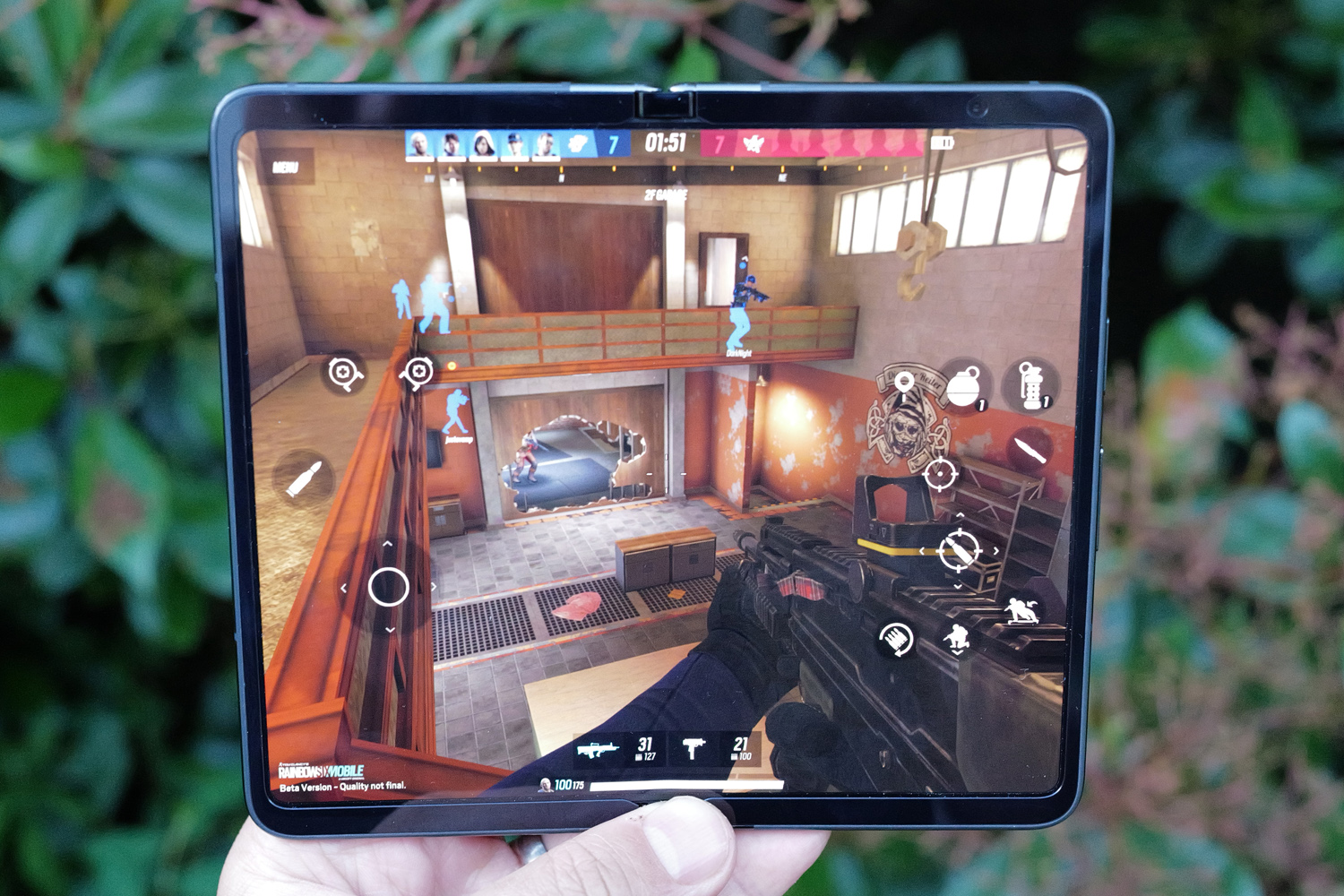 Samsung has partnered with Qualcomm for a special version of the Snapdragon 8 Gen 2 CPU, which runs a little faster than the off-the-shelf version found in rival phones. Paired with up to 16GB of RAM and as much as 1TB of storage, it's as powerful as flagship foldables get right now, for both apps and games. We've yet to put it through its paces, but based on how well that silicon performed in Samsung's other 2023 phones, we're expecting it to outmuscle the Pixel Fold in most situations.
Google has used its bespoke Tensor G2 CPU for the Pixel Fold, paired to 12GB of RAM and 256 or 512GB of on-board storage. The custom chip has some advantages in machine learning, which helps improve Google Assistant voice commands and other under-the-hood features, but is slightly down on power in other areas. Apps and games run just fine, but frame rates should be a bit higher on Samsung's device. The Z Fold 5 should also run cooler (something the Pixel Fold struggles with) and have a more consistent modem – much of Google's Tensor-powered hardware has had questionable cellular connectivity.
The Pixel Fold has a larger battery than the Samsung, but it isn't especially power efficient – we were disappointed by its longevity when we reviewed it earlier in the year. If the Z Fold 5 can improve even slightly on the previous-gen model's all-day running time, it should have this victory in the bag.
Galaxy Z Fold 5 vs Google Pixel Fold verdict: which should you choose?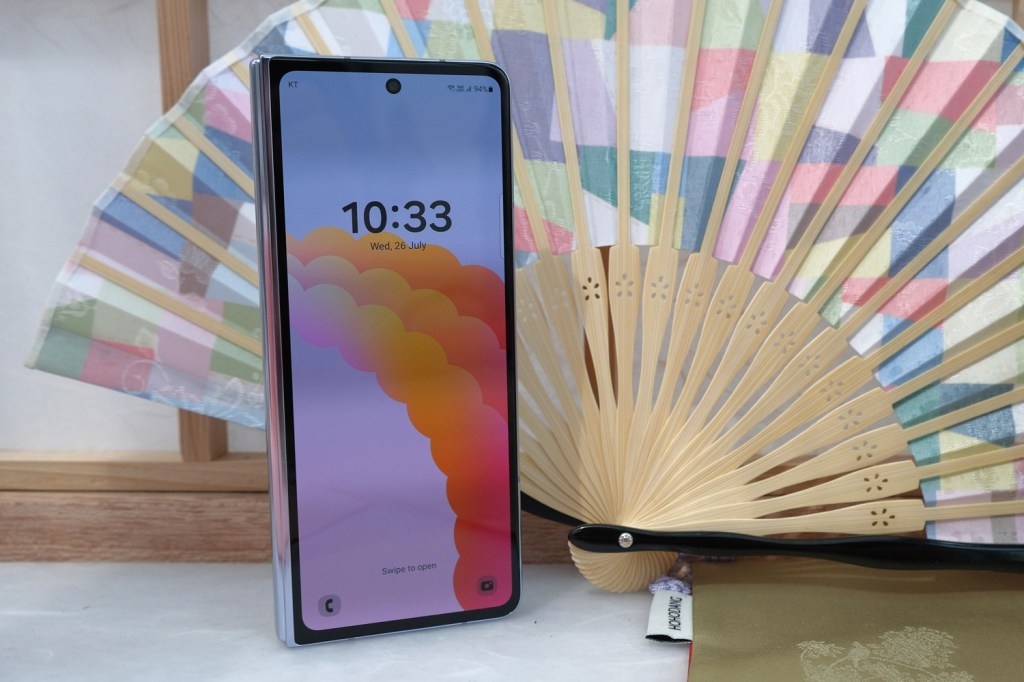 They're both book-style foldables, but the Z Fold 5 and Pixel Fold feel like very different takes on the form factor. The Pixel Fold is a phone first, while the Z Fold 5 feels more at home on the inner display. Both are seriously pricey handsets, and have streamlined software to take advantage of their expansive screens.
Go for the Pixel Fold if you plan on using the outer screen a lot more – the wider aspect ratio really is more convenient than Samsung's skinny offering. There's very little in it in terms of price, and Google's camera image processing really is excellent. We can't call a winner until we've tested both back-to-back, but Samsung will have to work hard to come out on top here.
The Z Fold 5 has it beat almost everywhere else, though. Slimmer bezels make it look and feels like a cutting-edge device, rather than a first try; stylus support and extra multitasking modes really take advantage of the inner display; performance is better across the board, but particularly in games; and battery life should be better thanks to a more efficient CPU. It's on sale directly from the Samsung website.