What is Sky Q? Sky's flagship TV service explained
Answering all your Qs on Sky's most advanced subscription yet.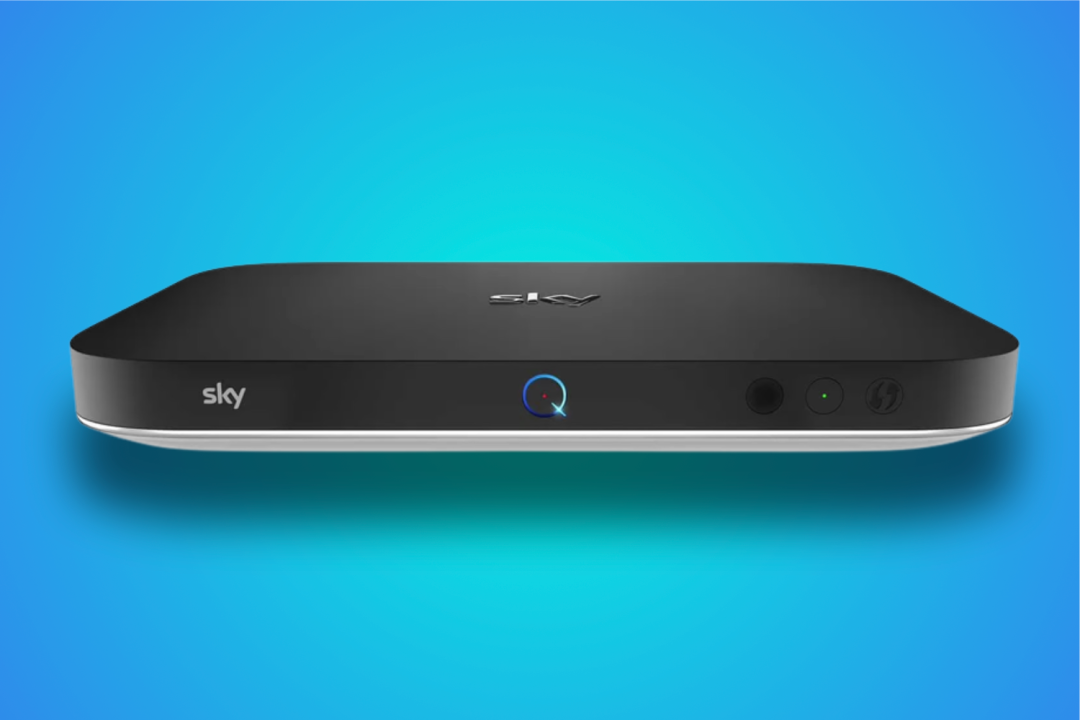 Bored of regularly scheduled programming? Neighbours can't stop talking about House of Dragon? It looks like you've got a Sky subscription to consider, allowing you to access more channels than standard Freeview on your 4K TV.
Sky Q is the brand's flagship subscription service is Sky Q, but there are other options available, such as the streaming service Sky Stream (full details here and Sky Stream review here) and 'Sky Stream with a TV', called Sky Glass.
Sky Q offers live and on-demand entertainment from over 350 different channels, including all the Sky originals. But it doesn't end there. The TV service syncs up with your favourite streaming apps for tightly integrated content. You'll also find smart features such as recommendations, voice control, and app syncing to your mobile device.
But how do you get it, and how much does it cost? We cover everything that you need to know about Sky's flagship TV service. Also, don't forget to check out our Sky Q review as well.
---
What actually is Sky Q?
Sky Q is the flagship TV service from Sky. It offers access to over 350 different channels, just as you're familiar with from previous Sky services (and yes, you do still need the dish). But this shiny new offering steps things up a notch. All content is available on-demand, as well as live. With multiple Sky boxes, you can sync your TV watching across your entire home, including to your mobile device.
Plus, you can access streaming apps for even more content – and bundle a Netflix subscription with Sky. On top of all this, the interface provides smart recommendations, and you can control the entire system using your voice from the remote. Without sounding too much like the Sky sales reps accosting you in shopping centres, it's a modern viewing experience. As Sky likes to brag in the adverts, Sky Q is all about letting you watch what you want, whenever you want.
Sky Q price and subscription packages
Sky Q subscriptions start from £28 per month, which includes Sky TV and the Netflix add-on. This is for an 18-month subscription, and prices may change during this period. There's also a one-off £20 set-up fee for your Sky Q box and an engineer visit to get everything wired up correctly.
Then, you can start to add the different extras to build out your subscription. HD content is an extra £9 per month, for example, while UHD and HD content is an extra £13 per month. Of course, you can add on Sky Sports, Sky Cinema, and all the extras, which range between £10 and £30. Want to watch across multiple rooms? You'll need the £15 per month Multiscreen package, which gives you a Mini box. As you can see, your total monthly cost can stack up pretty quickly – up to £127 per month if you add all the extras.
Of course, there is some haggle room with Sky if you're renewing a contract. Some customers have successfully knocked their bill down, though this isn't guaranteed. Remember that this is a contract, so you'll be locked into Sky for your contract length.
Sky Q design and features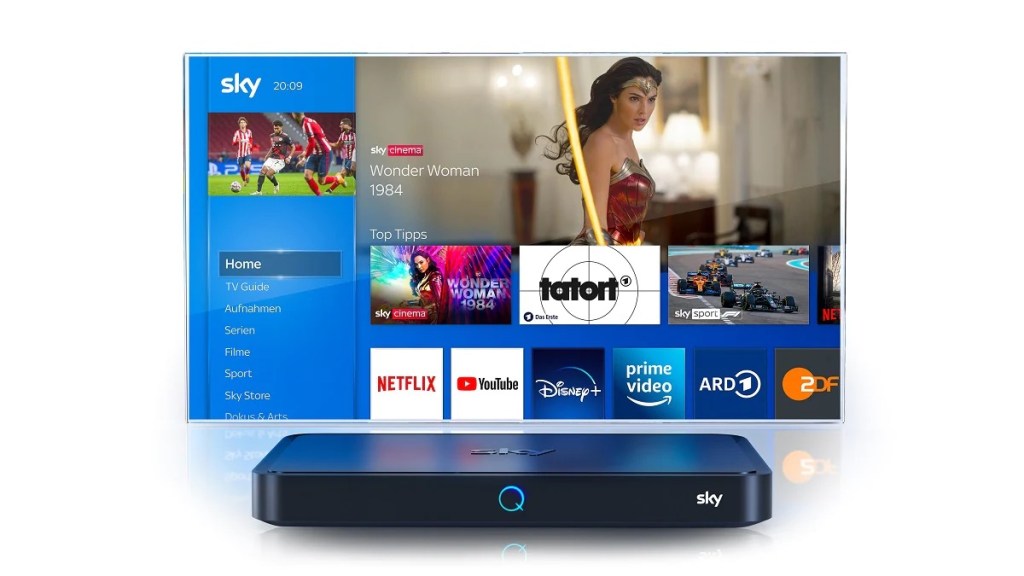 The Sky Q box looks pretty familiar to most set-top boxes and Blu-Ray players. It's a rectangular box, which should fit nicely in any TV stand. You can't do much to make a black rectangle particularly stand out, but you'll find Sky branding on the top and front of the box. In the front centre there's a glowing Q badge. This light acts as a power indicator, and changes colour based on different actions you take while watching.
It's not quite that easy, though – there are different Sky Q boxes available. The main model is a 2TB box, with 12 tuners to record up to six programmes at once, and display UHD content. Or, you can step down to the 1TB model, which lets you store up to 500 hours of content, but can't record quite so many programmes at once. And then you come to the Mini boxes that you'll place in additional rooms as part of the Multiscreen add-on. These piggyback off your main box over the internet, rather than acting as a full box. They don't store recordings themselves, but rather access everything through the larger box. Unfortunately, it can only display content in Full HD, not 4K UHD.
Your remote is pretty familiar, but includes some rather swish features. The main Sky Q remote features a touch panel rather than your regular up-down-select array of buttons. There's also a built-in microphone for voice control with Sky's software. It's a Bluetooth remote, which means you don't have to point and click at the box. You'll find all the other buttons you'd expect, such as play, pause, record, and a number pad. The remote for secondary boxes isn't quite so flash, ditching the touchpad.
With all the hardware out of the way, the rest of your Sky Q experience lives through the software on the boxes. Here, you'll access all your content to watch.
Sky Q software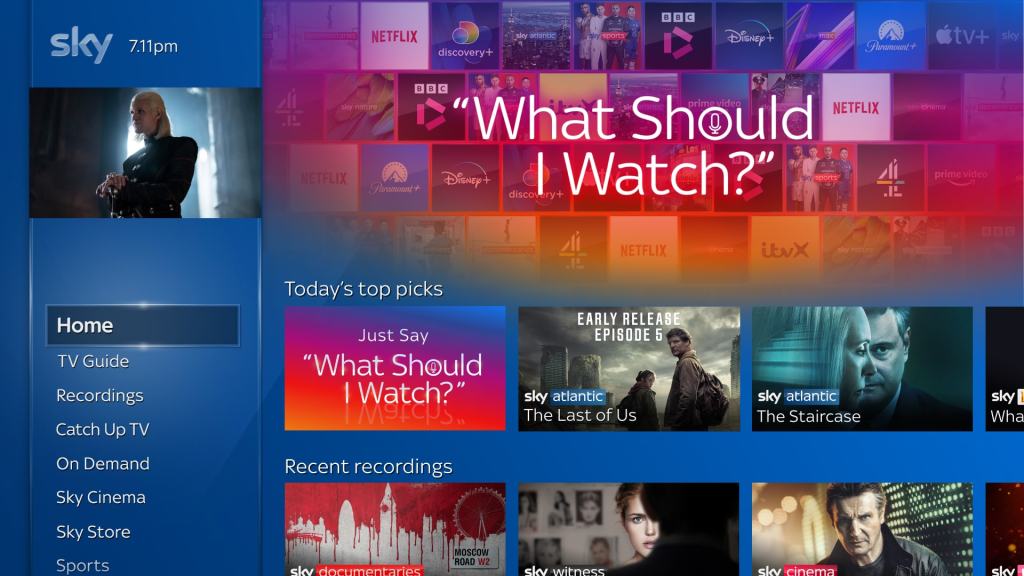 If you've ever used Sky TV before, you'll notice a major design overhaul when it comes to Sky Q. You'll find that all your sections live in the sidebar on the left-hand side of your screen. Here, you can access the TV guide, your Recordings, On Demand content, and more. But the main page on Sky Q is the Home screen.
On the Home screen, you'll find all your essentials in one place. You can access everything from top picks, to personalised recommendations that Sky tailored for you. On the page, you can jump into your recent content through the Recent Recordings and Continue Watching sections. All your streaming apps will sync here too, so it's not just regular TV content that you can dive back into.
Beyond this, Sky Q is very intuitive and easy to use. With everything in the sidebar clearly labelled, you'll be able to navigate the system with ease. There's a side button on the remote that'll pull up recently used apps if you want to skip going back through the home page. And, as we mentioned, you can always use voice control through the app.
In terms of specs, Sky Q supports Ultra HD at 50fps, Dolby Vision, and Dolby Atmos sound. But, obviously, you'll need to plug it into a suitably capable TV and sound system for those.
Watching 4K and HDR content
If you want to watch UHD or HDR content on Sky Q, you'll need to make sure that you enable it on your box. From the sidebar, head into Settings, then scroll down to Setup. Navigate to Audio Visual, and find Picture Resolution on the list. In here, select 2160p for UHD content. When prompted, select the colour bit you want content to be displayed in. For HDR content, you'll need to choose 10-bit. Click on Confirm, and your box will begin playing UHD and HDR content from now on.
Remember that you can only watch UHD content directly on your main Sky Q box. The Sky Q Mini boxes for secondary rooms only support Full HD content.
As for the kind of UHD content you can watch on Sky Q, you'll find everything from streaming apps to live TV. The BBC broadcasts some newer programmes and sports events in UHD, so you'll be able to watch these in the higher resolution. Beyond this, you'll be able to sink your teeth into plenty of crispy on-demand content.