Gamer-friendly Asus ROG Phone 7 duo can play all day
Active cooling accessories keep heat at bay
A mobile gamer's two biggest enemies? Battery life and heat. Two things Asus reckons it has conquered with the new Asus ROG Phone 7 and ROG 7 Ultimate. The latest hero handsets from the firm's gaming division bring overhauled cooling systems and upgraded accessories to keep temps under control, even during marathon play sessions, and pack passthrough charging to give the battery a breather.
Both phones have been given an extensive internal redesign over the outgoing ROG Phone 6 Pro, with reshaped graphite sheets to better spread heat, a bespoke thermal compound to speed up heat transfer away from the CPU, and a vapour chamber with extra liquid return channels. The result is a claimed 168% boost to thermal efficiency, which should help the CPU run at higher clock speeds for longer – and that's before you bolt on the optional Aeroactive Cooler 7 cooling fan.
The external cooler is largely the same as last year's version, combining a peltier effect thermoelectric chiller with a cooling fan to drop temperatures by as much as 25 degrees celsius. It draws power from the phone through its side-mounted USB-C port, with a passthrough plug so you can stay charged and a 3.5mm port for plugging in a pair of earphones. Four physical buttons around the sides can be bound to touch commands in-game, in case the pressure-sensitive air triggers built into the phone's aluminium frame weren't enough, and there's RGB backlighting too. The big new addition is a 13x38mm subwoofer, which boosts bass performance by 77% compared to just using the phone's front-facing stereo speakers.
It comes bundled with the ROG Phone 7 Ultimate, which has an active aero cooling channel that opens up whenever the cooler is connected. That should ensure performance is always tip top, even when playing the most demanding games. It also gains a second external screen on the rear, for showing incoming calls and notifications, or playing animations when charging or opening games.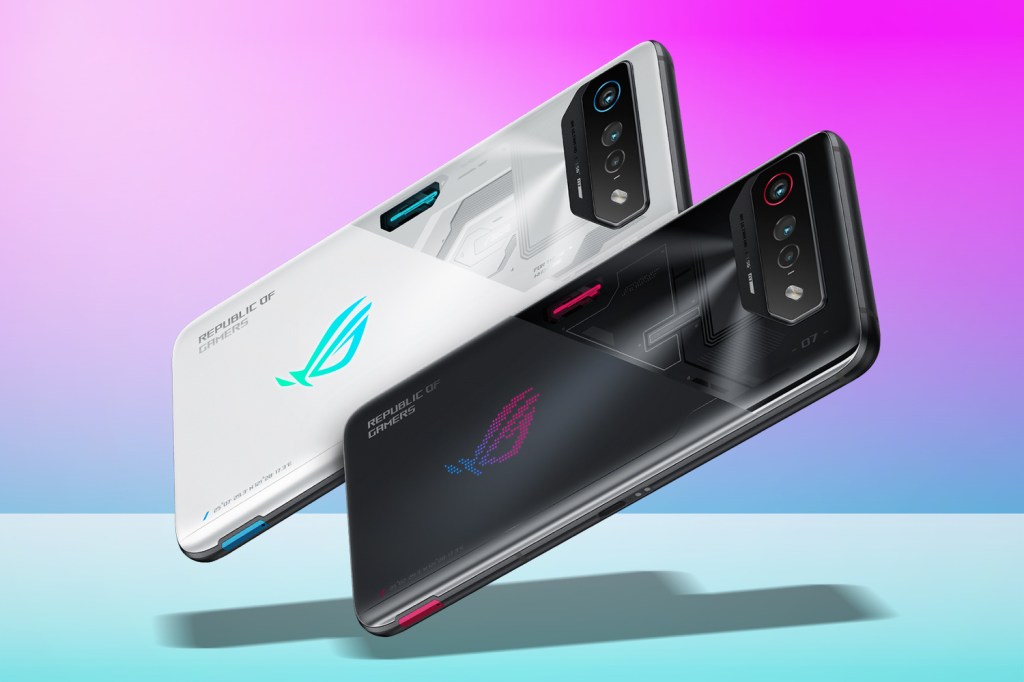 Performance comes courtesy of the latest Snapdragon 8 Gen 2 CPUs, paired with a generous 16GB of RAM and up to 512GB of rapid UFS 4.0 flash storage. There's no word yet on a MediaTek-powered version to match last year's ROG Phone 6D Ultimate. It'll ship with Android 13, and Asus is promising two major OS version updates in addition to four years of security patches. An in-display fingerprint sensor provides security.
Asus' dedicated X mode kicks in while gaming, with bespoke tuning for games including Diablo Immortal, Genshin Impact and PUBG Mobile, and there's a further X Mode+ dedicated to when the AeroActive Cooler 7 is fitted. According to the firm, it'll outmuscle both the Samsung Galaxy S23 Ultra and Xiaomi 13 Pro when it comes to smooth gameplay at high frame rates. A giant 6000mAh battery should last through even extended gaming sessions, and the dual USB-C ports mean you can charge without a cable getting in your way.
Both phones have a 6.78in AMOLED screen up front, with 2448×1080 resolution and 165Hz refresh rate, while ROG's trademark sci-fi, Gundam-esque styling makes another appearance on the matte glass rear. There's a choice of Phantom Black and Storm White colour options, the whole thing is IPX4 splash resistant, and the regular ROG Phone 7 swaps the Ultimate's second screen for some eye-catching RGB lighting.
An angular camera bump holds a 50MP main snapper, 13MP ultrawide and 5MP macro lens. Photography definitely takes a back seat to gaming here, but a year's worth of software tuning and subject detection algorithms should give it an image quality boost over the outgoing ROG Phone 6. There's also a 32MP selfie cam up front.
The Asus ROG Phone 7 series is up for preorder on the Asus web store right now. Prices will start from £1000 for the ROG Phone 7, with 16GB of RAM and 512GB of storage, in Phantom Black or Storm White colours. The ROG Phone Ultimate will set you back £1200.