The Bang & Olufsen Beolab 8 is a supremely stylish speaker
Single speaker, stereo pair or surround sound - the Beolab 8 does it all
Bang & Olufsen's latest wireless speaker is the embodiment of "small yet mighty". The Beolab 8 is no bigger than a bookshelf speaker, yet squeezes in the same ultra wide band (UWB) tech found in Apple's AirTags to track you around the room, delivering the best possible sound quality from all angles.
Naturally it looks the part, with a stand carved from a single slab of aluminium, a glass top that stealthily contains the touch-sensitive controls, and a choice of fabric or wooden grilles – but underneath, the Beolab 8 is more than a fashion-forward squalkbox. Once you have the Bang & Olufsen app running on your phone, it directs the acoustic sweet spot automatically based on where you're at. Beam width control also lets you swap between the best sound for a single listener, or a wider soundstage for more of a party atmosphere.
As with all B&O tech, the Beolab 8 can be tailored to your personal tastes. The chassis has three aluminium treatments to choose from, and the front grille can be had in three shades of oak wood if acoustic fabric just doesn't do it for you – or you're looking to match your existing Beosound Theatre soundbar. Sensors in the grilles even tell the speaker to fine-tune the EQ accordingly, so the different materials don't colour the sound. Talk about detail-oriented.
There are also four different types of stand, including a ceiling mount. Inside there's a a 16mm tweeter, a 3in midrange driver and 5.25in woofer, which should deliver B&O's signature epic audio – just on a smaller scale than the firm's usual floorstanding efforts.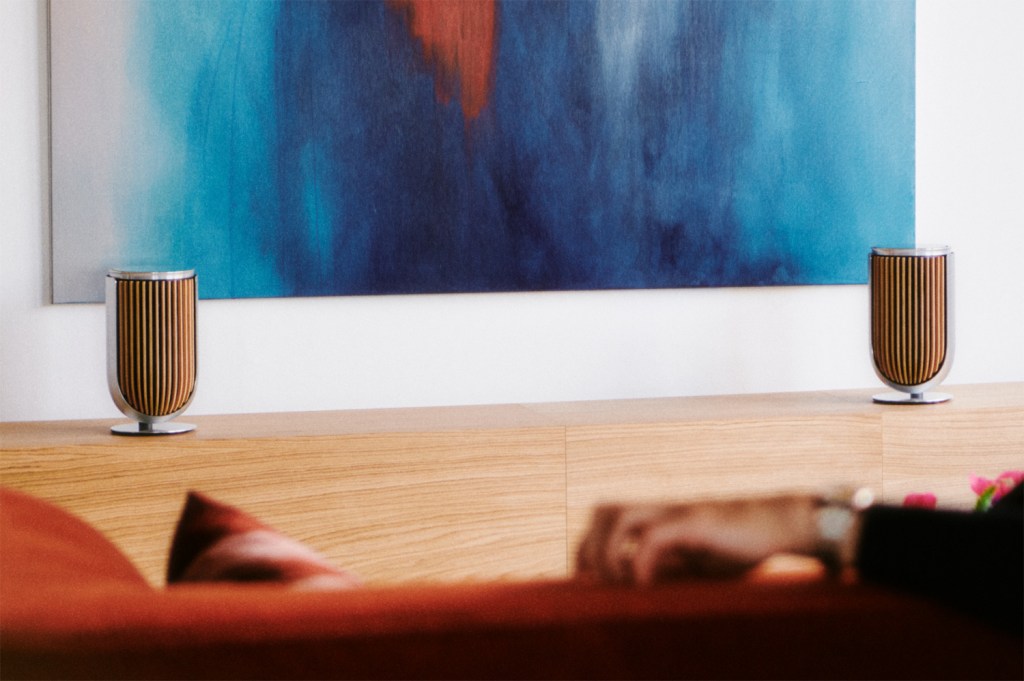 Beolab 8 can be had as a solo speaker, with WiFi 6 on board for hi-res streaming and Bluetooth 5.3 for convenience, or set up as a stereo pair using B&O's wired or wireless Powerlink pairing tech. That's also how you'd integrate one into one of the firm's surround sound systems, if you're sufficiently minted.
Available to order right now, directly from the Bang & Olufsen website, the Beolab 8 will set you back a substantial $2749/£2199/€2499 each – and that's before you start being selective with the fabric and wood finishes.