5 things you need to know about the dual-screen LG V50 ThinQ 5G
LG's attempt to take down foldable phones? A detachable second screen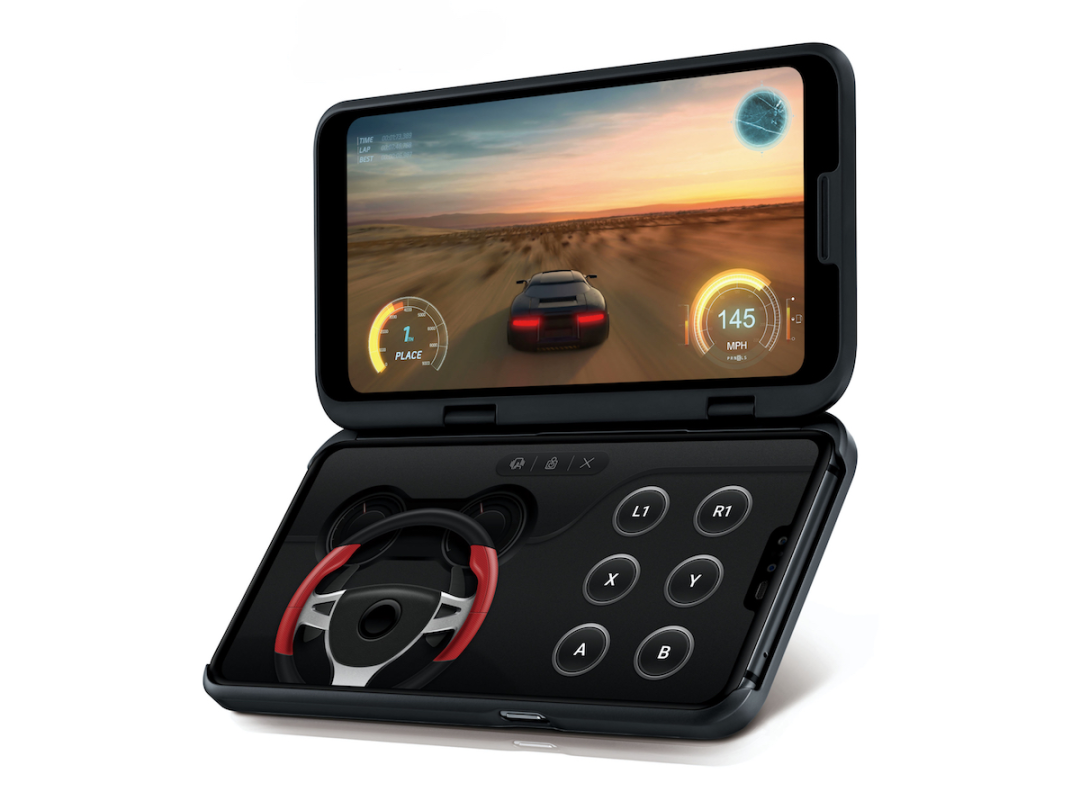 Mobile World Congress 2019 is now underway, and LG had one of the first big showings with the announcement of the LG G8 ThinQ and LG V50 ThinQ 5G.
Pre-show rumours suggested that the LG G8 ThinQ might have some kind of unique second-screen attachment… but nope, that wasn't true. Instead, the LG V50 ThinQ 5G has the optional dual-screen setup, pitting LG's transformable handset against the coming wave of ultra-pricey foldable phones from the likes of Samsung and Huawei.
With a couple of big distinctive features, the LG V50 ThinQ 5G could well be the company's most appealing V-Series phone to date. Here's what you need to know about it.
1) You can add another screen
On its own, the LG V50 ThinQ 5G looks much like other flagship Android phones these days: glossy build, notch at the top, bit of a chin. But the V50 has a trick that we haven't seen on phones in a long, long time: an optional, attachable second screen.
When snapped on, the second screen makes the V50 ThinQ look a bit like a feature phone from the mid-aughts – but, you know, with touchscreens instead. Folded over, it's like a cover case for phone, but opening it up reveals the add-on screen. Note that the added 6.2in OLED screen is only at 1080p resolution, while the phone's own OLED panel is a 6.4in Quad HD screen.
Why would you need a second screen for your phone? Good question. LG says it'll have advantages for games, with the ability to have controls on the bottom while the game is on the top, or that you could browse the internet on one screen while watching a video on the other. Presumably, you'll be able to type on the bottom screen while browsing at the top.
The screens can be used independently from one another when attached, but note that the second screen draws power from the V50 ThinQ – so this Nintendo DS homage is bound to be a battery drain.
2) Sweet, sweet 5G
LG is ready for the oncoming 5G wave, as the V50 ThinQ 5G is (expectedly) its first handset to support the new wireless standard. 5G is purported to be many, many times faster than 4G LTE, and we're starting to see which phones will be the first to offer that advancement – including Samsung's very large Galaxy S10 5G.
Problem is, 5G is coming soon… but it's not up and running right now. LG says it's working with 10 major carriers in countries including the United States, some parts of Europe, Australia, and South Korea, but availability in each region is likely to depend on when service is available.
3) It's loaded with cameras
Keeping with the "5" theme here, the LG V50 ThinQ also packs in a total of five cameras, matching the tally of the Samsung Galaxy S10+. Granted, the newly-announced Nokia 9 PureView has five cameras just on the back, which is wild… but even so, the V50 ThinQ's five total cameras is pretty serious stuff.
What do you get? Well, there's three on the back: a 12-megapixel (f/1.5) standard camera, 16MP (f/1.9) super-wide camera, and a 12MP (f/2.4) telephoto camera. The triple-camera space is rapidly getting crowded, so we'll have to see how it compares to Huawei's leading Mate 20 Pro, the Galaxy S10+, and whatever else is coming down the pipeline right about now.
On the front, you'll find two cameras: an 8MP standard (f/1.9) and 5MP (f/2.2) wide-angle one. Between the two, you ought to get some solid selfies.
4) Plenty of power, plenty of cooling
The LG V50 ThinQ 5G is loaded with the latest tech, with Qualcomm's Snapdragon 855 chip (and 6GB RAM) and also the company's Snapdragon X50 5G Modem. It also has a hearty 4,000mAh battery within, although as mentioned, the second-screen attachment will draw from that too.
Hopefully, you won't have to worry about the LG V50 ThinQ 5G getting too hot under pressure: it has a vapour chamber heat dissipation system to cool the phone more effectively than typical heat pipes, and help keep your phone from getting bogged down when it overheats.
5) We don't know when it's coming
Price? Release date? We don't have those details yet, sorry. Remember when we said that 5G is still a work-in-progress? Incoming 5G phones are waiting on that rollout to begin before shipping their phones, since a 5G phone running on 4G LTE isn't going to feel quite as special.
As far as pricing, LG's V-Series phones haven't been cheap: the V40 ThinQ launched at nearly US$1,000 in the States, and we have to think the V50 ThinQ 5G will break that barrier thanks to the addition of 5G. As for the second screen attachment, we haven't a clue. It's a 1080p panel, so it shouldn't be crazy expensive, but it's sure to not be cheap either. We'll just have to wait and see.