EE 4G prices and launch date announced
"EE4G" service will arrived 30 October with prices starting at £36, with details of fibre optic broadband service also revealed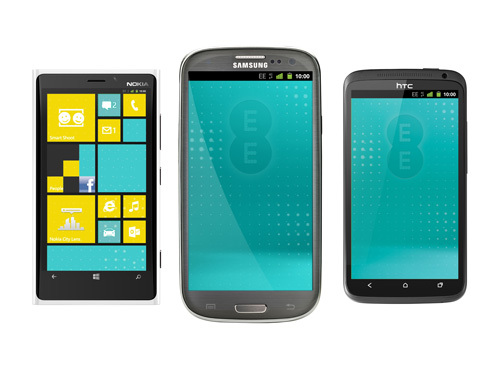 EE has announced the pricing plan and release date for its EE4G service – the first 4G LTE available in the UK. The service, which offers up to five times the speed of 3G, will begin its rollout by coming to ten cities on 30 October, with prices starting at £36 per month.
Pay £36 and you'll receive 4G where available, with a data allowance of 500MB a month. Prices are tiered depending on data allowance, with the top band of 8GB a month costing £56. You'll be warned if you're approaching your limit, and can then buy a data add-on if you need more. VoIP, tethering and access to BT Wi-Fi are also supported through the plan, with no extra cost for using any. Voice and text allowances can also be taken abroad (to Europe and a selection of other countries, including the USA) for a fee of £5 extra a month.
All consumer plans include a handset, require a 24-month contract and feature unlimited calls and texts as standard. In addition to the two plans already mentioned, you can get 1GB of data for £41, 3GB for £46 and 5GB for £51. 12-month SIM-only deals will be launched on 9 November, and will be £15 a month cheaper than the corresponding handset deal.
EE4G will be available from launch day in London, Manchester, Bristol, Birmingham, Cardiff, Edinburgh, Glasgow, Leeds, Liverpool, Sheffield and parts of Southampton, with a further five cities – Belfast, Derby, Hull, Newcastle and Nottingham added to the list by Christmas. EE claims that 98 percent of the country will have 4G coverage by the end of 2014.
EE is also launching a new fibre optic broadband service, with download speeds reaching up to 76Mbps. Prices start at £15 a month, plus a £50 connection fee and £14 a month line rental, although EE4G customers can get a £5 monthly reduction if they sign up for an entire year.
What do you make of EE's 4G pricing plan? Will you be riding the 4G LTE train come 30 October? Let us know in the comments section below – and read our EE4G need to know article for more info.
You might also like
Borderlands Legends coming to iOS
Apple iPad 4 leaks begin
Apple iPad Mini – and five other gadgets that are better small