LCD display the size of a contact lens, anyone?
A breakthrough in LCD technology will pave the way for LCD displays you can wear on your eye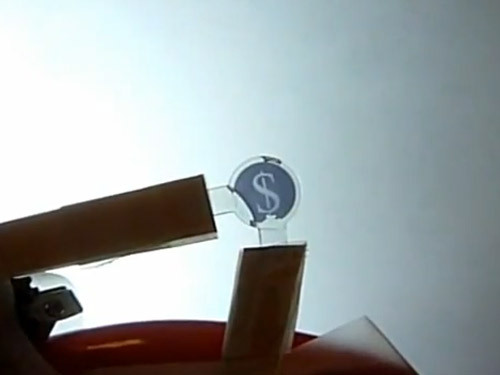 Clever scientists from the Centre of Microsystems Technology (CMST) of Ghent University have revealed a new curved LCD display that's small enough to be embedded within a contact lens.
Unlike existing LED displays of a similar size, the display technology allows anything from one pixel to many to be displayed on the surface – making it possible to display images like a dollar sign, as seen in the video above.
The potential uses for the dinky curved LCD –  which works using conductive polymers – are numerous. It could be tinted, blocking light like a miniature pair of sunglasses – or changing the colour of your eye on a whim. It could even be used to create a miniature heads-up display, like the one seen on Google's Project Glass – although the idea of being badgered by adverts right in front of our eyes sends a shiver down our spine.
Expect the first applications of the conductive polymer-based curved LCD display to arrive in a few years. Until then, marvel at the video above.
[via NanoTech]
iPad Mini gets the 4G treatment from EE
Gigantic 6.1in Huawei Ascend Mate smartphone incoming
Is this the iPhone 5S?