Need to know – universal 3D glasses
More nasty 3D specs?Sort of, but these aren't common or garden active shutter glasses the likes of which come in the box with your 3DTV.What makes th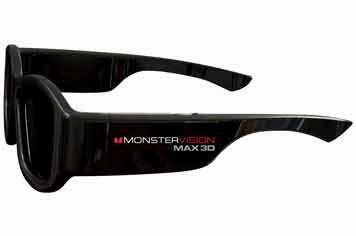 More nasty 3D specs?
Sort of, but these aren't common or garden active shutter glasses the likes of which come in the box with your 3DTV.
What makes them different, then?
They'll work with any (3D) TV. Unlike other bins that only work with a given sytem, the new breed of universal 3D specs come with their own transmitter capable of 'listening' to your TV's shutter sync pattern and relaying it to your headwear.
Sounds complicated. And expensive…
Active shutter glasses have never been cheap at around £100 a pair. The first universals out of the gate are Monster's Vision Max 3D (pictured) and – at £115 – they're not bad value, all things considered. But there's small print: the pair that comes bundled with the transmitter will set you back £165.
Ouch!
The silver lining is that we're expecting some competition soon. XpandD is unleashing a similar system at IFA next week, and there's a good chance others will follow. That means prices could go into freefall. Or drop a bit. Hopefully.
So they might be affordable by Christmas?
Theoretically, though Monster's solution won't be available until late September, and XpanD hasn't even unwrapped its universal 3D goggles yet. Unless you mean Christmas 2011…