Neil Young shows off Pono audiophile music player
The rocker's quest to bring lossless music to the mass market gets underway on Letterman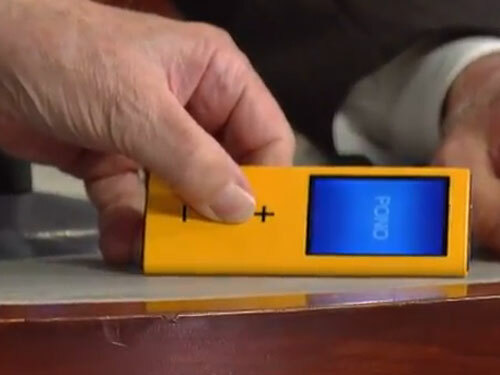 Rock legend Neil Young has always maintained a keen interest in releasing his music at the highest possible quality – his archive boxed set was delivered on Blu-ray in order to offer maximum fidelity to the original recordings – and on last night's Letterman he showed off a pocket player and service that allows the user to convert, download and listen to what he calls "master quality audio".
Called Pono (Hawaiian for "righteous"), the device looks vaguely like a mini Toblerone, with a screen and three buttons on one of its three faces. It will play lossless 192kHz/24-bit audio, so you'll hear every bit of the original recording.
Of course, the main issue is that Young and co have to make it easier for people to get hold of the files at this quality. He told David Letterman that the team behind Pono are currently transferring The Freewheelin' Bob Dylan and Highway 61 Revisited from the original studio masters, and negotiating with Sony and Warner in order to bring more albums.
We'll be keeping an eye on Pono to see how it develops.
[Pono via TechCrunch]
You may also like
Tim Cook apologises for Apple Maps
Icon – Jaguar F-Type
Apple iPhone 5 vs Samsung Galaxy S3 – drop test