Parrot AR.Drone quadricopter gets official launch
Back in January we got our first glimpse of the AR.Drone, when it was debuted by makers Parrot at CES.Well the Avatar-esque four-bladed helicopter toy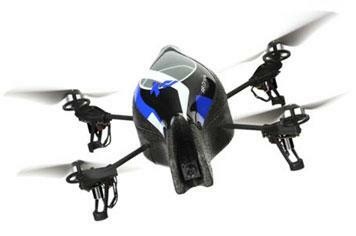 Back in January we got our first glimpse of the AR.Drone, when it was debuted by makers Parrot at CES.
Well the Avatar-esque four-bladed helicopter toy is nearly ready for launch, and will be formally introduced to the world on 15 June, at the E3 games expo in sunny Los Angeles. Parrot will show off the AR.Drone and detail its pricing and release date.
The big deal about this micro chopper is that you can control it with your iPhone or iPod touch via Wi-Fi. You can get an AR.Drone's-eye-view of the world via a front-facing onboard camera that feeds video to your iPhone, while accelerometers, gyros and stabilisers keep it airborne and make the act of controlling it much easier.
But that's just the tip of the AR.Drone iceberg – it's also dipping its blades into the world of augmented reality, and you'll be able to play games by having the drone overlay graphics on the real camera feed. Then you can blast fictitious aliens – or even other AR.Drones. Exciting stuff – and another reason to look forward to E3.
Via: Engadget