Samsung takes on Sonos Play:1 with Shape M5 wireless streaming speaker
Samsung is aiming to wow hi-fi enthusiasts with its line-up of audio offerings for CES 2014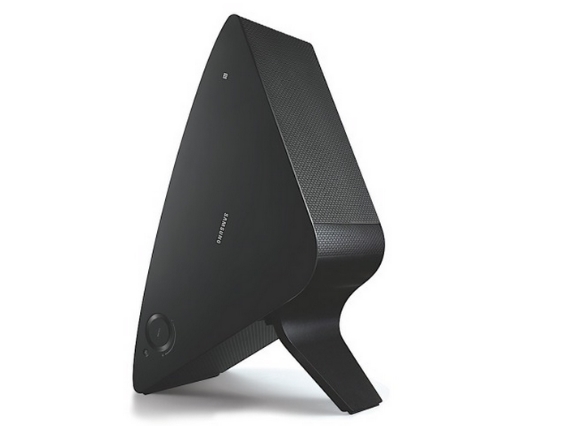 Samsung is set to expand its wireless streaming audio system with the Shape M5 speaker – taking on Stuff Gadget Award winner the Sonos Play:1.
The Shape M5 is just one of a range of audio kit that Samsung is preparing to reveal at CES 2014, including two soundbars, a portable stereo and a home theatre system.
Shapely speakers
Looking 'shapely' as the name suggests, the Shape M5 wireless streaming audio system will be making its debut at CES this year; the smaller sibling to the Shape M7 packs the same wireless audio tech but features a bit of a driver downgrade with only three drivers rather than its larger sibling's five. The M5 connects to your network through a Shape hub wired to your router and controlled via the Shape mobile app; Samsung has also thoughtfully made available a connect box that hooks up your old school analogs and brings them under wireless control as well.
Shape compatible soundbars the HW-H750 and the HW-H600 will also be putting in an appearance at CES; the H750 sits unobtrusively under your LCD and pumps out 320W, while the H600 sound stand is made for plonking your TV on top of while it blasts out multi-directional 4.2 channel audio.
Home Entertainment
With six speakers, a subwoofer, an amplifier with both analog vacuum tubes and digital amps on top of a Blu-ray player capable of 4K upscaling, the Samsung HT-H7730WM system is set to deliver up to 9.1 channels sound using the brand new DTS Neo: Fusion II codec.
Also making its debut will be Sammy's MX-HS8500 GIGA system. With 2,500W of power and twin 15-inch subs, it's also built for travel with a retractable handle and wheels to get around.
There's already plenty of other CES news, with much more to come over the next few days. Catch up here: CES 2014 – all of the biggest news so far
[Source: Engadget]