Sony Cyber-shot cameras get 3D panorama mode
New TX9 and WX5 Cyber-shot cameras shoot super-wide 3D pics in a jiffy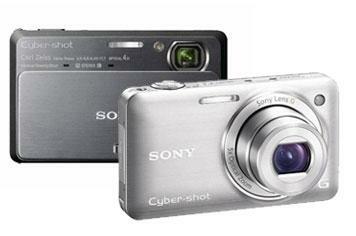 Sony has fitted two of its latest snappers – the Cyber-shot WX5 and TX9 – with its new 3D sweep panorama mode.
We've been massive fans of Sony's sweep panorama mode that simply lets you pan the camera and capture a super-wide image in one go with none of that pesky stitching shots together business. The 3D sweep panorama mode goes one step further by capturing a 3D image that can be viewed in all its glory later… on a 3D TV, natch.
The 3D sweep panorama mode has already been released on Sony's NEX-5 interchangeable lens camera, but the jump to compact cams is very welcome.
Also onboard is Sweep Multi Angle mode, which we're told shoots a high-speed burst of 15 frames that creates a '3D-style' image sequence that you can scroll back and forth through simply by tilting the camera. We're not sure exactly how that's going to work, but we're looking forward to getting our hands on one of these cameras to try it out.
The Sony Cyber-shot TX9 and WX5 will be available from September 2010, no price as yet.