Apple Vision Pro: everything you need to know about the upcoming headset
Apple reckons that Vision Pro is the "most advanced consumer electronics device ever"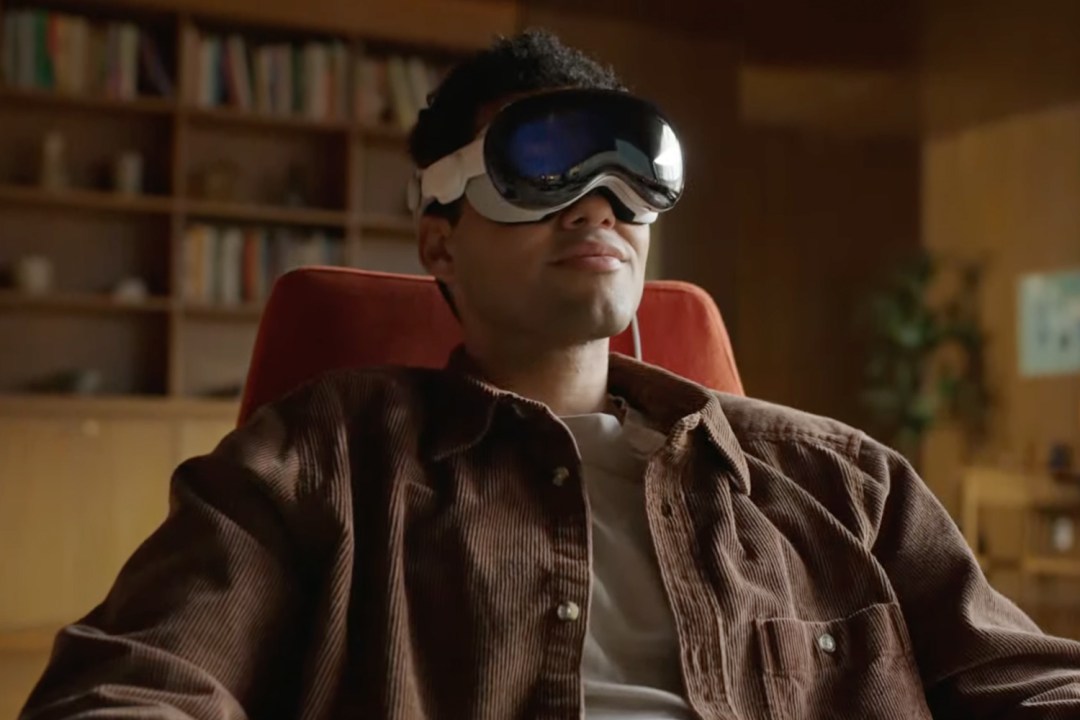 Apple doesn't launch entirely new products very often, so the Apple Vision Pro mixed reality headset is rather big news. Here's what we know so far about the headset that was announced in June at the company's WWDC23 event.
Apple reckons that Vision Pro is the "most advanced consumer electronics device ever". And it's probably not wrong. But is it actually for consumers? The jury is definitely out on that one.
Is it Apple's most revolutionary product since the iPhone? Yes it is. But it's a hugely expensive one, costing $3499 and not fully available until "early next year". The price is higher than rumoured and availability is further off than predicted.
Talk of an Apple virtual reality (VR) headset has been doing the rounds for years. The Apple Vision Pro is a mixed reality (MR) headset – Tim Cook suggested during the announcement that the Vision Pro represented the introduction to "spatial computing" as opposed to the iPhone changing mobile computing.
Apple says that vision Vision Pro "seamlessly blends digital content with the physical world, while allowing users to stay present and connected to others."
Instead of just being a virtual world that you see, it overlays information and images on the real world. That puts it somewhere in the sphere of Microsoft Hololens (not moving onto a third version, it seems) and Google Glass. That would also make sense given Apple's work on ARKit for the iPad and iPhone.
Apple Vision Pro at a glance
You control the headset using gestures – there are no controllers.
It has a cable and is made from aluminium, glass and carbon fibre. There is a waist-mounted battery pack to cut down on weight. The battery life is cited at around two hours.
The top has a digital crown-type control just like on the Apple Watch which you can use to focus in on things.
There's an Apple Watch-style home screen with apps.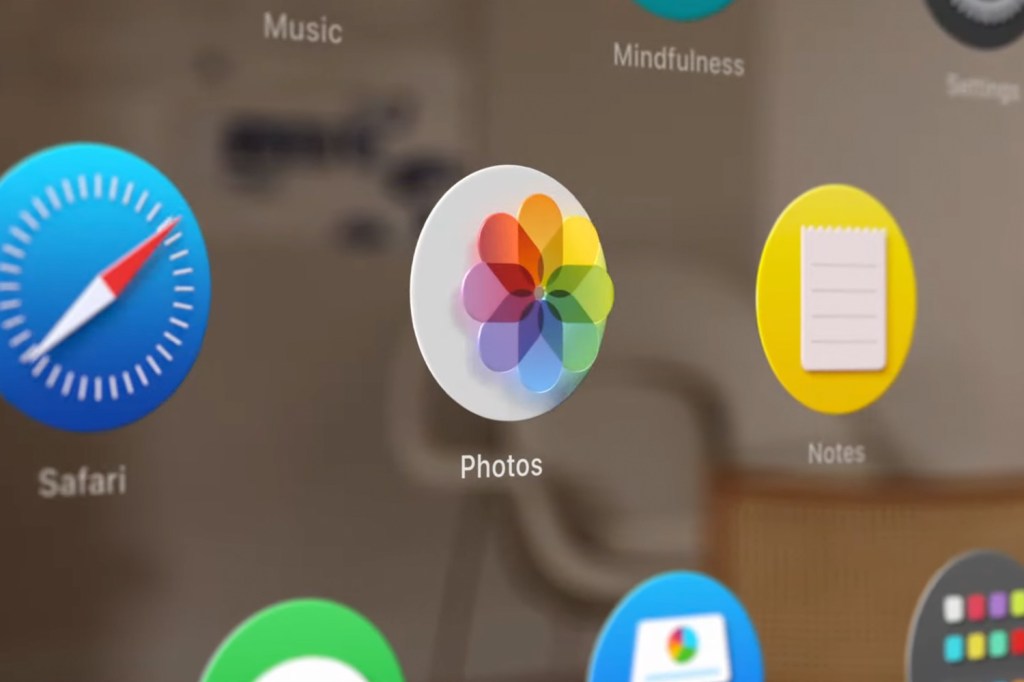 You can scale apps up or down, and place them anywhere in your space.
Apps respond to where you move your eyes.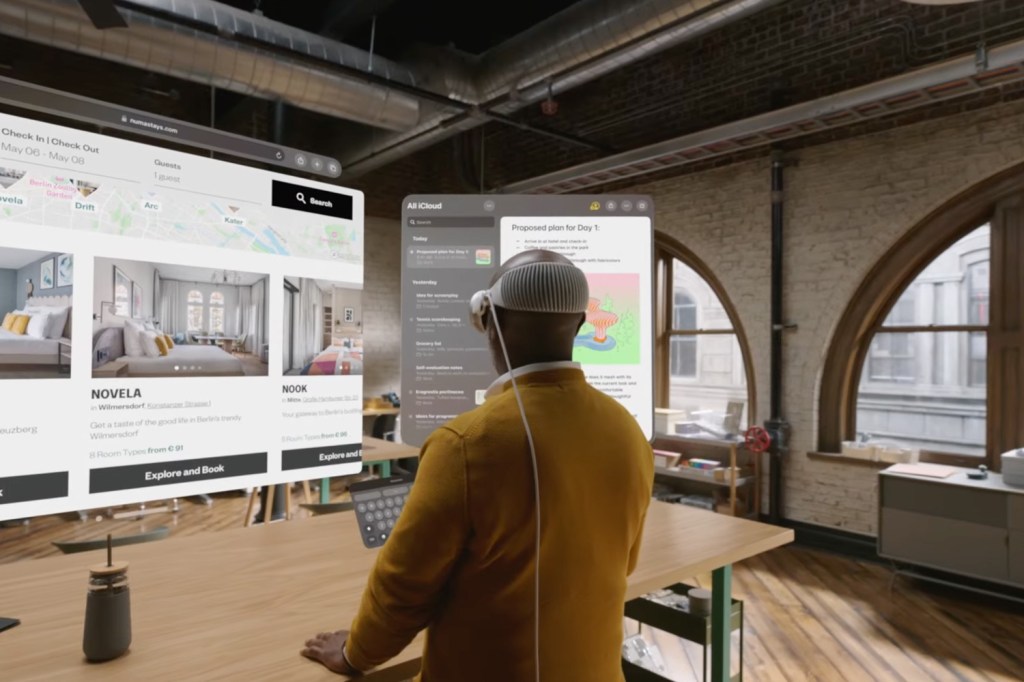 Siri enables you to dictate into text boxes or control anything with your voice.
EyeSight is a feature that means Vision Pro displays your eyes when other people are nearby. People nearby will appear in your virtual view as well.
It can work alongside your Mac as a way to use your desktop (essentially acting as another display). It will also work with accessories such as the Magic Trackpad.
Apple's own apps have been redesigned for the headset. You can expand tabs in Safari or send 3D objects in messages. The 3D cameras enable you to capture the content.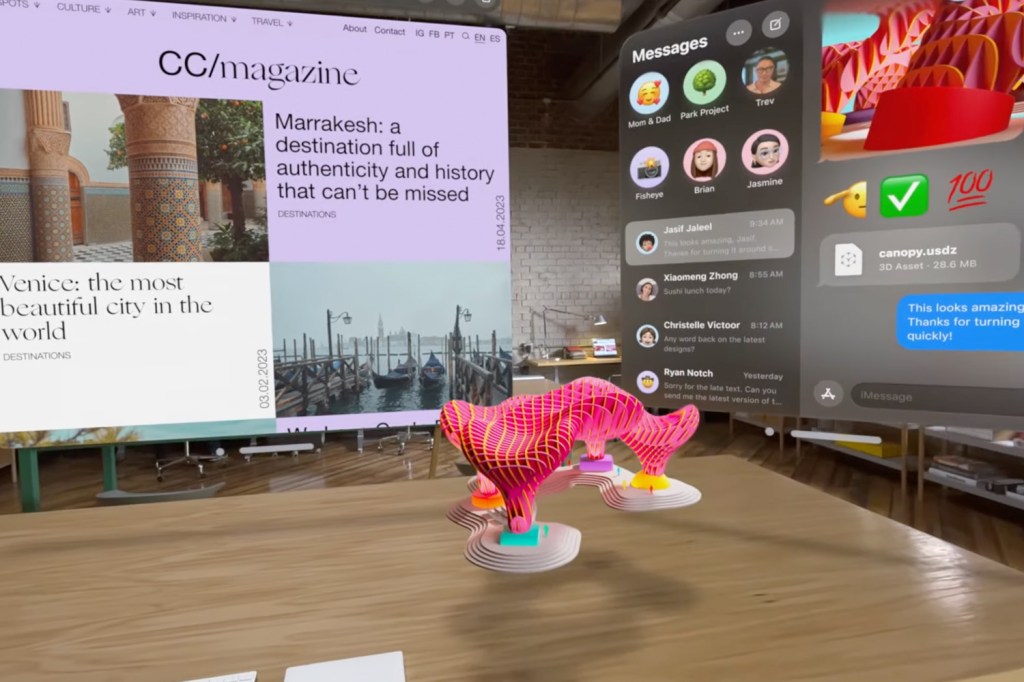 FaceTime now places people in the room around you. You can also share content through SharePlay and watch things together with others.
iPad and iPhone apps will be available in the Vision Pro app store and there is support for Unity. There will be over 100 Apple Arcade games available for it on day one.
Spatial audio is supported.
There are two Apple Silicon chips on board Vision Pro.
Optic ID uses your iris to identify you. Like Face ID, this information doesn't leave your device.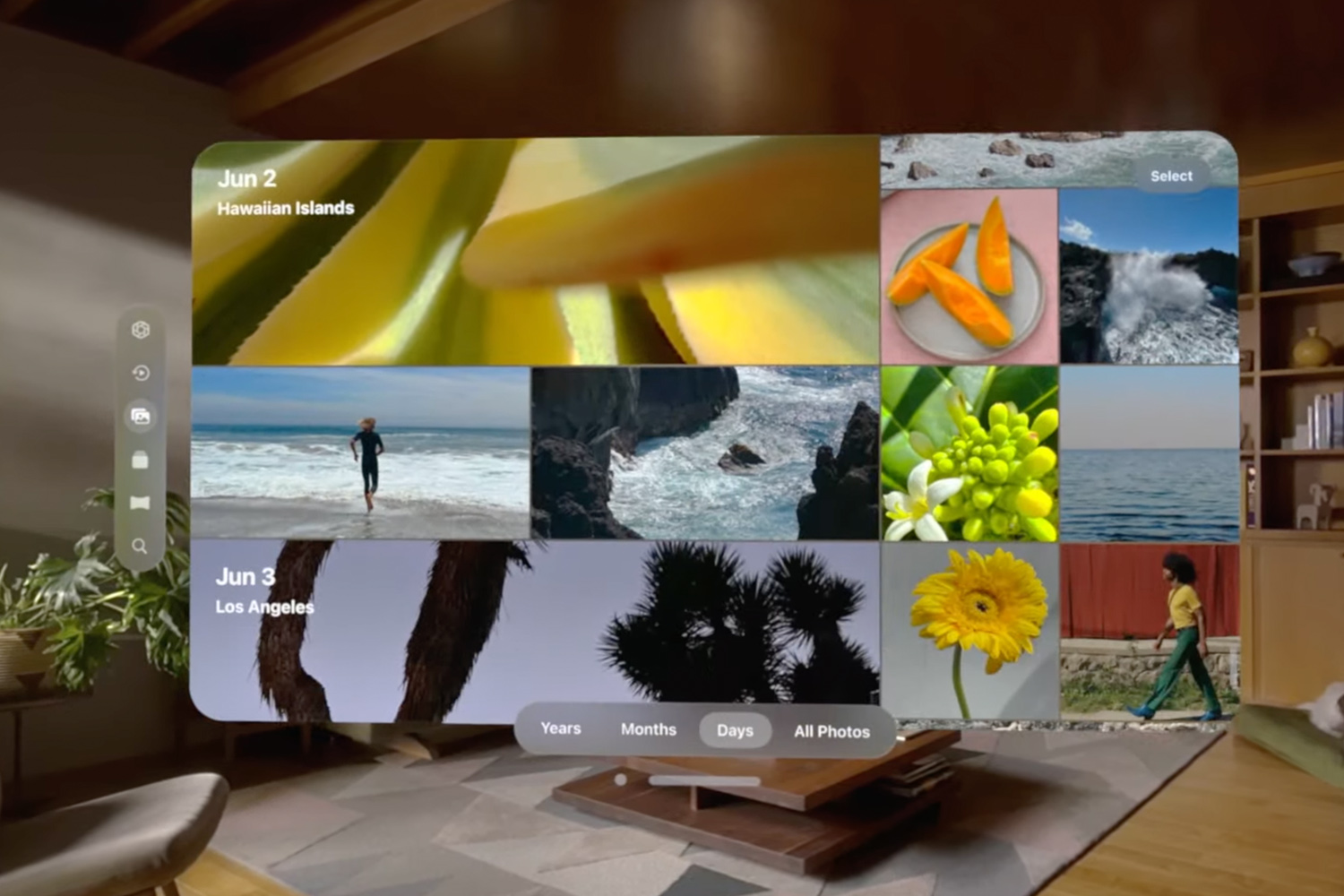 Vision Pro price and availability
The Apple Vision Pro mixed reality headset starts at $3499 and will be available from the start of 2024. But it seems that it won't be that easy to get one when it does become available.
According to a July report, Apple is planning to roll out the Vision Pro slowly in early 2024 and sales will only be via an appointment at selected US Apple Stores in major cities.
The report also suggests that a specially-developed iPhone app will be used to scan your head so that you get the right headband and seal for the headset.
Other countries will get Vision Pro, but a lot later. Mirroring the iPhone's 2007 debut, the UK will get it late in 2024 alongside Canada. Other countries including France, Germany, Australia, China, Hong Kong, Japan and Korea will get it in 2025. Yep, that's a long way into the future by which point Apple may be close to announcing a cheaper successor.
Developers are now able to apply for an Apple Vision Pro dev kit on loan, but applications from devs will be reviewed, though successful applicants will get the tailored fit process talked about above as well as a contact at Apple to help with support (Apple calls this a 'partnership manager'). MacRumors suggests the Vision Pro headset will be AirTag-tracked and will come in a lockable Pelican case that must be kept securely.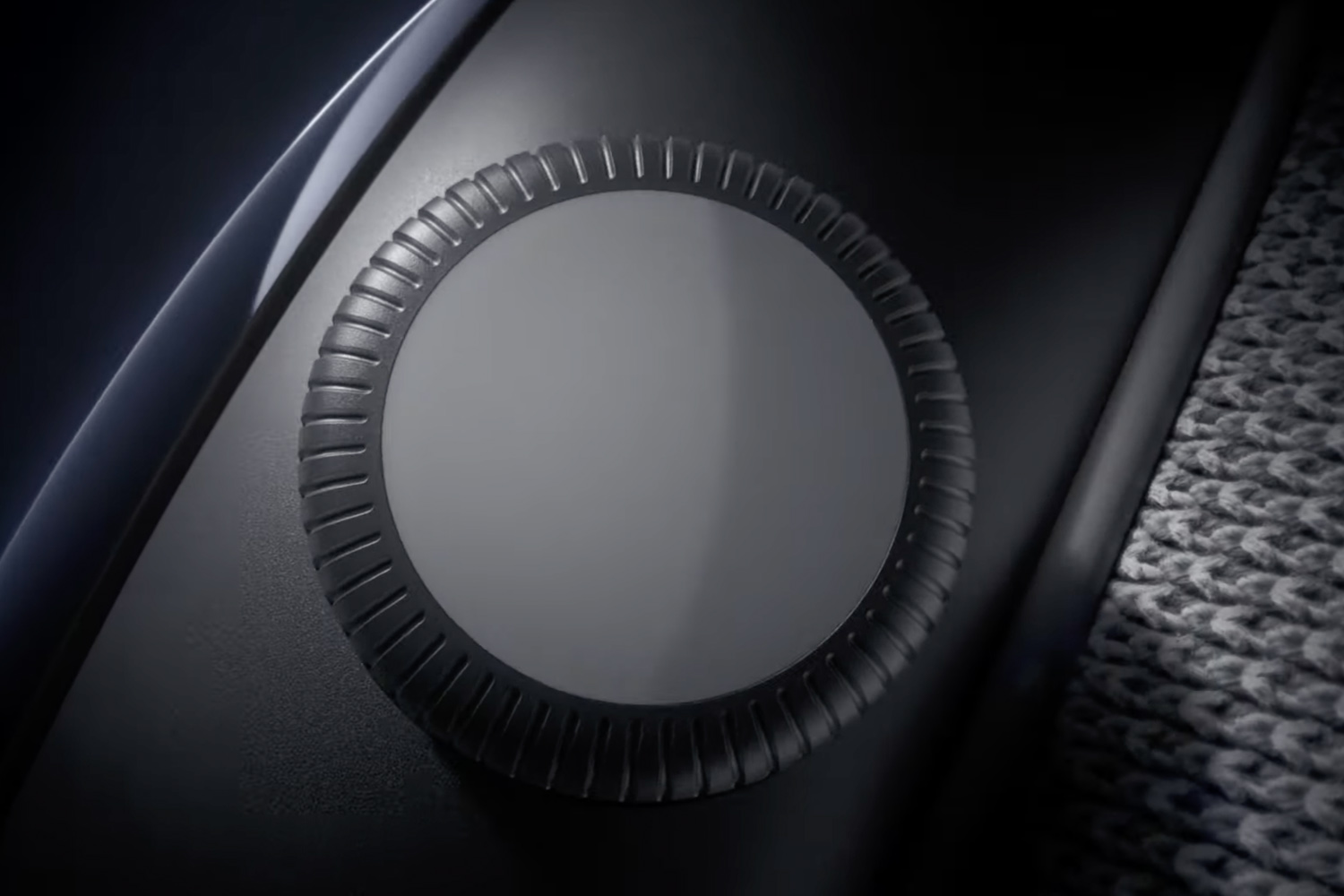 Apple Vision Pro design
Vision Pro is made from aluminium, glass and carbon fibre. The front of the headset is polished glass, while there is a lightweight aluminium frame that curves towards your face and fabric mesh pad (called a Light Seal) against the head. It's been designed so heat is drawn away from the headset itself.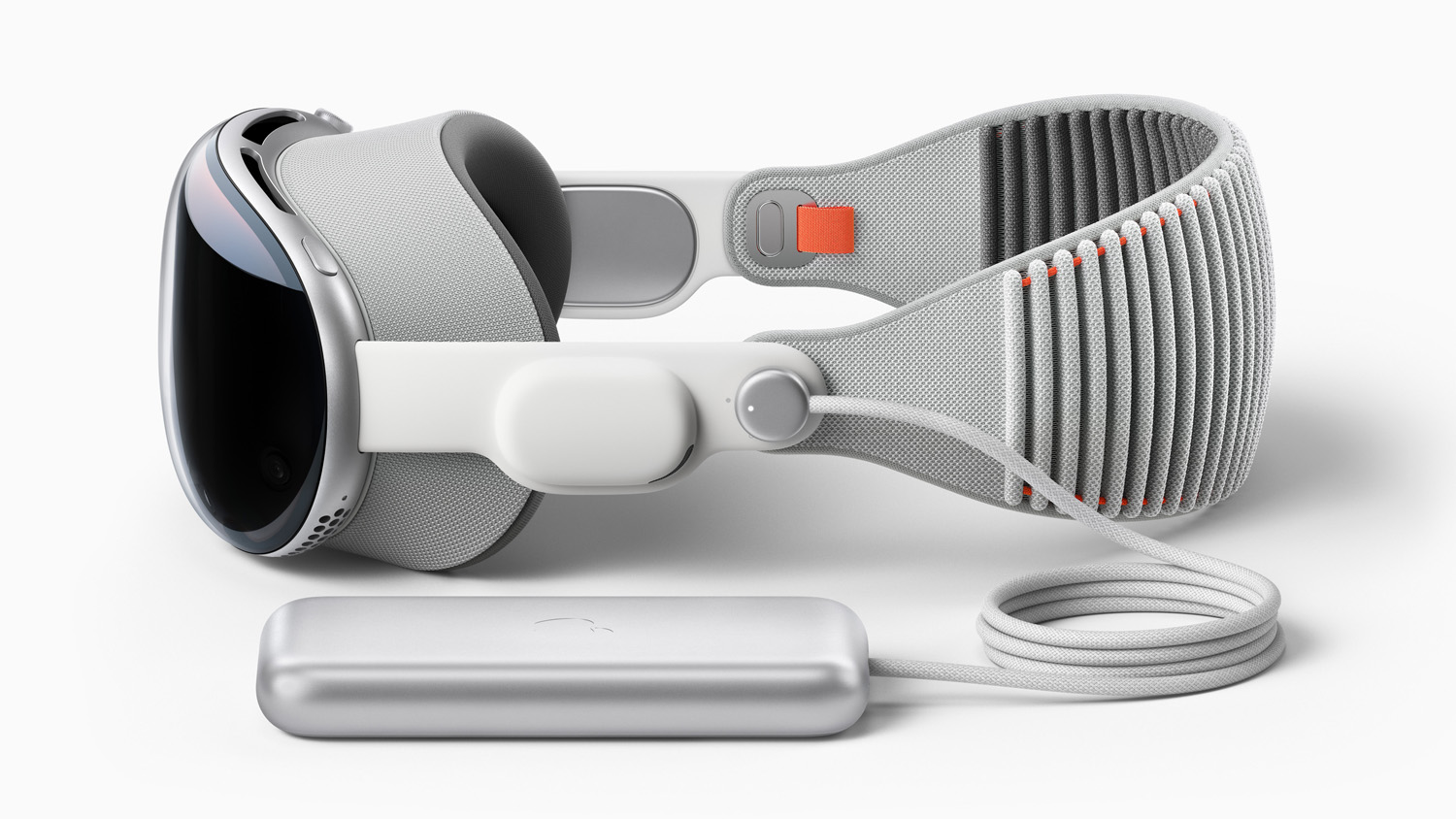 There's also a dial-adjustable fabric headband which is ribbed and available in multiple sizes. If you wear prescription lenses you can buy them to fit inside the headset, made in collaboration with Zeiss.
There's an Apple Watch or AirPods Max style Digital Crown, alongside a pressable button for features such as photo taking. You can use the crown to focus on content to ensure full clarity.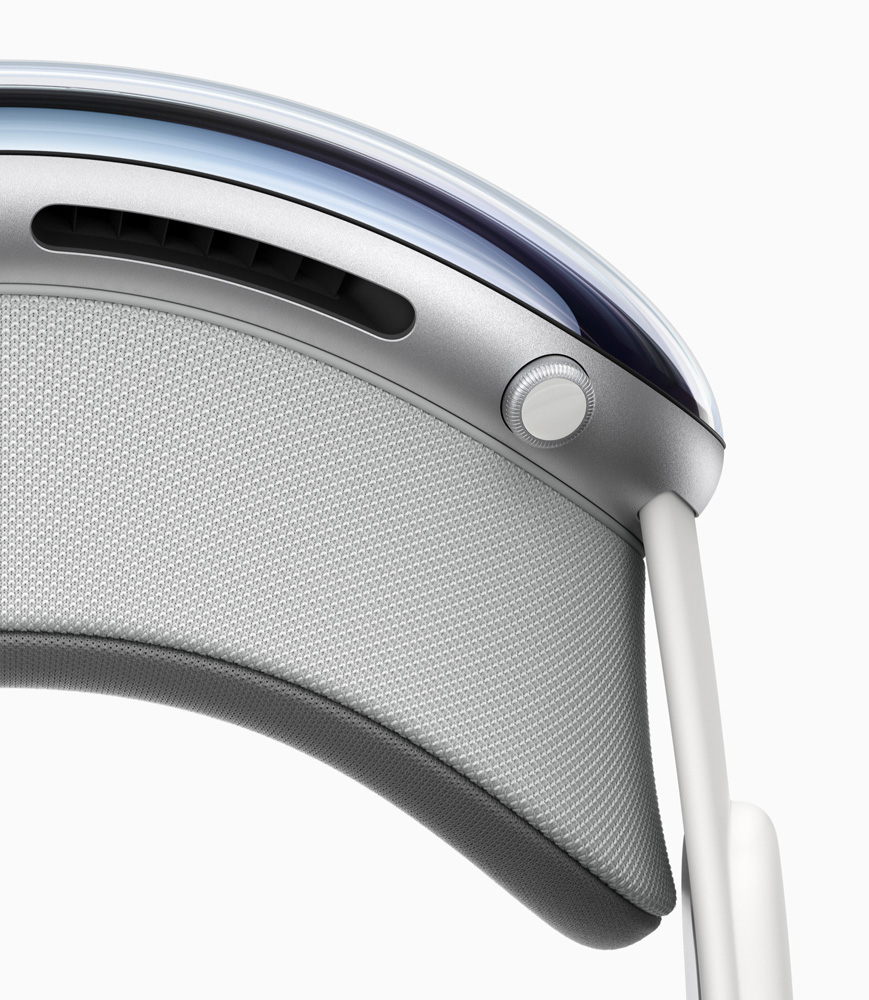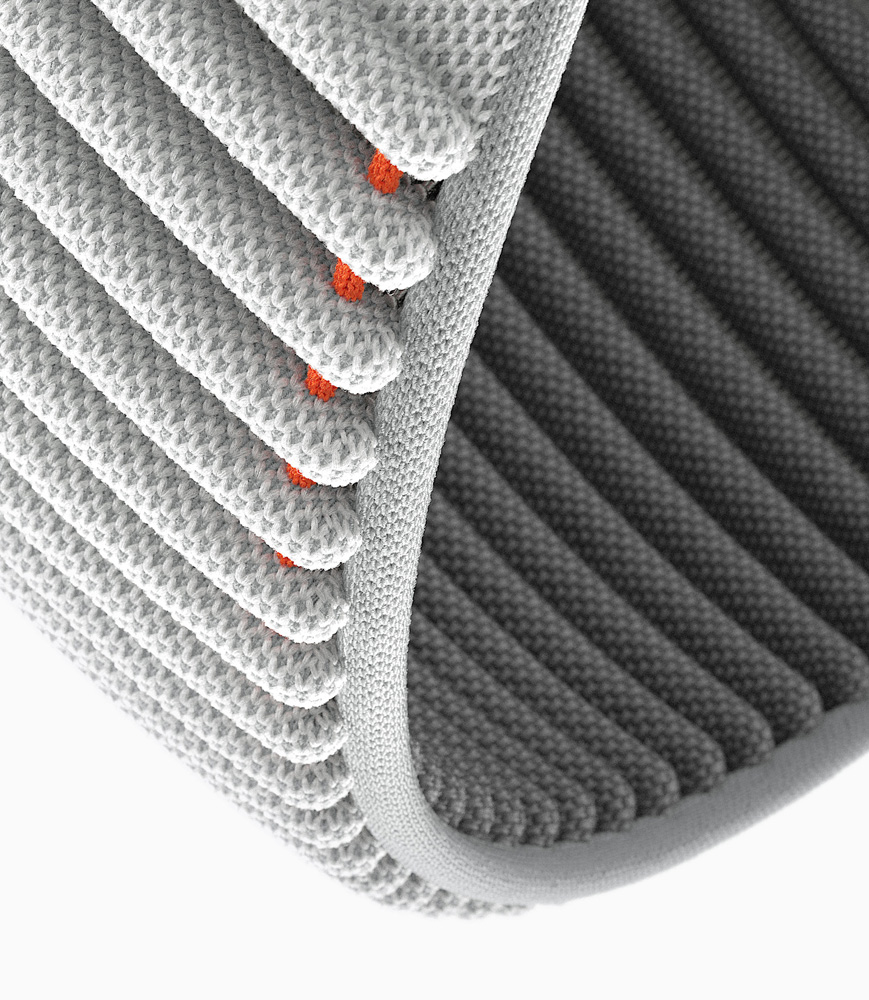 The spatial audio setup is provided by audio buds that sit on your ears – you can see them in the image below.
One of the major talking points is the battery pack, which is waist-mounted. This keeps the headset weight down, but sounds like a faff. It is connected to the headset via a MagSafe cable that you can also see in this pic, so it will disconnect if it gets caught up just like a MacBook charger.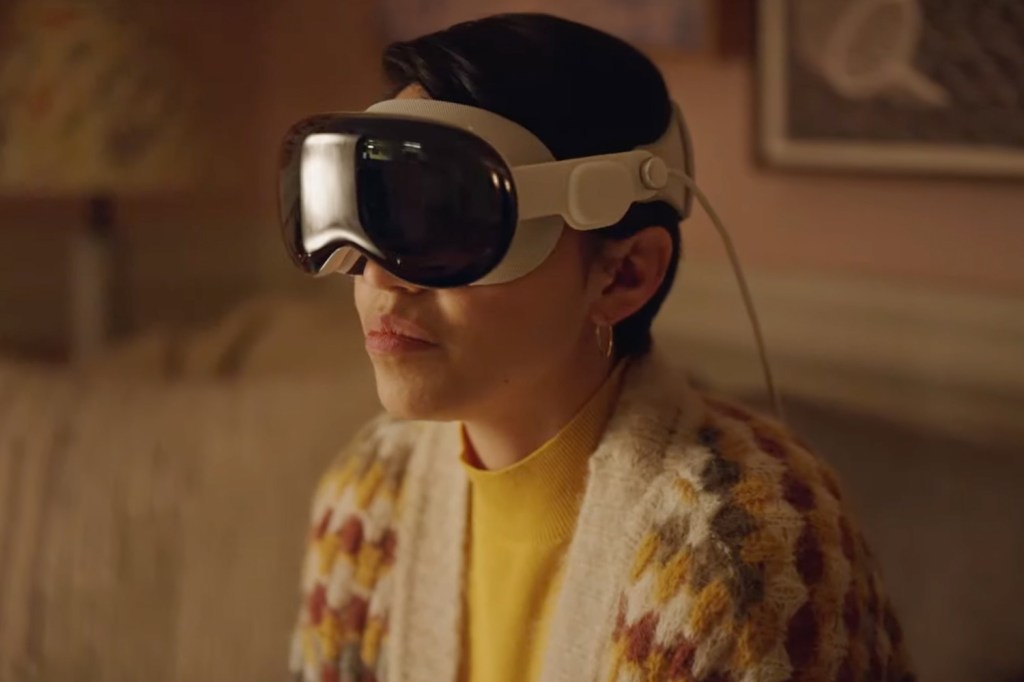 Apple Vision Pro specs
The Vision Pro headset boasts state-of-the-art hardware inside. It really is quite incredible what Apple has packed in here though, as you've already read, it has come at a high price. Firstly, there are two 4K micro OLED panels (each the size of a postage stamp) boasting 23 million pixels.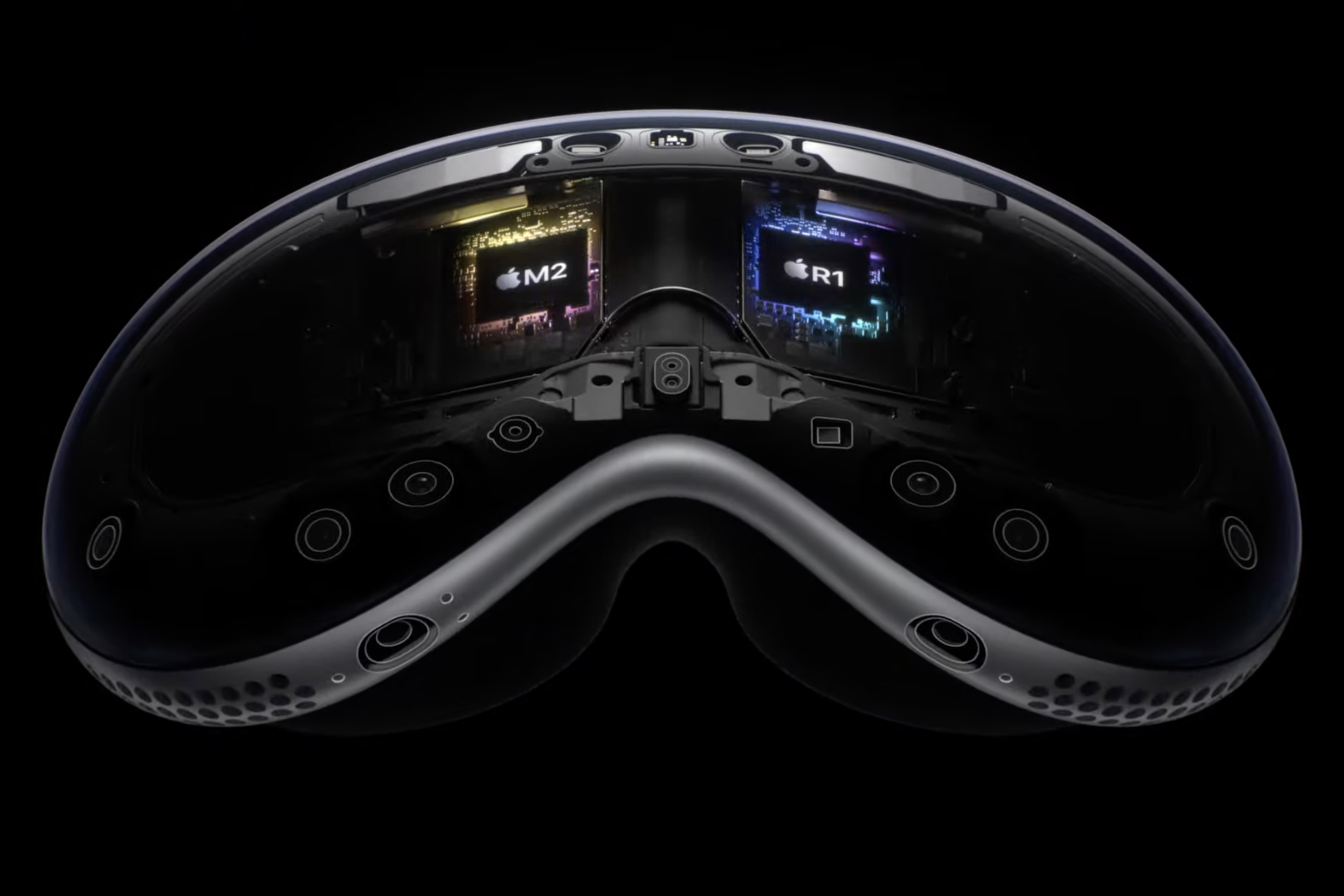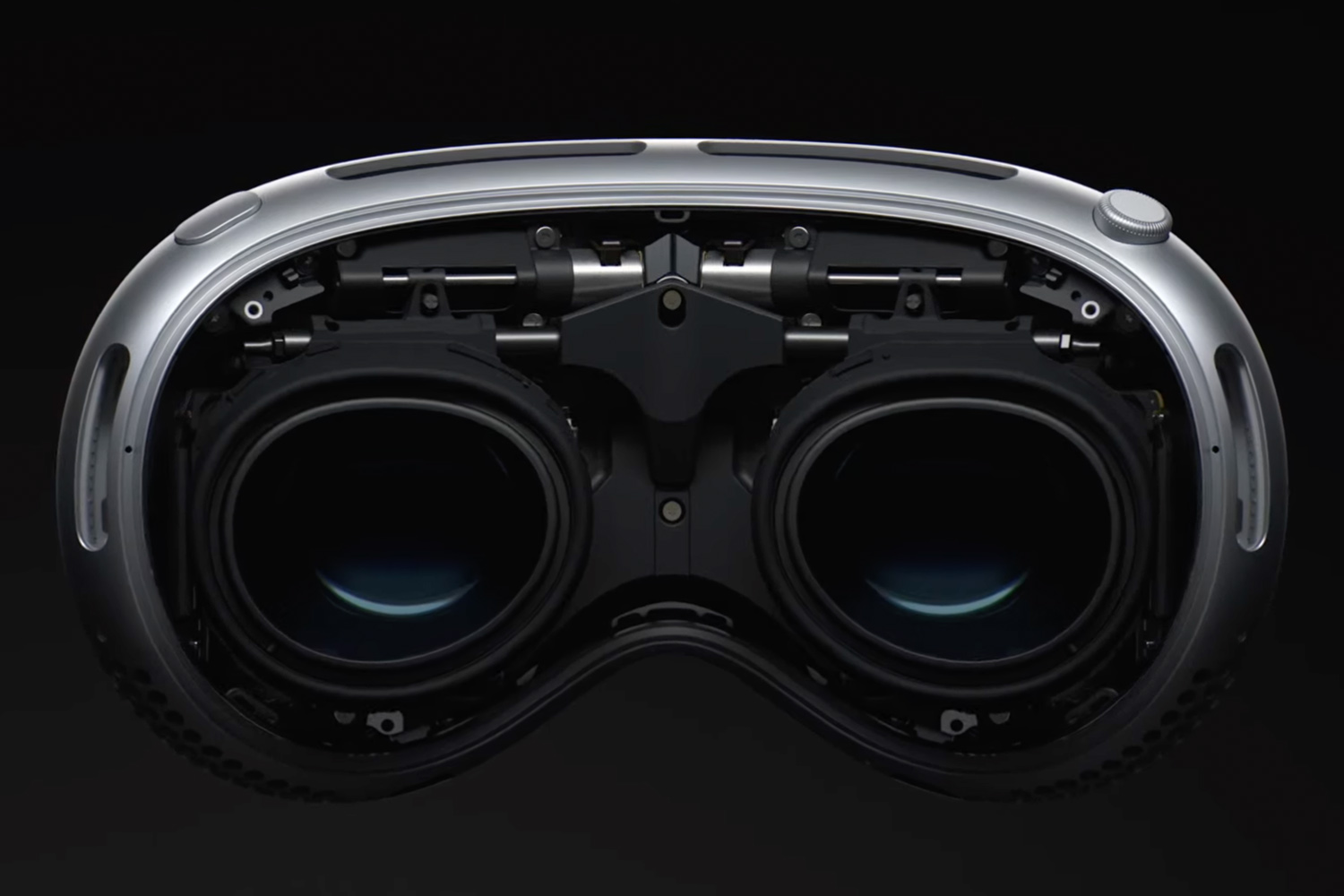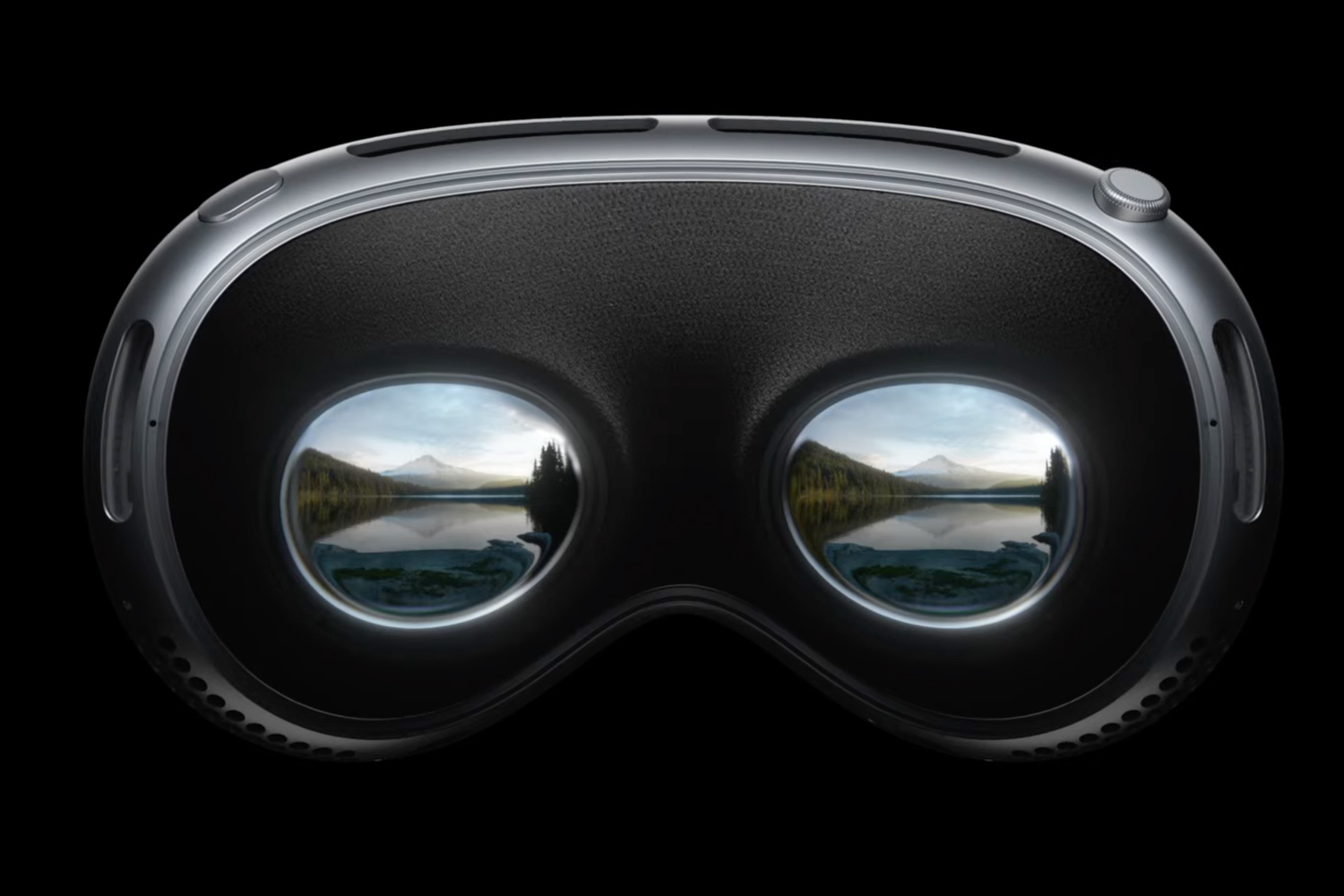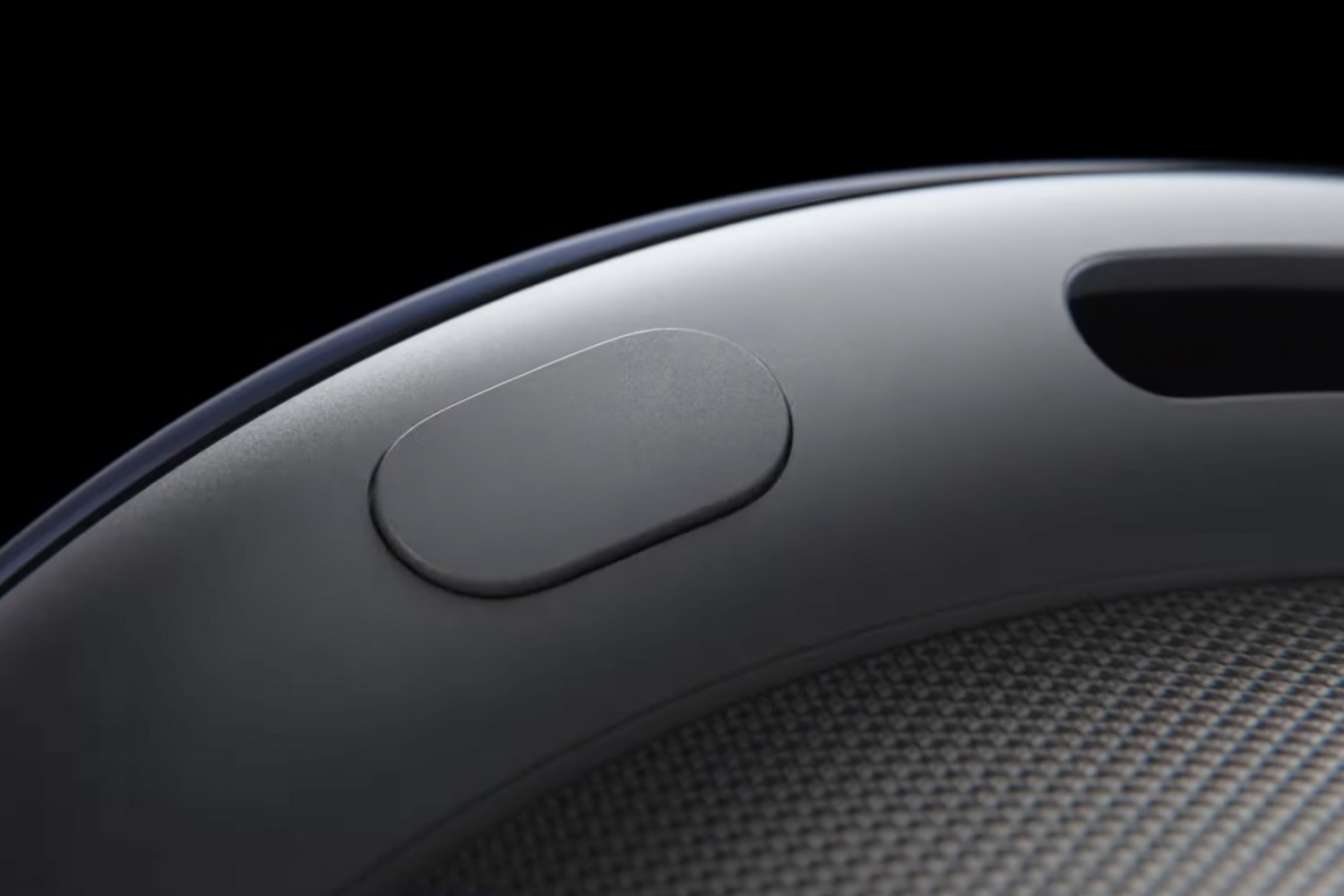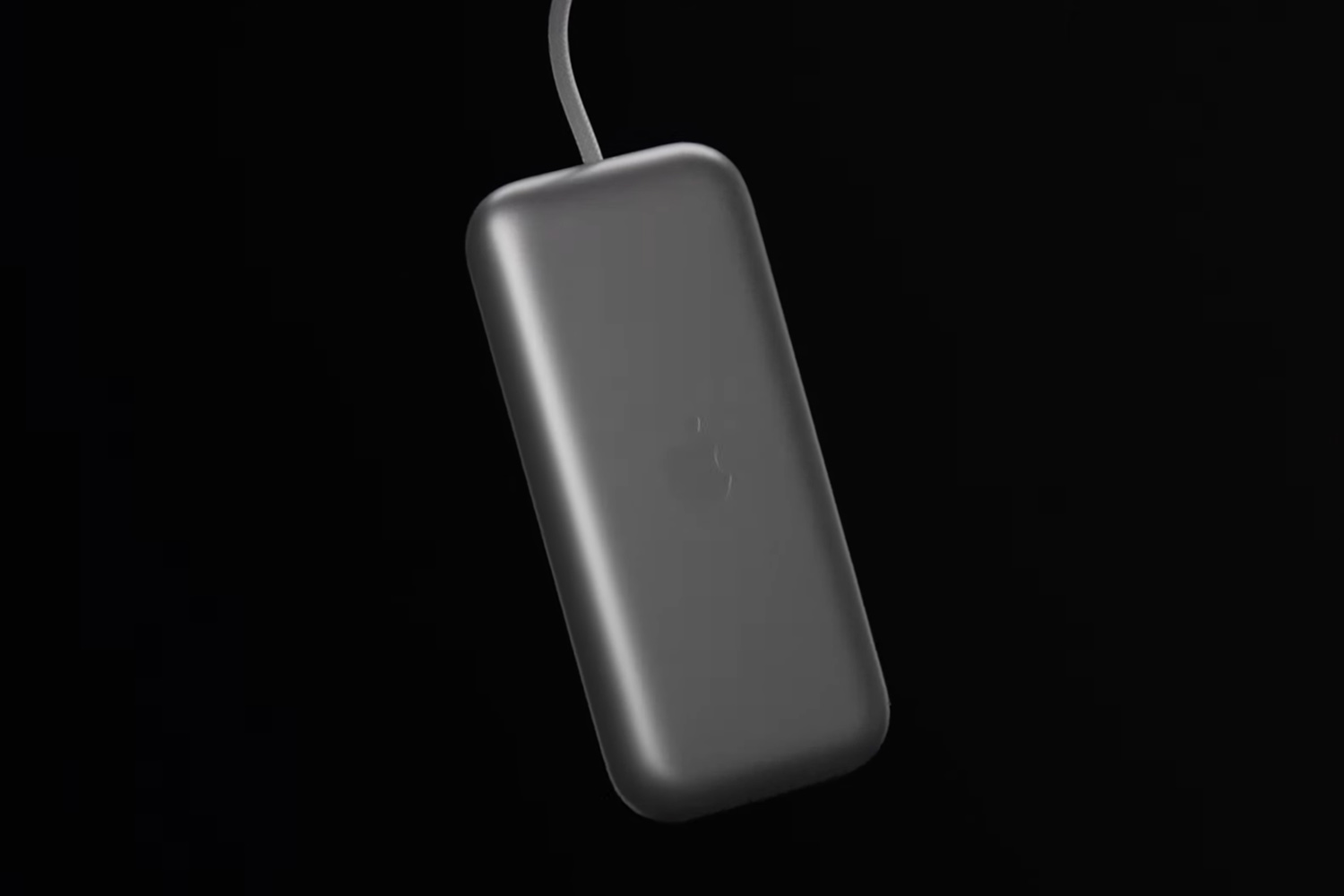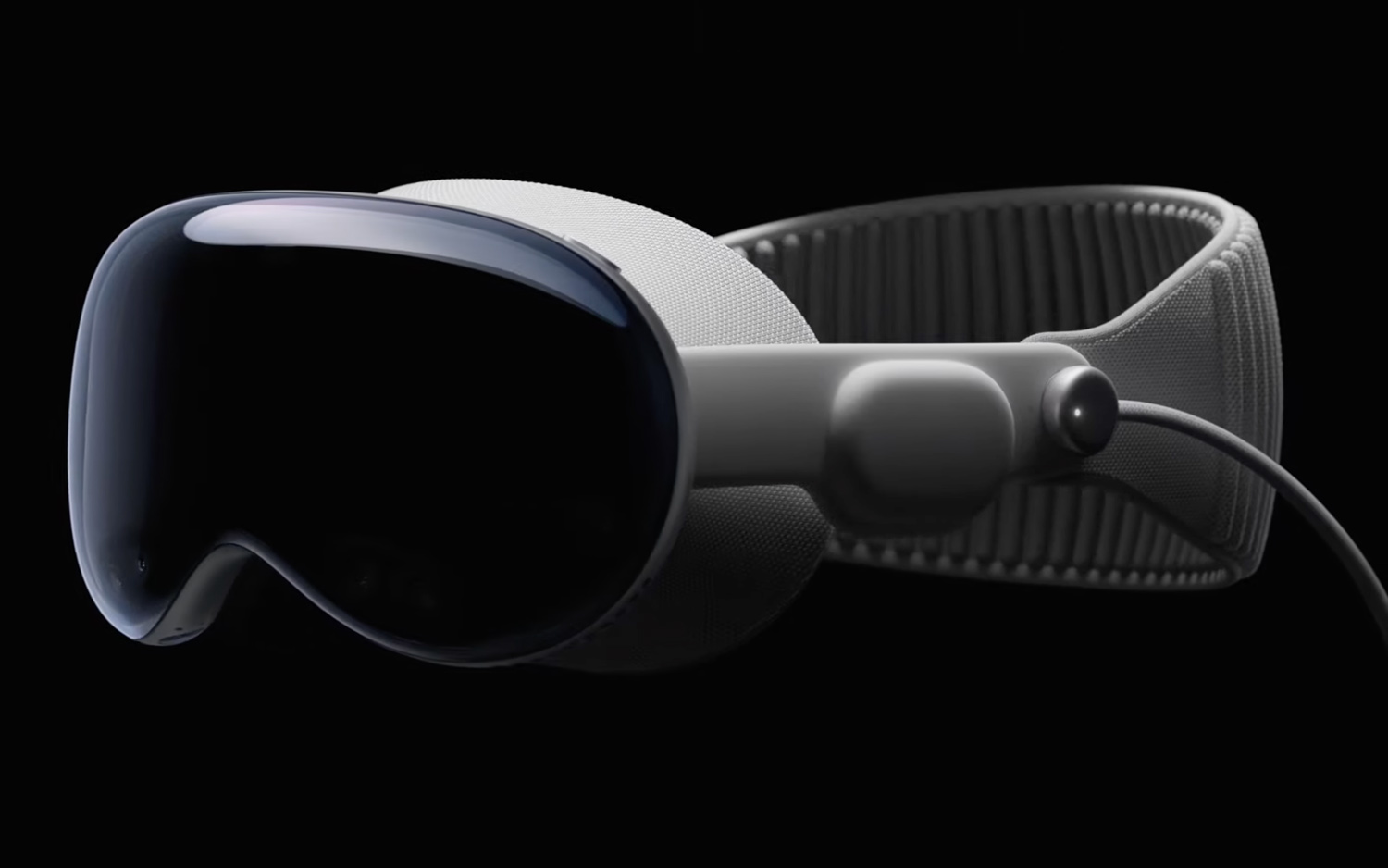 There are a whopping 12 cameras plus five sensors on board (including LiDAR and IR), and six microphones underneath. Two Apple Silicon chips are used; the M2 and a new R1 chip – the latter is dedicated to processing input from all the cameras and sensors. Apple says that R1 streams images to the displays within 12 milliseconds which is eight times faster than the blink of an eye. Incredibly capable hardware, then.
As we mentioned earlier, Vision Pro boasts Spatial Audio just like the AirPods Pro 2. Apple claims this will match sound to the size and shape of the room you're in, although we're not quite sure how that will work in practice.
visionOS software and features
The Vision Pro headset runs visionOS – a new operating system built on iOS, Apps can support real-time rendering but the software is clever enough to only render the graphics you're actually looking at, which obviously saves on processing effort and presumably has an effect on power efficiency.
Apple says that the 3D interface in visionOS frees apps "from the boundaries of a display so they can appear side by side at any scale."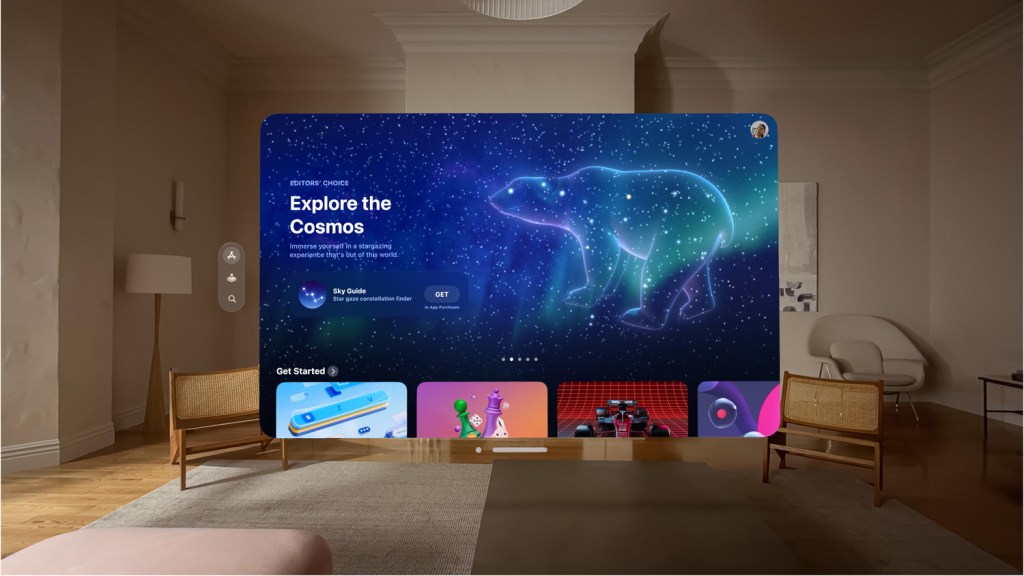 There's a honeycomb-style home view just like on Apple Watch. Apple says it has taken care to ensure that the different elements have depth to them so that it looks like they're in the room with you. You can place apps anywhere you like and scale them up or down.
You can control everything with a few gestures while apps respond to where you move your eyes.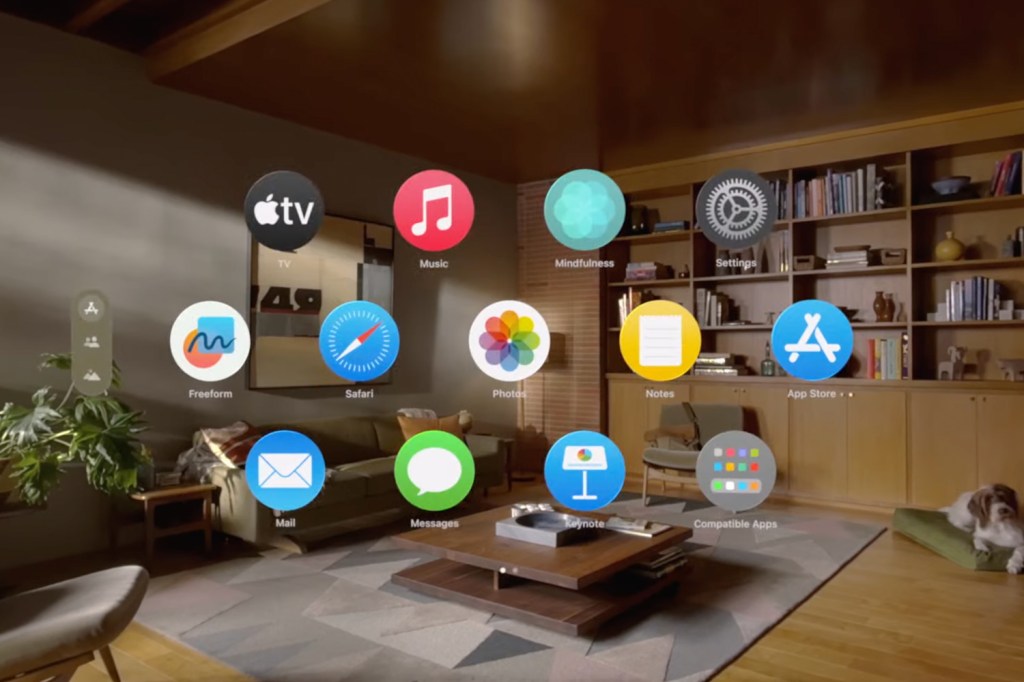 Siri also works fully, so you can ask it to do various tasks or open apps as well as fill things like text boxes – we're guessing that voice control will have quite a big role to play with Vision Pro.
Vision Pro's whackiest software feature is called EyeSight. The jury's out on this one – is it a bit freaky? It shows your eyes when other people are nearby – and those people will also appear in your virtual view too.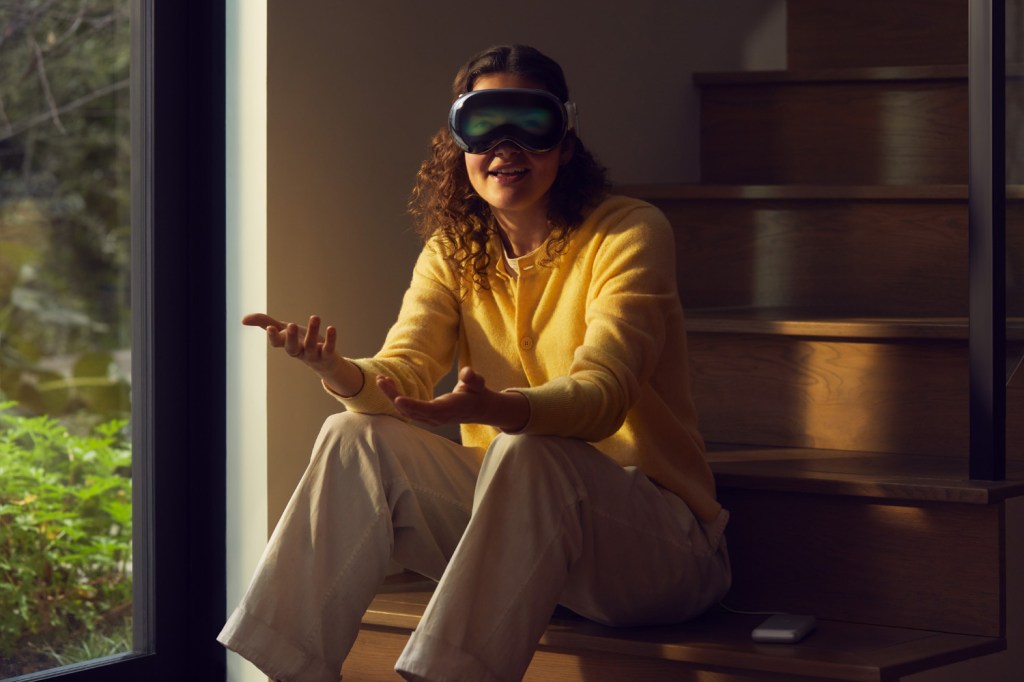 Vision Pro will also work alongside the Mac, essentially as an extra 4K display for it – and you can use it with accessories such as the Magic Trackpad should you wish.
The headset uses Optic ID – iris scanning – for security and to unlock Vision Pro. You'll be able to use it with Apple Pay and other features just like Face ID. Just like your iPhone, that information is stored on the headset and Apple says it won't track things like your eye movements. Info from the sensors and cameras is also processed on board.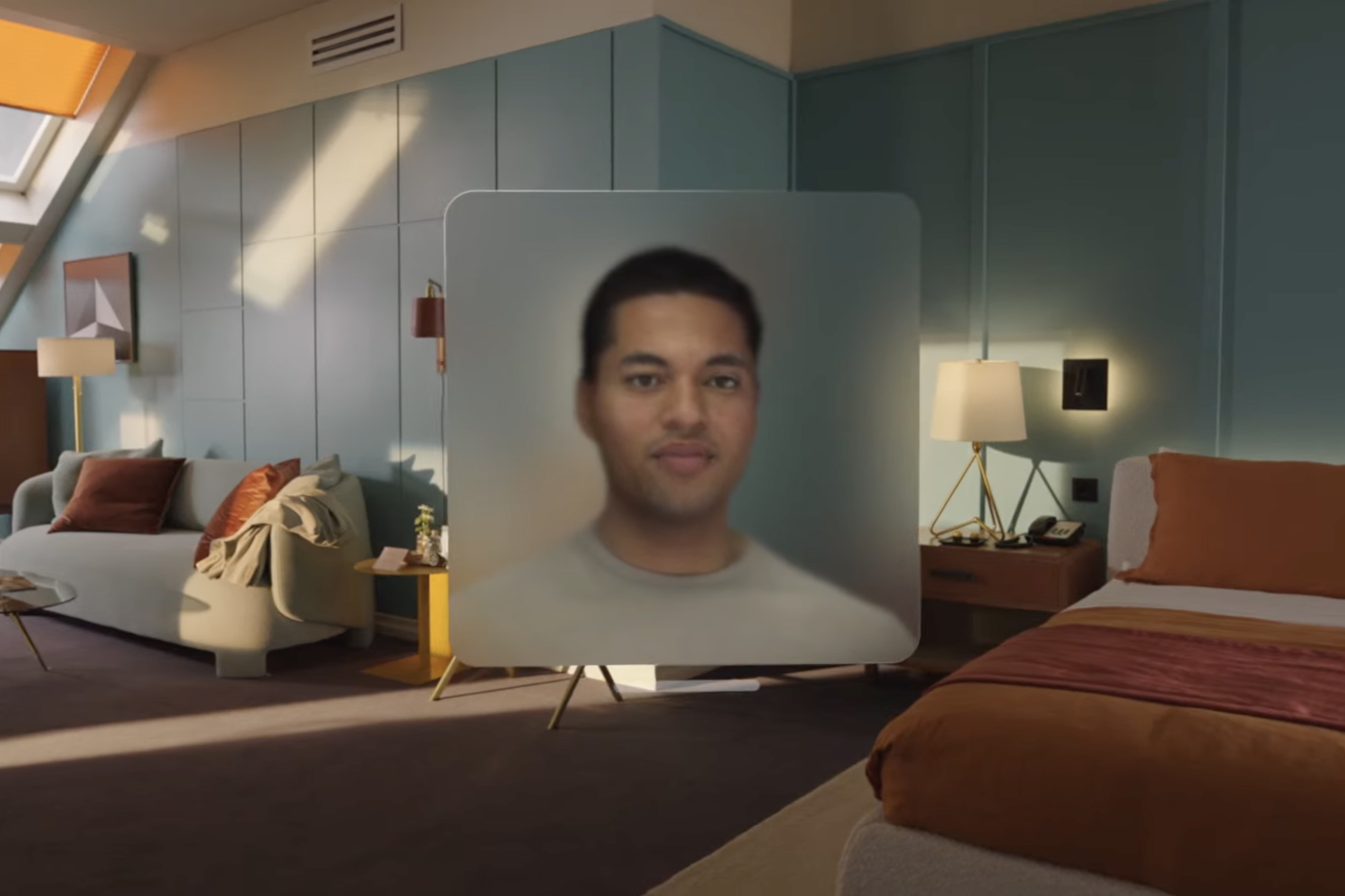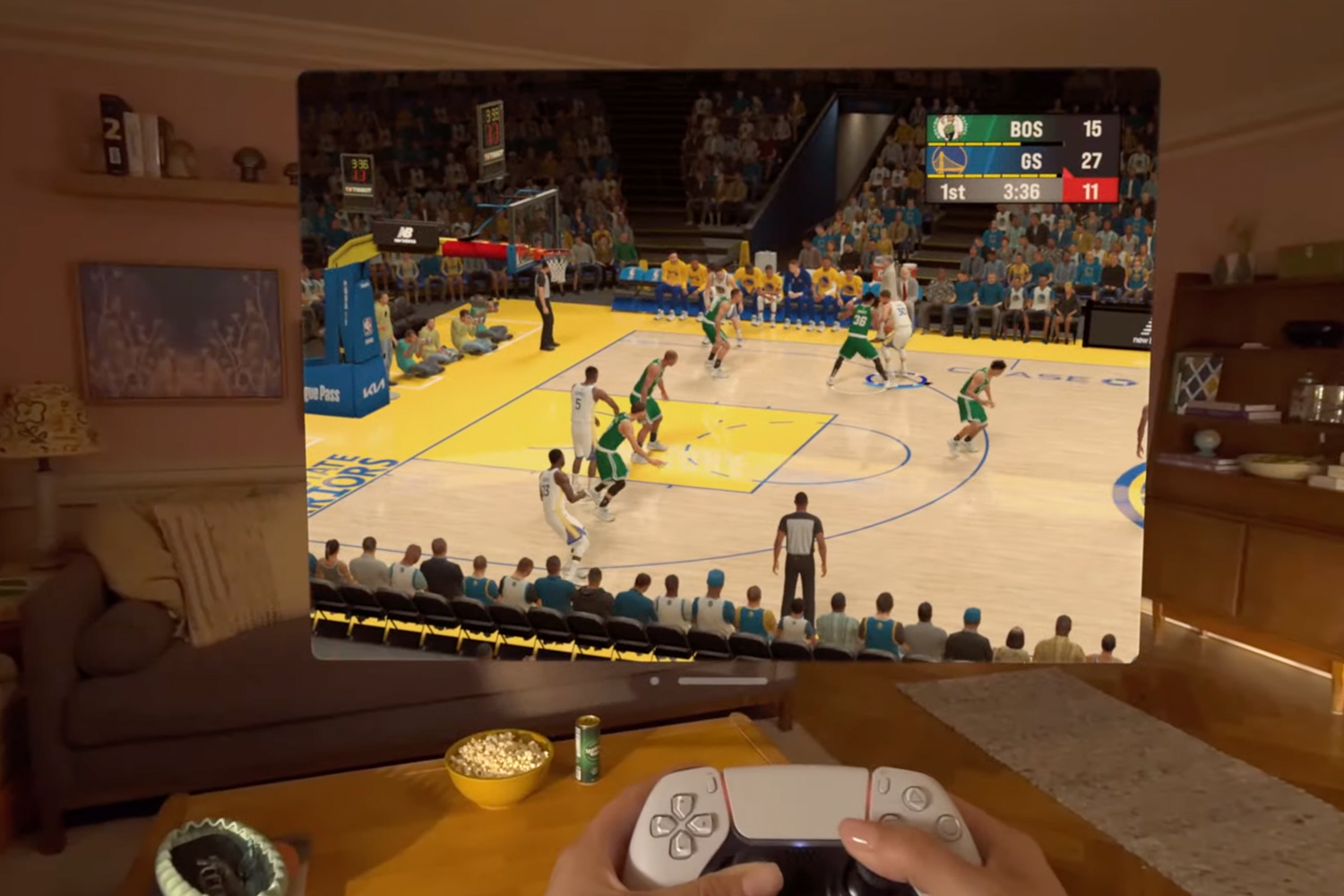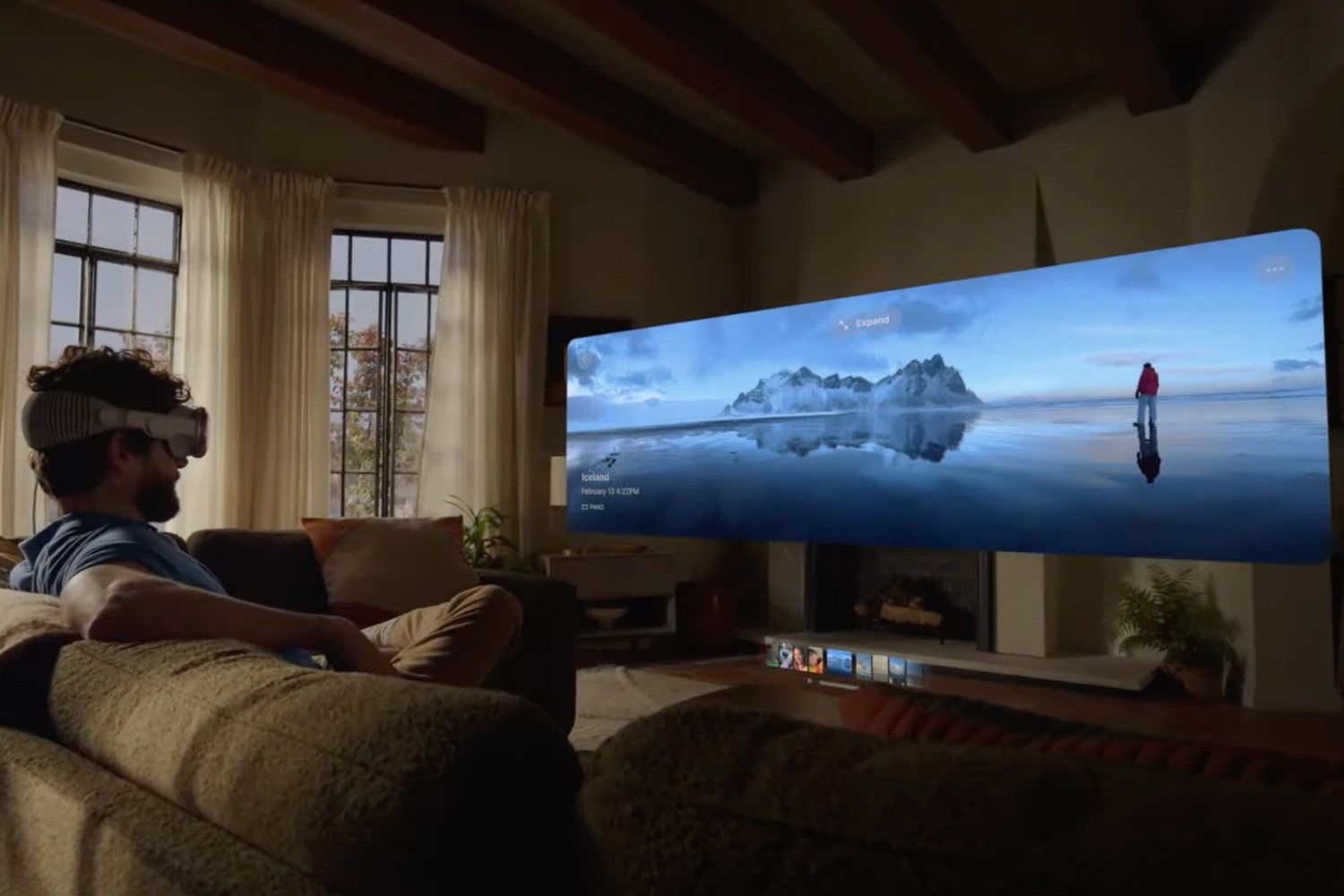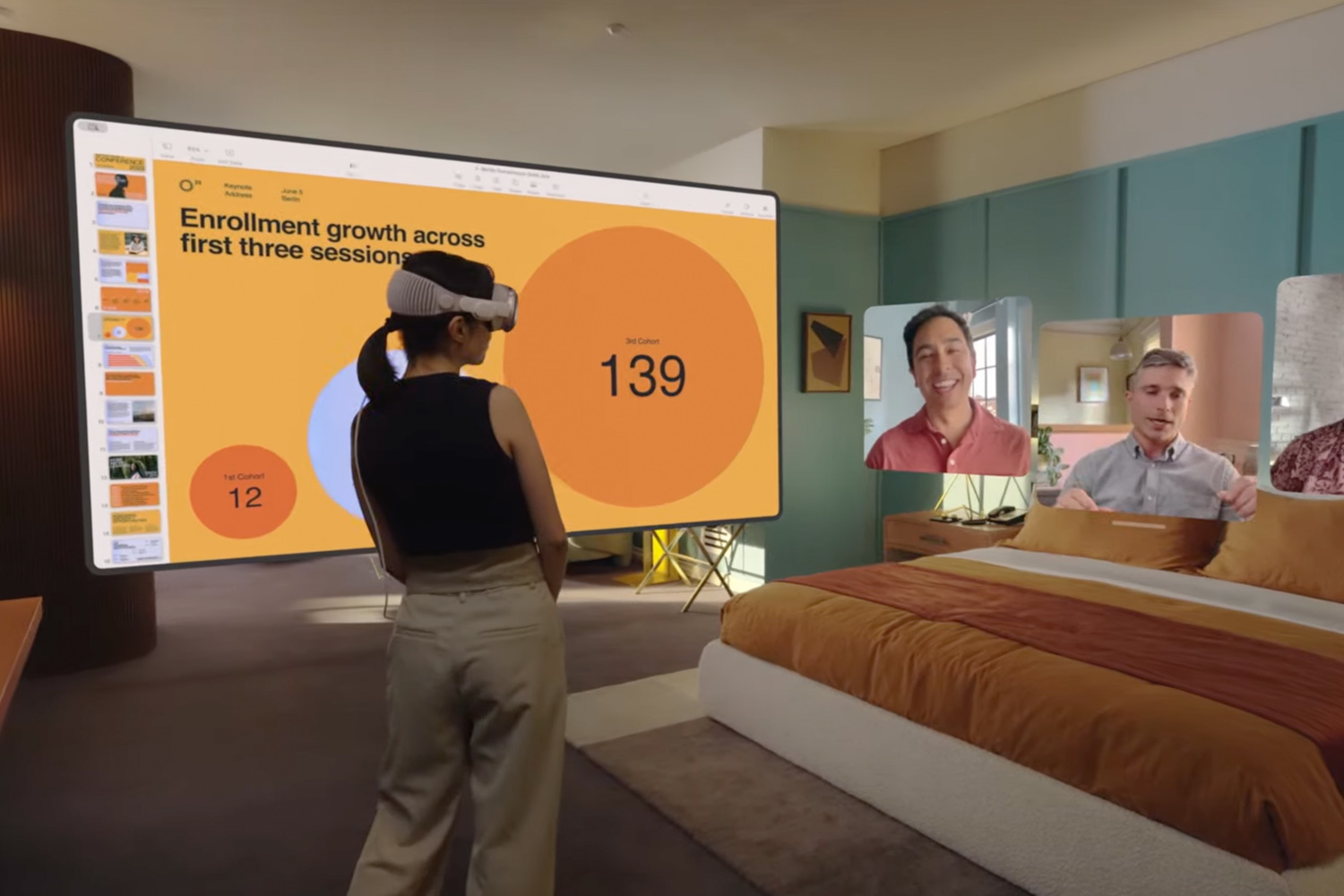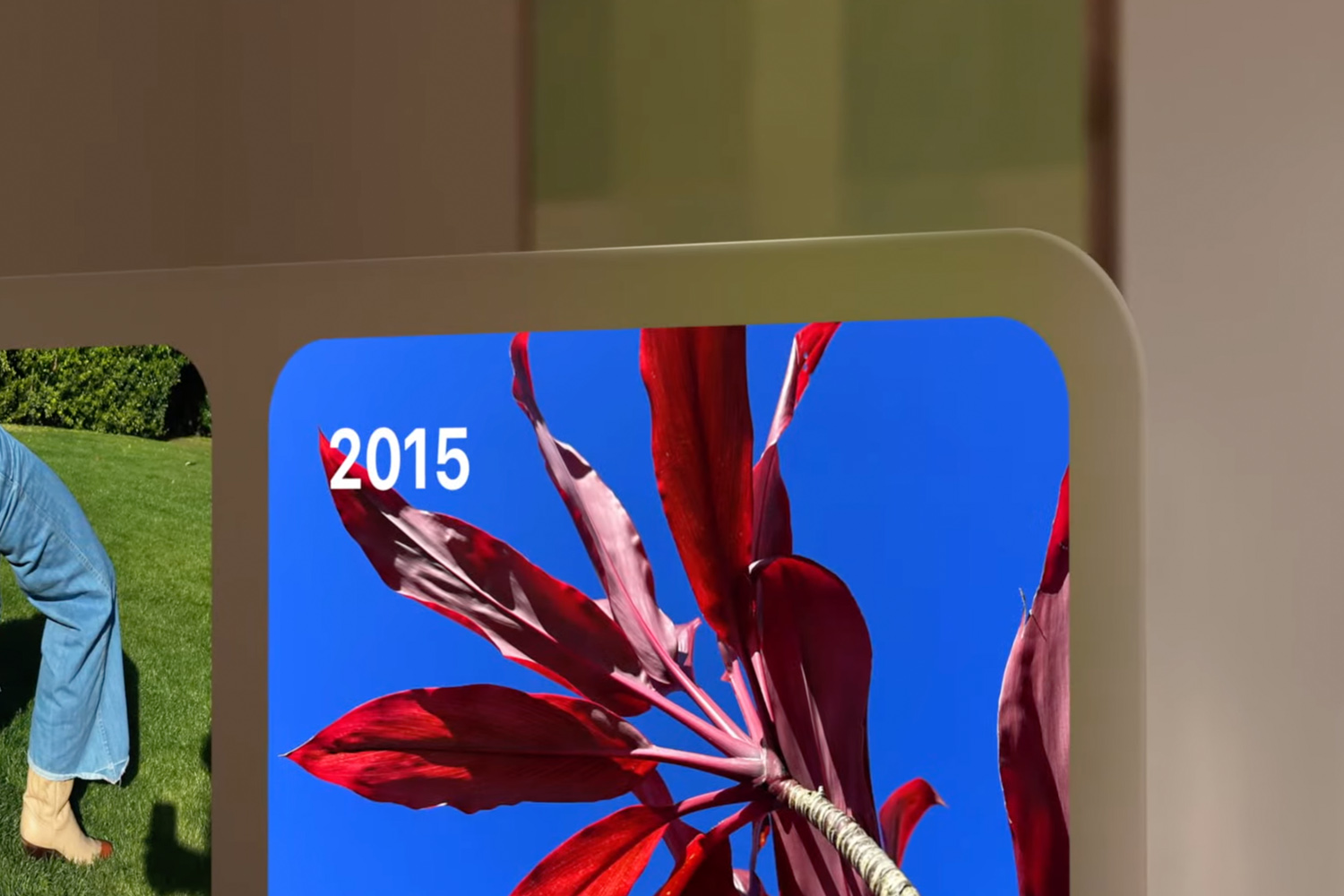 Apple's own apps will work well, including FaceTime and Messages as well as Safari, though of course Apple wants developers on board who will design new apps to support gesture controls and take advantage of the headset's capabilities.
So what do the Apple apps offer? In Messages, you can send 3D objects while SharePlay enables you to watch content together. FaceTime calls take advantage of your room around the user, with everyone in life-size tiles. Spatial Audio is also used, so it sounds as if participants are speaking from where they are. If you wear Vision Pro during a FaceTime call you are reflected as a Persona — a digital representation of yourself created which reflects face and hand movements in real time.
As you might expect, Apple TV+ works with Vision Pro while Disney is also on board – it's been announced that Disney+ will work with it, too and there's additional interactivity.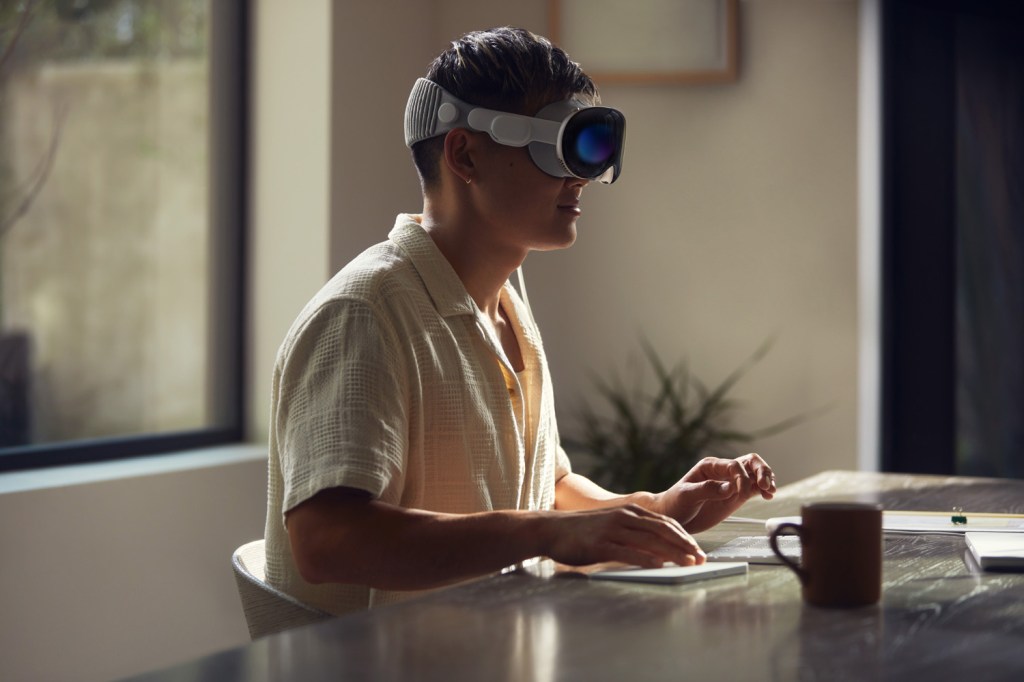 Unity-based games and apps will also make their way to the headset and there will also be a new App Store, where you can discover visionOS apps as well as download iOS and iPadOS apps (we're not currently sure how you would use them though). Over 100 Apple Arcade games will also be available to play at launch.
Photos and videos can also be viewed at a life-size scale. Panorama shots from iPhone expand and wrap around you.
Certainly Apple Vision Pro offers a huge amount, but you will pay a lot for it. Only time will tell whether Apple has judged it right. However successful it is, it's certainly one of the most exciting products we're set to see over the coming months.
Correction: An earlier version of this article said the batteries were hot-swappable – this was a mistake made when covering the keynote and we have removed the reference.