Speedo launches new TriathELITE range
Having caused all sorts of arguments with their super-slippery swimsuit fabrics at the Beijing Olympics last year, Speedo is now turning its attention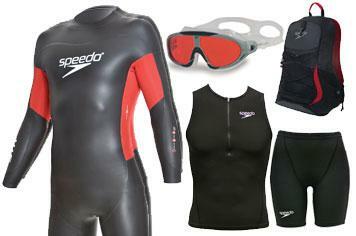 Having caused all sorts of arguments with their super-slippery swimsuit fabrics at the Beijing Olympics last year, Speedo is now turning its attention to the world of triathlon.
It's not just about being fast through the water, as the bike and run sections of a triathlon bring a whole new set of challenges.
The three wetsuits in the range are the STR Comp (pictured, £210), Pro and Elite versions, which are aimed at beginners, intermediates and pros respectively. The Elite comes packed with swim-enhancing features like LZR Racer compression technology, Yamomoto 5mm 39 cell neoprene (the absolute daddy of the neoprene world) and buoyancy panels so that you'll soon be outswimming Flipper and his pals.
For wearing underneath the wetsuit, the Speedo LZR Racer Tri-Pro suit (£130) is designed to be as light and quick-drying as possible. Speedo has managed to make it 42% lighter than its nearest competitor when wet and twice as quick to dry. Meaning less water weight to lug around, and a more comfortable bike and run as you're not left with a soggy bottom.
In addition to the clothing, there are a number of accessories including the Tri Rift goggles (£21) to give you a wider field of vision in an open water swim, and the Tri Ruck Sack (£55) for schlepping your soggy wetsuit and other bits to and from competitions or training.
The new TriathELITE collection is available now from speedo.co.uk