JBL Tour Pro 2 review: case study
Smart case stands out, but is it a sonic slam dunk?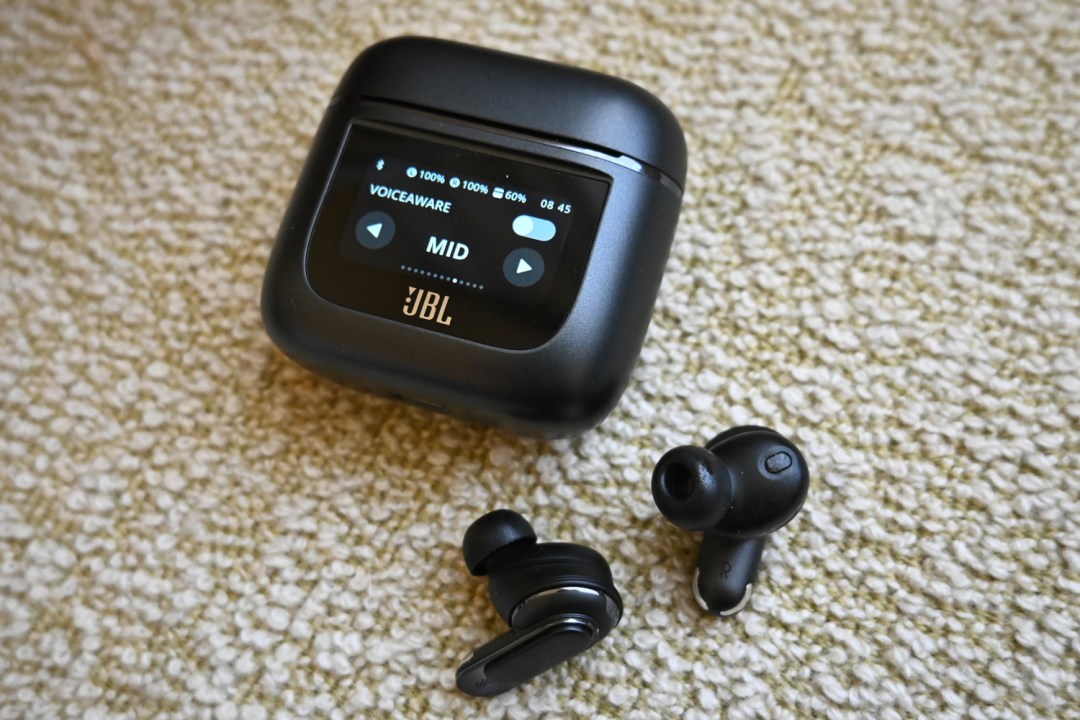 There's a fine line between groundbreaking and gimmicky. JBL is aiming for the former with the new Tour Pro 2: these true wireless earphones are the first to take smartwatch-style notifications and controls off your wrist and cram them onto a charging case via a tiddly touchscreen. They don't skimp on other features, either, with active noise cancellation, customisable EQ and spatial sound upmixing.
That clever little display pushes them into properly premium territory, which isn't JBL's usual stomping ground. You can buy some very capable rival buds for £250 – ones with dumber cases, but an unwavering focus on sound quality or effective ANC. Can the Tour Pro 2 compete, or have the audio essentials taken a back seat?
Design & build: case in your face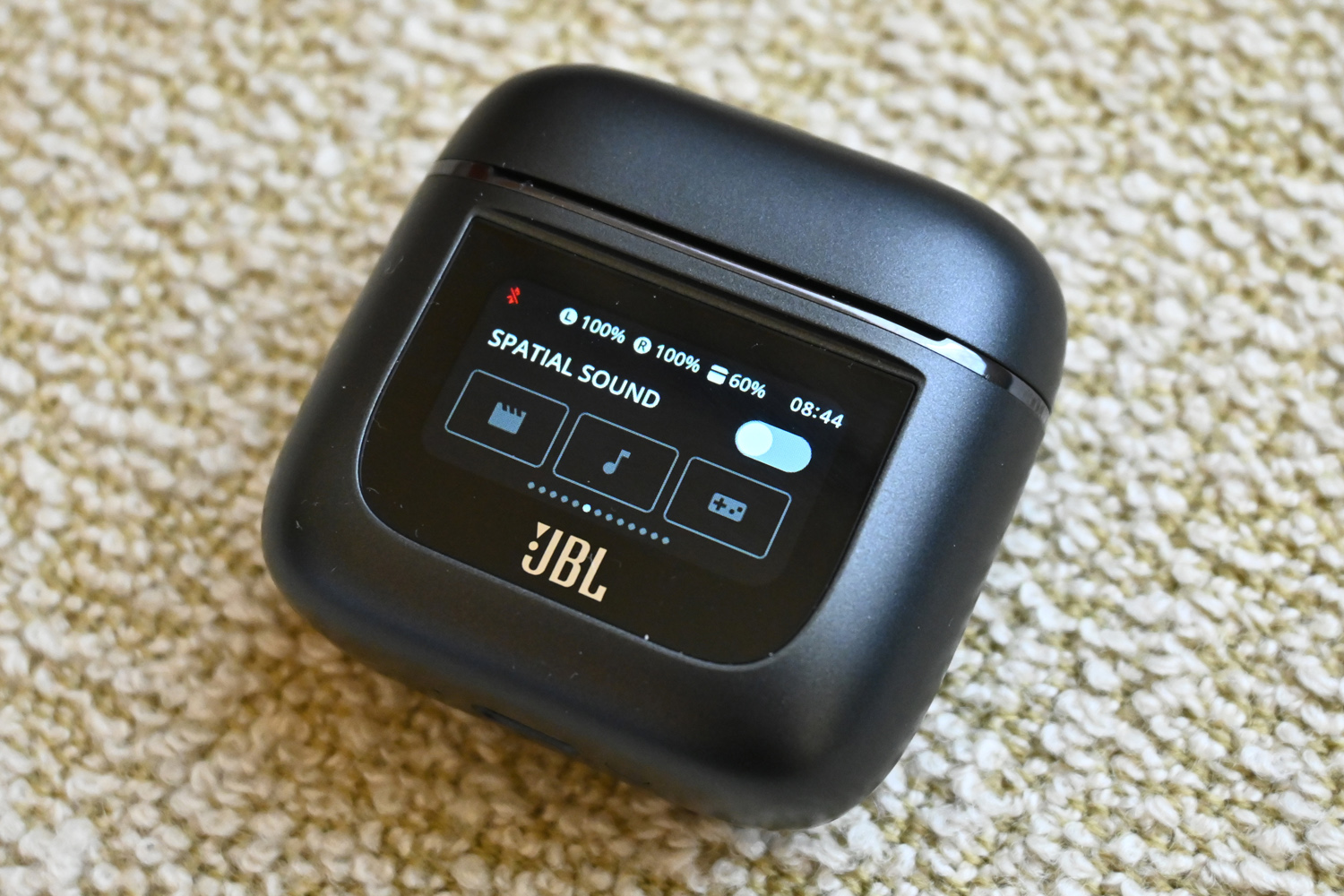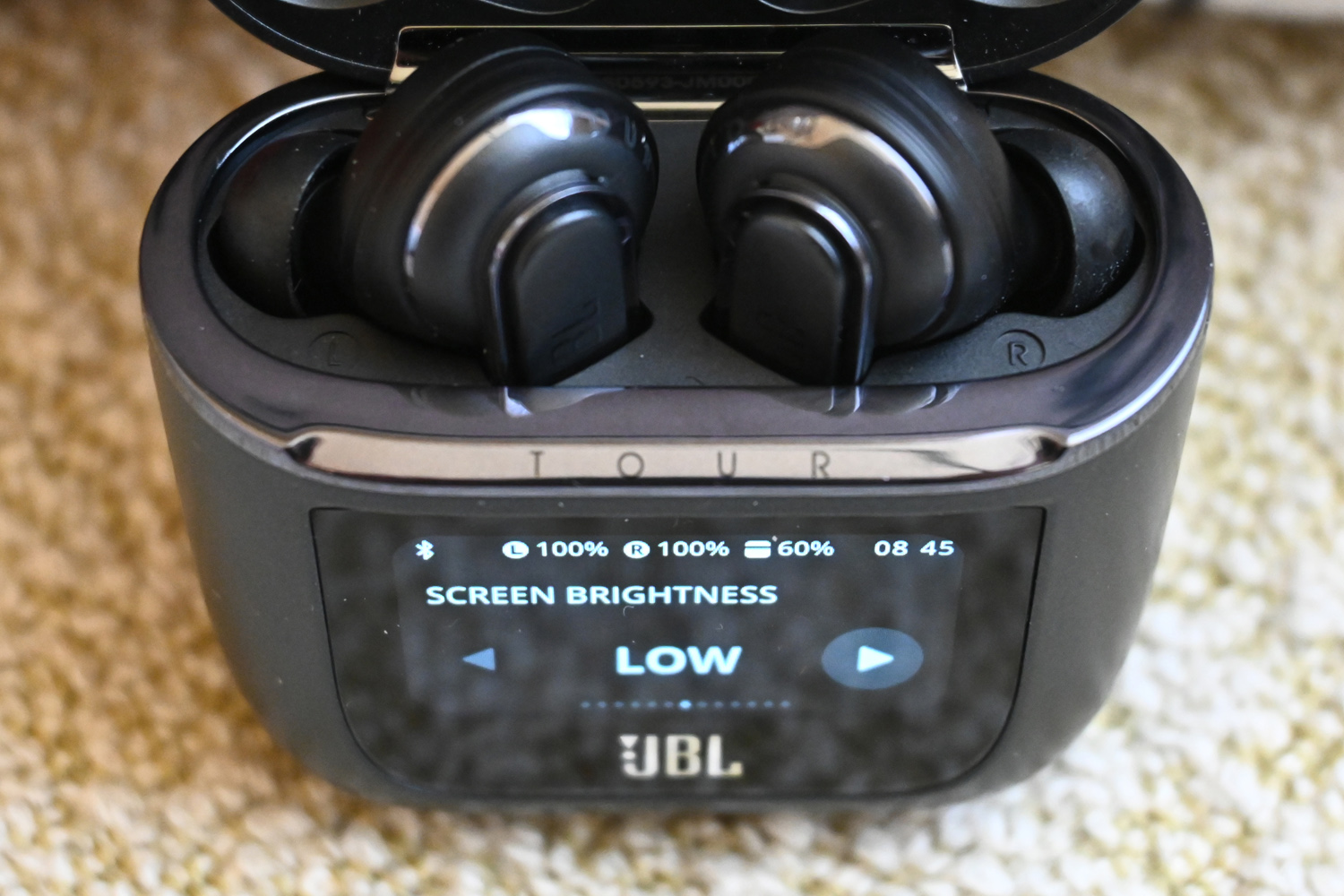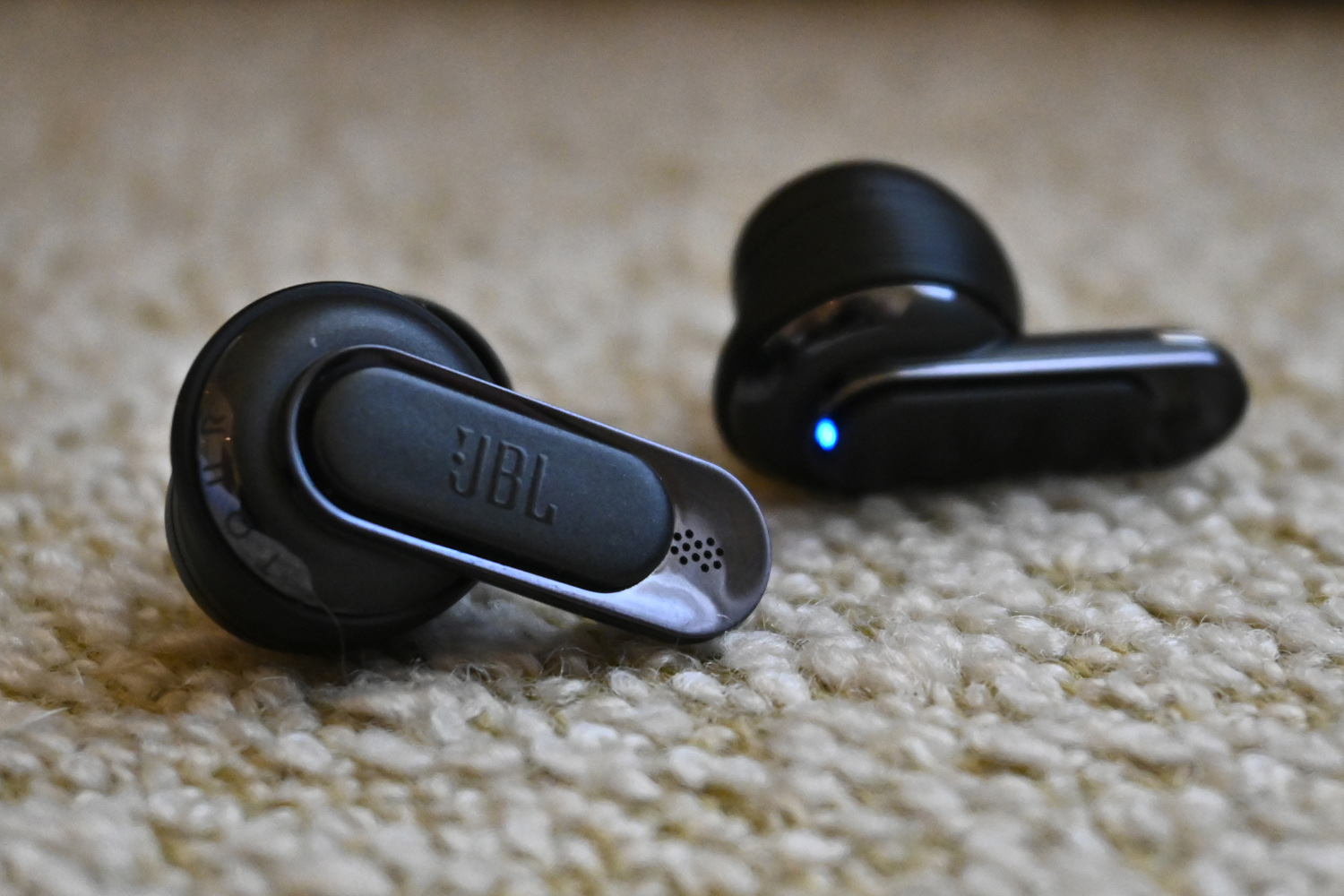 Making space for a screen means the Tour Pro 2's charging case is undeniably on the chunky side. It'll likely live in a different pocket to your phone, and is no featherweight either. Still, it's perfectly palm-friendly, and the 1.4in LED panel is big enough that its menus are easy enough to read at arm's length. The flip-top cover that reveals the buds lurking inside gives us major Star Trek Tricorder vibes, too.
It looks suitably premium, whether you go for the Black model tested here or the fancier Champagne option. Branding is subtle and the metal accents not too blingy. The glossy display bezel up front is quick to pick up fingerprints, though – and you'll also have to think twice before throwing the case in a bag with your keys, in order to avoid scratching it. A rubberised back to stop it from sliding around on a desk, and a flat bottom lets it stand vertically, too.
The buds are more standard fare, with AirPods-style stems and tiny blue activity LEDs that aren't an especially useful inclusion. They're relatively small, but sit quite deep in your ears, so you'll need to experiment with the bundled silicone ear tips to find a firm fit. The flattened stems give a large surface area for activating tap gestures, and means you can grab a bud at the sides to reposition it in your ear without accidentally skipping tracks or pausing playback.
With an IPX5 rating, the buds are able to survive sweaty workout sessions and brief rain showers, but nothing more. The case is only IPX2, so is best kept in a pocket when the clouds open.
Features & battery life: swipe for sound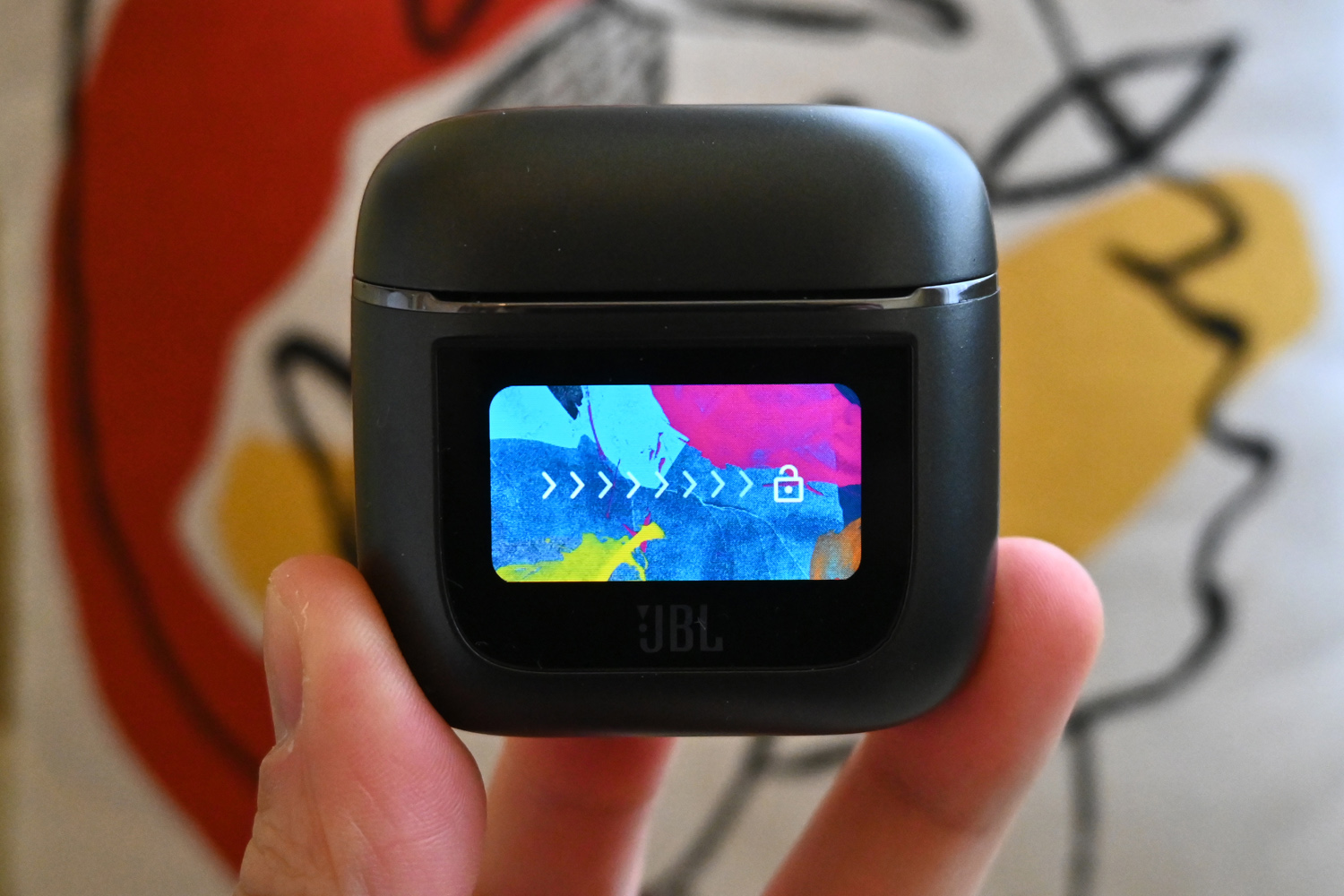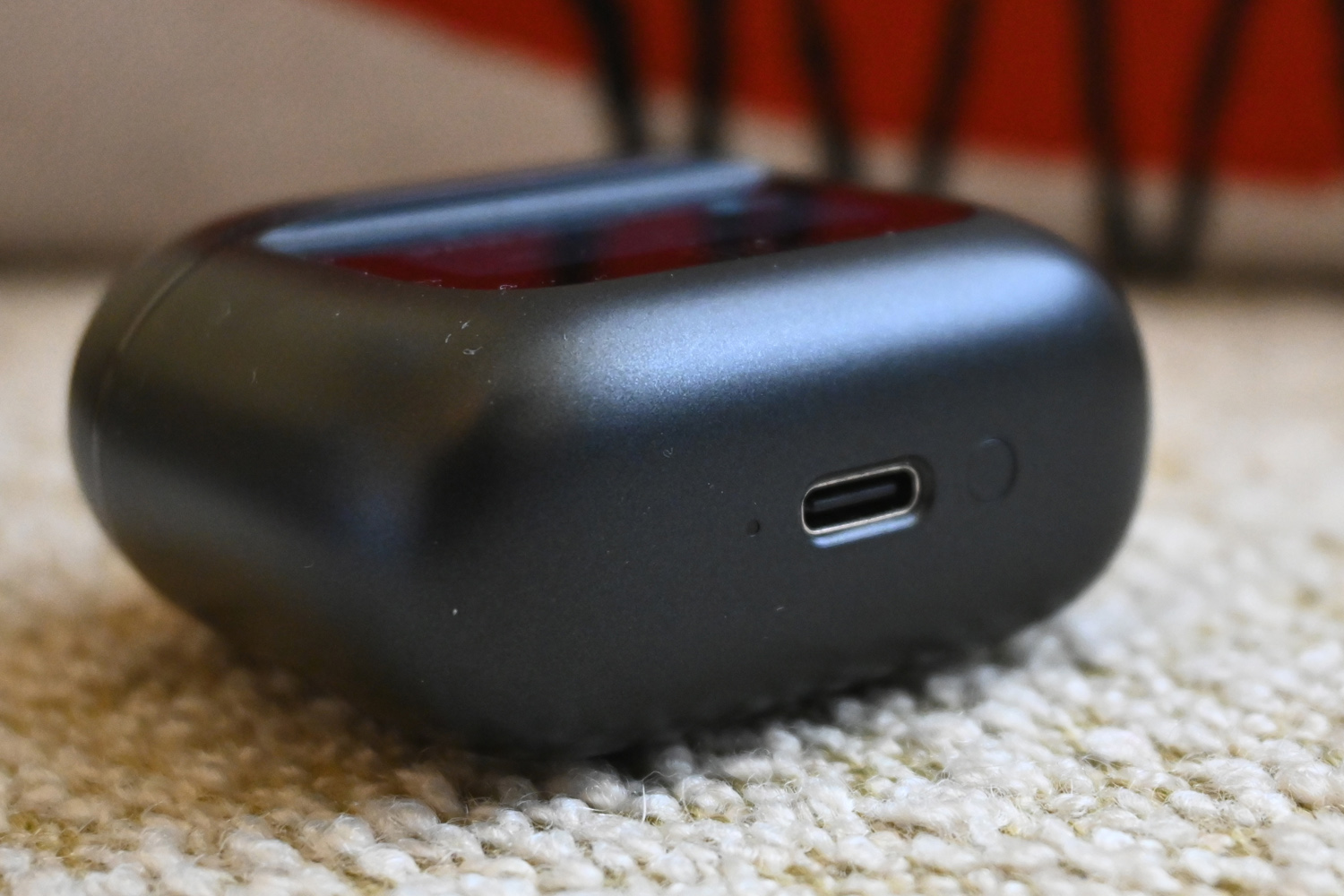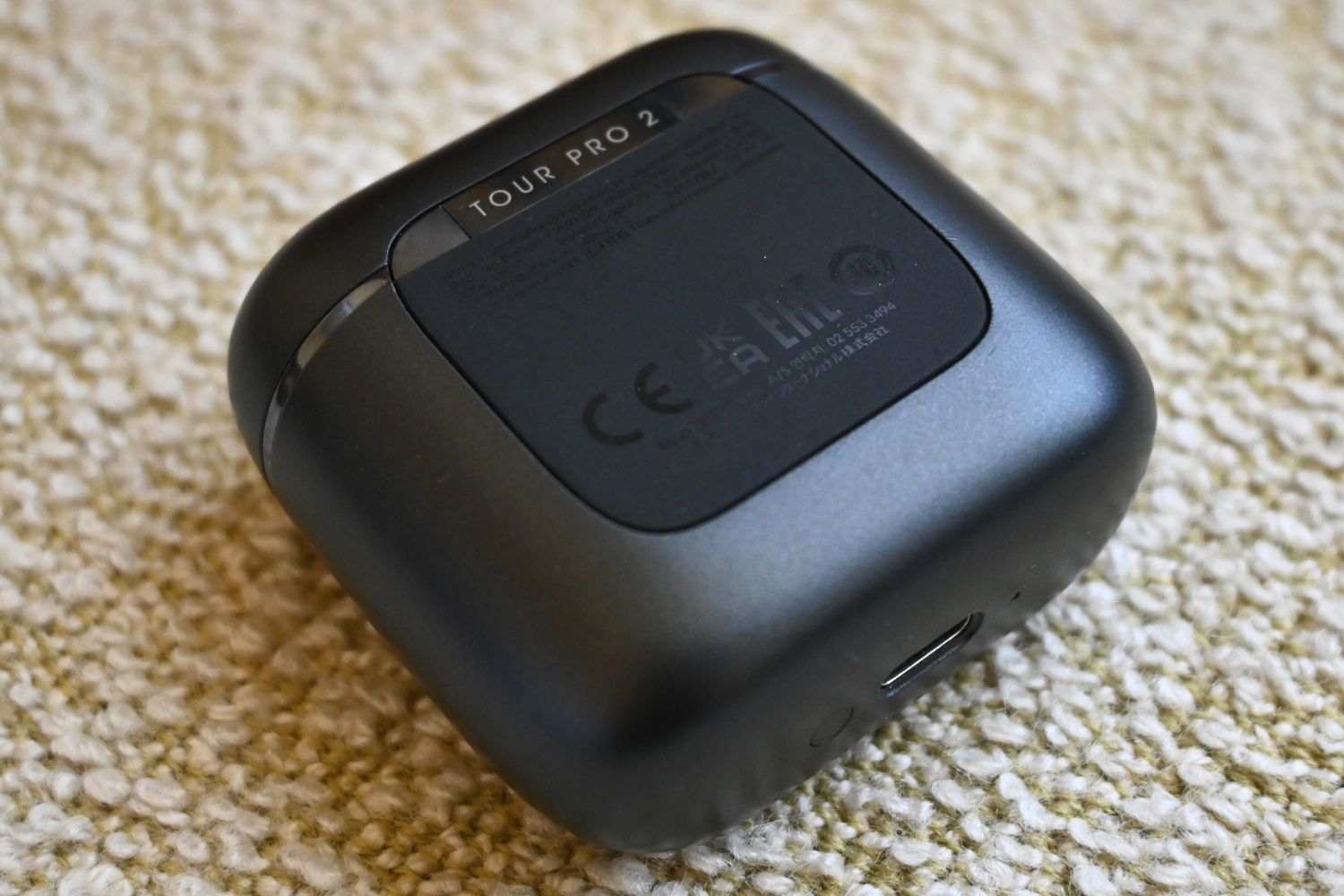 So what does that screen actually do? Its main purpose is to tweak the earbuds' settings on the fly, without having to reach for your phone. After tapping to wake the case up, and sliding to unlock it, you can swipe through a bunch of pages to adjust the level of active noise cancellation, enable spatial sound effects, tweak the EQ presets, and turn on sidetalk to hear more of your own voice while making voice calls. It responds quickly enough to each tap and swipe.
It'll also flash up any calls coming in to your paired smartphone, with options to answer or reject, and display incoming app notifications. The basic envelope icon that appears doesn't make it clear which specific app is demanding your attention, though. You can change the lockscreen wallpaper if you like, but only from a limited selection; there's currently no way to add your own.
Naturally you can control volume and music playback too, but it's limited to play/pause and track skip. There's no playback scrubber, no album art, or even a line of text to tell you what track you're listening to. That means you're just as likely to reach for your phone when skipping through shuffled playlists, which sort of defeats the object of having a screen in the first place.
It does at least show each bud's remaining battery life, as well as how much juice is left in the case itself, the Bluetooth connection status and the current time. What you don't get are any smartwatch-style widgets, like a calendar, weather report or timer. There's a flashlight function, but it simply turns the screen white and is useless in anything other than total darkness.
Putting the various ANC modes at your fingertips might encourage you to experiment, but you'll still need to head into JBL's smartphone companion app to perform an ear fit test, or turn on the Adaptive setting that varies strength based on how loud your surroundings are. It's the same with the other settings: the case can handle the basics, but it can't completely replace your phone.
That's partly because the Tour Pro 2 is absolutely stuffed with features. A Personi-Fi personalised sound test tweaks frequency response based on what you can and can't hear (with modest gains at best in our testing), the buds' gesture controls are fully customisable, and the equaliser is about as extensive as it gets for a pair of mainstream in-ears. You can create a curve based on exact frequency and decibel levels if you want to properly geek out over sound.
You can choose which voice assistant gets triggered (Google, Alexa, Siri or your phone's native assistant – say Bixby on a Samsung Galaxy S23). In-ear detection automatically pauses tracks when taking the buds out of your ears, and never got confused while we were walking about. There's even an option to amplify the sound around you for the hard of hearing. Basically if you like to fiddle, the Tour Pro 2 has got you covered.
It's not a great choice for anyone wanting hi-res Bluetooth though, at least right now. JBL says LC3 codec support will be added in an update, but at the time of writing it just had basic SBC and AAC. No aptX or LDAC is a disappointment at this price.
Battery life is pretty good, though. The buds themselves are good for about eight hours of listening with ANC enabled, which is a solid showing among high-end earbuds. A few trips to the charging case adds a further 24 hours, assuming you've not spent too much time swiping through the screen's menus. If you can live without noise cancelling those figures jump to 10 hours and 30 hours respectively.
Fast USB-C charging means 10 minutes should be enough for a further five hours, and it supports wireless charging like all true wireless earbuds at this price should.
Sound quality and noise cancelling: leaves you wanting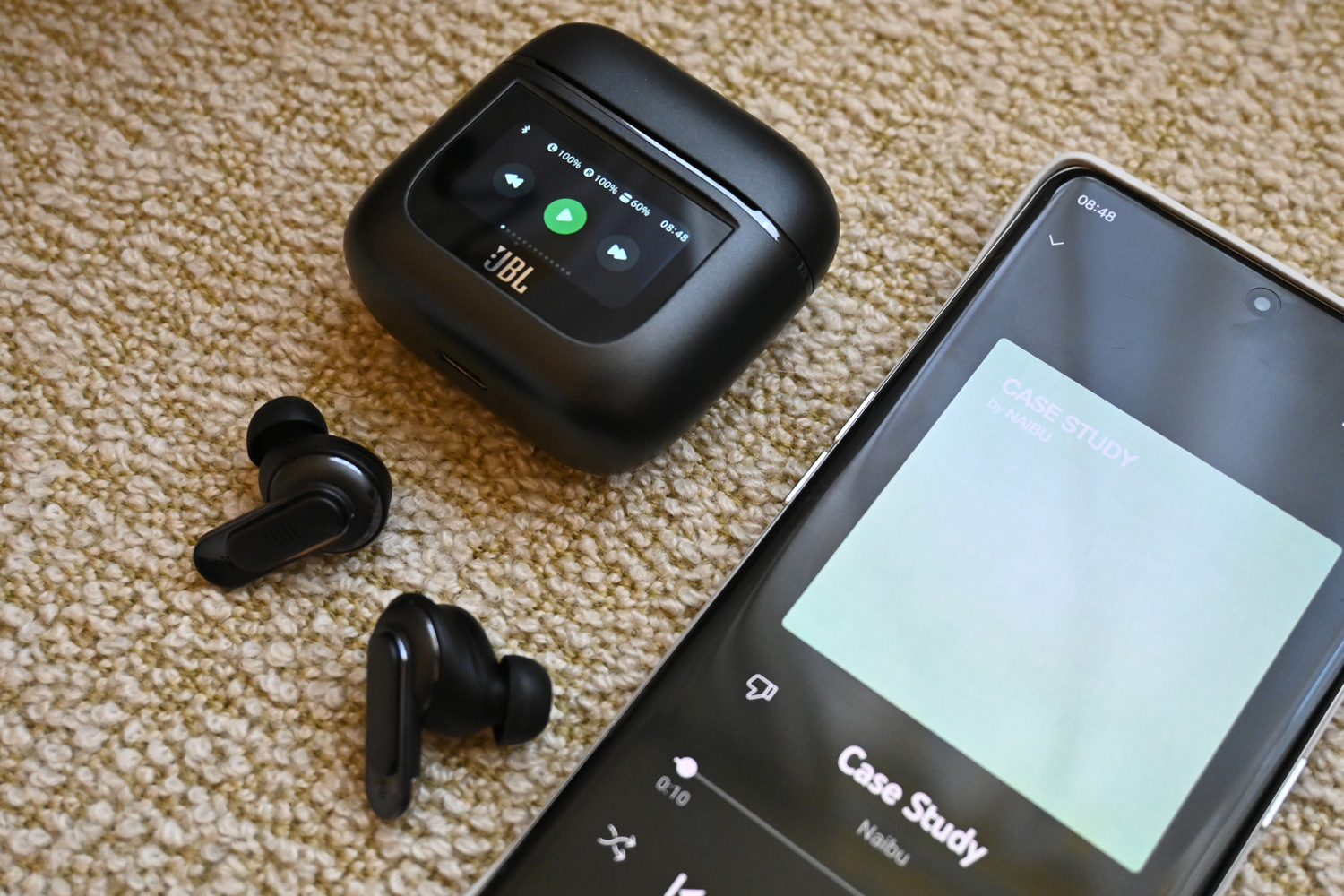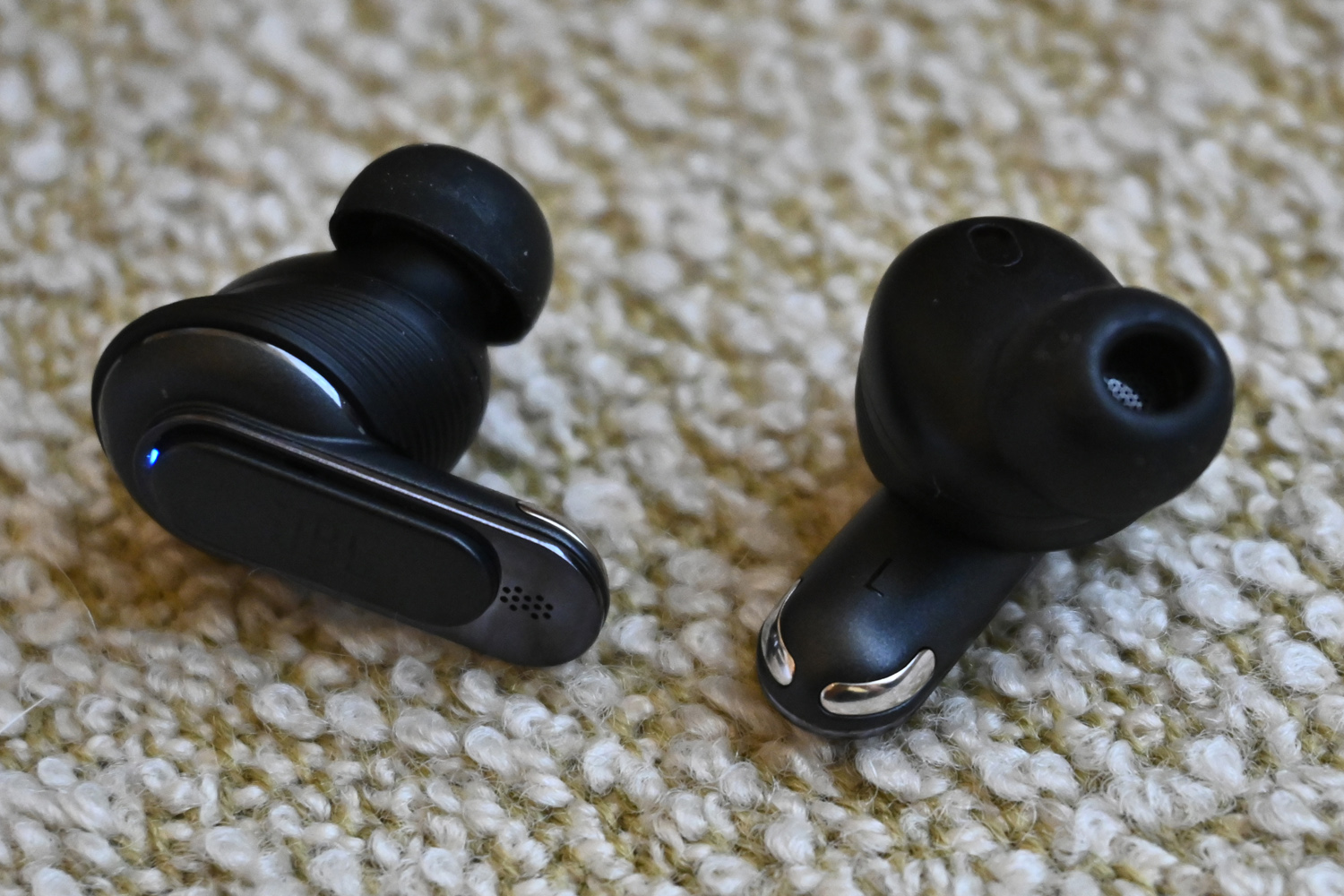 The Tour Pro 2's 10mm dynamic drivers put in a decent enough performance – but not one we feel matches the £250 price. There's not as much expression or dynamism as you'll find from similarly-priced rivals, which leaves more energetic tracks feeling a little flat. We were left wanting a more expansive soundstage, with the Studio EQ preset merely giving the impression of distance.
The amount of low-end detail puts cheaper, boomier buds to shame, but we were still left wanting a little more impact. At the other end of the frequency range, instruments could sound overly bright. Crank up the volume and hi-hats, guitar strings and vocals can lean slightly into harsh territory. One personalised listening test later and things calmed down a bit, but only a little.
Having EQ presets so easily accessible through the case encourages you to experiment more than a phone companion app might, swapping between modes based on the currently playing track rather than picking a "best all-rounder" setting. Which is handy, as even after a lot of experimenting we couldn't find a balance that worked perfectly across multiple genres.
The Tour Pro 2 fares better when it comes to noise cancelling, muting the low rumble of public transport quite effectively. That said, certain voices would still cut straight through, even at the highest setting, and it wasn't particularly skilled at stripping out office chatter or keyboard clatter. Again, this is the sort of performance that would impress in JBL's more affordable models, but here it comes up just a little short.
JBL Tour Pro 2 verdict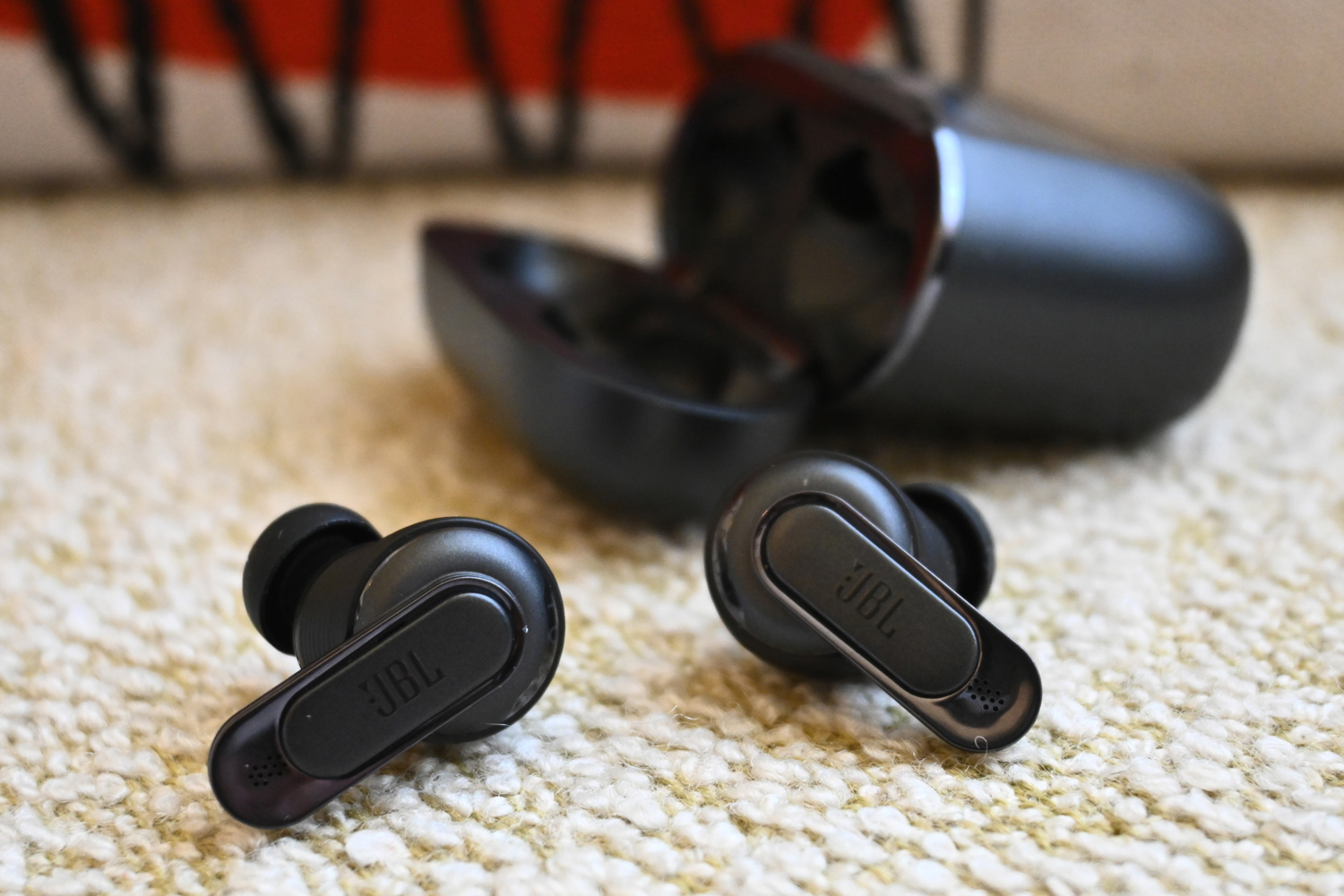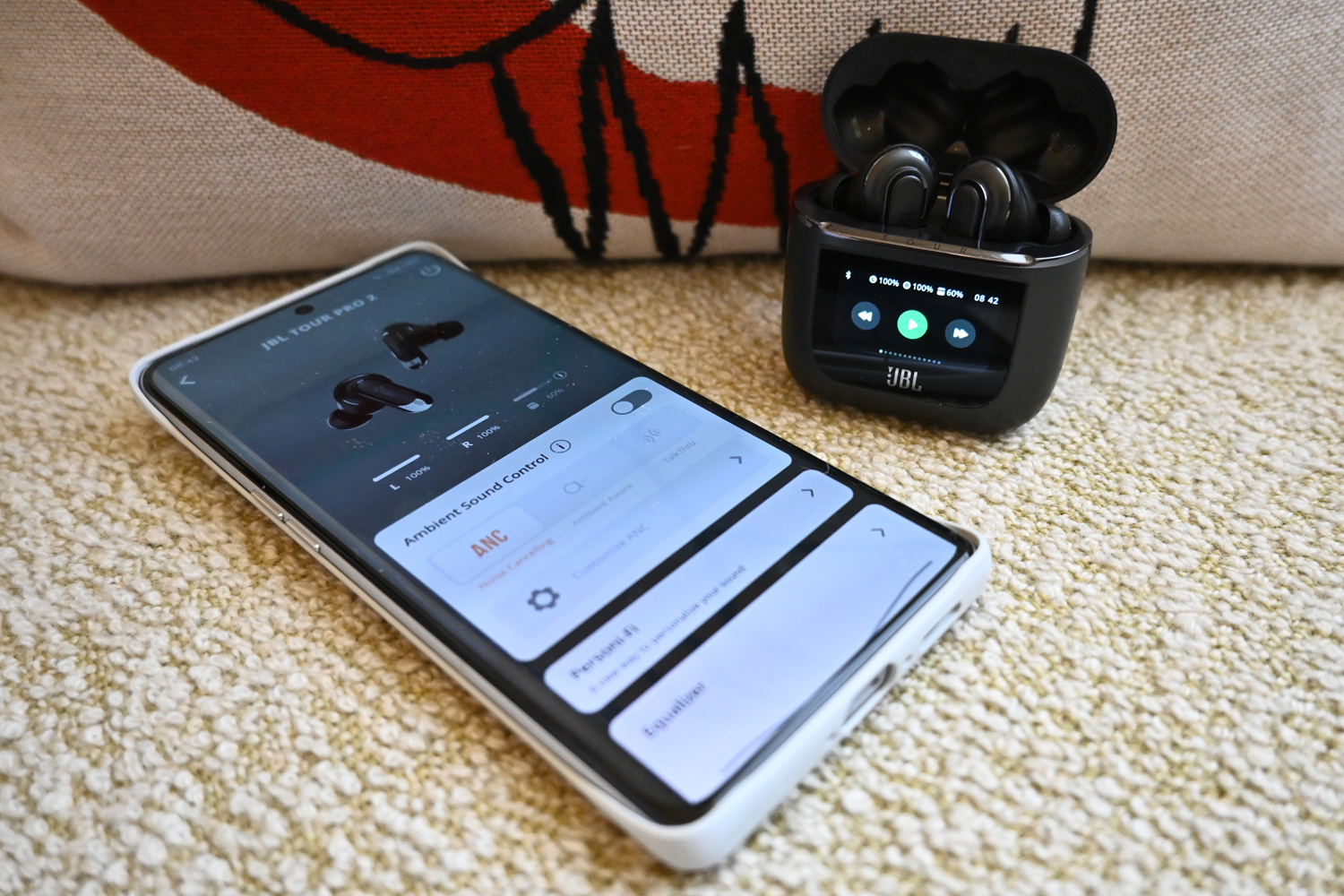 JBL is definitely on to something with the Tour Pro 2. Adding a screen to the charging case shines a light on the more advanced features that would otherwise be buried in a phone companion app, and is simpler to control than the touch gestures built into the buds themselves. It doesn't come at the expense of battery life, either – but without more smartwatch-style widgets and interaction, its usefulness is limited.
Sound quality is merely OK for the money, with the Apple AirPods Pro 2nd Gen and Sennheiser Momentum True Wireless 3 both offering more oomph. The Bose QuietComfort Earbuds II and Sony WF-1000XM4 remain the gold standard for noise cancellation, too.
Until there's more incentive to keep the case out of your pocket, it's just not worth paying a premium for the screen.
Stuff Says…
A novel twist on true wireless earphones, but one that doesn't quite reach its full potential. Sound quality and noise cancelling don't deliver at this price, either.
Good Stuff
Touchscreen gives the case more purpose
Respectable battery life with and without ANC
Lots of audio customisation
Bad Stuff
Average sound quality for the money
noise cancelling could be better
Screen is under-utilised
JBL Tour Pro 2 technical specifications
Drivers
10mm dynamic
ANC
Yes
Bluetooth version
Bluetooth 5.3
Codec support
SBC, AAC, LC3+ (via future update)
Durability
IPX5 (buds) IPX2 (case)
Battery life
8 hours/24 hours (ANC on, buds/case)
10 hours/30 hours (ANC off, buds/case)
Dimensions
12.2g (buds) 73g (case)