Steelseries Arena 7 review: illuminating audio
These RGB-packing 2.1 speakers will light up any gaming space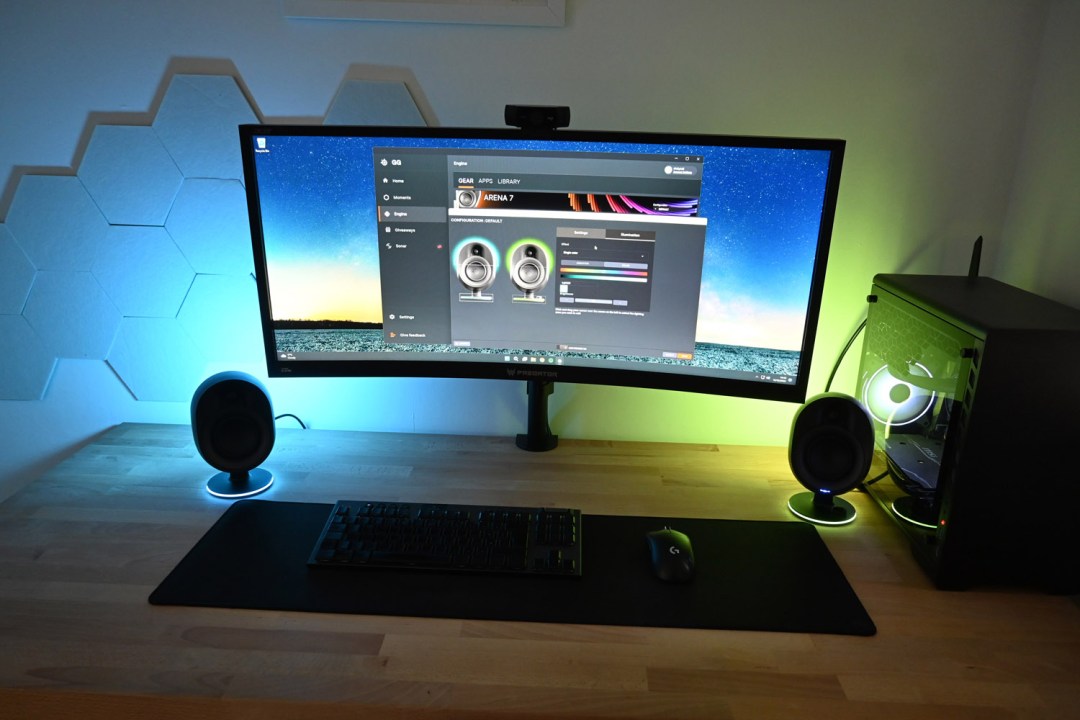 Look, we don't make the rules, ok? Adding RGB backlighting to any bit of tech simply makes it better. Or at least is does in the eyes of gamers. It'd be easy to think that was Steelseries' thinking for the new Arena 7, but in reality the headset specialist has set out to topple the very best PC speakers on its first attempt.
The 2.1 system is the middle child of the line-up, sitting above the Arena 3 (a RGB-less stereo pair) and the Arena 9 (a full-on 5.1 system with OLED control dial), with the LEDs to make your Philips Hue bulbs redundant and enough connectivity to play nicely with all your gaming hardware – not just a computer.
It's a considerable investment at £299, though. Does it have the sonic chops to match its eye-catching illuminations?
Design & build: back in black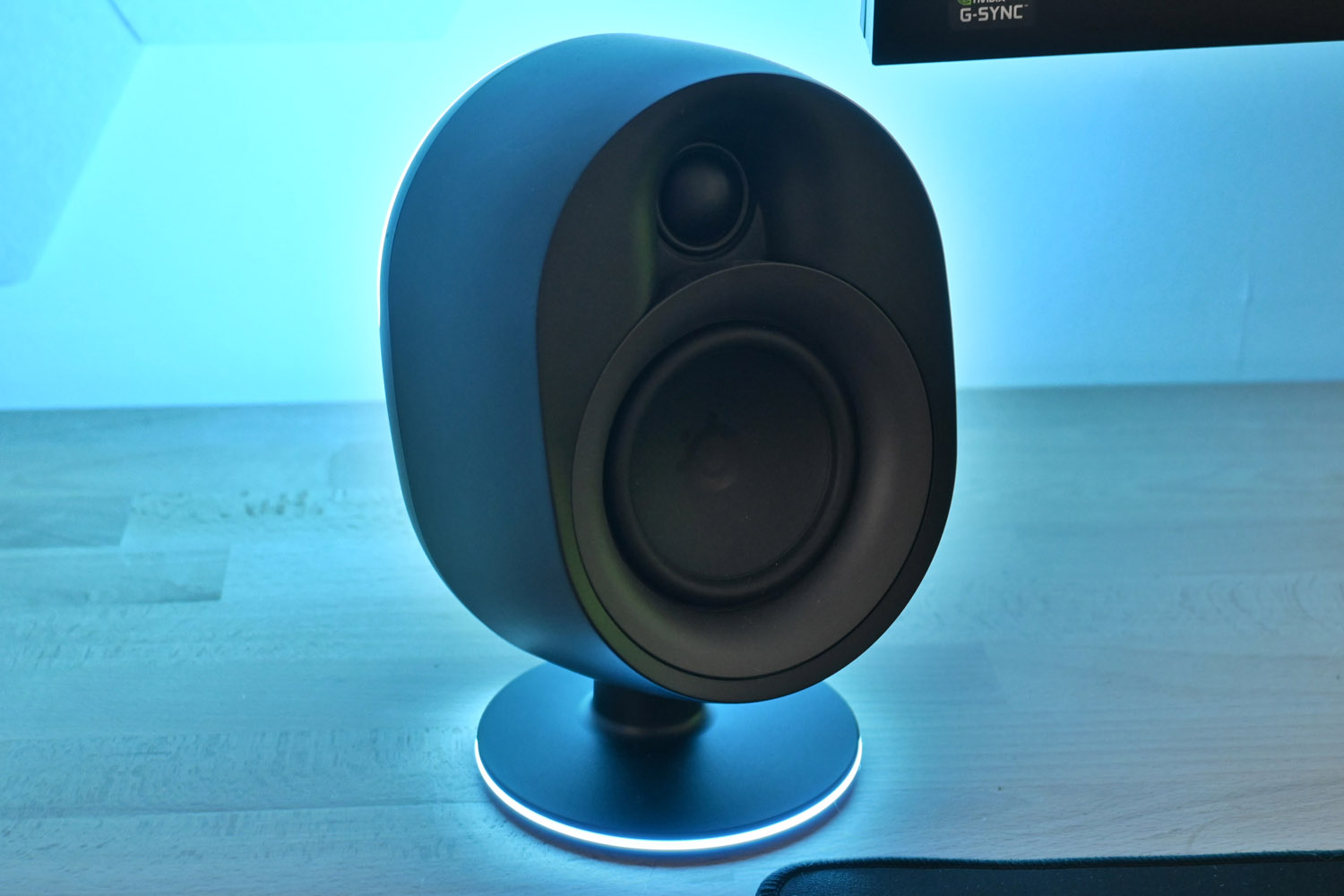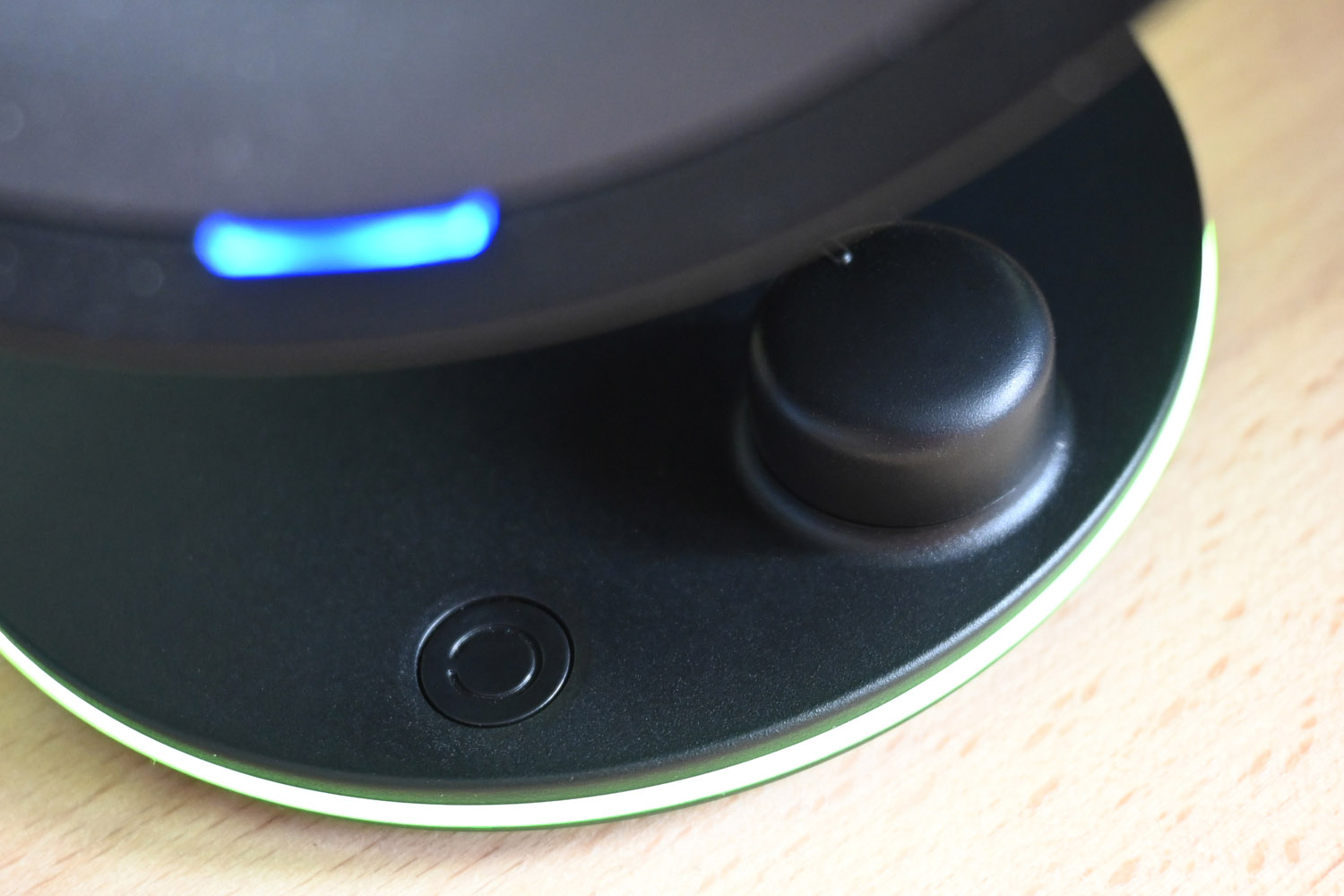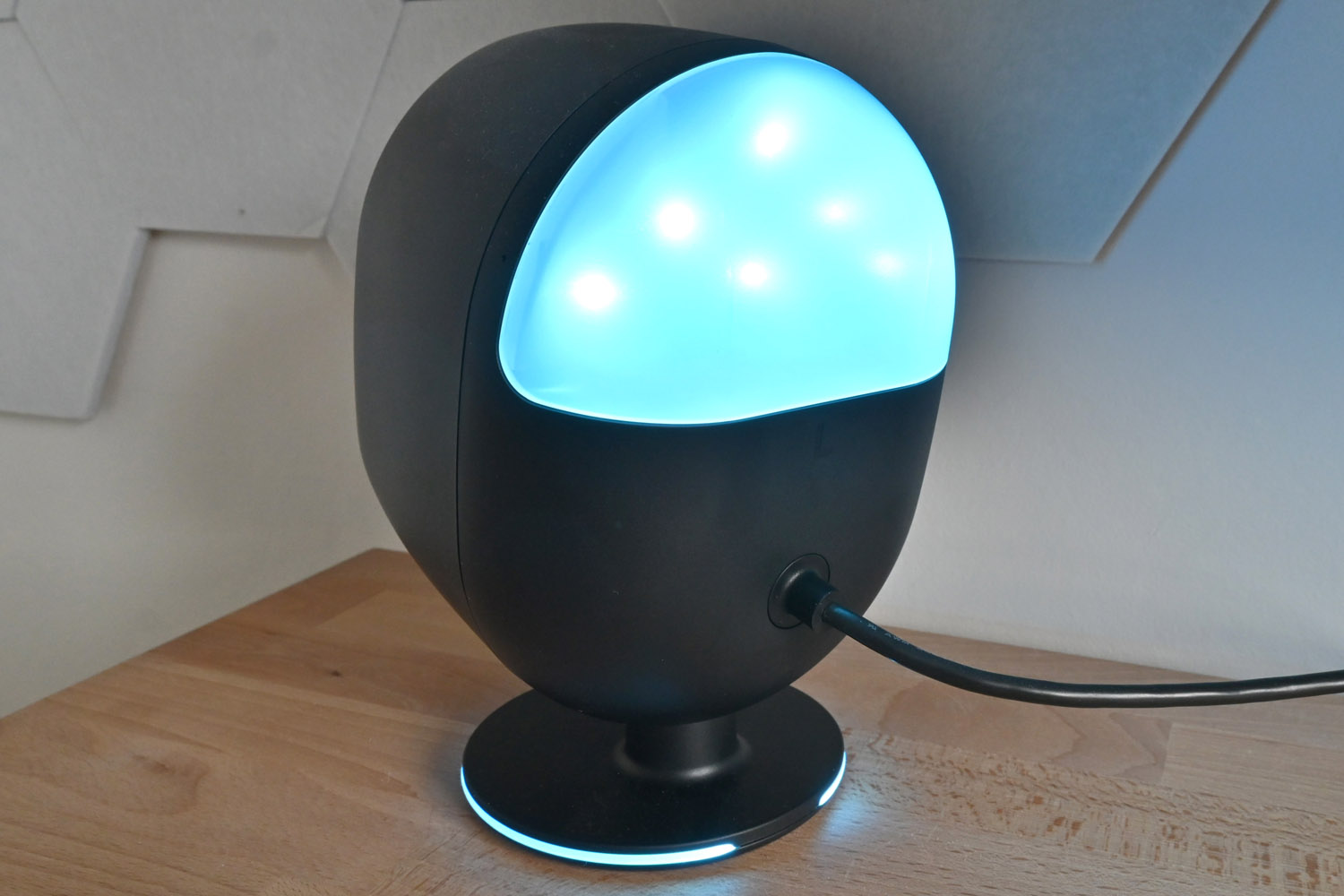 Even before you turn 'em on, the Arena 7's two satellites look more interesting than your typical boxy bookshelf speakers. Each one has curves in all the right places, with integrated stands good for a generous amount of tilt. The matte black finish should fit right in with most gaming PC setups. While the translucent white panels that hide the rear RGB lights aren't quite so easy on the eye, they're never really on direct display so get a pass from us.
The speakers are pretty compact, at a little over 20cm tall, and not especially deep, so don't take up a lot of room on a desk. Both the woofer and tweeter are exposed, though, with no speaker grilles included in the box to keep them safe from wandering fingers. Parents will want to keep them out of reach of any inquisitive kids.
A volume dial and multi-function button are built into the right speaker's base, with a tiny LED showing what source is currently active. There's a 3.5mm port on the back for hooking up a headset, with all the other inputs and controls found on the back of the subwoofer.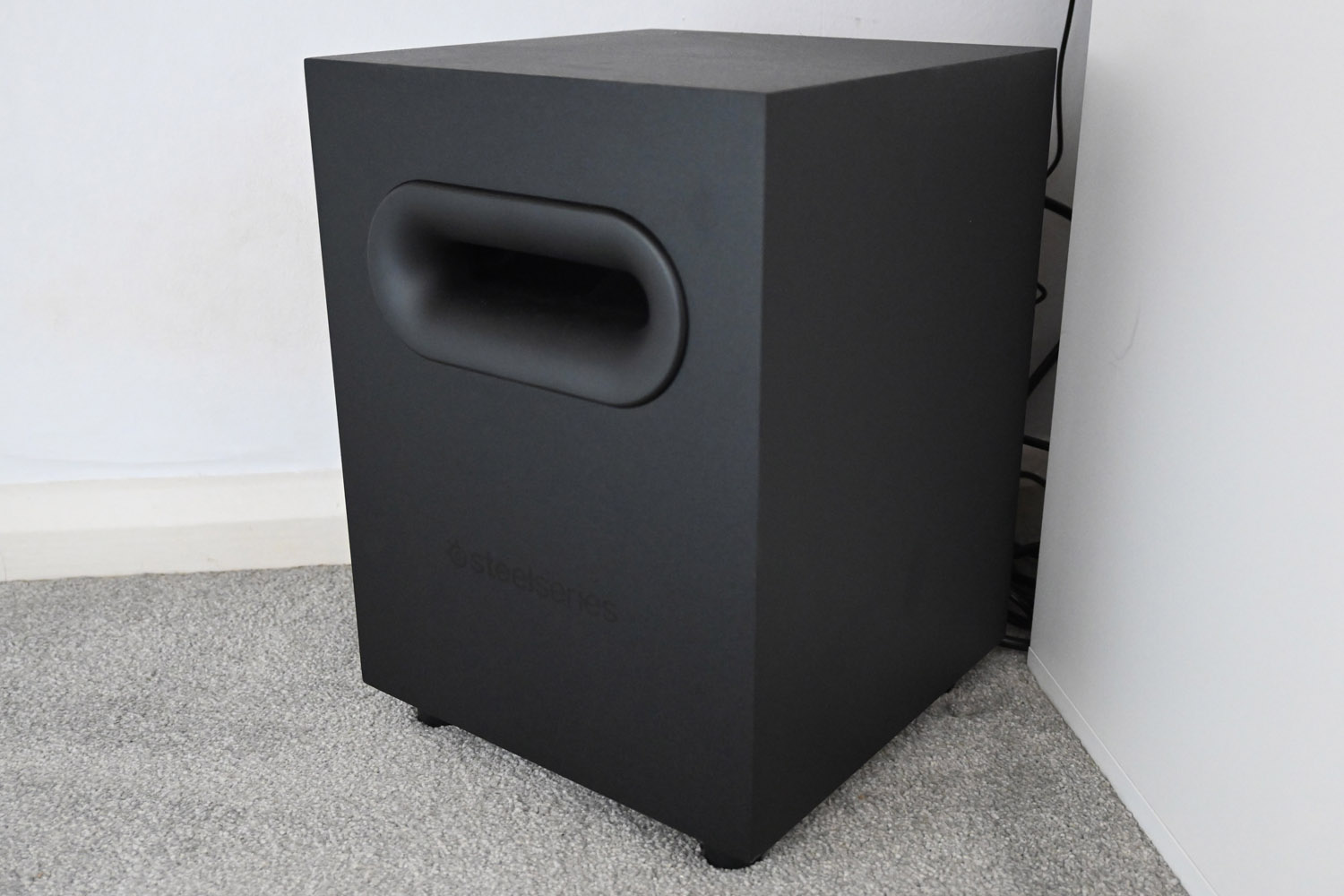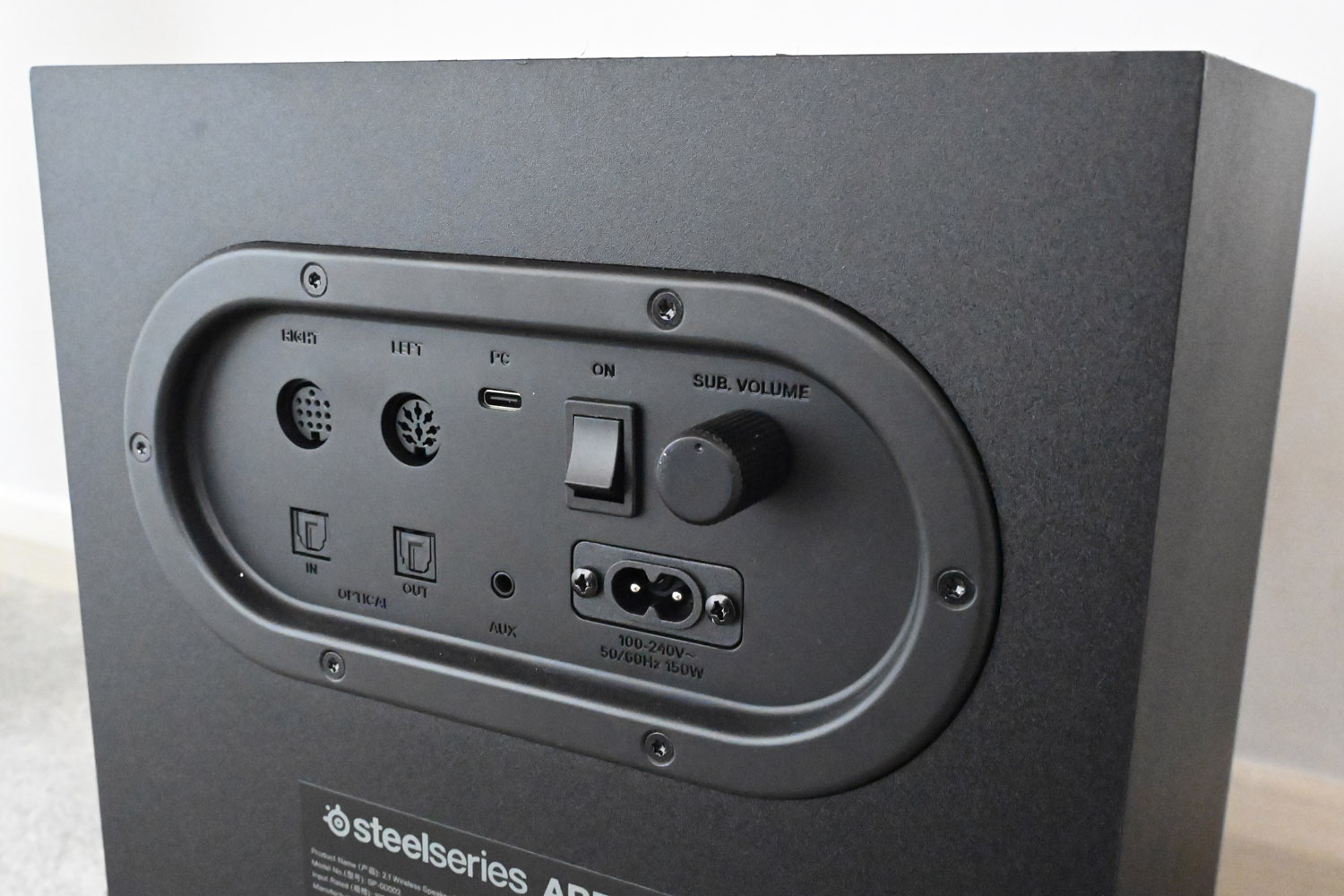 Generously long captive cables snake from each speaker to the sub, which is little more than a big black box – but then it'll spend most of its life under a desk, so doesn't really need to look pretty. The digital optical input at the back is handy for hooking up to a TV or console, while the 3.5mm auxiliary port plays nicely with analogue sources. PCs hook up via USB.
Features & software: light of my life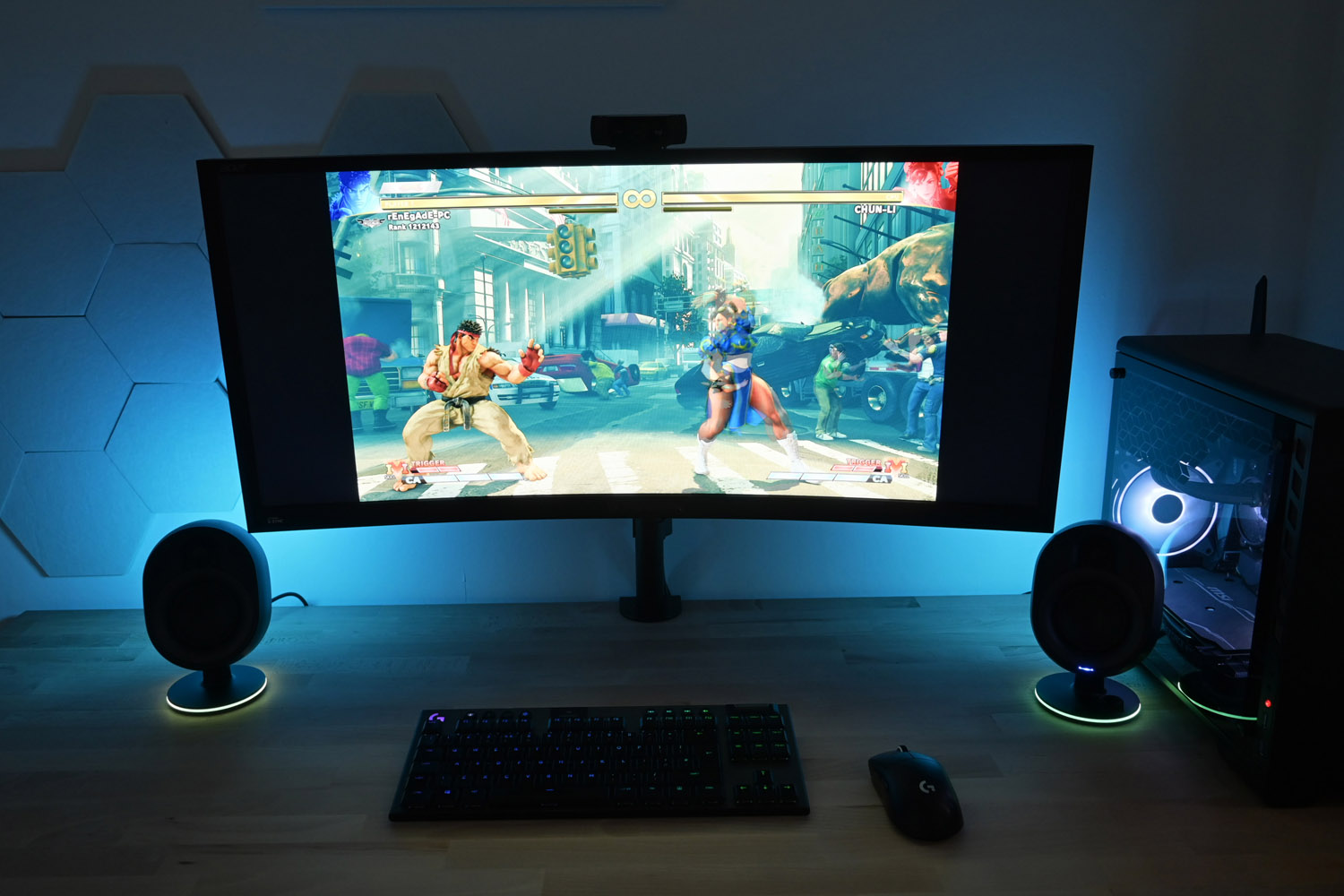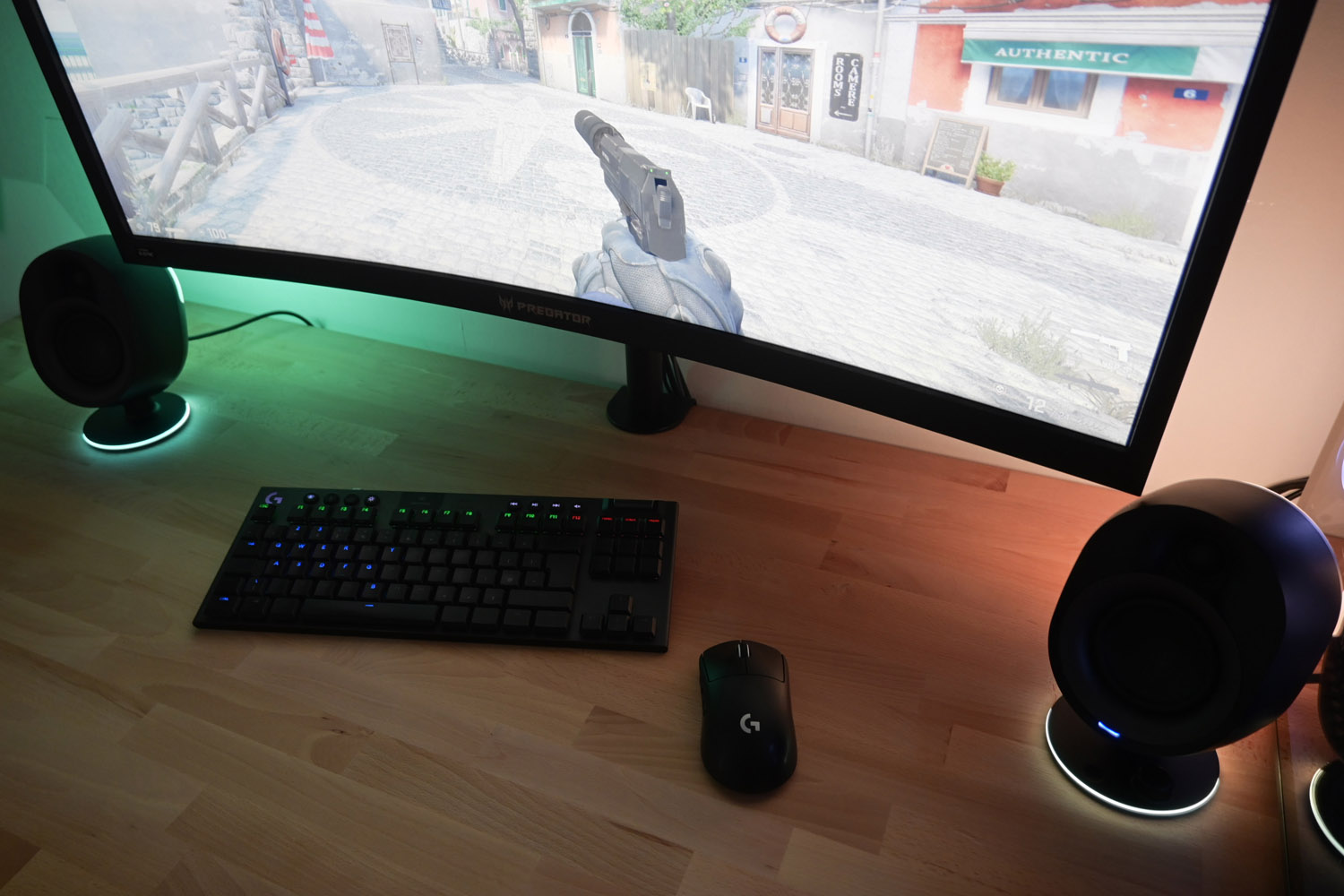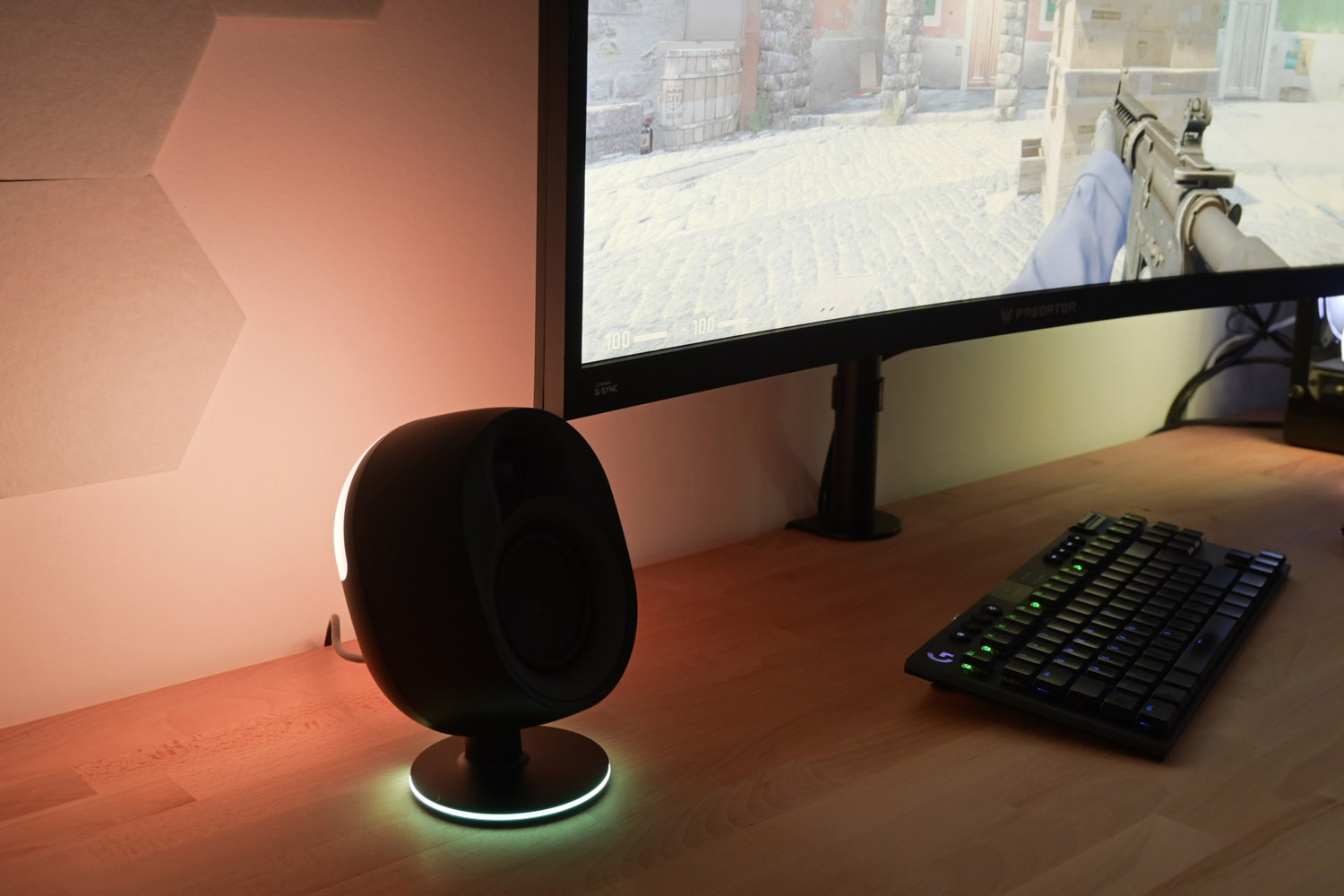 When you're ready to get your glow on, the Arena 7's satellites throw out a rainbow of light to the rear, and outwards from the base of each stand. The rear is nicely diffused, bright and brilliantly colourful, with independent zones to get creative with multi-hued patterns – as long as you place 'em far enough away from any walls. Too close and the effect is massively stripped back.
The base LEDs are more subtle, but that's a good thing seeing as they're in your line of sight – anything brighter would be a distraction while you're gaming. A double-tap to the function button will turn off the lights altogether, which is useful during the day. They default to a slow fade between colours, but you can load up Steelseries' comprehensive GG software on your PC to swap to a more dramatic effect.
You can also sync with your other Steelseries gear here, and turn on the Reflect mode that reacts to what's onscreen. There's more delay here than you'll find in a Philips Ambilight TV, but the effect still adds an extra level of immersion to games and films. The separate Sonar app has extensive audio EQ settings, with presets for a long list of AAA games, though the way it adds multiple audio devices to your Windows volume panel is a little cumbersome.
Bluetooth, on the other hand, is a breeze. You hold the multifunction button down to pair, and there's no need to swap inputs: music will play from your phone on top of any game audio playing out over USB. Range was actually so good our phone would wake up the speakers from the other side of the house, so we ended up powering off the system entirely whenever we were done gaming. The switch is on the subwoofer, which can be a pain to reach if you've stashed it out of sight.
Sound quality: hits the right notes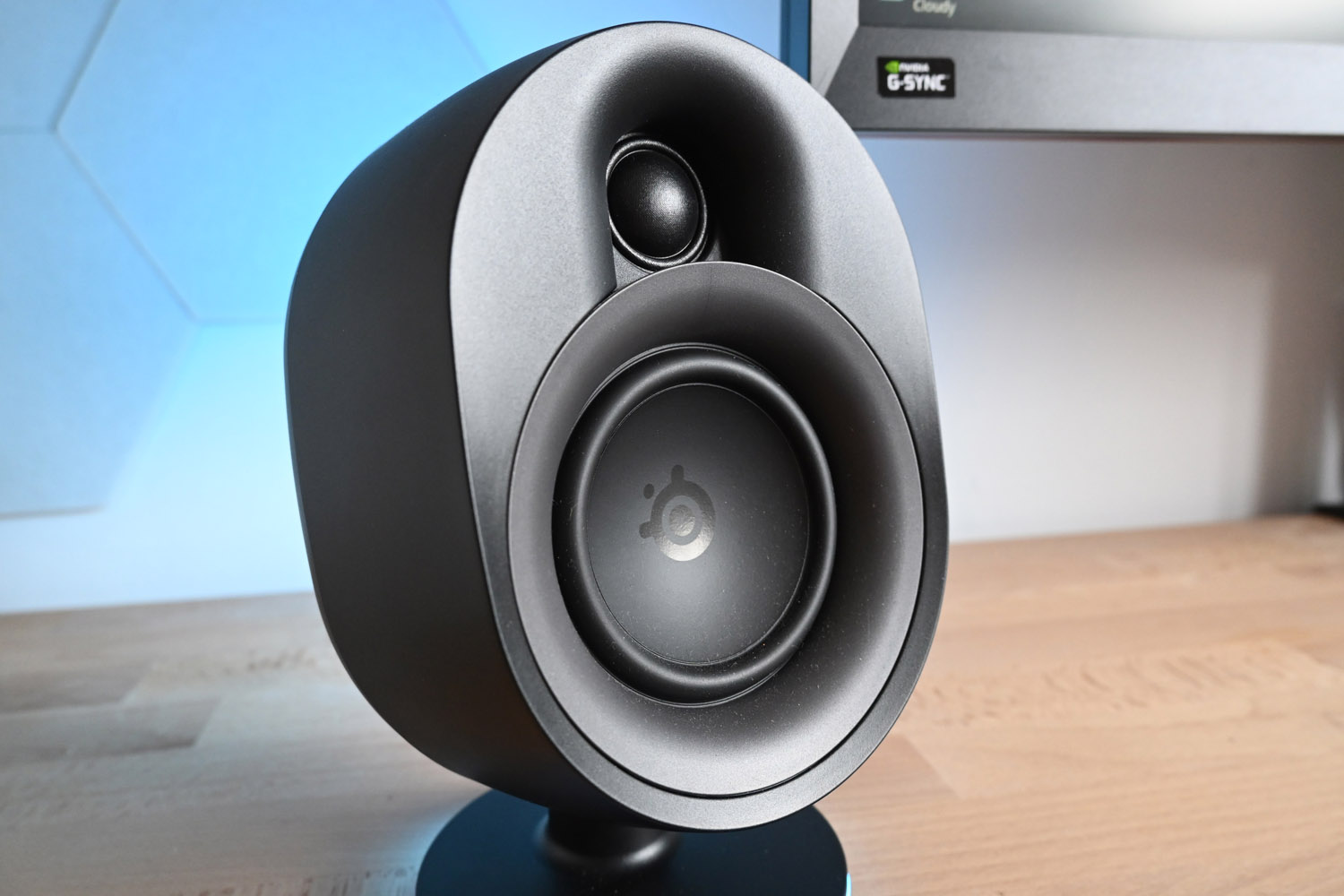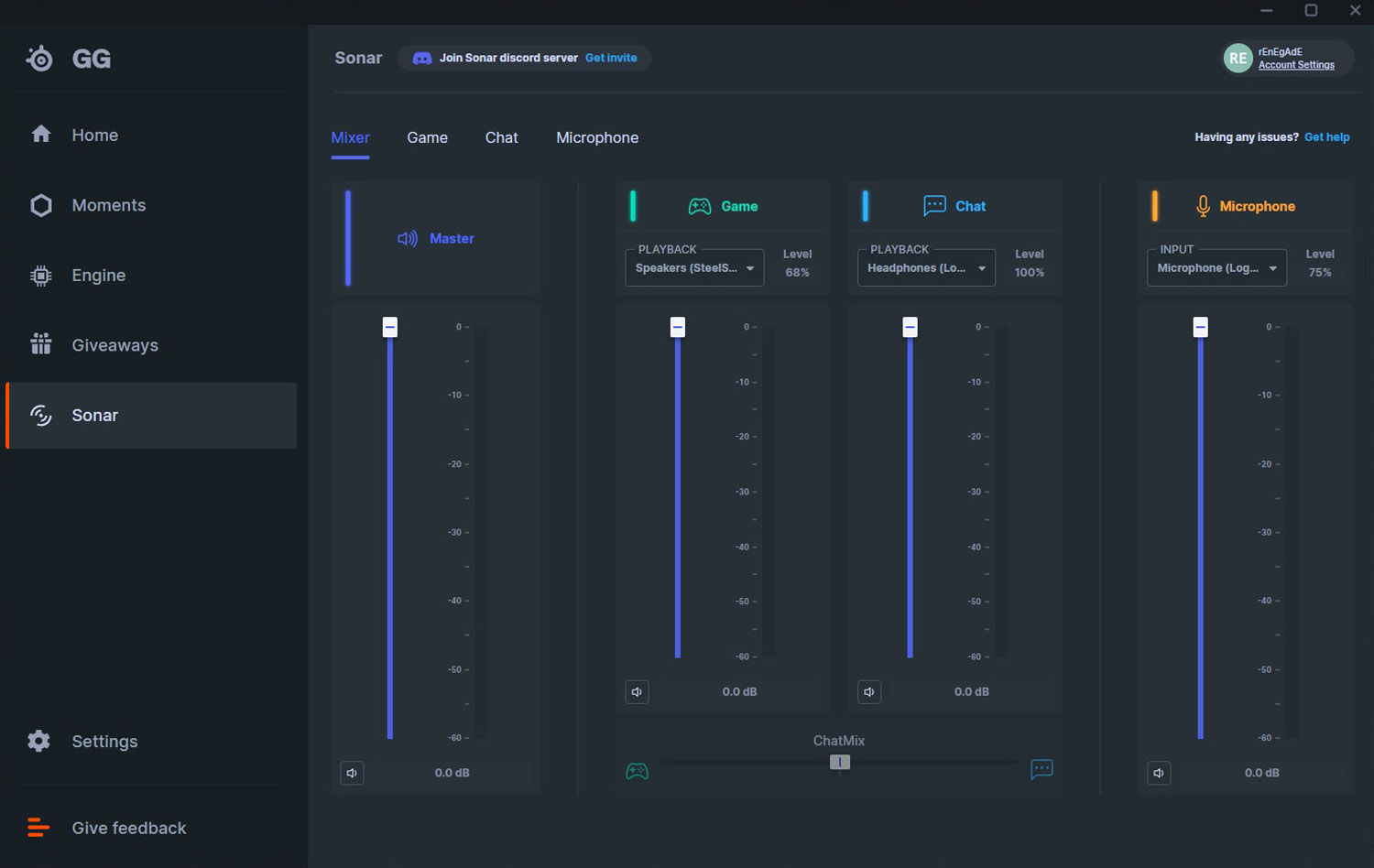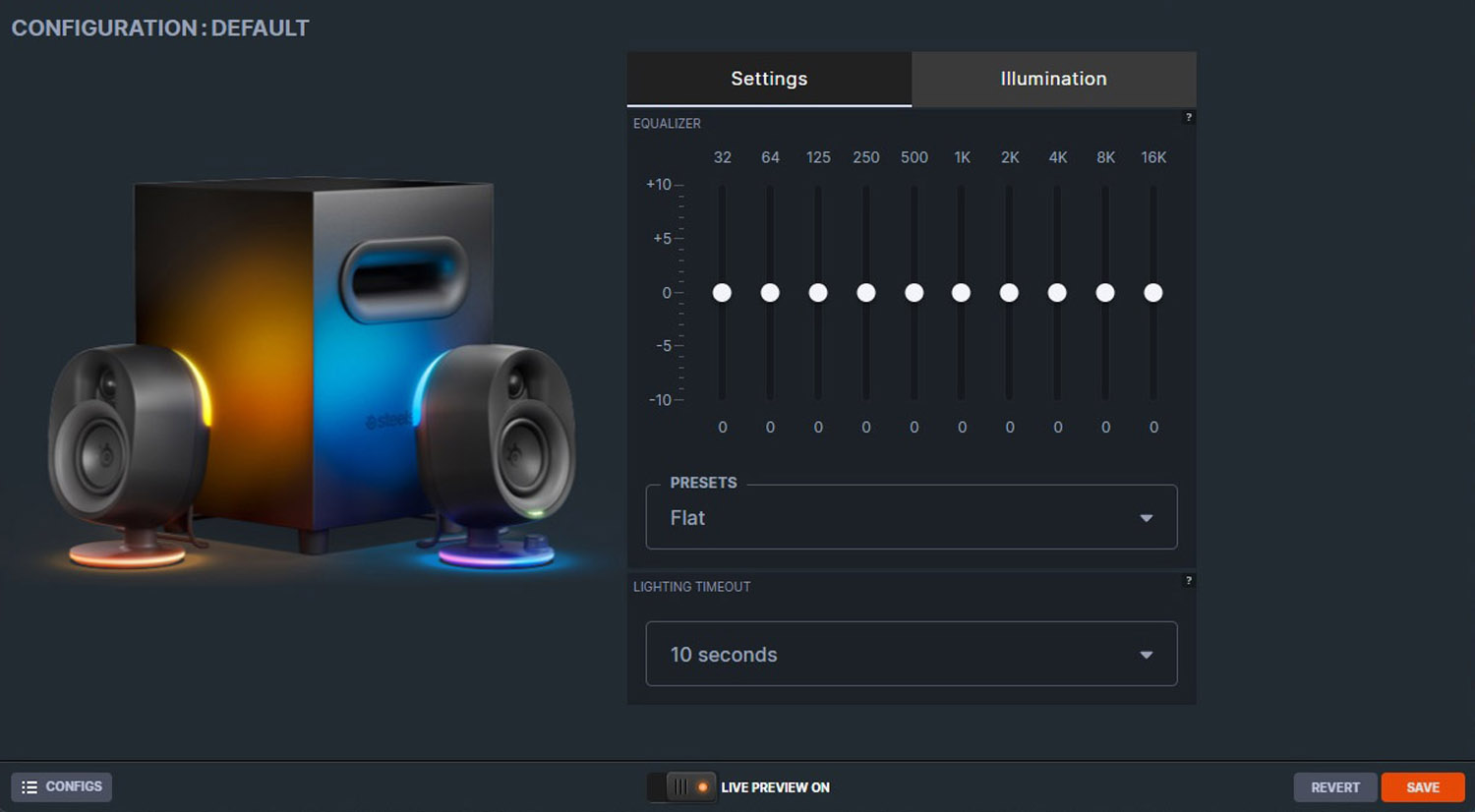 Experience says Steelseries knows how to make a great gaming headset, so we were hoping that knowledge would translate to the speaker space. Good news: it very much does. The Arena 7 is an impressively capable system, with rich and impactful audio. Whether we were dodging gunshots and explosions in Arkane's Deathloop, listening to Spotify while working, or bingeing the new episodes of She-Hulk on Disney+, the speakers were never not in their element.
There's great clarity here, even at low volumes, with a warmth to the sound that goes a long way to justifying the asking price. High frequencies don't dominate the mix, but things like broken glass and footsteps are still easy to make out while gaming. For a stereo pair there's a convincing sense of spatial awareness, too.
The subwoofer does much of the heavy lifting, delivering a generous wallop of low-end rumble. We had to dial it back a bit so as not to attract noise complaints from the neighbours, but the overall balance also benefits from a little less bass. Larger rooms with space to put more distance between speakers and sub can crank up the volume with little penalty, the speakers able to get stirringly loud without distortion.
It won't give an audiophile system a run for its money, but the Arena 7 is no one trick pony. It does a great job with gaming, music and movies, and wouldn't sound out of place under your TV as an alternative to a sound bar.
Steelseries Arena 7 verdict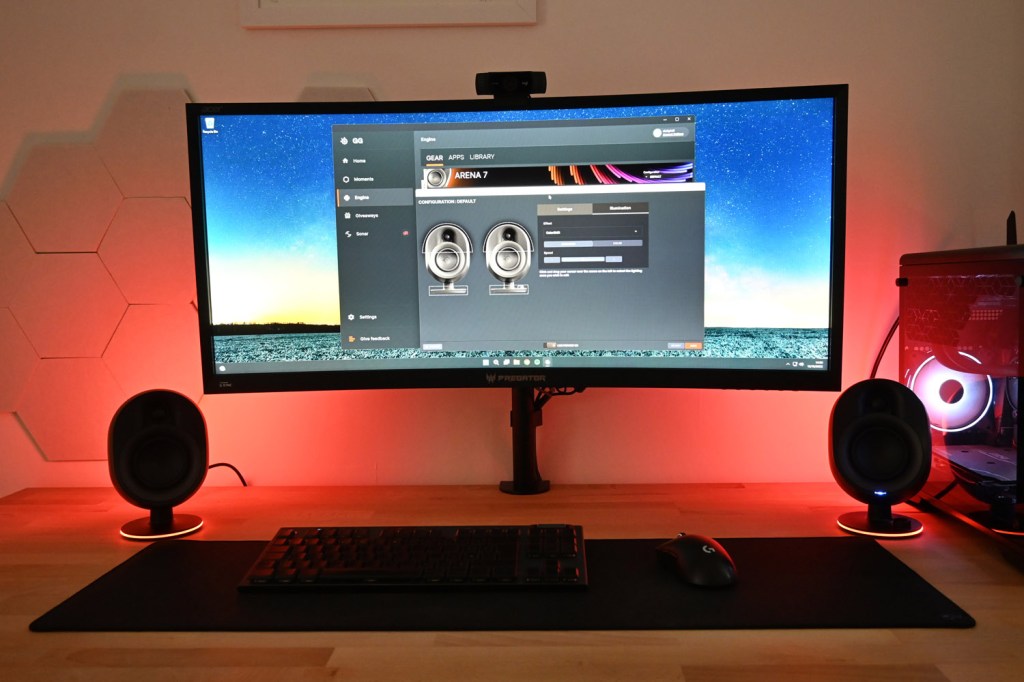 Don't write the Steelseries Arena 7 off as an RGB-flavoured gimmick. Those lights might grab your attention, but the way it sounds will make you want to keep it on your desk. Add in the wired and wireless connectivity options and it's sure to give any PC setup a healthy audio upgrade.
Would it be cheaper without its illuminative abilities? We don't doubt, and for many that will make it hard to justify the extra outlay over a non-glowy set. But anyone wanting to give their desktop a one-box makeover without going down the DIY route should see the appeal.
Stuff Says…
Compact and powerful speakers that deliver surprisingly well-balanced audio, with RGB lighting that'll slot perfectly into any gaming setup.
Good Stuff
Excellent sound tuned for gaming
Colourful and bright RGB lighting
Bluetooth very convenient
Bad Stuff
Subwoofer can be overpowering
Expensive for a 2.1 system
Power switch being on the sub is inconvenient
Steelseries Arena 7 technical specifications
| | |
| --- | --- |
| Drivers | 2x 3in woofer + 0.75in tweeters, 6.5in subwoofer |
| Frequency range | 35-20,000Hz |
| Sensitivity | 89dB |
| Connectivity | USB, 3.5mm aux, digital optical, Bluetooth v4.2 |
| Dimensions | 206x116x101mm (speaker) 233x233x298mm (subwoofer) |