Best mesh Wi-Fi system 2023: banish internet black spots
Getting blanked by your broadband in the far reaches of the living room? Here's our guide to the best mesh Wi-Fi system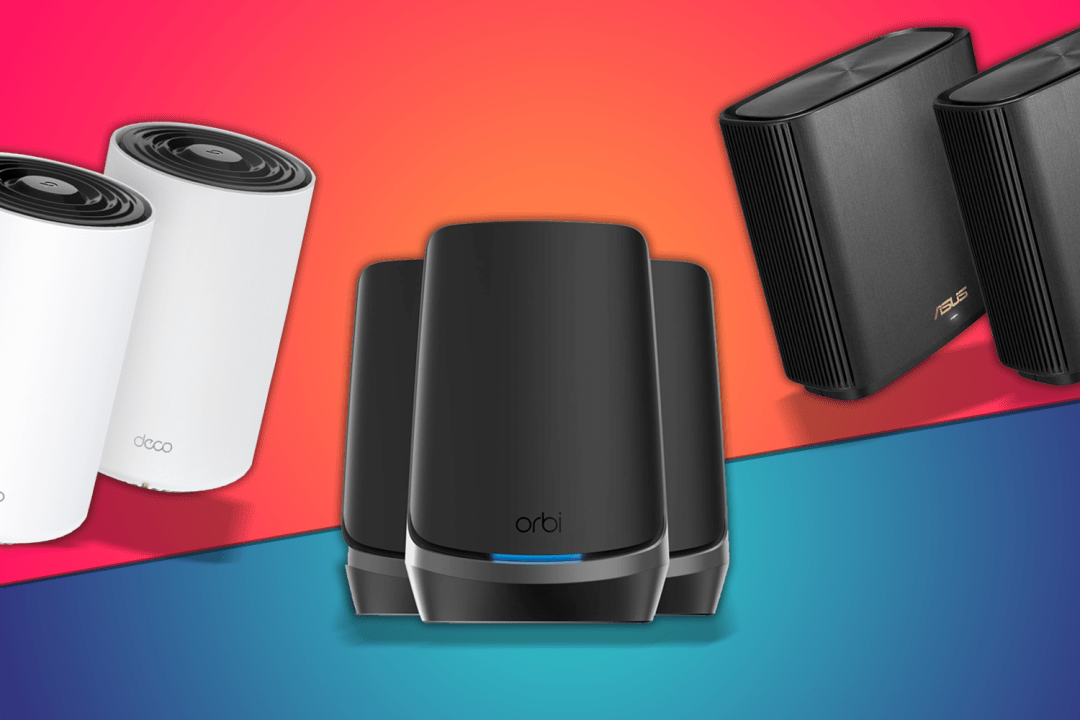 Looking for the best mesh Wi-Fi system? Want to speed up your internet? Tired of buffering wheels? You're in the right place. Mesh networks are smart home devices designed to eliminate Wi-Fi black spots by placing a network of range-extending nodes around the home, giving your signal a more even spread and greater stability. If your router is already reaching parts other broadband routers can't, you're fine as you are, no real need to read on, see ya.
Some providers like BT and Virgin offer their own mesh network add-ons with select packages that work specifically with their home hubs; other router makers incorporate mesh smarts into their modems to tempt you into staying with the same brand if you expand your network.
In truth, it doesn't really matter which network you opt for as most will work with your provider. They're not exactly cheap, but could come in cheaper than a kneejerk reaction to upgrade your broadband package. Here are some that we like the look of.
Once you're finished reading this guide, then you can find out the best cheap and easy ways to speed up your home internet connection.
What is the best mesh Wi-Fi system?
The TP-Link Deco XE200 (check price) is one of the best mesh routers for most people looking to squeeze every last bit of performance out of their network. Yes, it's pricier than many of the other alternatives on our list, but if you're looking for rock-solid, speedy reliability for years to come, this kit will serve you well.
---
Other mesh Wi-Fi system recommendations
Before we jump into the full list of the best mesh Wi-Fi systems you can currently buy, here's a quick look at our top three alternative selections:
---
The best mesh Wi-Fi routers you can buy today:
1. Netgear Orbi WiFi 6E RBKE963B
The first thing you'll notice about the Orbi RBKE963B (beyond its delightful model number), is its slick, menacing, and oh-so-stylish black paint job. While it also comes in white, we're hopelessly besotted by its Sith-like looks — but less so with its absolutely eye-watering price tag.
Comfortably the most expensive option on our list, it's a choice for only the most bleeding-edge users, who want one of the fastest, most high-end setups around, with the gear and workload to match.
With blistering-fast speeds of up to 10.8Gbps, along with the latest 6GHz band to support the latest Wi-Fi 6E devices, you'll be enjoying unhampered speeds with any Wi-Fi 6-toting PCs, smartphones, and more.
With multiple ethernet ports per router and two satellites covering a massive area of around 700 square metres between them, this is one of the very best home internet solutions around, period. If you've got the cash, and the need for speed, look no further.
---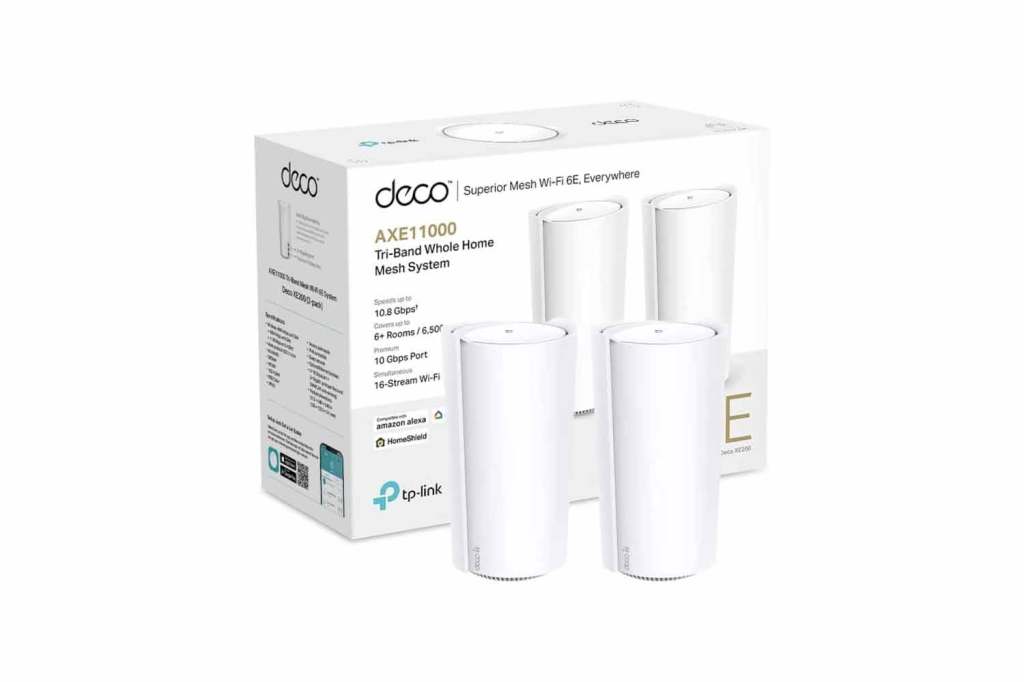 2. TP-Link Deco XE200
TP-Link's new Deco XE200 is packed to the circuit boards with the latest and greatest tech, making it one of the best home mesh routers currently available.
Using a 6 GHz band to minimise congestion (with speedy, robust connectivity to boot), it's powered by an AI-Driven Mesh, which intelligently learns your network environment to provide the best Wi-Fi setup for your home. Not only that, but it's capable of supporting a massive 200 devices at once, over a generous 6,500 sq ft range, covered by two mesh devices.
Throw in 16-Stream Wi-Fi (which provides simultaneous data transmission with 16 streams for greater bandwidth so multiple users can stream, game and work without problems), and you've got yourself a seriously comprehensive bit of kit. You'll pay a hefty price for it, mind, but if you and your family are forever streaming, downloading, uploading, and generally hammering away at your network, this could be the solution for you.
---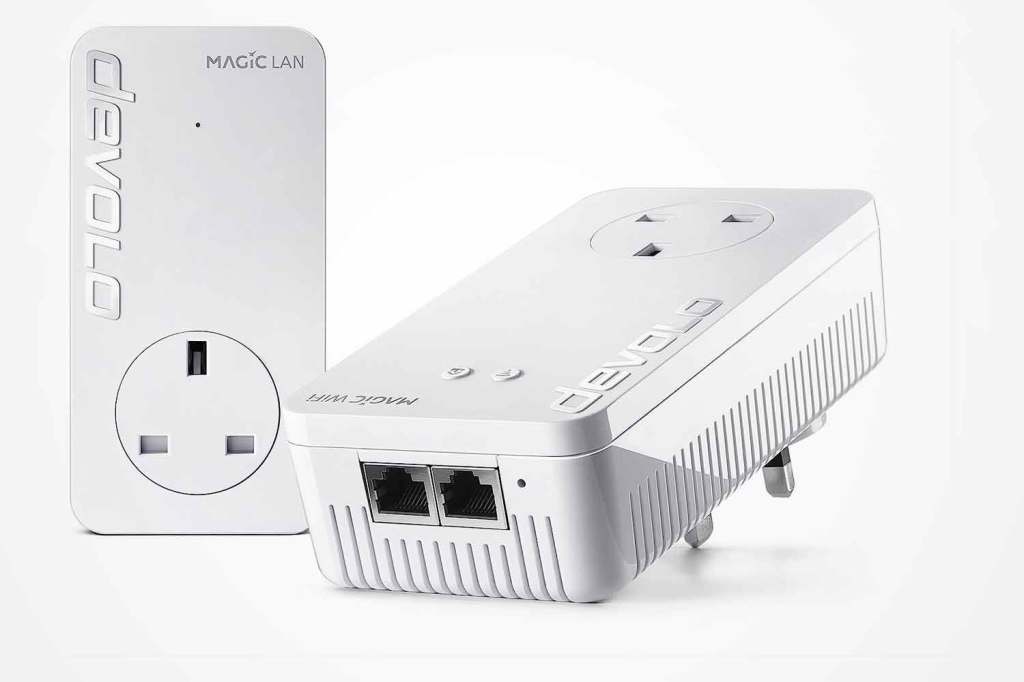 3. Devolo Magic 2
While the Devolo Magic 2 is technically one of the best powerline adaptors, it's made our list because it also doubles up as a mesh network, offering the ultimate in wired/wireless flexibility.
Capable of reducing dead zones and providing important devices like PCs with Ethernet connectivity, this is a fairly inexpensive way to get the best of both worlds. Sure, there are faster alternatives out there, but its Wi-Fi speeds should still be more than enough for most people, especially at this price.
---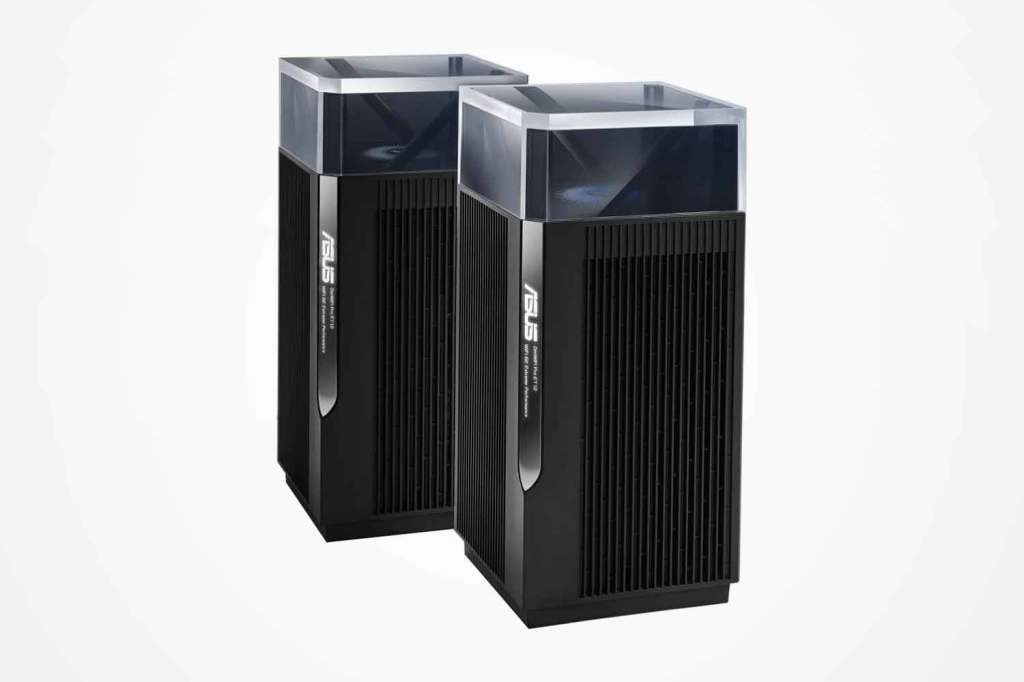 4. Asus ZenWiFi Pro ET12
If you're serious about home networking and don't mind paying through the nose for one of the best offerings out there, then you might want to consider the high-end Asus ET12.
It justifies its eye-watering price with a Wi-Fi 6E mesh system, with blistering top speeds of 11Gbps, covering an area of 6,000 sq ft. Other standout features include a 6 GHz band to minimise interference, the ability for 12 simultaneous streams, clever RangeBoost Plus technology, and a design that looks like it's been lifted from the dashboard of an alien starcruiser.
---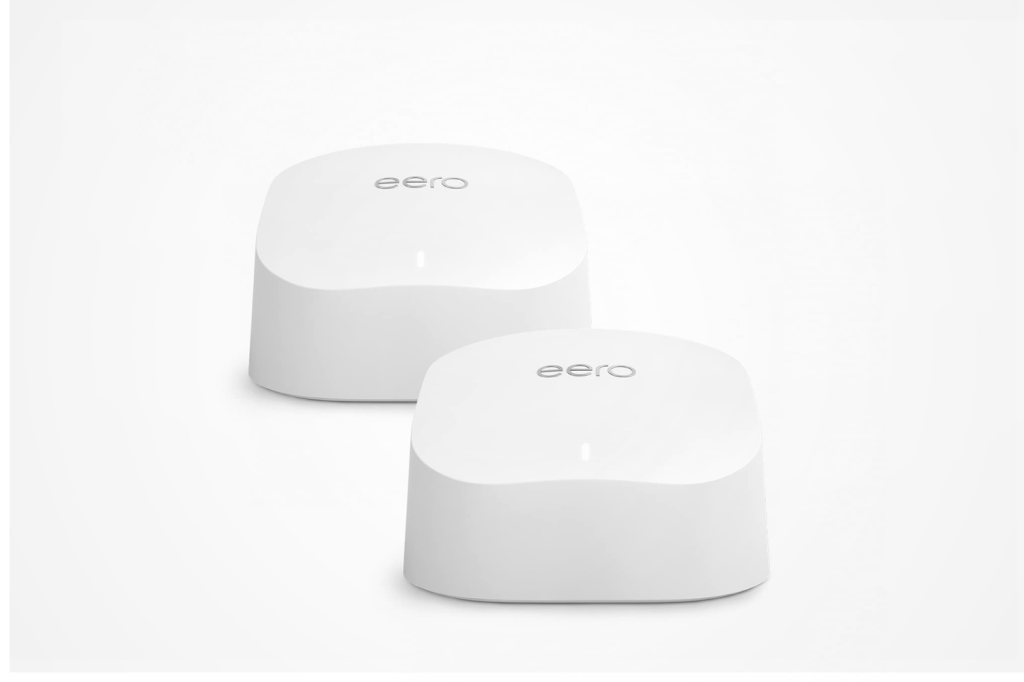 5. Amazon eero 6 mesh Wi-Fi 6 router system
If you're after Wi-Fi 6 speeds for a lot less, then Amazon's eero system offers plenty of bang for your buck, with friendly, curvy looks to match.
Capable of supporting speeds up to 900 Mbps (and with a pair of routers covering 140 square metres), they're clearly not as souped-up as Netgear's super-premium Orbi rivals above. But it's hard to argue against the still-decent features, combined with the far, far more palatable price.
Throw in built-in Zigbee smart hub powers, Alexa support, and support for more than 75 devices, and you've got one of the best home mesh router setups for most people.
---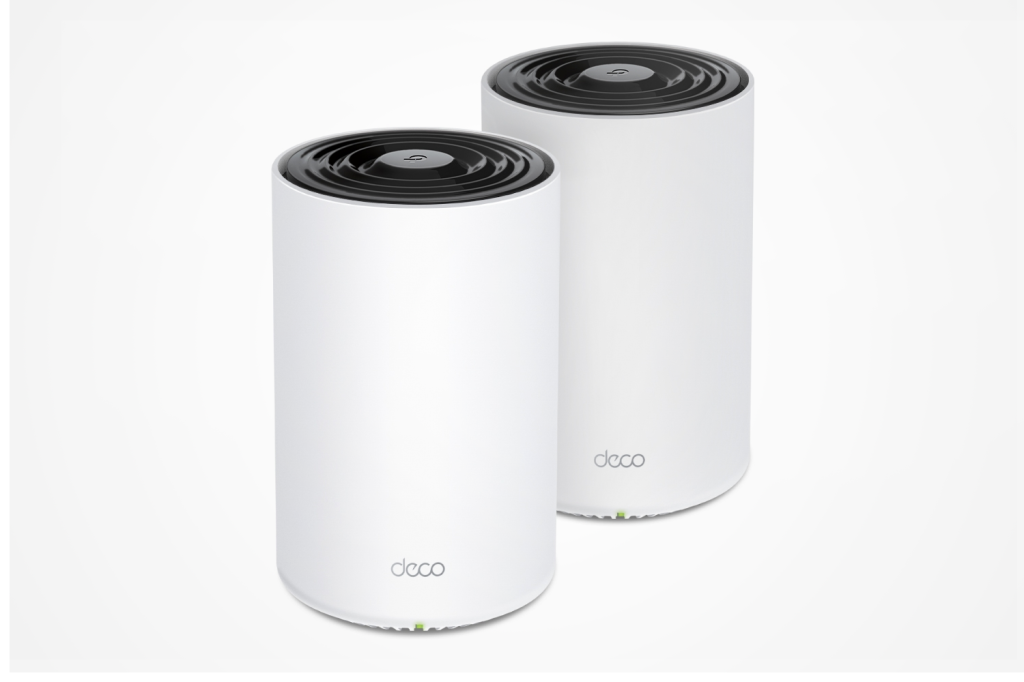 6. TP-Link Deco PX50
The Deco PX50 stands out from the crowd by offering something that's truly unique, and, quite frankly, extremely useful.
At first glance, this pair appears to be like any other mesh router offering, with an understated black and white cylindrical design that'll help them blend in with the rest of your smart home setup. Their real beauty though, lies in their built-in powerline skills.
Rather than relying on wirelessly chaining up their Wi-Fi signals, so to speak, individual PX50 units can rely instead on powerline technology to share their connections, making them an absolute godsend for larger homes and/or those with incredibly thick walls.
Not only are you getting up to 1500 Mbps Wi-Fi 6 speeds, but a pair will also comfortably cover up to around 420 square metres. If you're worried about having to spend more on a triple-pack with other brands, then the PX50's built-in powerline magic could save you some cash, with more reliable performance to boot.
---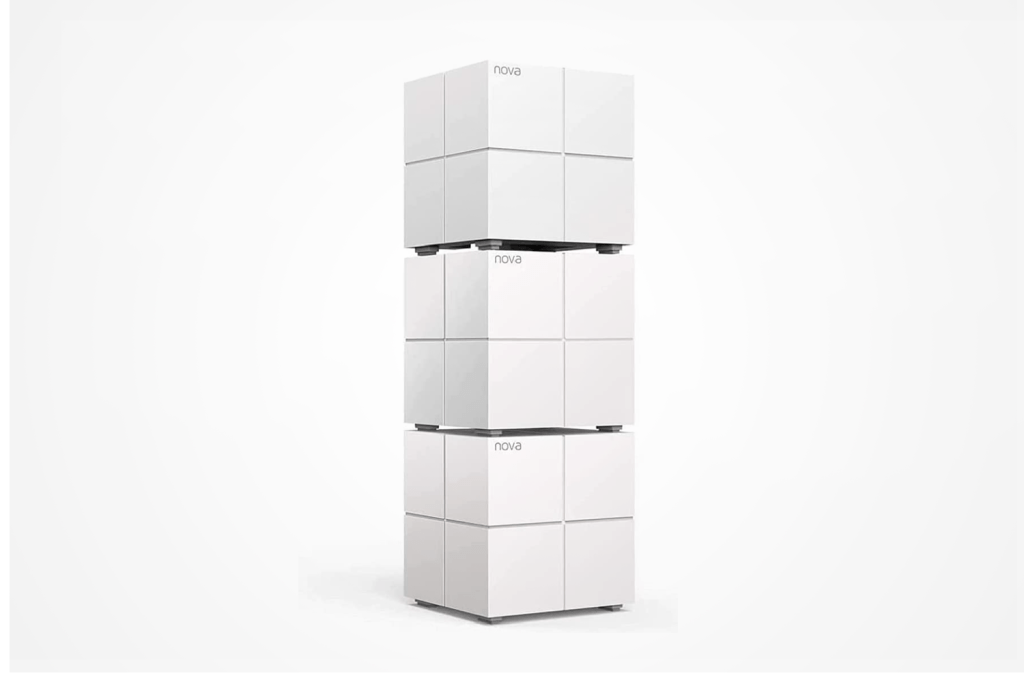 7. Tenda MW6 dual-band mesh Wi-Fi system
Three mesh units at this price make for one of the best value options around, with a total covered area of up to 500 metres square making for a formidable whole-home solution.
Naturally, you'll be compromising a bit on speed and tech, with older Wi-Fi 5 on the cards. Still, max speeds up to 300 Mbps on 2.4GHz and 867 Mbps on 5GHz are far from shabby, and should still be more than enough to meet even the needs of heavy users.
If you need to cover a lot of space and aren't fussed about reaching the absolute best top speeds (which most of us rarely need anyway), then this is a great, sensible option, with the added bonus of futuristic-looking cubes thrown in for good measure.
---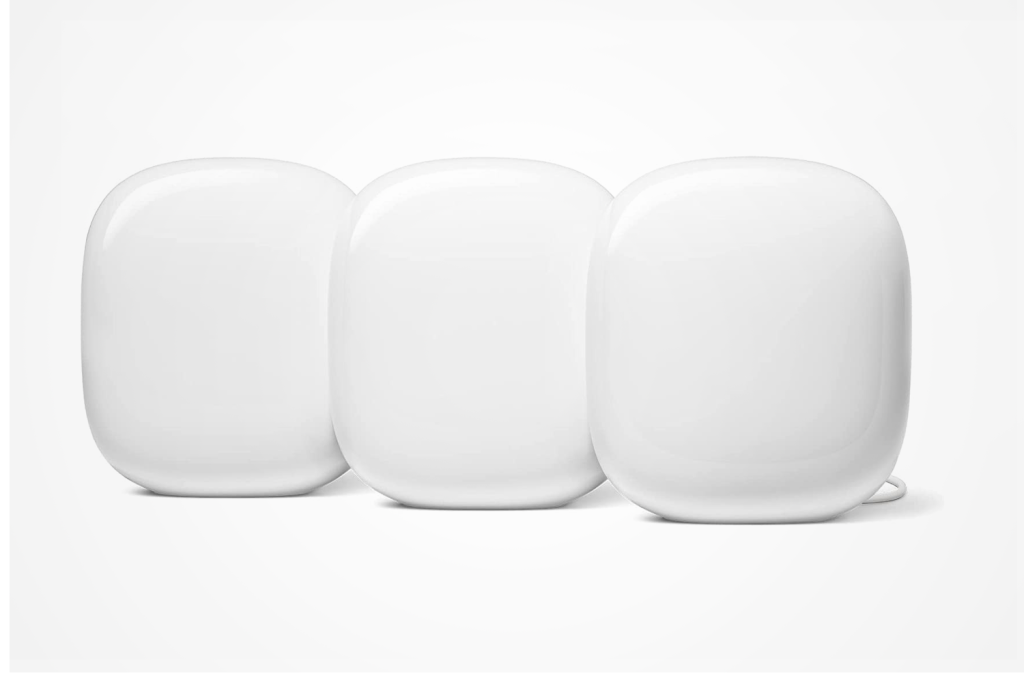 8. Google Nest Wi-Fi Pro
Google's homegrown Wi-Fi 6E mesh router system will turn heads with its fat Tic Tac-like design, and it won't be for everyone. But if you're after something different, glossy, and minimal, then there's a certain charm to them that we can't argue against.
Looks aside, they offer a very reasonable package for the price, with the latest Wi-Fi standards, nippy speeds, and up to 120 square metres of coverage per individual unit.
Amazon's eero system has it beat when it comes to value for money, but if you're a fan of the Google ecosystem and/or love the curvy design, then this is the option for you.
---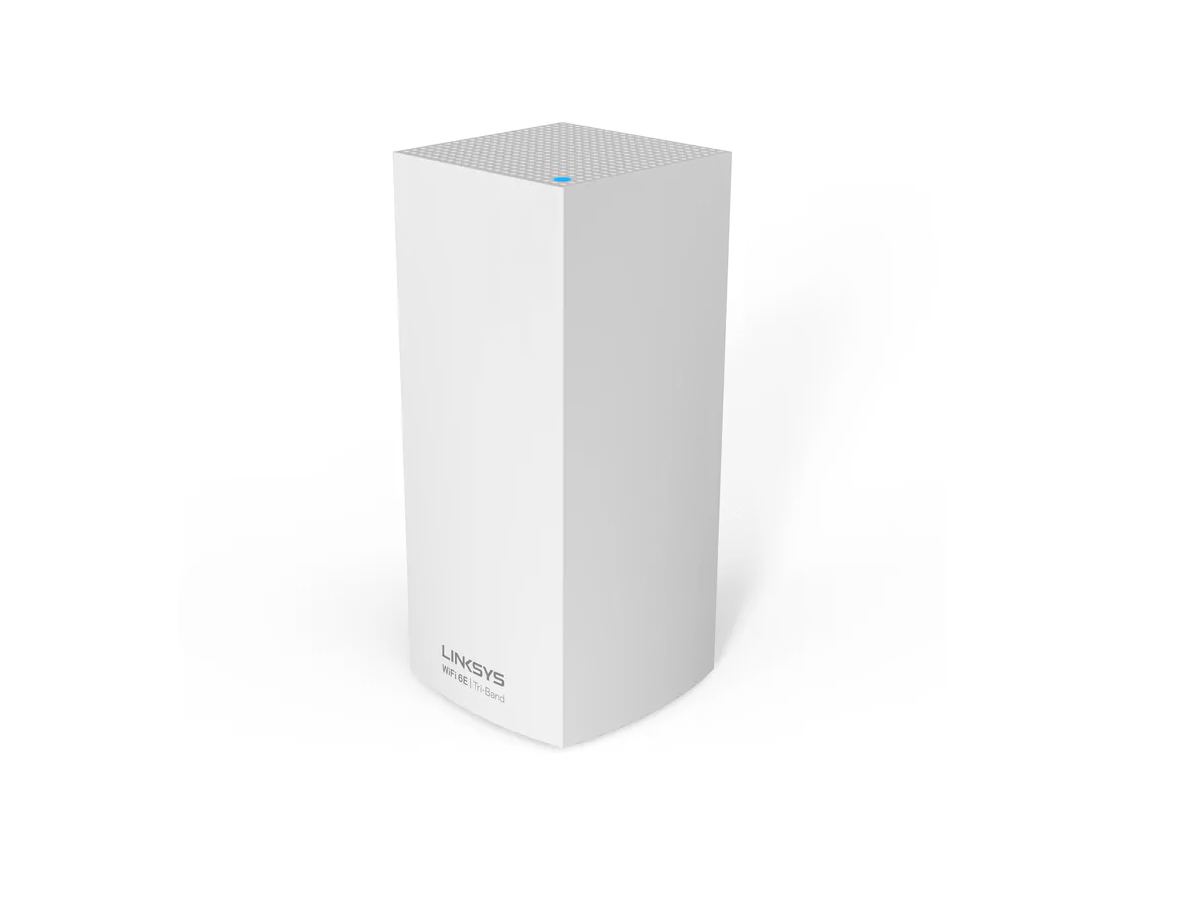 9. Linksys AXE8400
Linksys was hot off the blocks in 2017, launching one of the first true home Wi-Fi mesh networks. 
In truth, we found the original Velop system to be pretty buggy and the nodes suffered from numerous dropouts.
But superfast broadband wasn't built in a day… and now Linksys has something new. The AXE8400 system retains the brand's usual straight-up tower-like design, only now it packs in Wi-Fi 6E technology
 for blazingly fast speeds and superspreading of the good sort: bandwidth. In fact, Linksys says it
 can manage the demands of more than 65 devices.
The catch is that it's very expensive indeed – about a grand for a three-node pack – but then, each node is supposed to be good for 3000ft2 of coverage. It's worth noting that the AXE8400 is also backwards-compatible with previous versions of the Velop series – so even though they won't be Wi-Fi 6E certified, or feature the motion detection tech, that won't stop the spare nodes from coming in handy to kill dead spots.
---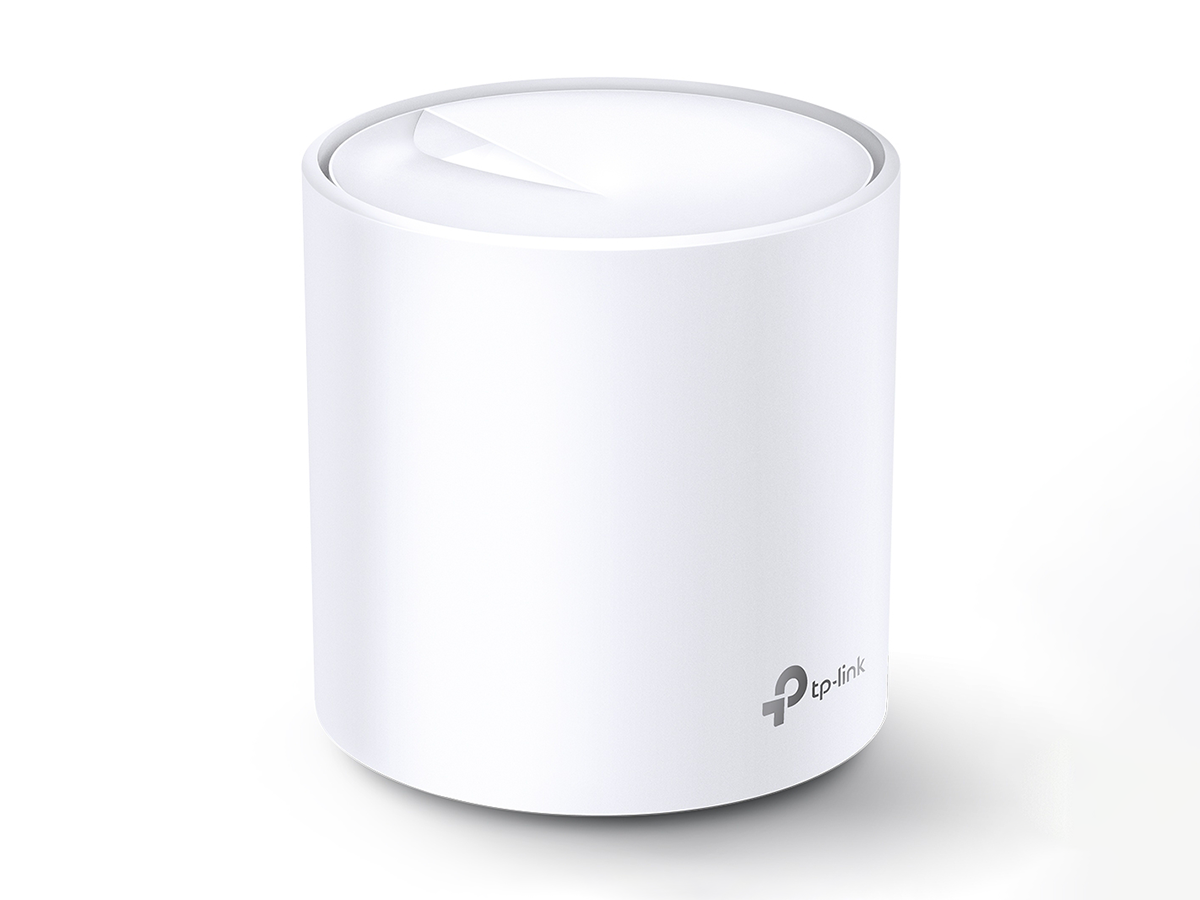 10. TP-Link Deco X20 AX1800
Not to be confused with a network of cookie jars, the cylindrical Deco system is Wi-Fi 6-ready, WPA3-protected and compatible with Alexa. Each node is good for 200m2 of coverage and TP-Link, the mad buggers, reckon it's been tested to connect over 150 devices without affecting performance.
---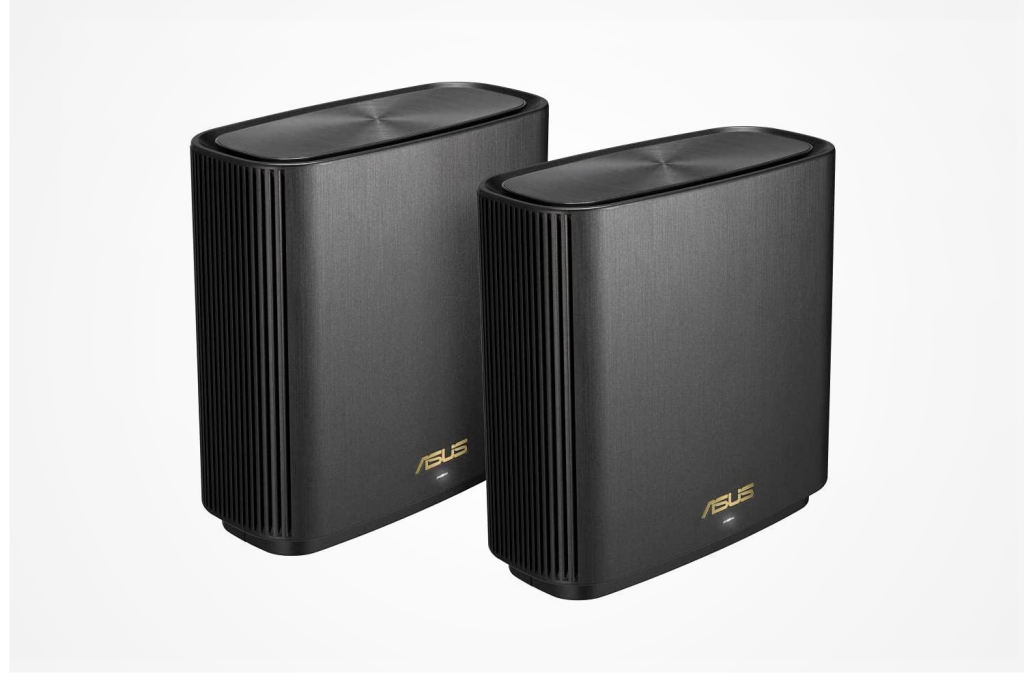 11. Asus ZenWifi
Each ZenWifi node will cover a massive 2750ft2 and, unlike a lot of the offerings here, is available in white or black. Wi-Fi 6 and WPA3 are both on board, and a lifetime subscription to Trend Micro's cybersecurity tools is included. That's plenty of poke for the price – and the overall design doesn't scream 'IT manager' either.
---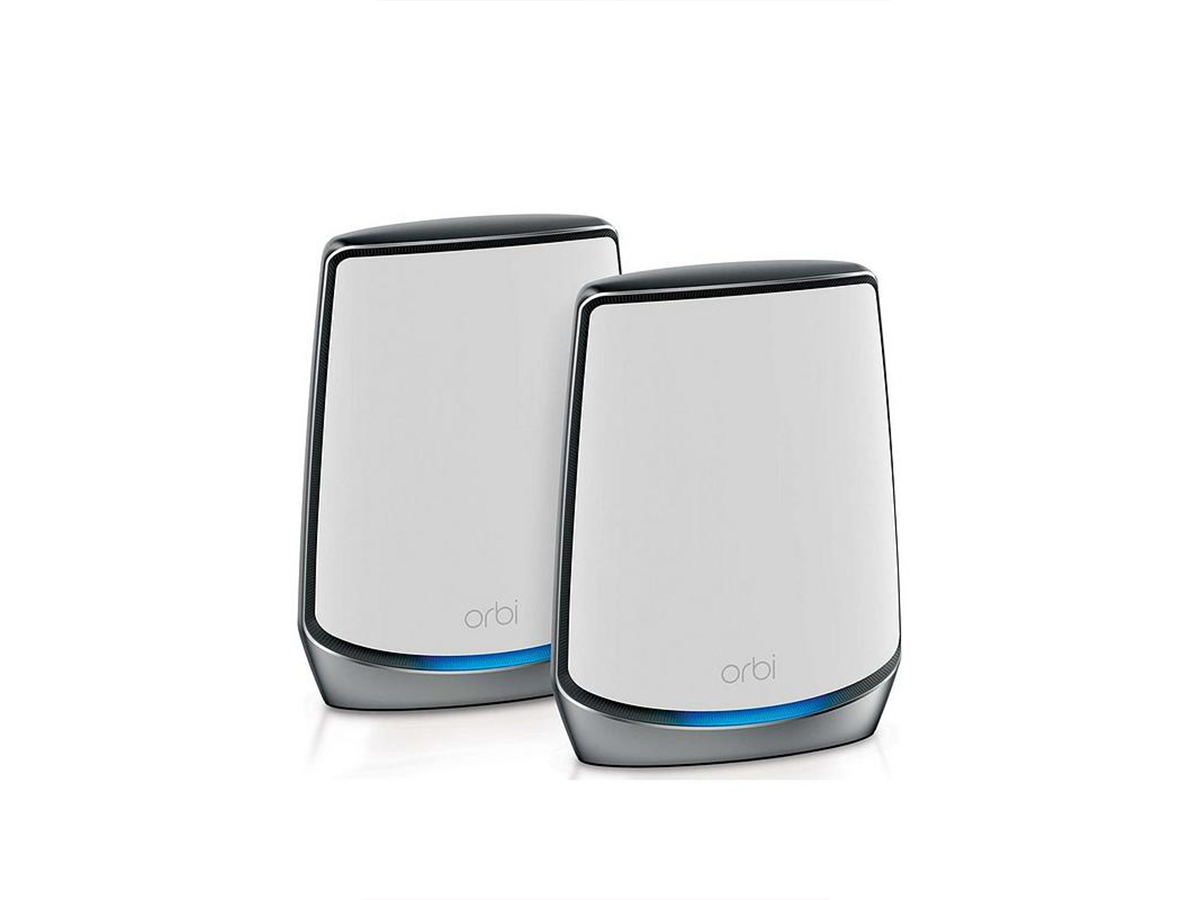 12. Netgear WiFi 6 Orbi
The Orbi system is multi-gig-ready and can also handle hundreds of devices. It comes with top-level cybersecurity, though that's only free for the first year. Castle owners will be pleased to know it'll cover 4000ft2, and it works with both Alexa and Google Assistant. Not bad, eh?
How to choose the best mesh Wi-Fi system for you
Mesh routers are an amazing solution for covering each and every corner of your house in strong, speedy Wi-Fi. Rather than relying on a single router which wouldn't be able to cover such large distances, mesh nodes placed around your home ensure a strong and stable connection, while acting as a single access point to connect to, no matter what room you're in.
The very best mesh Wi-Fi systems will come with advanced features like a 6 GHz band to minimise interference, the ability for multiple simultaneous streams for busy households, and the latest Wi-Fi 6 and 6E standards for maximum futureproofing.
You might not need all those though, and often, you can pick up a cheaper solution with specs that are more than good enough for your needs. Read through our suggestions below, click on through the links to learn more, and see which one is best for you.
---
How we review the best mesh Wi-Fi systems
Our experienced expert reviewers have tried countless mesh Wi-Fi routers over the years, and have included ones that have been personally tested where possible.
Elsewhere, we've looked at specs, brand quality, and customer reviews to pick the products we feel will be the best for for most people, across a variety of budgets.
For more information on Stuff's rating and review process, read our page on how we test products.