Nest vs Ring Doorbell: which is best for you?
Nest Doorbell (battery) vs Ring Video Doorbell 4 — which one deserves a spot on your front door?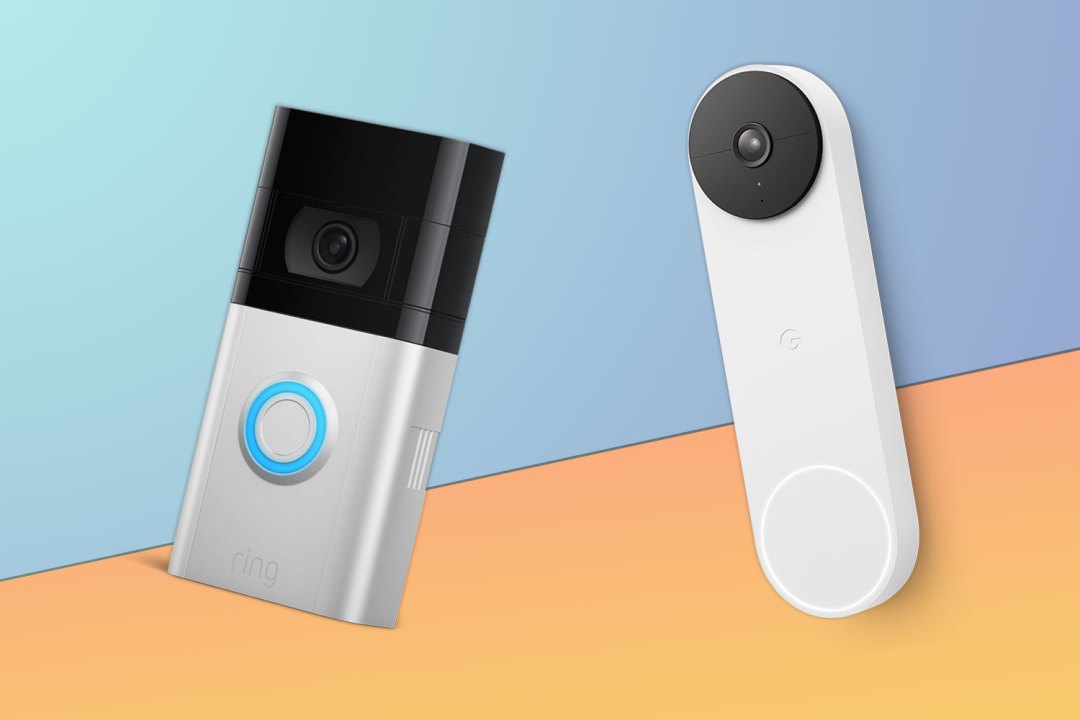 If you're comparing Ring vs Nest, you're probably looking for one of two smart home devices – you've probably narrowed your choices down to the Google Nest Doorbell (battery) or Ring Video Doorbell, as they're two of the best in their class.
You're also probably torn between which one deserves to grace the front of your humble abode. With different designs, various clever features, and different subscription options, they've both got pros and cons. And we're going through them all below.
Read more: Our guide to all the best video doorbells around. Looking specifically for Ring? Check out the key Ring video doorbells compared
Nest Doorbell (battery) vs Ring Video Doorbell 4: which one should you buy?
Price and availability
Both the Google-owned Nest Doorbell (battery) and Ring Video Doorbell 4, are available to buy right now. Nest's model will set you back £179.99/$17.99, or £7.50/$15 a month for 24 months.
Amazon-owned Ring's Video Doorbell 4 also has an RRP of £179.99/$159.99, although both models can be found on sale, depending on the retailer.
There's little to separate them on the price front, though the option to pay for Nest's doorbell in installments may appeal to some.
Design and customisation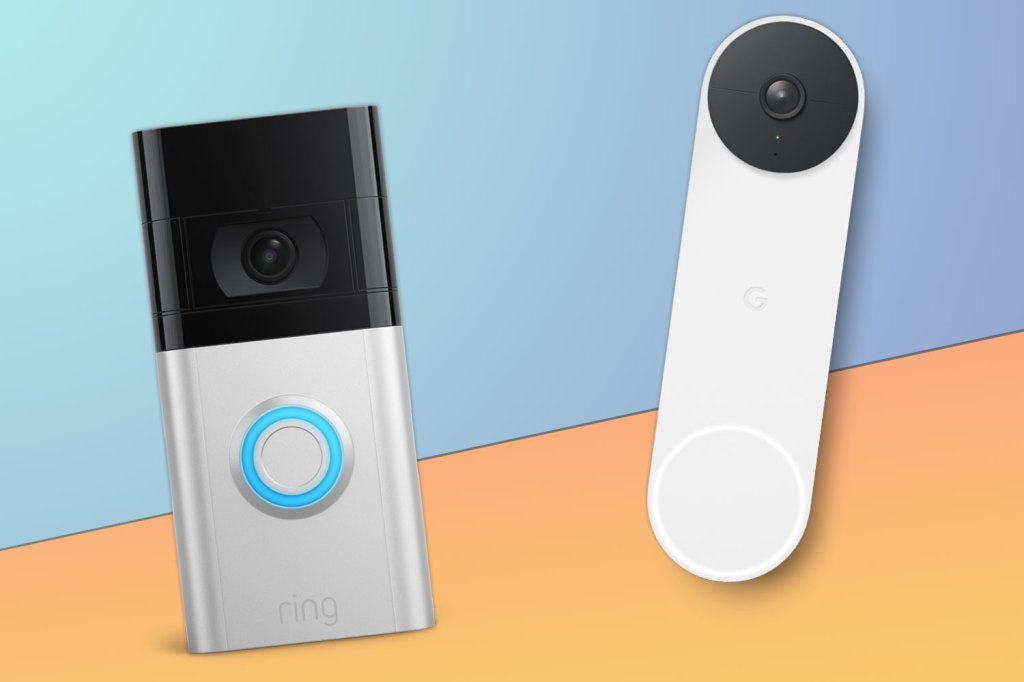 Appearance is subjective, but there's no denying that both Nest and Ring are at opposite ends of the design spectrum.
On the one hand, we have the traditional, rectangular Ring Video Doorbell 4, which pretty much resembles a larger version of a regular doorbell, albeit one with a fairly obvious camera lens embedded within it. On the other, we have Nest's far more futuristic and minimalist Doorbell (battery), with a sleek, elongated pill-shaped body that resembles an updated version of Men in Black's memory-wiping neuralyzer.
Both designs have their merits, and your preferred one depends entirely on your style. It's worth noting however, that Ring's offering provides more customisation, thanks to the ability to buy swappable faceplates that are available in a range of complimentary colours. Its Nest rival, on the other hand, is only available in white (while its wired-only equivalent can be bought in black).
Video and sound quality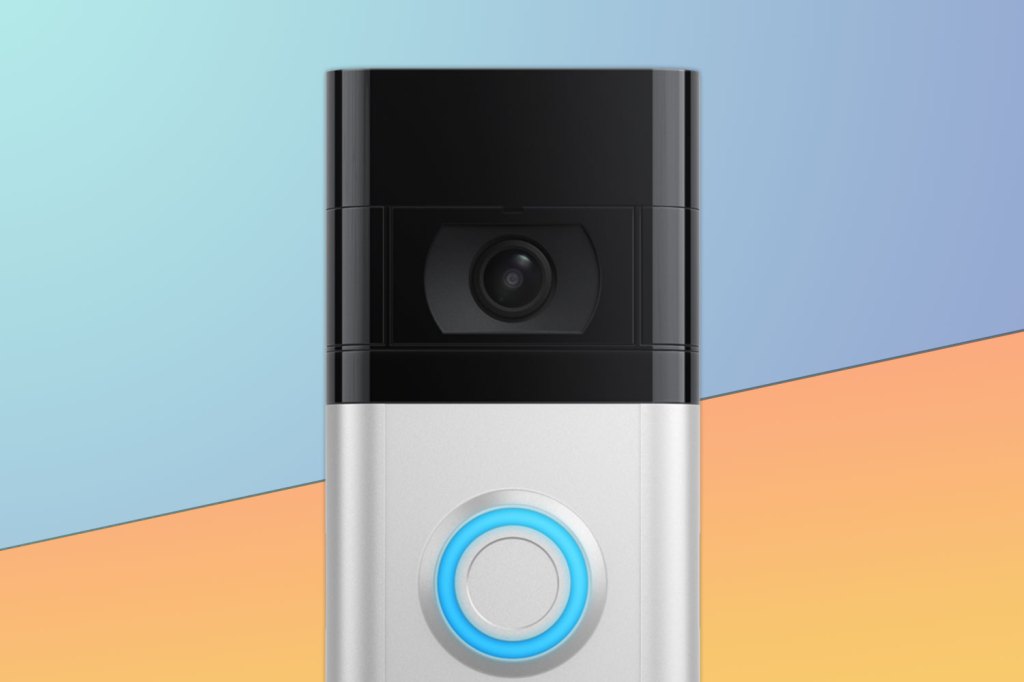 Appearance might be subjective, but cold hard specs have nowhere to hide. On the video front, the Ring Video Doorbell 4's camera has a resolution of 1920 x 1080, in a standard 16:9 landscape format, with a 160º horizontal, and 84º vertical field of view.
The Nest Doorbell (battery), while still classified as HD, has a slightly lower pixel count, with a 960 x 1280 resolution. Perhaps more importantly though, is its vertical 3:4 aspect ratio, with a 145° diagonal field of view.
Both options have pros and cons, and the better choice for you depends entirely on your needs and preferences. The Ring doorbell's traditional landscape aspect ratio might make it a better choice for those looking for it to double up as a security camera, given that you can see more off to the sides. If you want to increase your chances of capturing nefarious wall climbers on camera, this might be the better choice.
The vertical aspect ratio of its Nest rival is more limited when it comes to a wider view, but also comes with advantages of its own. If you'll mostly be using your phone to check in on things, then this vertical aspect ratio will be larger and more comfortable, saving you from having to rotate your device for a larger picture. Not only that, but the increased vertical field of view also means that you can more easily see if packages have been left on your doorstep, which is another incredibly useful feature for those who are constantly keeping delivery drivers busy.
If you feel strongly about either video feed option, then the decision has practically been made.
Alerts, chimes, and notifications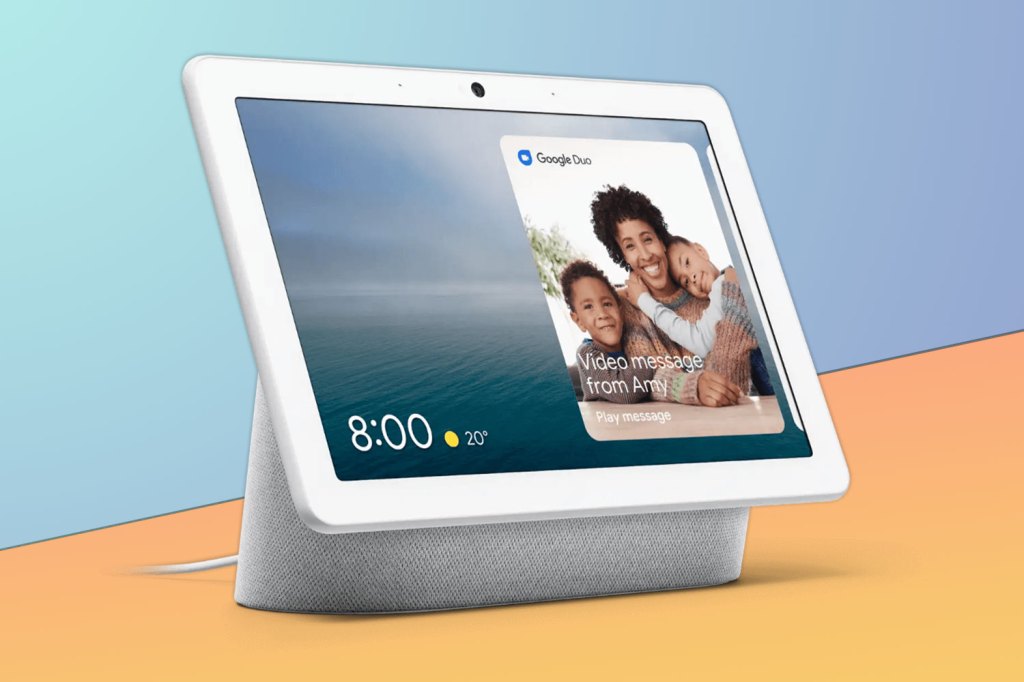 At their core, both the doorbells from Nest and Ring work in the same way — they're Wi-Fi-connected doorbells that send alerts and a live video feed to your phone when someone rings them, or when motion is detected (more on that in a sec). There are a few differences in the way they can alert you, however.
While both apps let you know that there's someone at the door, you can also receive notifications via compatible Alexa or Google Assistant-powered smart speakers. These can either be of the screen-toting variety (like the above Nest Hub Max), or smart speakers like Amazon's Echo devices or Nest speakers. The latter, of course, will let you see who's at the door, while the former merely rings.
One area in which Ring has an advantage, is the fact that you can buy dedicated wireless plug-in chimes — handy if you'd rather go the traditional route and/or don't want to buy a dedicated smart speaker if you haven't already got one.
Features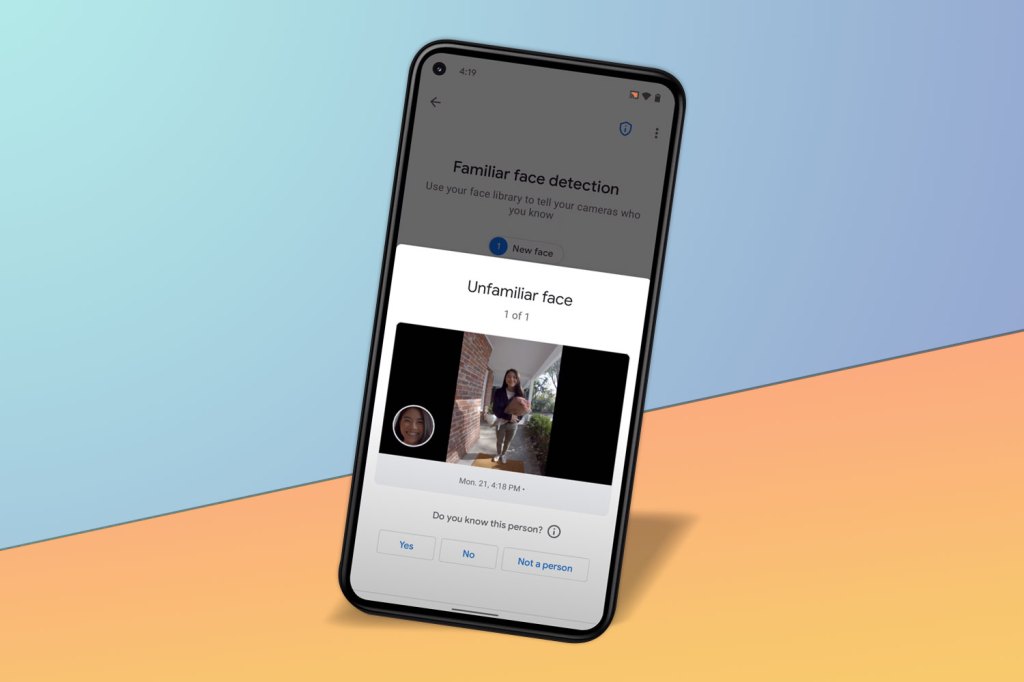 Both the Ring Video Doorbell 4 and Nest Doorbell (battery) serve up a bunch of useful features, including the ability to create motion zones (to prevent things like swaying branches from constantly alerting you), people detection, and even package detection.
Nest's offering edges out slightly, however, with additional animal and vehicle detection too — something to consider if you're on a busy road with lots of nocturnal cats and foxes running around while you're trying to sleep. In fact, Nest goes one step further, by also offering the ability to recognise familiar faces, letting you know specifically who's turned up at your door (though you'll have to fork out for a Nest Aware membership for the privilege).
Ring has a few unique tricks too though. Unlike Nest, you can set privacy zones in the Ring app, letting you black out specific zones to ensure that areas like your neighbour's front garden or driveway aren't recorded or shown at all. Crucially for some users, Ring also offers a preroll feature, which lets you see what happened leading up to the doorbell being pressed. While it only lasts a few seconds, it can sometimes be useful if you need extra context.
Battery life and charging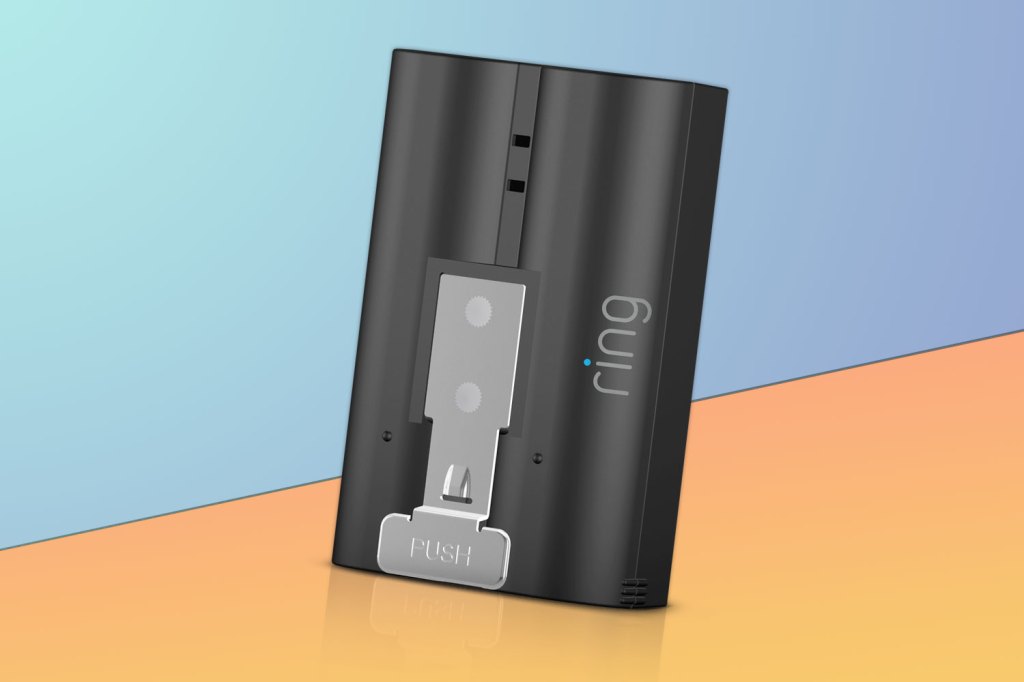 Both doorbells can be hardwired, but most people will want to use the included rechargeable batteries for easy installation. The Nest Doorbell (battery) will last anywhere from one to six months, depending on how heavy your usage is, while the Ring Video Doorbell Video 4 promises around six months of use per charge.
Crucially, Ring's battery can be removed and swapped out for another spare one while the original is charging, while the Nest annoyingly has to be removed entirely and charged as a single unit, which means you'll be doorbell-less during the charging process. This shouldn't be too disruptive if, say, you charge it for a few hours before bed before popping it back up, but if you're the forgetful type, it's far from ideal.
Subscription prices and features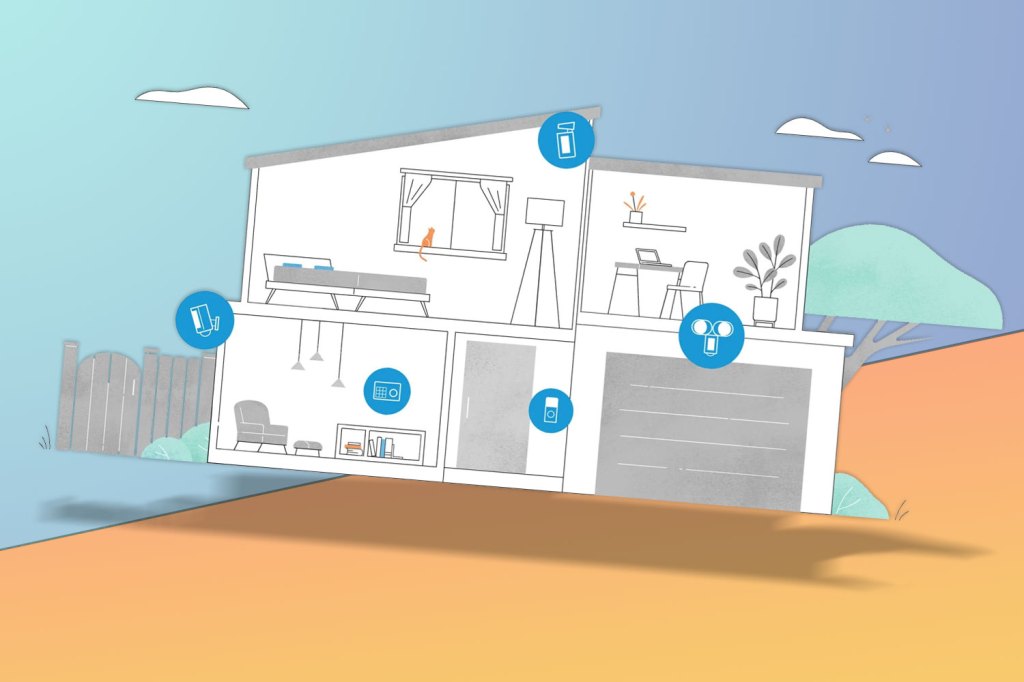 Both Nest and Ring offer subscription plans which provide extra features. Nest provides more features for free — namely, you'll get activity zones, smart alerts, package and person recognition without having to sign up, with three hours of saved video events thrown in for good measure. If you do want to save video footage though, it'll cost you from £5/$6 a month or £50/$60 a year for a Nest Aware subscription.
The free version of Ring includes preroll footage in addition to the usual motion detection and notifications etc, but you'll need to fork out extra for features like cloud recording, event history, smart motion alerts, and more. Ring Protect starts from £3.49/$3.99 a month or £50/$39.99 a year, which covers a single Ring camera device.
Ultimately, you'll need to weigh up the pros and cons for your needs. Do you want better horizontal visibility and a removable battery? If so, the Ring Video Doorbell 4 is the better choice.
If you prefer the sleeker look of the Nest Doorbell (battery), and feel like you'd get more use out of its additional free features like animal and vehicle detection though, then that's a solid choice too. Either way, your front door will be securely covered like never before.