Samsung Galaxy S20+ vs OnePlus 7T Pro: Which is best?
A pricey, perk-packed Plus or the "budget flagship" alternative?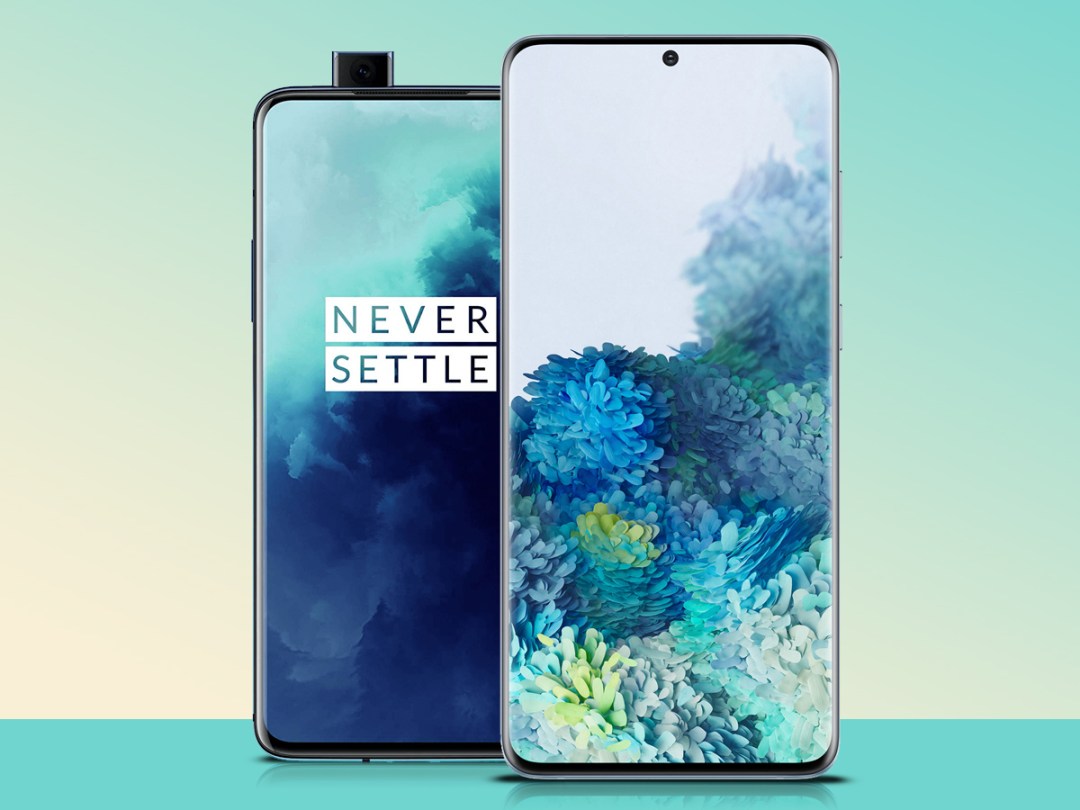 Samsung's new Galaxy S20 line has three different models to choose from – and they're all pricey. With starting prices ranging from £799 to £1,199, you're not going to get one home without spending a bundle.
As ever, OnePlus is the budget flagship alternative… and these days, OnePlus can pretty much match the highest of the high-end phones with its Pro models. The OnePlus 7T Pro is a big and beautiful phone with plenty of power and a pop-up camera, but at a reasonable price.
The OnePlus 7T Pro seems to compare well to the Samsung Galaxy S20+ in terms of size and capabilities, but does Samsung's phone have enough advantages to warrant the price gulf? Here's what we think, now that we've reviewed the Galaxy S20+.
Design: Punch-hole or pop-up?
Both of these handsets are beauties. The Galaxy S20+ further refines the striking GS10 design, moving the single punch-hole camera to the top-center (like the Galaxy Note 10) and trimming down some bezel in the process. It's an eye-catching, for sure.
It's much the same for the OnePlus 7T Pro, but in a different way. The 7T Pro doesn't have a camera cutout or a notch – instead, the selfie camera is hidden in a little pop-up module that goes up or down as needed and will even quickly slide in if you drop your phone. The OnePlus phone is a bit bulkier, though; it's not as svelte as Samsung's S20+ build. Overall, both have small advantages that we appreciate; we'd call it about even.
Verdict: Draw
Screen: Dreamy displays
You'll get a large and super-crisp screen with either phone here, but there are some differences between them. The OnePlus 7T Pro has a 6.67in AMOLED screen at QHD+ resolution with a 90Hz refresh rate, which means text, transitions, and animations look silky smooth. It's a delight.
Samsung's Galaxy S20+ screen, on the other hand, is a 6.7in AMOLED screen also at QHD+ resolution, and it has an even higher 120Hz display… but there's a catch. You can only use 120Hz at the lower FHD+ (1080p) resolution setting, but not at the full QHD+ (only 60Hz). That's perplexing.
Samsung's screen might hit a higher refresh rate peak, but OnePlus arguably has the better balance of resolution, refresh rate, and everything else.
Verdict: OnePlus 7T Pro
Camera: Serious shootout
The OnePlus 7T Pro's triple-camera setup is an improvement over that of the OnePlus 7 Pro, not only improving the overall quality of everyday shots but also adding macro capabilities to the 16-megapixel ultra-wide camera. With a 48MP main sensor and 3x zoom 8MP telephoto camera alongside, it's a pretty versatile setup.
Still, OnePlus has never been fully top-of-the-line when it comes to camera quality, so it's not surprising that the Galaxy S20+ manages to be a fair bit better overall. Its quad-camera setup has 12MP wide and ultra-wide cameras, as well as a 48MP telephoto camera and DepthVision camera.
Samsung's setup comes with a wide array of perks, from 8K video shooting to 30x "Super Resolution Zoom." The processing can be laid on a bit thick sometimes, but it still snags more consistent snaps than the OnePlus.
Verdict: Samsung Galaxy S20+
Performance: Power-packed
As the newer phone, the Galaxy S20+ has fresher hardware onboard: an Exynos 990 chip in the UK, and a Qualcomm Snapdragon 865 in America and other territories. Meanwhile, the OnePlus 7T Pro has the older Snapdragon 855+ everywhere.
Benchmark tests show that the Snapdragon 865 is the most powerful of that trio, while the Exynos 990 is about on par in some tests… but much further behind in another (Geekbench multi-core). Meanwhile, the Snapdragon 855+ puts up a better multi-core score than the Exynos 990, but is behind on the other tests.
In short: you'll get more speed with the Galaxy S20+'s chips in benchmark tests, but all of these phones are super-fast in everyday usage. You may not be able to tell a difference.
Verdict: Draw
Battery and perks: Galaxy's got it
The 4,085mAh battery cell in the OnePlus 7T Pro is pretty beefy, but the Galaxy S20+ beats it at 4,500mAh. The 7T Pro easily lasts a full day with a solid chunk left to spare, and the Galaxy S20+ is about the same – but maybe a smidge better. The Galaxy S20+ offers both wireless and reverse wireless charging, but the OnePlus has neither.
In terms of storage, the OnePlus 7T Pro ships with 256GB of internal memory, which is quite a bit – but there's no option to add more via expandable storage. Meanwhile, the Galaxy S20+ comes in both 128GB and 512GB configurations, and it takes microSD cards for more.
When it comes to 5G compatibility, the Galaxy S20+ has it – but the OnePlus 7T Pro doesn't. That's odd, since the OnePlus 7 Pro has a 5G model, but OnePlus opted not to issue another 5G Pro phone in 2019.
Verdict: Samsung Galaxy S20+
Verdict: Tough call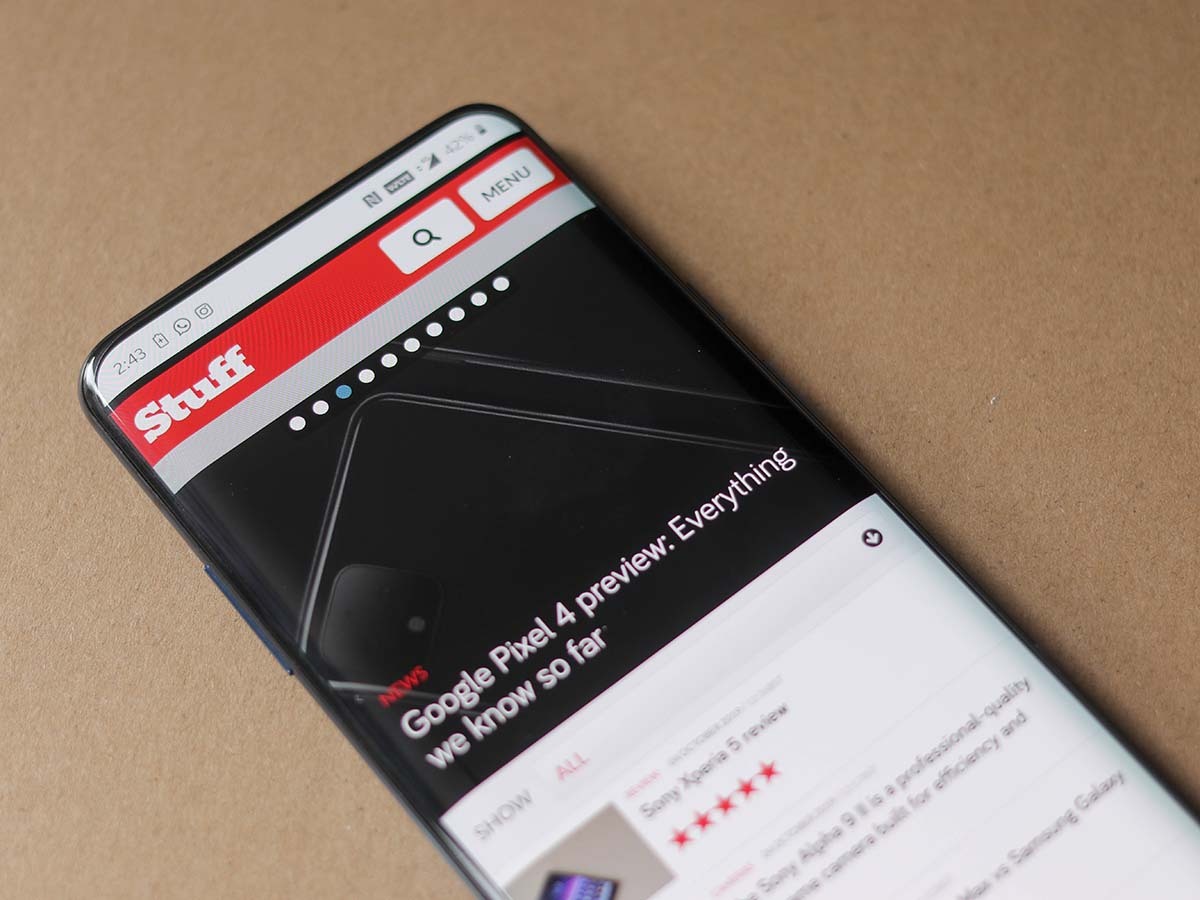 Samsung has a couple of advantages here: it has camera perks, plus it has wireless charging, expandable storage, and 5G compatibility. Some or all of those features might convince you to drop £999+ on a new Android.
On the other hand, the OnePlus 7T Pro matches up well to the Galaxy S20+ in many ways, and it's priced at just £699. OnePlus has long offered a way to save a fair bit of quid on a top-end smartphone, and that's still true today.
Ultimately, we believe that Samsung's advantages here are pretty slim overall (except for 5G) – and if you're not set on having a Samsung, we suggest saving the cash and going for the OnePlus 7T Pro.
Verdict: OnePlus 7T Pro