Sony WF-1000XM5 vs Apple AirPods Pro 2: top buds compared
How do the two top in-ears square up?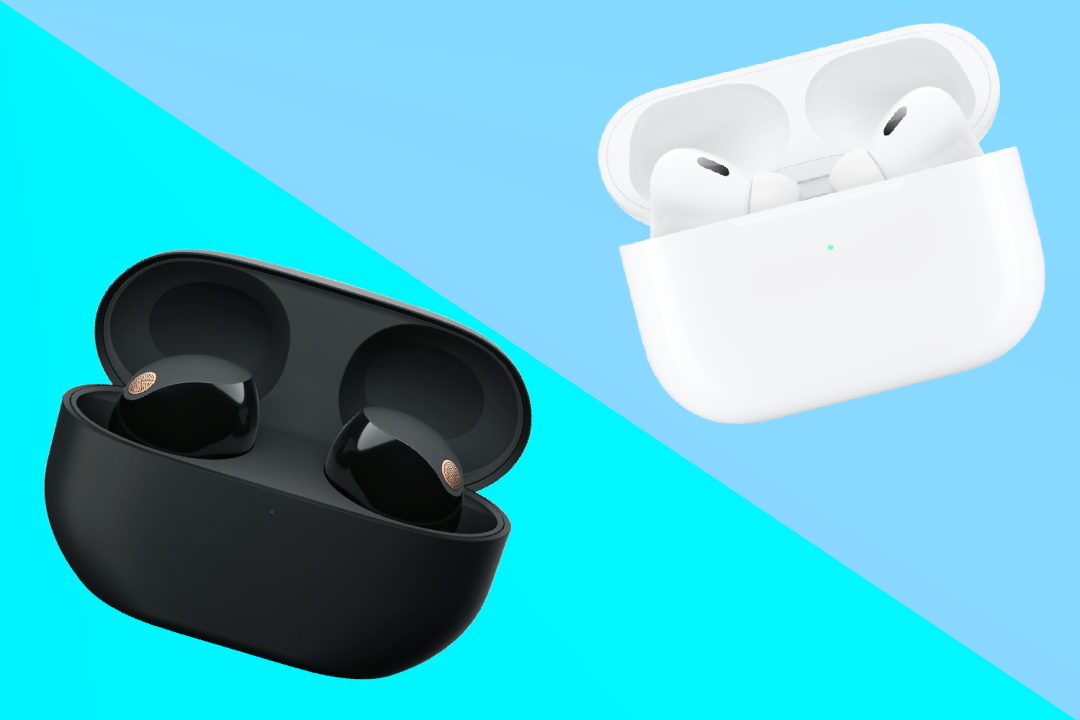 There's a new pair of premium earbuds in town. Sony's latest offering is the WF-1000XM5, a pair of true wireless in-ears that aims to improve on what already may be the best noise-cancelling headphones on the market. The past four incarnations of Sony's in-ear buds have each improved on sound quality, comfort and convenience. Can they do it again? The short answer is yes.
In our WF-1000XM5 review, we were blown away by the noise cancellation and crisp sound. But how do they compare to their close rival, the Apple AirPods Pro 2? Let's dissect some of the basics and find out.
---
Design & comfort: bud vs blob
The AirPods Pro 2 have long been the buds of choice for trend-conscious listeners. The buds have become an instantly recognisable accessory, arguably known more for its pure white colour scheme and compact case. The AirPods Pro 2 also benefit from being a pretty comfortable set of buds. Personalised comfort comes in a fourth, smaller, ear tip (XS), which should provide a good fit for your ears. The charging case is sweat and water-resistant, and comes with a small lanyard clip that can be attached to coats and backpacks.
While the AirPods Pro 2 has a slimmer design, the Sony WF-1000XM5 has been squished into a small spherical blob. The buds are significantly smaller than the XM4s, are about 20% lighter than their predecessor and come nestled in a miniature case. Rather than opting for silicon ear tips, Sony has opted for a foam and rubber hybrid material. This helps seal in sound and prevents audio bleeding, without placing extra decibel pressure on your ear drums. Four tip sizes allow for a good, tight fit, and will remain in place whether out on a walk or working out. An IPX4 water resistance rating will handle sweaty gym sessions, too.
Sound quality: silence is golden
In our original review of the AirPods Pro 2, we wondered whether Apple's upgraded buds could meaningfully improve the audio quality. Spoiler alert: it could, and does. Your favourite tracks are beefier, and pack much more of a punch. The Apple H2 chip helps improve noise cancellation, but full cancellation can sometimes be too good at times. Frequencies you should be hearing can be blocked out, so we'd suggest listening in Transparency mode.
A major feature of the AirPods Pro 2 is its Spatial Audio capabilities. This can be personalised through analysis of your ears and is designed to work perfectly with Apple Music Spatial Audio tracks.
Six microphones, a 24-bit audio chip and a pair of 8.4mm dynamic drivers power the Sony WF-1000XM5. The result is a crystal clear listening experience that's hard to beat. The bass is powerful but not overwhelming, while vocals shimmer with clarity. A separate processor is solely dedicated to noise cancellation and has absolutely no problem in silencing the sounds of a busy city or the low-frequency rumbling of a bus. In our review, we found that the Sony WF-1000XM5 doesn't offer a frequency spectrum as wide as a decent pair of over-ear phones. However, it won't feel like the whole mix is sitting right in the middle of your brain. Plus, there aren't any buds out there that can match the XM5's ANC abilities.
Features and battery: spatial awareness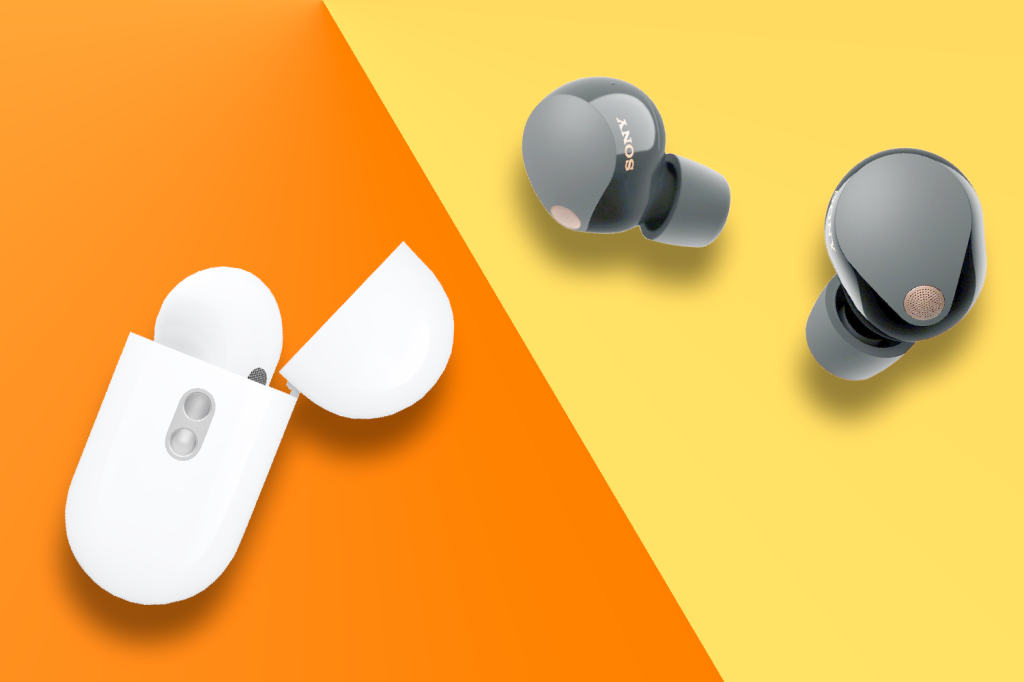 The AirPods Pro 2 comes with a boost to battery life, which has been improved to around six hours with a combined 30 hours of juice when popped back into its case. Something we aren't so keen on is the touch controls on the stem of the AirPods Pro 2. It's designed for changing the volume, but it's easy to fumble the adjustment while walking. A new, novel feature is the speaker that's nestled in the charging case. This is pretty handy for finding your pods, thanks to a shrill tone that it plays when activated through Apple's FindMy app.
The Sony WF-1000XM5 will do everything you need a pair of buds to do. It'll work with your phone's voice assistant, has a host of touch controls, and supports LDAC Bluetooth for high-quality streaming. There's still no aptX, though. A big new addition is head tracking, which supports the firm's bespoke 360 Reality Audio spatial sound. This is a 'love it or hate it' feature and can be a strange experience. But for what it's worth, that's true for most spatial audio tech.
Battery life comes in at a respectable eight hours with ANC, but a case that holds two full charges boosts the lifespan to 24 hours.
Verdict
There's really no simpler way of saying it. The Sony WF-1000XM5 really are a competitor beating set of buds. Somehow, audio quality is a step above the already spectacular XM4s, and ANC is second to none. The only downside would be the price, but it never falls short of its premium cost.
While the Apple AirPods Pro 2 are undeniably an exceptional pair of buds, many people opt for the AirPods simply because they come from Apple. They're a statement, and in that remain the obvious choice for many. But for the best buds currently on the market, we'd have to recommend the Sony WF-1000XM5.