The Logitech Casa is a book-bound home office helper
Laptop accessory kit stealthily stores your desktop in plain sight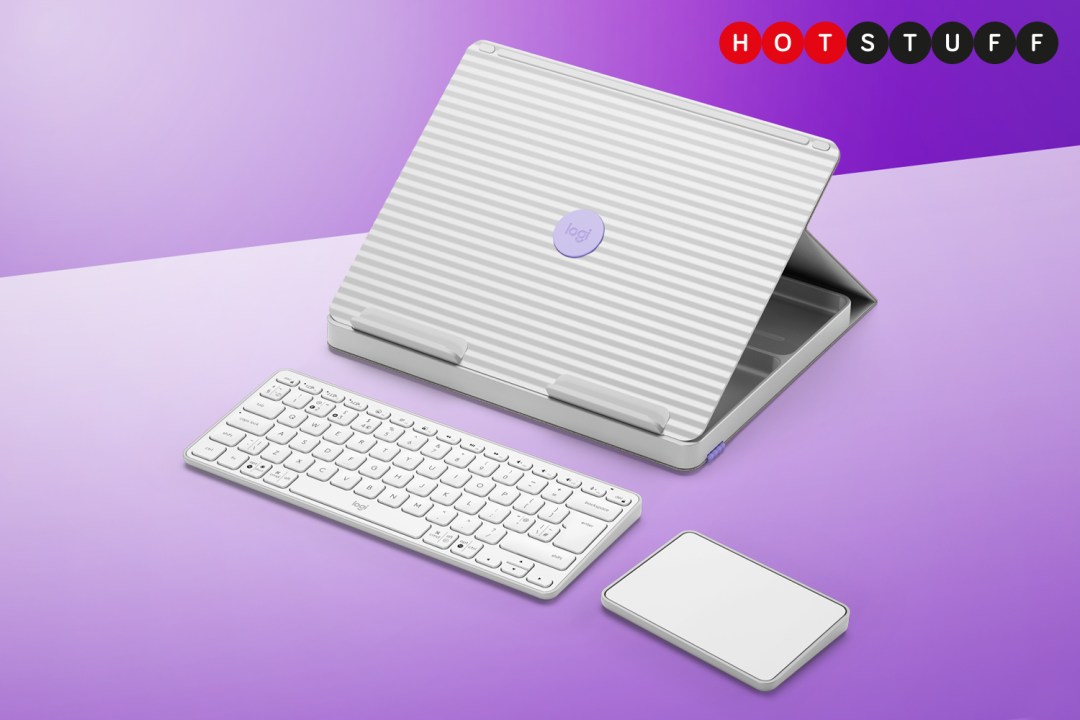 Not all of us have a dedicated room for home working, complete with permanent desk space for their laptop. The new Logitech Casa is squarely aimed at kitchen counter contractors, dining table technicians, and anyone who needs a productive workspace that won't take over the entire house.
This book-style carry case contains a compact Bluetooth keyboard and separate wireless touchpad, and unfolds into a laptop stand which can support the weight of even a beefy 15in machine. It'll raise the screen to more of an eye-level position, which is proven to relieve neck strain.
Arriving in Nordic Calm (off-white with purple accents) Bohemian Blush (rose pink) and Classic Chic (graphite with dark green highlights), the Casa also has room inside for a USB-C charging cable and other useful work tools, like pens or USB flash drives.
Once you're off the clock, the fabric-wrapped finish lets it hide in plain sight with your other books or other knick-knacks, rather than act as a constant reminder that you'll soon be heading back to the office (either actual or virtual).
Logitech's usual shortcut keys are present and correct on the Casa Keys keyboard, including a dedicated Emoji key. Windows and Mac symbols should make it a breeze to swap between operating systems. The Casa Touch touchpad also plays nicely with ChromeOS and iPadOS, including multi-touch gestures. Both charge via USB-C, and should be good for weeks' worth of use between top-ups.
The Logitech Casa is available right now, directly from the Logitech website, and exclusively from John Lewis in the UK. Expect to pay £179 (roughly $220). There's no word currently on a US release.
First impressions
Remote working is no fun when you've got to set up and tear down your workspace every day. After a week working with one we love the Casa concept; keeping a keyboard, touchpad and laptop stand in a single flat-pack box makes it a breeze to stash out of sight when it's time to log off, and it takes up a lot less room in a drawer too.
The keyboard isn't backlit, and doesn't have angle-adjustable feet, but we had no trouble typing at full speed on the full-size, island-style keys. They don't have much travel, but spring quickly back into place after each press. It can pair to three gadgets at once, with shortcut keys to toggle between them, which was great when swapping between Mac and PC. The Logi Options+ software was handy for making multi-key macros, too.
Whether you prefer a touchpad to a mouse will be personal preference; we coped just fine for most desktop duties, but missed our regular rodent when editing images. The multi-touch gestures worked perfectly, though, and it also supports three-device pairing. It's a fair bit smaller than Apple's Magic Trackpad, but is comparatively great value – you get the 'pad, keyboard and case for only £50 more than Apple wants for the Trackpad on its lonesome.