Belkin Surf, Share, Play routers make WiFi networking simple
While we like to think of ourselves here as veritable pros in most things tech, nothing gets us angrier than setting up a wireless router, so we're pr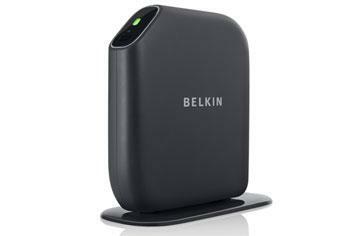 While we like to think of ourselves here as veritable pros in most things tech, nothing gets us angrier than setting up a wireless router, so we're pretty excited about the blessed relief promised by Belkin's new offerings.
The new line of routers aims to simplify setup and operation by including apps on the router itself. All the routers come pre-wired and with network security already in place, while the Share and Play versions come loaded with more features and apps.
The Share's (£69.99) Memory Safe app allows it to connect to an external hard drive and manage automatic backups. Meanwhile, Print Genie sets up simple printer sharing across the network and Sharing Pictures (you can guess this one) helps you share photos across computers and even direct from your camera.
The top-of-the-range Play (£79.99) and Play Max (£99.99) are the flagship models, with dual band wireless for speeds of up to 300Mbps. They have even more apps too, including Daily DJ and Music Labeller for generating playlists and labelling music in iTunes, as well as Music Mover which connects with games consoles and other devices to let you play music and videos from an attached hard disk, with no setup required.
Finally, the torrent fiends out there will appreciate the Torrent Genie app which continues downloading torrents to an attached hard drive without the need to leave your computer running.
The Surf, Share, Play and Play Max routers will be available in early May.