The HyperMegaTech Super Pocket retrogaming handheld puts an arcade in your trousers
Give Taito and Capcom arcade classics an extra life with these dinky Evercade-compatible consoles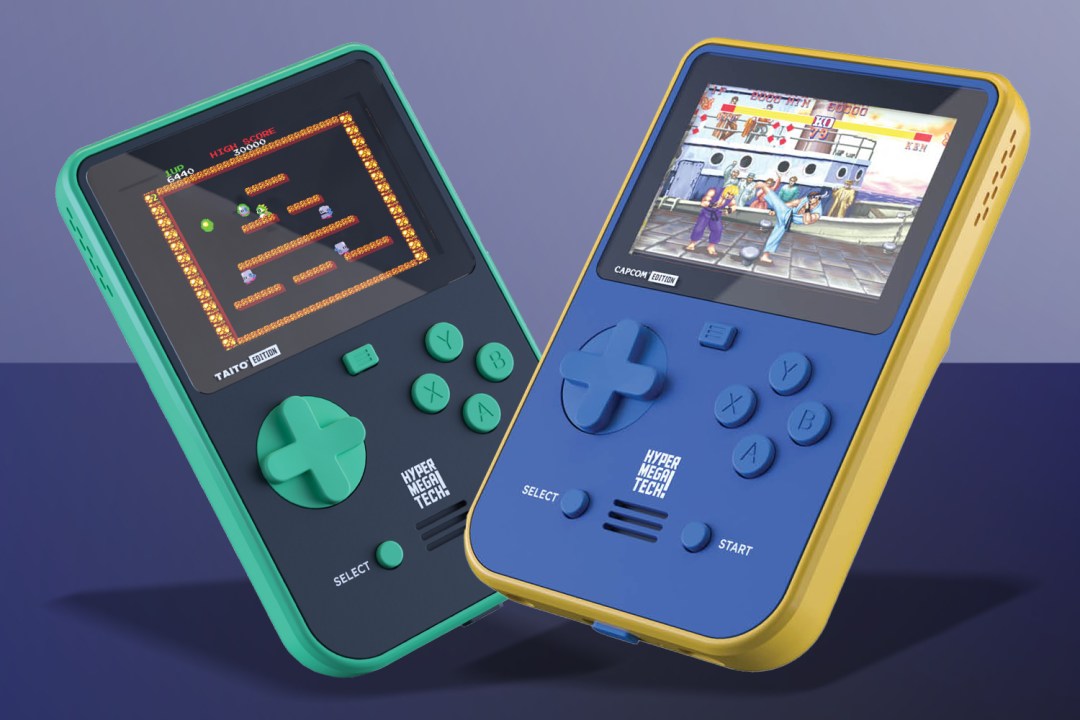 You might have nostalgia for the Game Boy, but its mono games paled in comparison with their arcade parents. Fortunately, then, Super Pocket has rocked up, squeezing an entire arcade's worth of hits into a thumb-friendly – and wallet-friendly – handheld form factor. It's by the Evercade folks – albeit via a new and suitably breathless 1980s-sounding brand, HyperMegaTech. And on paper, it looks the business.
There are two flavours to choose from: Capcom and Taito. Each edition will set you back $59/£49 and comes preloaded with classic and fully licensed arcade titles – no dodgy NES ports here. Super Pocket Capcom Edition's delightful dozen are 1942, 1943, 1944: The Loop Master, Bionic Commando, Captain Commando, Final Fight, Forgotten Worlds, Ghouls 'n Ghosts, Mega Man, Street Fighter II: Hyper Fighting, Strider, and Wolf of the Battlefield: MERC. And over Taito way, you get a whopping 17(!) titles: Bubble Bobble, Cadash, Chack'n Pop, Don Doko Don, Elevator Action, Football Champ, Growl, Kiki Kaikai, Liquid Kids, Operation Wolf, Rastan, Space Invaders, Space Invaders '91, The Fairyland Story, The Legend of Kage, and Volfied.
But that's not all. The Super Pocket is also Evercade-compatible, opening up access to well north of 500 more games. 
Thumbs up
So what do you get for your 50 quid, or 60 US buckeroos? Quite a lot actually. The handheld is about the size of a Game Boy Pocket, clocking in at just 78x125x25mm. It charges via USB-C but also includes a headphone port, because 'retro' and also because 'not Apple'. The 2.8in IPS display has a 320×240 resolution, which won't worry your phone's screen but should do fine for classic games.
In terms of controls, you get four face buttons, start/select/menu, a circular D-pad, and four rear buttons. Whether they'll make your digits happy or furious when grappling with Street Fighter II or Bubble Bobble remains to be seen – we'll let you know when we get our mitts on a Super Pocket. But we are confident the console will be easy to use. In fact, beyond the screen ratio and save state options Blaze usually adds to Evercade units, the Super Pocket will also get an 'easy mode'. Ideal for kids – or 1980s kids who like the idea of playing the classics but not so much their tendency to repeatedly punch you in the face.
Want to get some HyperMegaTech in your pocket? Well, you'll have to wait a bit, because the Super Pocket is due November 2023. But you can pre-order one from 14 July.