Go off-grid with the new BLUETTI AC500
Get a huge 5000W on tap to power all your gadgets wherever you are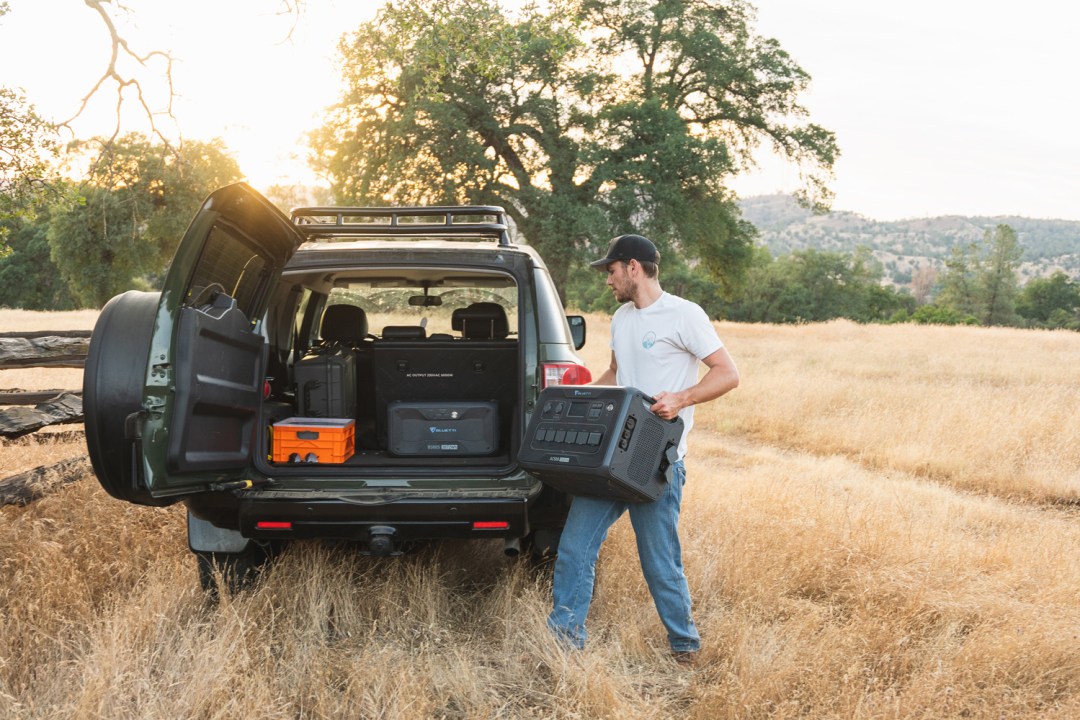 The energy we use day-to-day has never been at the top of our minds like it is at the moment. Find yourself in the same position? Check out the BLUETTI AC500.
This is a 'power station', a 30kg brick of electrical goodness that can power a household's worth of gadgets and appliances, with 5000W on tap.
You may well already own a power bank. You may have encountered super-powered models designed to take standard 3-pin AC adapters as well as USB-cabled gadgets, but the BLUETTI AC500 is in another league. Here's why.
How the BLUETTI AC500 works
The AC500 itself does not hold a battery. You instead plug BLUETTI B300S battery units into it, like connecting a Marshall guitar amp head to a speaker cabinet.
Just want the one? That gets you a massive 3072Wh capacity, but you can hook up six if you like, for 18432Wh – the equivalent of a Marshall stack guitar rig of AC/DC playing at Wembley Stadium.
It makes you more-or-less blackout-proof. Or, on a brighter note, this sort of energy storage would be perfect for a camping holiday or to keep you tooled-up while at a festival.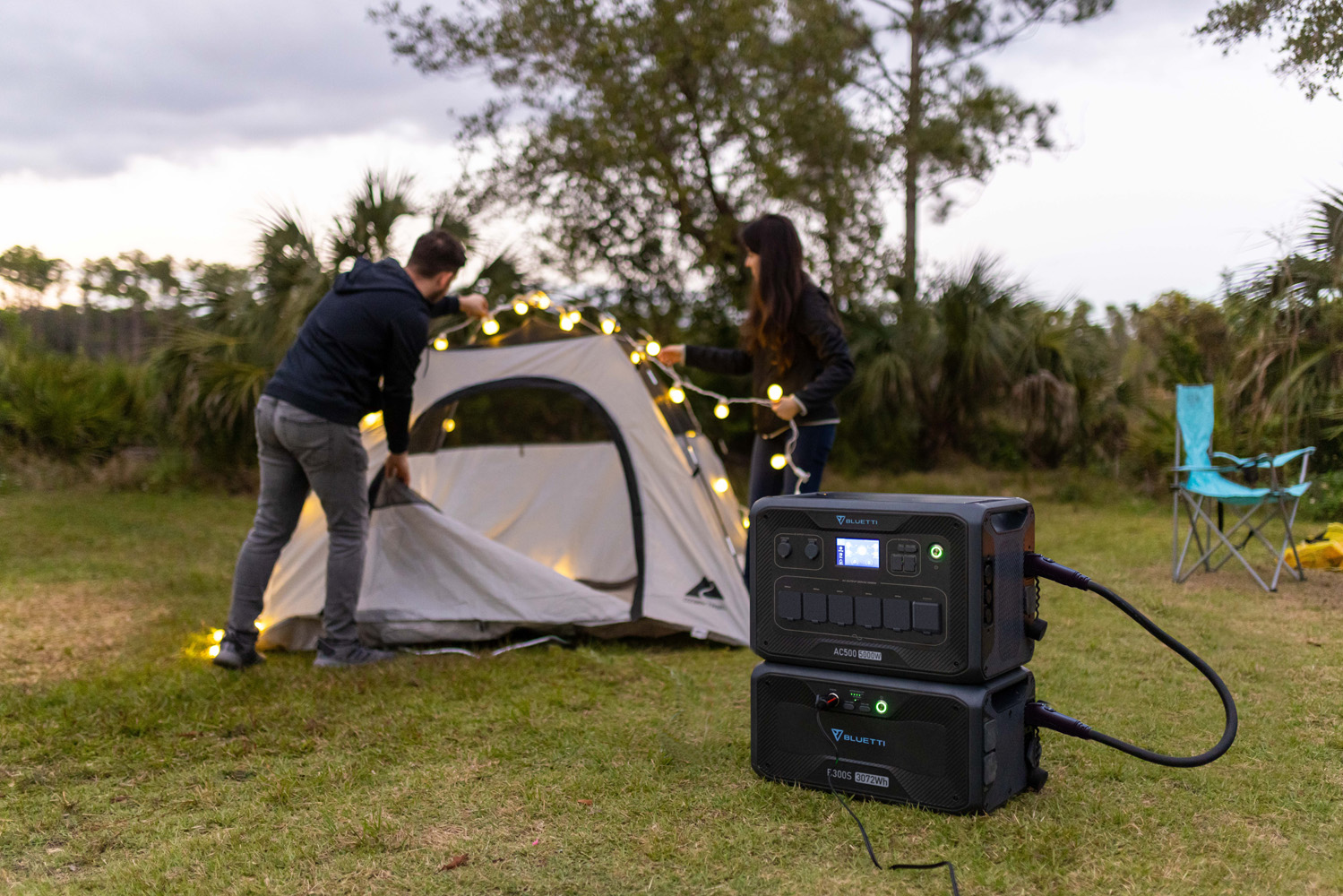 Features of great im-port-ance
To dig into the real scope of the BLUETTI AC500 we're going to have to look all its ports. It has six AC outlets, one of which is specced to a mammoth 32A — the kind of current you only need for super-high power devices like ovens.
We get two 100W USB-C ports, perfect for charging laptops or fast-charging phones. There are two 18W USB-A sockets, two 5V/3A USB-As, two 15W wireless charging pads on the top. And even two regulated DC outlets to hook up a caravan/RV or a car.
The BLUETTI's AC500 super-high power ceiling means you can plug in an army of devices at the same time, making it a viable alternative to your home's own electricity supply in a pinch.
A fully maxed-out setup can keep an ultraportable laptop running at full pelt for 270 hours, a kettle boiling consistently for around 10.5 hours or a 10W light bulb lit 24 hours of the day for more than two months.
Charging the B300S battery unit is quick too. The BLUETTI AC500 can take it from flat to 80% in just 30 minutes, and that doesn't just have to involve plugging it into the wall.
You can use a car's cigarette lighter port, or — our favourite solution — a solar panel. It can receive up to 3000W input, you just need the panels and sunlight to supply it, which might be tricky in the UK at times.
BLUETTI makes it own solar panels too. The BLUETTI PV420 can generate up to 420W of power, and has IP67 water/dust resistance, primed for outdoors use.
Works for a generation
There's another notable piece of tech in this setup too. The B300S battery module that stores the energy the AC500 doles out uses LiFePO4 cells, which are very different to the lithium-ion type typically seen in phones and power banks.
We'll use an Apple MacBook Pro to illustrate the point. Apple says you can expect the battery to retain around 80% of its charge capacity after 1000 charge cycles, which should take a good few years. Not bad right? Apple uses top-quality lithium-ion cells, and lower-quality batteries typically last a much shorter duration.
However, the Lithium iron phosphate (LiFePO4) battery of the BLUETTI B300S is rated for 3500 charging cycles before it dips to 80% of its original capacity. BLUETTI says it's designed to a 10-year lifecycle, and even that timespan would involve recharging and using up the B300S almost every day — for ten years — before it reaches that 20% drop in stamina.
A touchy subject
You can keep an eye on your rig's charge level, and how much power is currently being used, through the built-in display of the AC500. It's a touch display with its own custom interface — basically a mini computer that lets you tweak and switch off certain outputs.
BLUETTI's app also unlocks wireless control from your phone, because the BLUETTI AC500 has baked-in Wi-Fi and Bluetooth. Pretty smart, right?
Just keep the practicalities in mind before you buy a rig. The AC500 measures 520 x 358 x 325mm and weighs 30kg, while a single B300S weighs an additional 36kg. This is serious kit, which is why one of our favourite uses for this pair is as a UPS, an uninterruptible power supply, should there be a blackout.
You could even use a BLUETTI AC500 plus B300S to save a chunk of change if you are on a dual-rate plan where you pay less for electricity overnight.
A bundle that includes the BLUETTI AC500 and a B300S battery module is available from Indiegogo from $2999, but you had better be quick as the standard retail price will be $4799 in future.