Best outdoor speakers 2023: wonder weatherproof sound
Getting ready for a summer of backyard parties? These are the best Bluetooth speakers for alfresco audio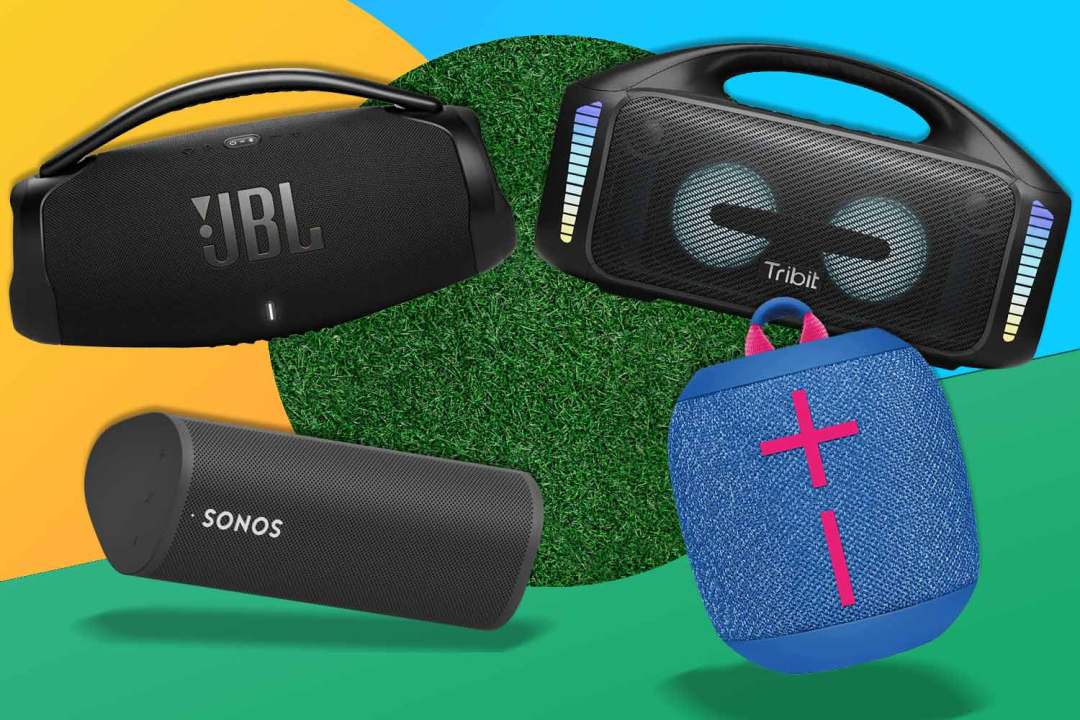 Looking for the best outdoor speakers? You're in the right place. Summer mixes are made to be played alfresco, which is where the best outdoor speakers come in. An outdoor speaker can pump up your sunniest jams – and keep the tunes coming, even when the weather doesn't match your mood.
From portable party starters to properly hefty stereos, the round-up below features our pick of the top outdoor speakers for every space and budget. Some can slip in a backpack, while others require more muscle to move. Size aside, each option in our list is designed to deliver sweet beats outside while shrugging off surprise showers.
Not sure which is best for your picnic party? We've also shared some handy buying tips to help you decide. The playlist's up to you.
Once you've read this list, you might want to check out Stuff's guide to the best Bluetooth speaker, which is full of great options as well.
What is the best outdoor speaker you can buy?
The best outdoor speaker for most people is the Tribit StormBox Micro (check price). Despite its incredibly compact size, it still produces crisp, clear, loud, and bassy results, with the added benefit of a waterproof rating for true on-the-go performance. Easy to take anywhere and affordably priced, it won't let you down.
---
Other best outdoor speaker recommendations
Don't feel like grabbing the Tribit StormBox Micro? No worries. There are plenty of other candidates for the best outdoor speakers for you:
Best premium outdoor speaker: Bang & Olufsen Beosound Explore (check price)
Available in a range of lovely plain and pastel colours, the Beosound Explore combines Bang & Olufsen's sound and design expertise to create a hardy outdoor speaker that sounds as good as it looks.
Best waterproof outdoor speaker: Ultimate Ears Wonderboom 3 (check price)
Capable of impressive sound, the compact Wonderboom 3 offers enough juice to blast out tunes for 14 hours, with the ability to float on water for maximum pool fun (it can even be submerged).
The best outdoor speakers you can buy today: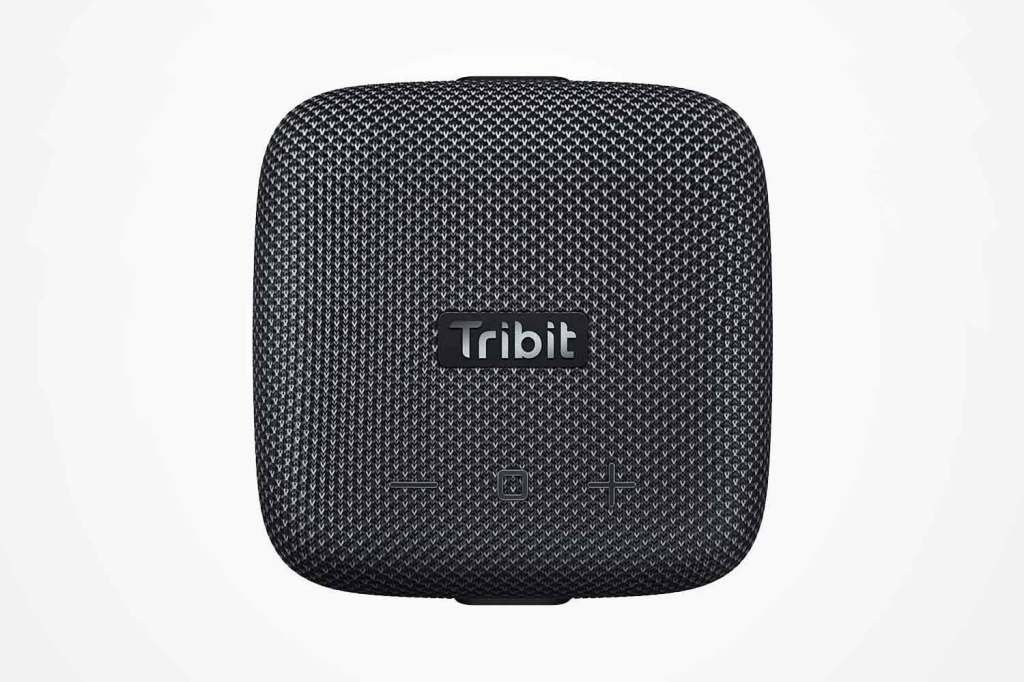 1. Tribit StormBox Micro
The award-winning StormBox Micro 2 is a seriously tiny speaker that's won fans over with incredible power, clarity, and bass for its size. Despite its pocketable stature, it still offers 12 hours of use per charge, with fast USB-C charging thrown in for good measure. An IP67 waterproof rating lets it shrug the elements off with ease, while a handy clip lets it attach to anything from bags and handlebars, to poles and tree branches.
---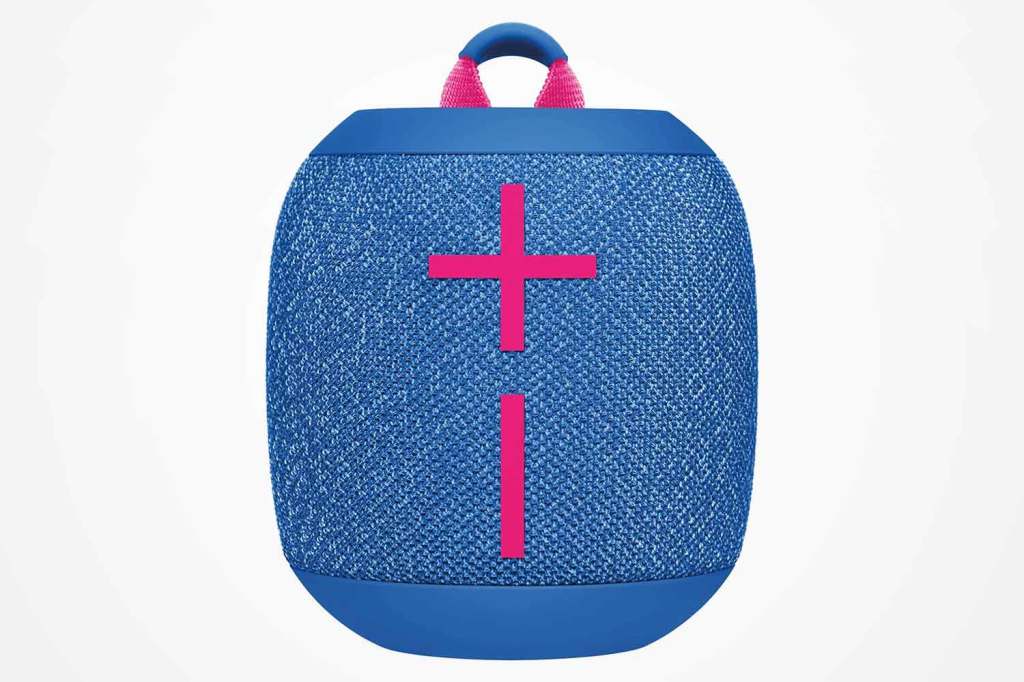 2. Ultimate Ears Wonderboom 3
Capable of impressive sound despite its more compact package, the Wonderboom 3 offers enough juice to blast out tunes for 14 hours, with 360-degree sound ensuring that no one misses any notes. Waterproof, dustproof, and with the ability to float on water for maximum pool fun (it can even be submerged), it's an ideal solution for those looking for a hardy compact speaker in a wide range of bright colours.
---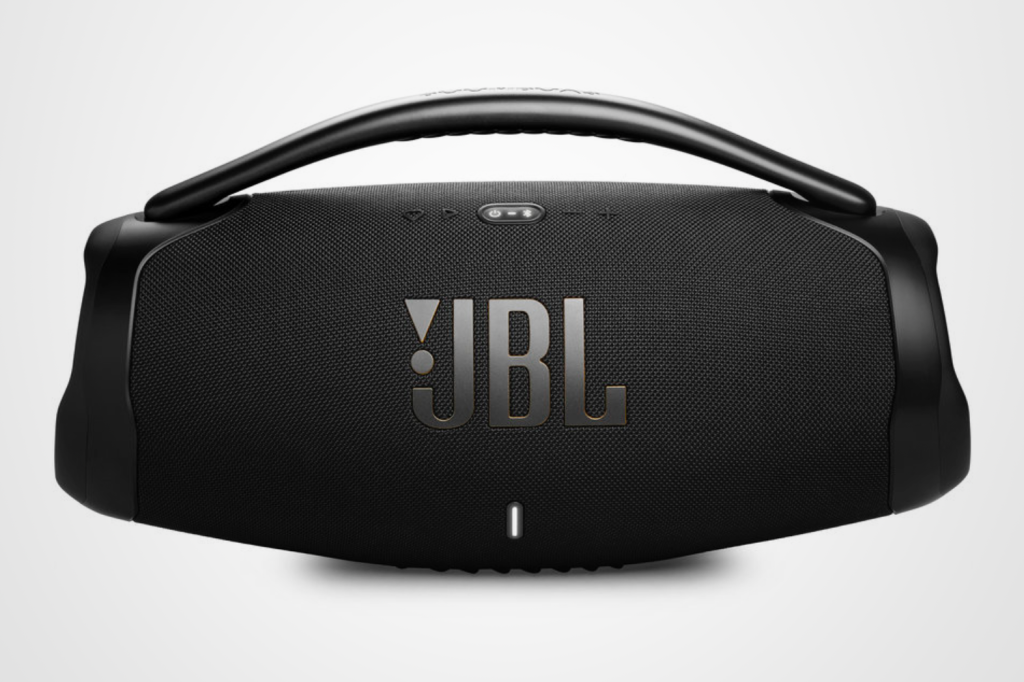 3. JBL Boombox 3 Wi-Fi
Forget tepid beer and charred patties: backyard grilling is all about that bass. And if meaty tunes are on the menu, this waterproof whopper is what you need. Beefy at 6.7kg, it pairs an 80W sub with two passive radiators to fatten up the beats. Plus this edition is seasoned with Wi-Fi. Still hungry? Use PartyBoost to create a sonic salad with compatible JBL jukeboxes.
---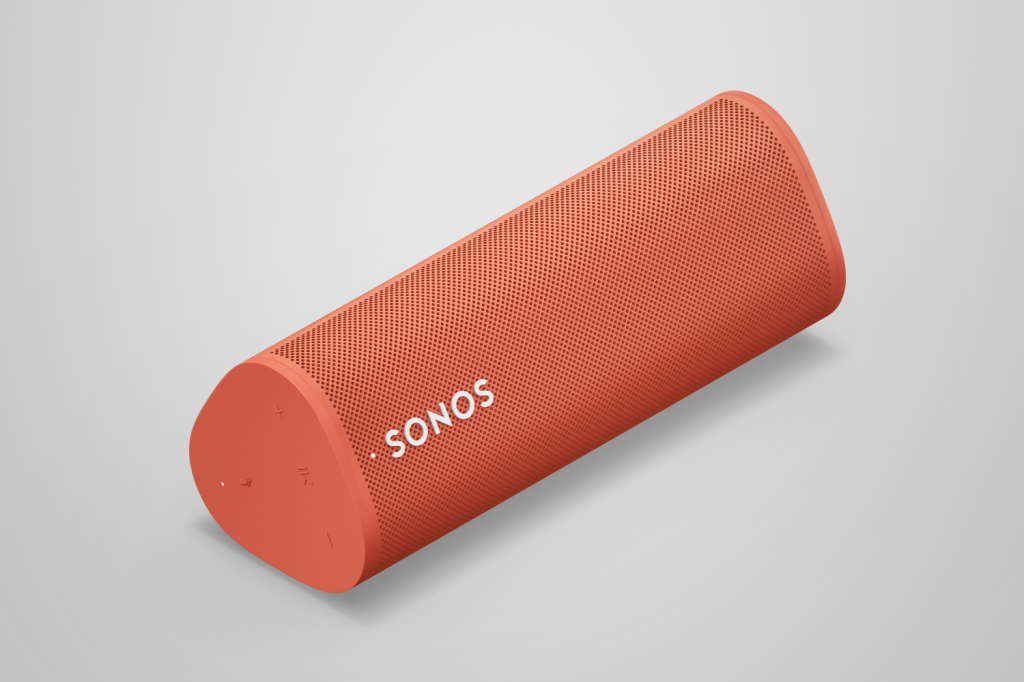 4. Sonos Roam
From main stage to acoustic tent, open-air audio is served in many settings. Don't know your way around an equaliser? This satchel-friendly Sonos does the adjusting for you: shift to a different arena and Auto Trueplay tunes the output to suit your surroundings. Its premium build is worth of a headline slot, while IP67 waterproofing makes it an all-weather performer.
---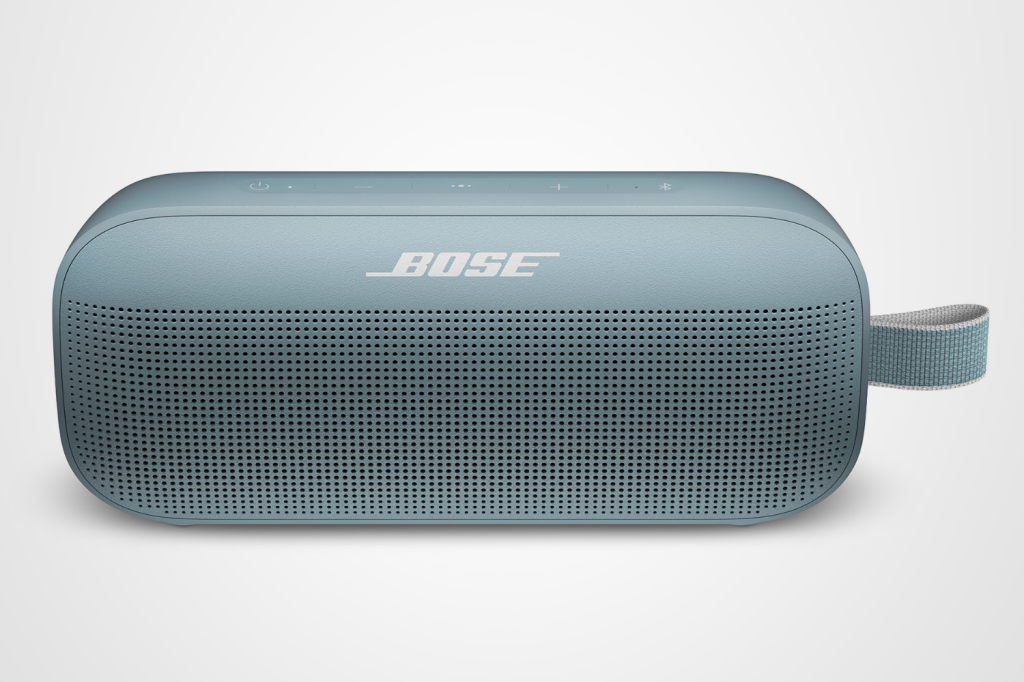 5. Bose SoundLink Flex
Boat parties might be a holiday highlight, but a submerged speaker will soon sink the vibes. Keep the fun afloat with this hardy hailer: buoyant by design, it'll bob back up if you drop it in the drink. A steel grille and silicone shell reinforce its hardcore credentials, while PostionIQ smarts optimise the audio based on its orientation – whether hanging dry or lying on deck.
---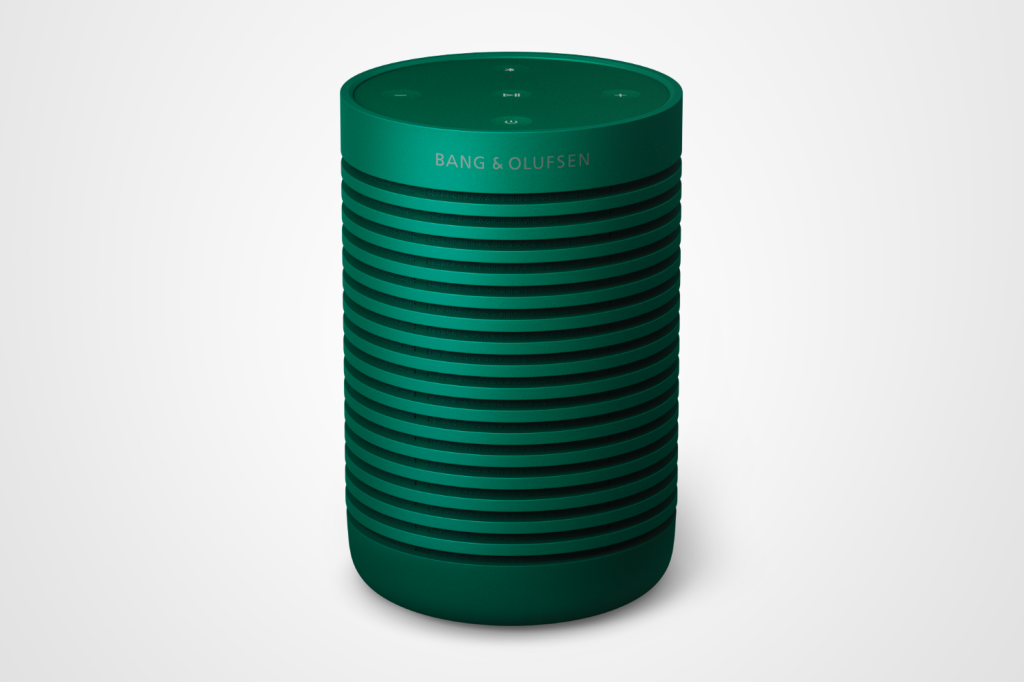 6. Bang & Olufsen Beosound Explore
Nothing says rugged like a built-in carabiner. Made small but tough, B&O's clippable barrel is designed to take a beating. At 637g, its anodised aluminium armour can survive adventures without being a burden on your backpack. Beneath its sheath lives a battery good for 27 hours, as well as drivers that deliver omnidirectional audio refined for the great outdoors.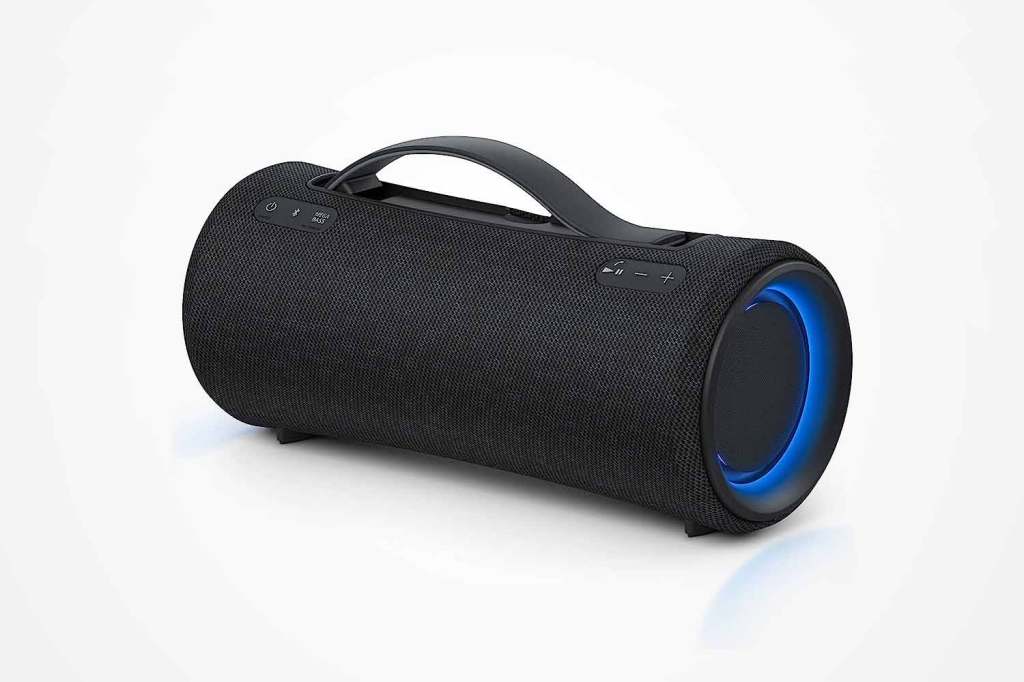 7. Sony SRS-XG300
Sony's rather attractive minimalist speaker has curves in all the right places, along with the promise of clear sound, with plenty of bass to get things thumping. And if you aren't convinced by the latter, the addition of a dedicated Mega Bass button should soon put your mind at ease. With an IP67 water and dustproof rating, 25 hours of battery life, and some subtle lighting effects thrown in for good measure, it manages to combine all the right elements without being too gaudy.
---
---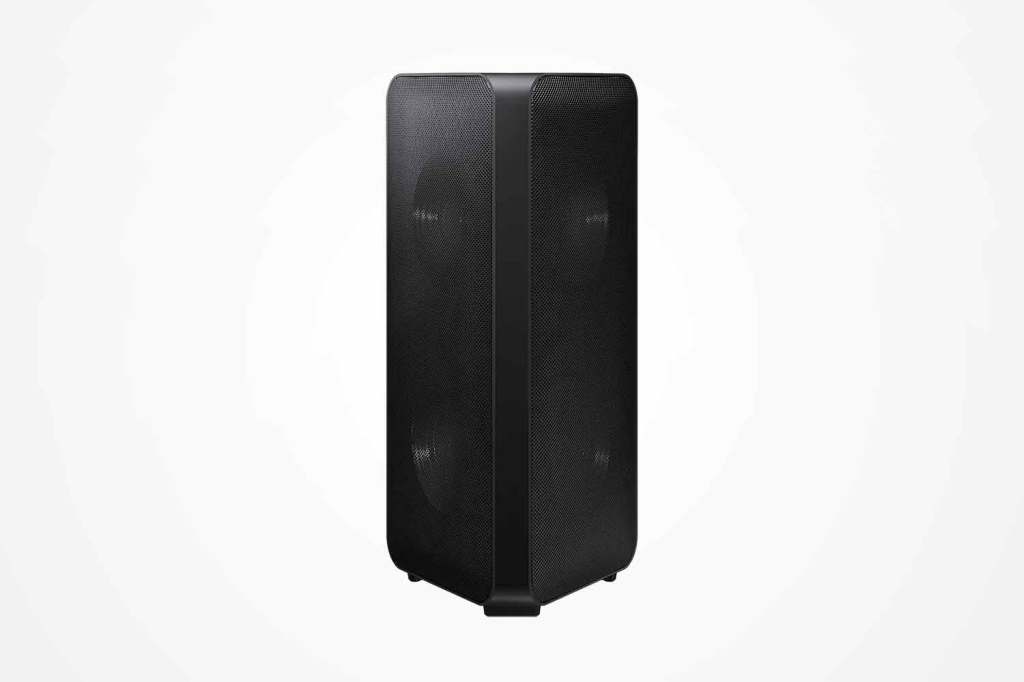 8. ST40B Sound Tower Speaker
If you need some serious audio chops for your next house/pool party, look no further than Samsung's 160W tower. With a wide soundstage capable of reaching the far corners of even the largest gardens (with plenty of bass to match), your guest will love it. Though we can't say the same for any close neighbours. IPX5 water resistance offers peace of mind, while 12 hours of battery life is a respectable figure for something of this size and power. Built-in RGB lights, and the ability to play music from multiple connected devices are welcome additions to an already impressive bit of kit.
---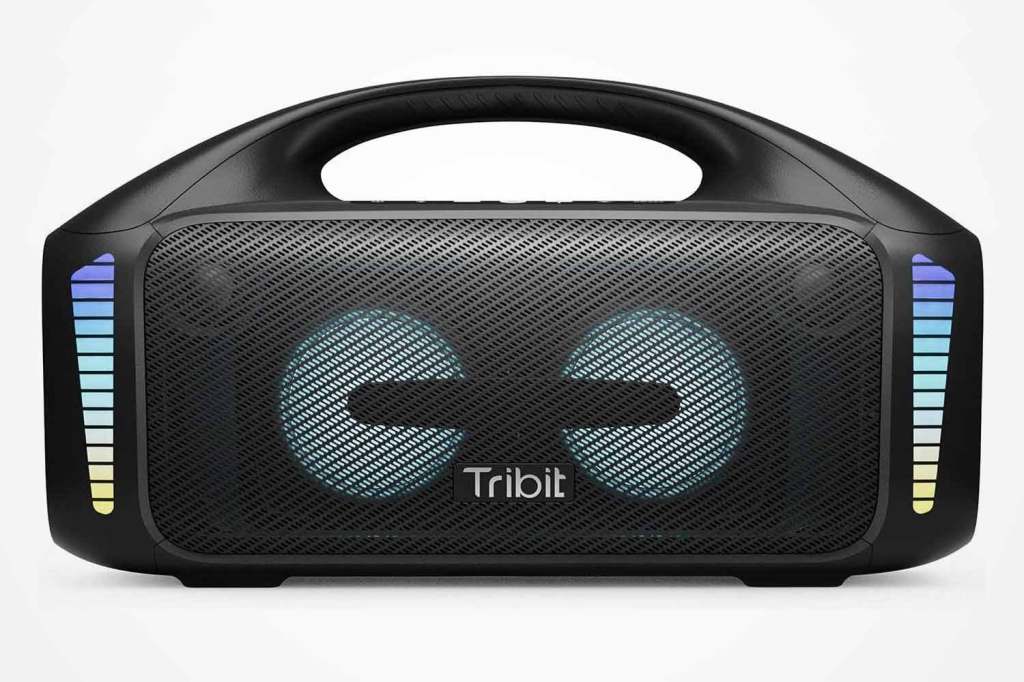 9. Tribit StormBox Blast
With a room-filling 90W power output and IPX7 waterproof rating, Tribit's aptly-named StormBox Blast is ready for any party, inside and out. Its crisp, clear, and bassy results are matched by accompanying RGB lighting effects which, naturally, put on a light show in time with the music (in addition to indicating the current volume level). You can switch the effects/colours on offer, or turn them off entirely if you're after something more low-key, while a handy built-in handle and impressive 30 hours of battery life round off the specs rather nicely.
---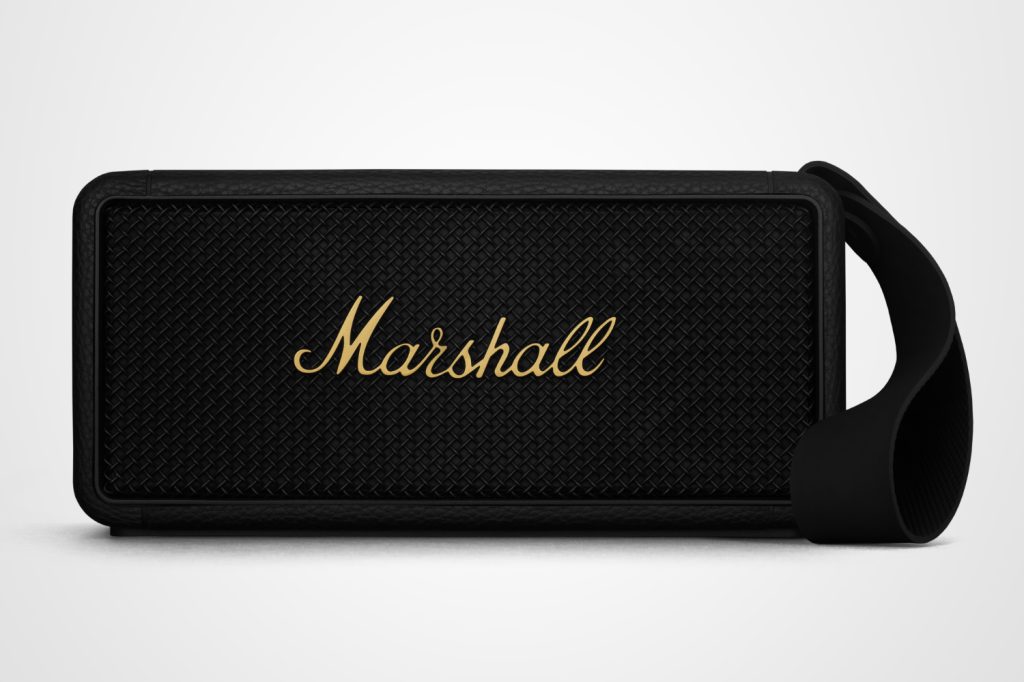 10. Marshall Middleton
Between big gigs and tour bus benders, life on the road can take its toll. Luckily, this mini amp from Marshall has the build to match its rock-star styling. Reassuringly solid at 1.8kg, the mighty Middleton is dustproof and water-resistant. A multi-directional driver setup immerses all your roadies in the post-show playlist, while Stack mode lets you build a wall of sound. Its sturdy shell also uses recycled plastic, because nothing says punk like sustainability.
---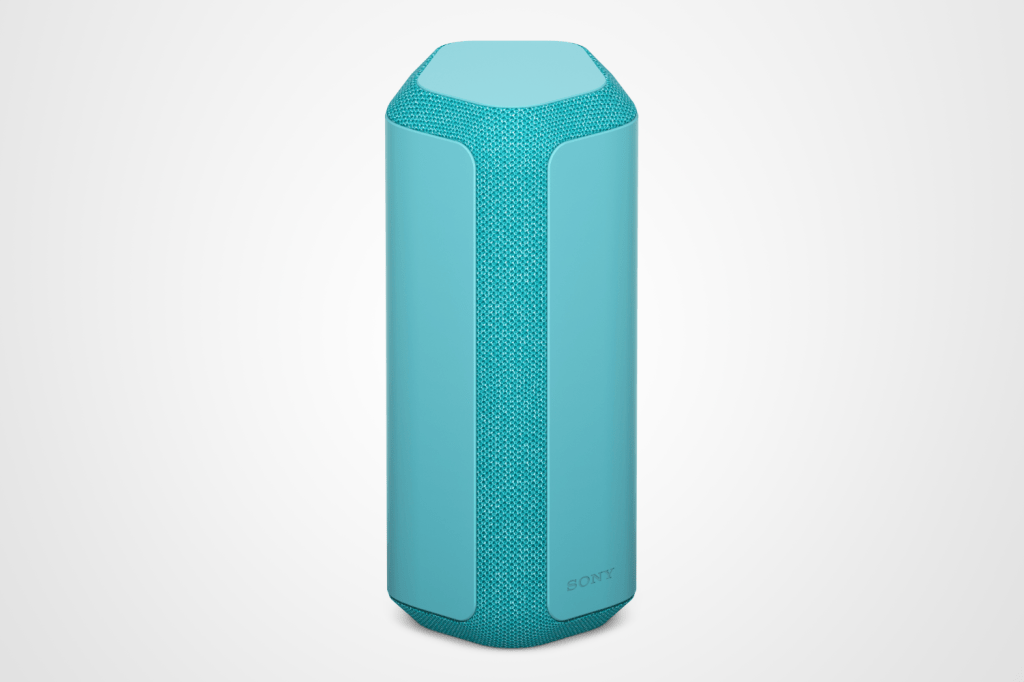 11. Sony SRS-XE300
Putting the 'fun' in fundamental scientific principles, this pentagonal player employs the physics of diffraction to spread the aural energy. Channelling sound through a narrow slot, it distributes waves over a wider area. The result? A consistent listen, front and side. Shock-tested and shielded against the elements, it also saves battery by adjusting for background noise, while non-circular diaphragms use pressure to amp up the punch.
---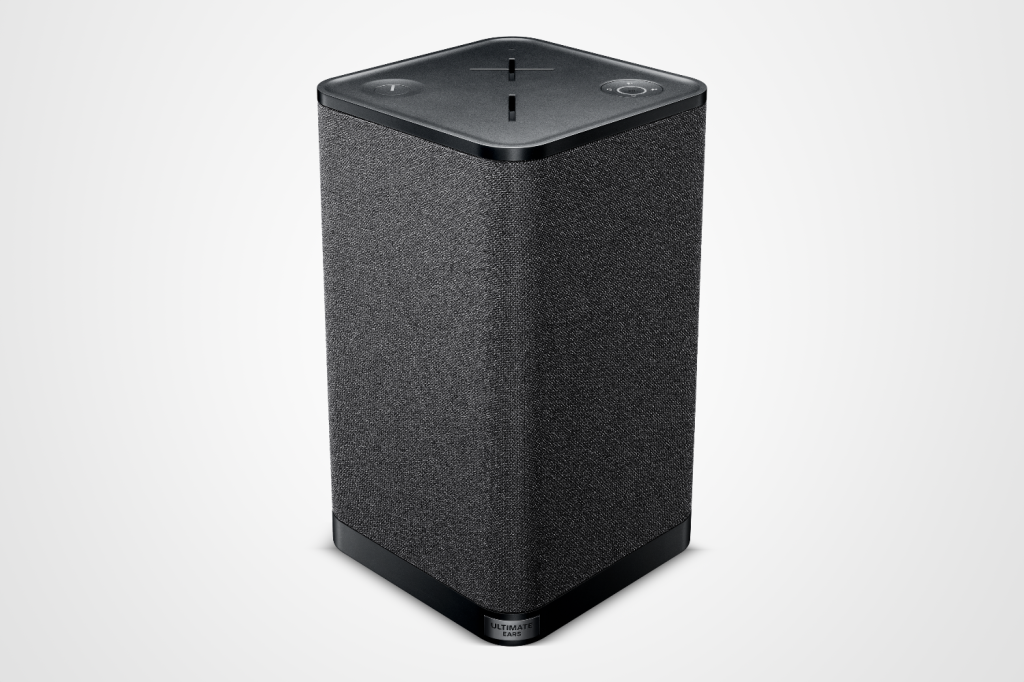 12. Ultimate Ears Hyperboom
Toddlers might be entertained by empty boxes, but it takes more than cardboard to start a proper party. This megalithic cuboid hits the right angles: with power in spades, it majors on outdoor oomph. An IPX4 rating means it's safe to splash, while an integrated mic helps it adapt the boom to the room. And thanks to four sources, you can divide the DJ duties.
---
13. Anker Soundcore Motion Boom Plus
Trekking wisdom dictates that shoulders are for supplies. The trouble is, there are only so many melodies you can make by drumming on mess tins. Leave the backpacks to your hiking buddies and haul this hi-fi into the hills. Lug it by belt or handle and your reward will be 20 hours of punchy waterproof audio. Adjust it via the Soundcore app for better backcountry beats.
---
How to buy the best outside speaker
Buying an outside speaker is a lot like one of the best wireless speakers, Bluetooth speakers, or even the best cheap Bluetooth speakers.
Of course, the most important thing about buying an outdoor speaker is its weather resistance, since outdoor speakers will be exposed to the elements. It's crucial, then, that the speaker you buy has some form of weather resistance or weatherproofing. Look for speakers with an IPX rating that indicates their resistance to water and dust. The higher the ratings, for example, IP55, IP56, IP57 etc, the more protection you'll get.
It's important to note that outdoor environments often require speakers with higher power ratings to overcome ambient noise and cover a larger area. So if you're planning a backyard bash, you'll want to consider the wattage of the speakers to ensure they can deliver the volume you need without distortion.
Consider also how you plan to play music from your outside speaker. Bluetooth speakers are easy to set up and use with mobile devices, while Wi-Fi speakers might offer better range and multi-room capabilities.